Make this vegan lentil soup for a budget-friendly, hearty meal. Your omnivore friends won't even notice it's meatless. (It's ready in about an hour!)
We keep the pantry stocked with lentils—they are inexpensive, nutritious, store well for long periods of time, and make a nice alternative to meat once in a while! You'll be happy to know that lentils are a fantastic source of dietary fiber, iron, and protein.
Lentils are legumes, different from common types of beans but used similarly for cooking. Lentils are much smaller than beans and shaped like a small, round disk, about an 1/8″ in diameter. Like beans, lentils need to be cooked, but the cooking time required is substantially less than most beans. This makes lentils a great option for budget meals when you haven't had the forethought to soak beans ahead of time.
This vegan lentil soup recipe starts with sautéing onions and carrots. (Your house is going to smell good!) Then you'll simply add the lentils, broth, and spices and cook for half an hour or so. When the lentils are tender, stir in the spinach and lemon juice, cook for another couple of minutes, and serve!Enjoy this healthy one-pot meal year round with bread fresh out of the oven. (If you prefer a meatier lentil stew, try Kris's sausage lentil soup recipe.) Happy bellies, all around.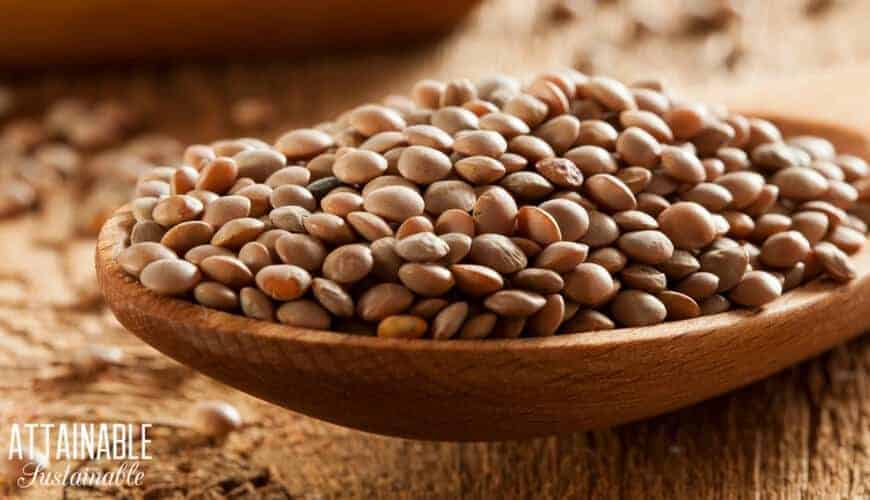 Related: Home Cooking: Is it Really that Hard?
This vgan lentil soup recipe purposely yields a large batch so that you can store leftovers in an airtight container and freeze—you'll have an entire lunch or dinner ready for another day! If you're not sticking to a vegan diet, try topping the soup with hard boiled eggs for a little extra protein.
★ Did you make this vegan lentil soup recipe? Don't forget to give it a star rating below!
Vegan Lentil Soup Recipe
Make this vegan lentil stew for a budget-friendly, hearty meal. Your omnivore friends won't even notice it's meatless. (It's ready in about an hour!)
Ingredients
2

T.

extra virgin olive oil

2

cups

yellow onion, diced

1

cup

carrots, sliced

1

tsp.

fresh garlic, minced

2

cups

lentils

6

cups

low sodium vegetable broth

(preferably organic)

1½

tsp.

ground cumin

2

tsp.

ground coriander

1½

tsp.

kosher salt

½

tsp.

pepper

2

cups

organic baby spinach, finely chopped

2

T.

lemon juice
Instructions
Heat the oil in a medium saucepan over medium heat. Once hot, add the onions and sauté for four to six minutes or until soft and translucent. Add the carrots and continue sautéing for another four to five minutes. Add the garlic and stir continuously for 30 seconds to prevent burning.

Stir in the lentils, broth, cumin, coriander, salt (if using), and pepper. Mix well and bring the soup to a boil. Once boiling, reduce the heat to medium low, and cover with a tight-fitting lid. Simmer, stirring occasionally, for about 30 minutes or until the lentils and vegetables are soft and fully cooked.

Add the spinach and lemon juice and stir. Cook for an additional two minutes or until the spinach is tender. For a spicier, more flavorful version of this vegan lentil stew, add freshly diced jalapeño peppers and minced cilantro. Serve!
Recipe Notes
To serve leftovers, add a small amount of water, mix well, reheat, and serve.