Why buy a jar at the grocery store when you can make a home-made batch of crunchy pickled jalapeños with peppers plucked from plants on your patio? These are refrigerator pickles, so there's no canning involved.
If you love adding spice to your foods with hot peppers, be sure to try this homemade smoky hot sauce, too! Or for a sweeter way to use jalapenos, make this hot pepper jelly.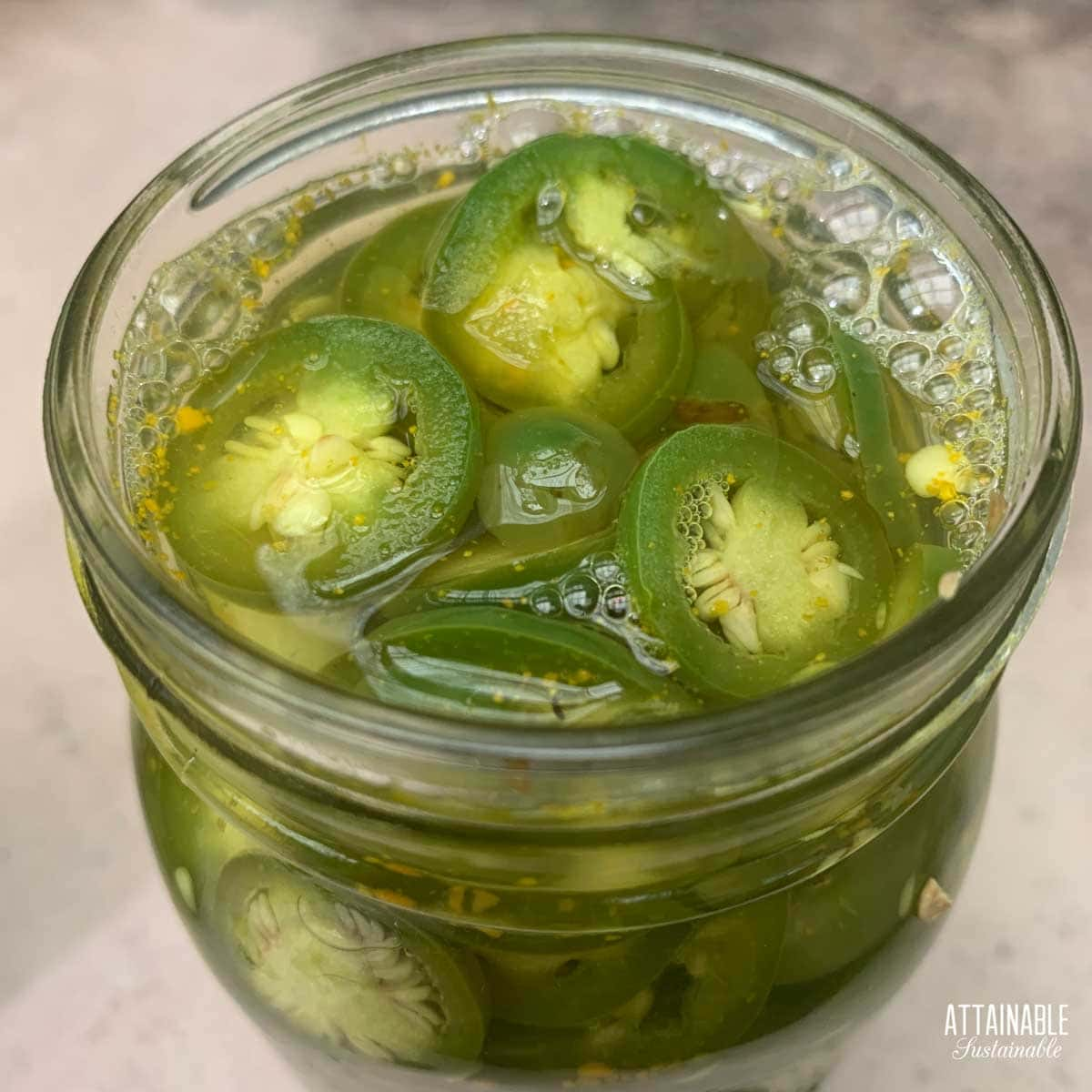 Pickled jalapeño peppers are a favorite food around here and I usually have a store-bought jar at the ready to add to panini sandwiches, to top a pizza, or to sprinkle on Mexican food.
But since gardening this year has yielded such a good chile pepper crop, I decided to create my own easy recipe for pickled peppers.
---
The Handcrafted Pantry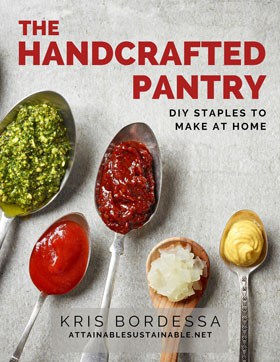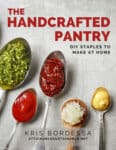 Ready to DIY your pantry with healthier ingredients? Check out my ebook, The Handcrafted Pantry! Filled with delicious recipes for some of your favorite condiments, snacks, and toppings, it's the guide you need to start skipping packaged products and embrace homemade.
---
Crunchy Pickled Jalapeños
This recipe takes just minutes to make, though you'll want to let the peppers sit in the brine for a week or so before enjoying them.
Ingredients
Jalapeño peppers — Just a couple of jalapeño plants will net enough for a nice batch of crunchy peppers for the fridge. Can you use other hot peppers? You absolutely can!
5 Easy Steps to Transform Your Pantry!
Ready to switch from store bought to homemade? Let me help you make some changes! Grab my FREE five-part guide to getting started.
Vinegar — This recipe calls for distilled vinegar, but you could substitute apple cider vinegar if you like.
Garlic — Adding a whole clove of garlic to the jar gives it a little extra flavor
Sugar — The addition of sugar helps to tame the heat a little; if you're looking for a keto pickled jalapeños, simply skip it. Use your favorite brand of granulated cane sugar. I prefer organic.
Salt — Use sea salt, NOT table salt. Table salt often has anti-caking agents that can cause cloudiness in pickles.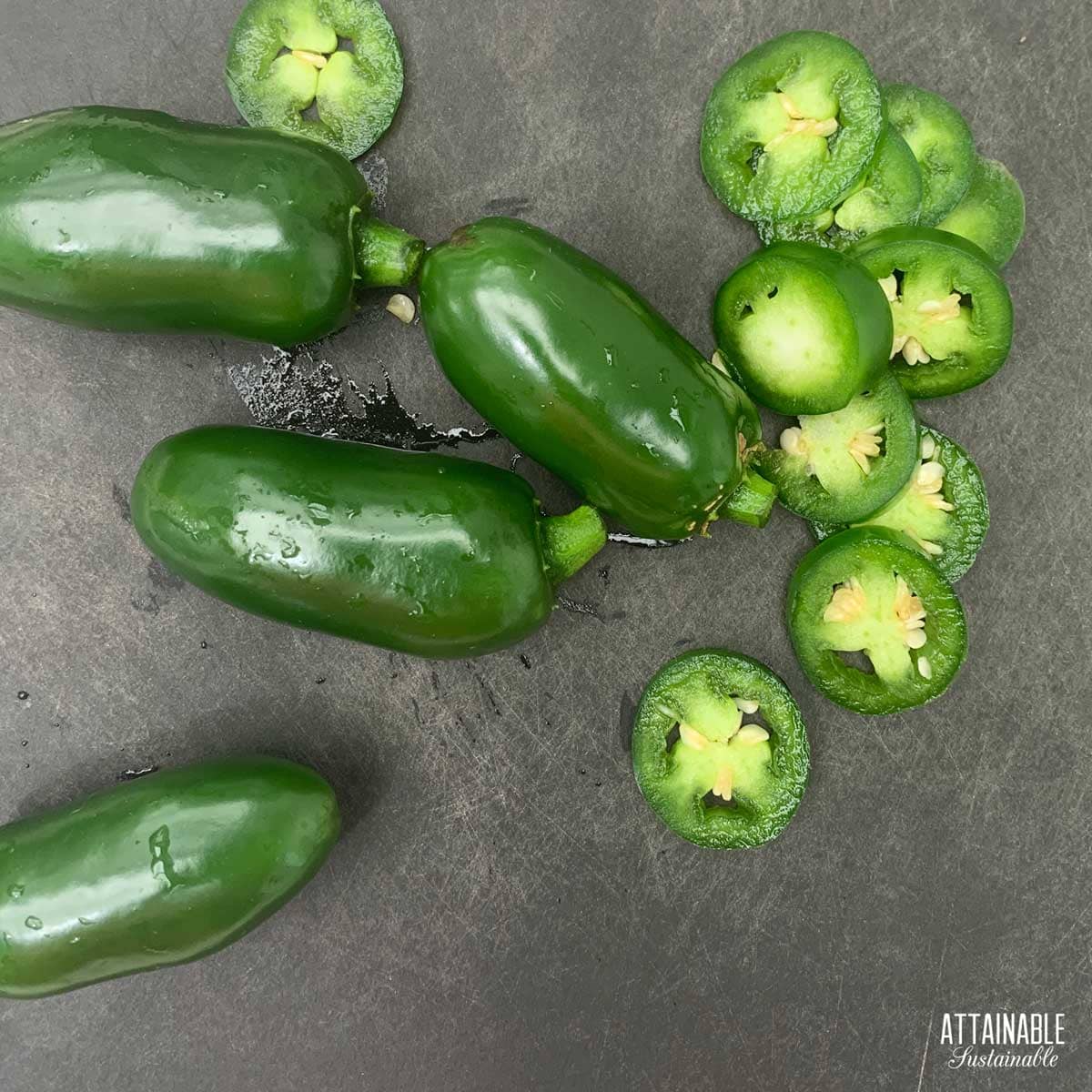 Making these Quick Pickled Jalapeños
Start by heating the brine: Measure vinegar, water, salt, turmeric, and sugar into a saucepan and bring to a low simmer over medium heat.
Before you start slicing the hot peppers, please save yourself some pain and slip on a pair of kitchen gloves to protect your hands and eyes while working with them.
Use a knife or mandoline to slice the peppers into rings 1/8″ thick or less. Transfer jalapeño slices — seeds and all — into pint-sized jars, pushing them down slightly. This recipe will fill three pint sized jars.
Pour hot brine over the peppers in the jars; a canning funnel makes it easy to do this without spilling. Twist on a lid and allow the jars to cool to room temperature. Transfer to refrigerator and allow to marinate for several days before using them.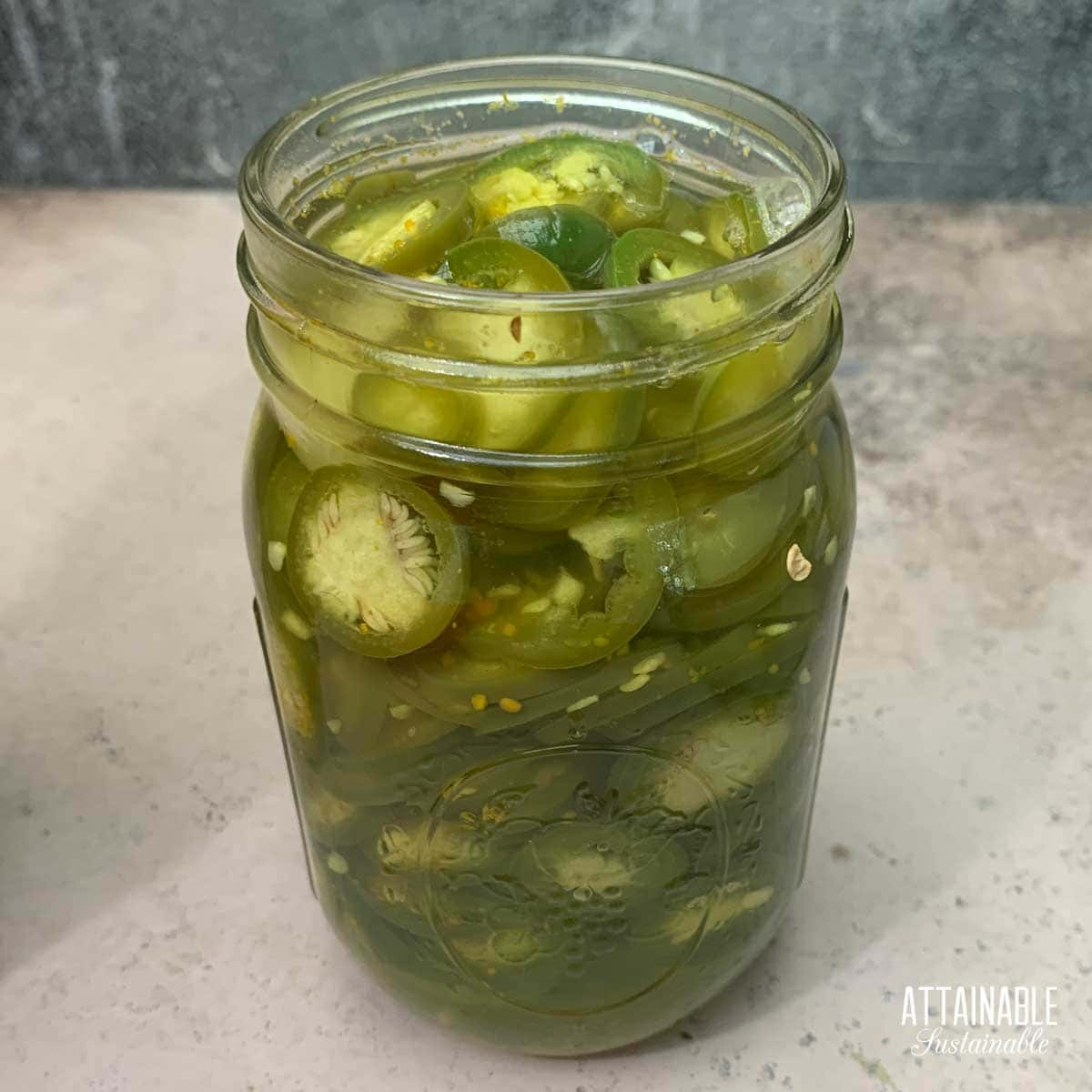 Using these Hot Peppers
My son, a lover of hot peppers, will tell you that just about any recipe will benefit from a sprinkling of these crunchy jalapeños. He uses hot peppers on everything!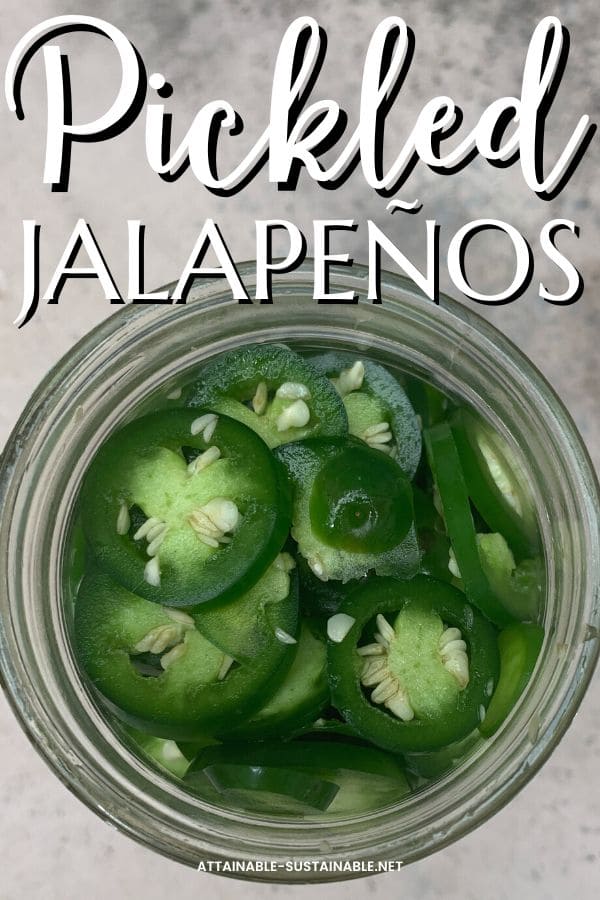 ★ Did you love this recipe? Be sure to give it a star rating below! ★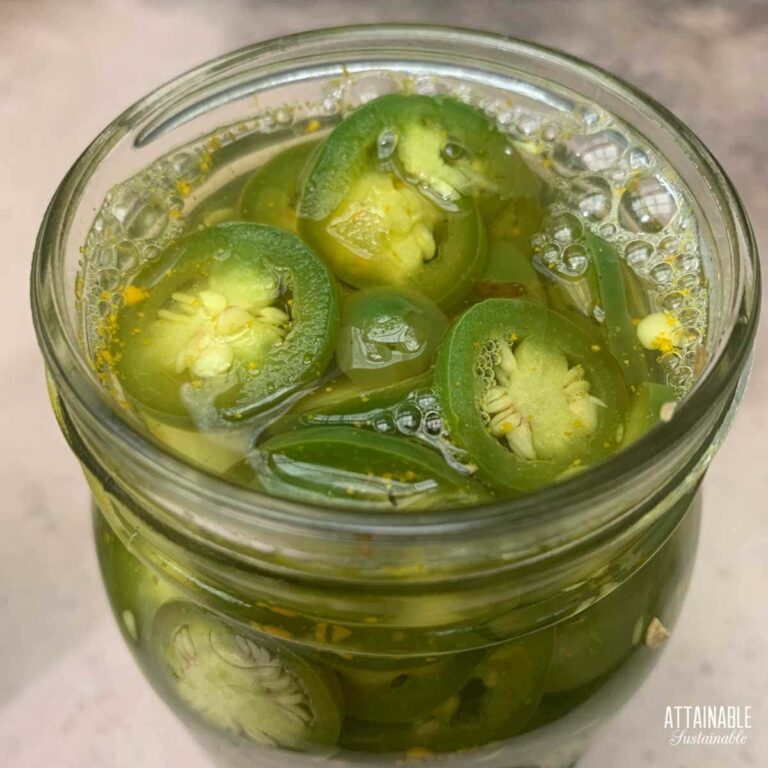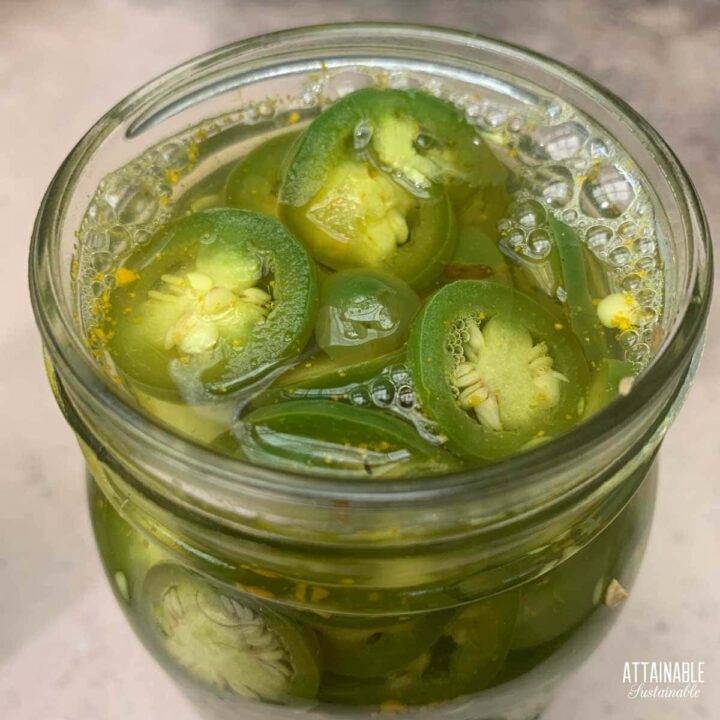 Pickled Jalapeno Peppers
Ready to add a little kick to meals? These pickled jalapeños are just what you need to bring the heat.
Ingredients
2 cups white vinegar
1-1/2 cups water
2 teaspoon kosher salt
2 tablespoons sugar
1/4 teaspoon turmeric
1-1/2 pound fresh jalapeño chile peppers
Instructions
Combine vinegar, salt, sugar, and turmeric in a small saucepan and slowly heat to near boiling.
While liquid is heating, wash peppers and cut off the stems.
Slice peppers into 1/8-inch rings and place them in a pint jar.
Peel the garlic clove and place it in the jar with the pepper rings.
Pour the warm brine over the peppers in the jar; seal.
Allow the mixture to cool slightly; cover with a lid and let marinate in the fridge for several days before using them.
Store in the refrigerator.
Notes
With refrigeration, the pickled peppers will keep for several months.
Have an assortment of hot peppers? Feel free to mix and match the peppers!
Nutrition Information:
Yield:

32
Serving Size:

1 tablespoon
Amount Per Serving:
Calories:

6
Total Fat:

0g
Saturated Fat:

0g
Trans Fat:

0g
Unsaturated Fat:

0g
Cholesterol:

0mg
Sodium:

40mg
Carbohydrates:

1g
Fiber:

0g
Sugar:

0g
Protein:

0g
Originally published in October 2020; this post has been edited and updated.