Homemade salsa puts the kick in your snacking. This collection of homemade salsa recipes includes mango salsa, tomatillo salsa, nectarine salsa, and lots more!
Sal-sa. Noun. A spicy sauce of chopped, usually uncooked vegetables or fruit, especially tomatoes, onions, and chili peppers, used as a condiment.
​Fresh salsa recipes
Is there anything that can add a little oomph to a meal like salsa? I mean, sure, you can dip your chips, but salsa is so much more than that. Add it to a taco. Spread it on grilled fish. Spoon it onto a burger.
The possibilities for how to serve salsa are are almost as unlimited as the ingredients you can use to make it.
Garden fresh produce is the basis for most salsa recipes, so summer is a great time to explore some different combinations.
These are some of the best homemade salsa recipes from some of my favorite bloggers.
The recipes are easy. Choosing which you'll try first will be the hard part!
Homemade Salsa: Tomato
This garden fresh salsa is my summertime standby. No need to measure – just memorize these five ingredients and you'll be able to whip up a great batch of salsa anywhere!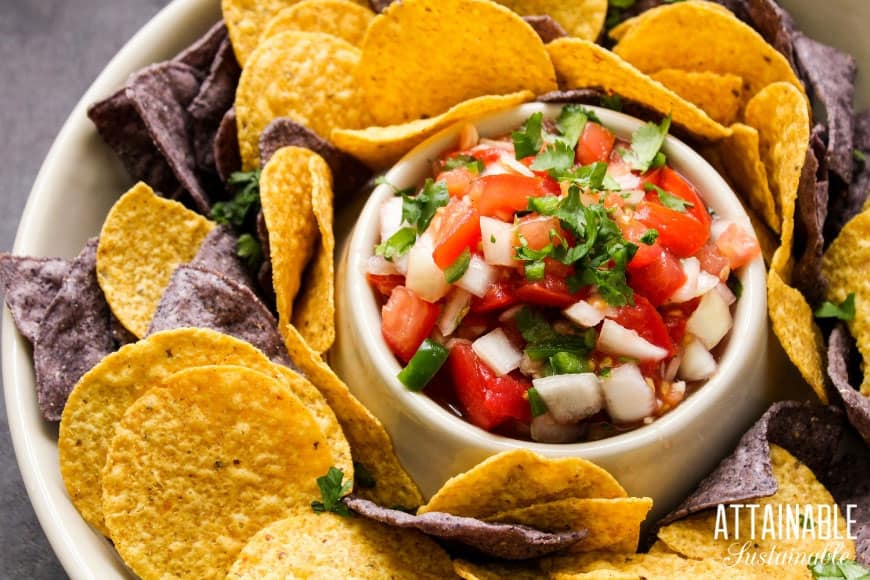 Some people (I won't mention names) have a certain expectation that canned salsa will taste like that certain national brand. Here you go!
For those of you who have yet to get a garden in. Or those of you who are still waiting to harvest. Here's your fix: I can't wait any longer salsa!
Homemade Salsa Recipes: Fruit
This nectarine basil salsa from Pinch of Yum makes me anxious for my little ole nectarine trees to start producing!
Okay, so I call this salsa, which might make you think "chips." Rest assured that this pineapple salsa tastes fine on a spoon, too.
This mango-avocado salsa is a perfect accompaniment to tacos. I'm thinking fish tacos.
Abundance of strawberries? What not try some strawberry salsa?
Mango salsa is a great way for those of us in warmer climates to use the seasonal abundance of mango. Tangy, sweet, spicy — it's great! (Love mango? Be sure to try my mango chutney recipe, too.
Salsa recipes: Surprising savory ingredients
Sure, you might need gloves to handle some of the ingredients, but try canning cactus salsa for your pantry.
Okay, so I know approximately half of my readers think cilantro tastes like soap. I do not, so this cilantro salsa? Winning.
Tomatillos grow so much more prolifically for me than tomatoes. This tomatillo salsa has convinced my family that we might survive without our usual haul of hundreds of pounds of tomatoes every season.
Pico de gallo – with avocado.
So many amazing flavors in one dish! Ginger-lime salsa with jicama, kiwi, and tomatillos.
I hate to waste anything, and green tomatoes are no exception. At the end of the season, I pull all of the green tomatoes from my tomato plants. Salsa verde sounds like a great plan for some of them!
This cucumber salsa recipe can be made chunky or fine, to suit your taste. It's a fresh addition to burritos and wraps.