This spicy salsa recipe is perfect for adding a little bit of kick to your favorite meals. This is a cooked salsa recipe, but it comes together in just 20 minutes. Stir some into homemade guacamole or serve it with your favorite Mexican meal.
This homemade fresh salsa is delicious, too.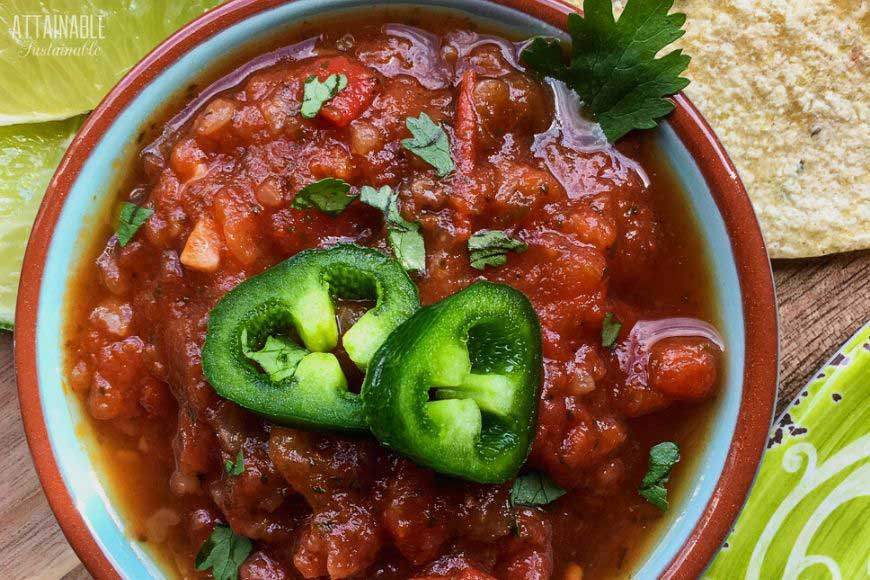 We are a family of salsa lovers. Some like it hot, some less so, but we all just love our tomato salsa. When I have access to fresh tomatoes, it's one of the first things I do. (Let me, for a moment, bemoan the fact that I can no longer grow tomatoes by the bushelful — they don't do well here in my island climate.)
If you've got an abundant crop of tomatoes, it's easy to make your own at home instead of buying jars or bottles of ready-made salsa. Use your favorite garden tomato or roma tomatoes, which are a bit meatier.
---
The Handcrafted Pantry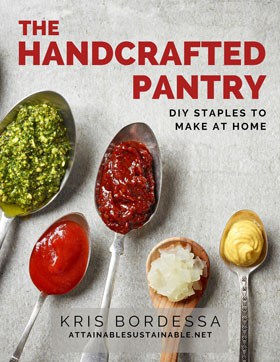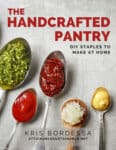 Ready to DIY your pantry with healthier ingredients? Check out my ebook, The Handcrafted Pantry! Filled with delicious recipes for some of your favorite condiments, snacks, and toppings, it's the guide you need to start skipping packaged products and embrace homemade.
---
Making this spicy salsa recipe
The bulk of the preparation for making this recipe is in chopping and dicing the ingredients. Once that's done, you'll simply sauté the onions, fresh garlic, and peppers to soften them and bring out their flavor. Once they're fragrant, you'll add the tomatoes and spices and cook just long enough to soften the tomatoes.
Pulsing the cooked salsa in a blender — or using an immersion blender — creates a restaurant style salsa with saucy bits of chunky cooked vegetables.
5 Easy Steps to Transform Your Pantry!
Ready to switch from store bought to homemade? Let me help you make some changes! Grab my FREE five-part guide to getting started.
Serve this spicy homemade salsa with chips for dipping or over our family favorite refried beans. Or spread some inside these homemade tortillas and top with cheese for a delicious quesadilla dinner. Feel free to double or triple the batch; it will keep in the refrigerator for several days.
★ Did you make this spicy salsa recipe? Don't forget to give it a star rating below! ★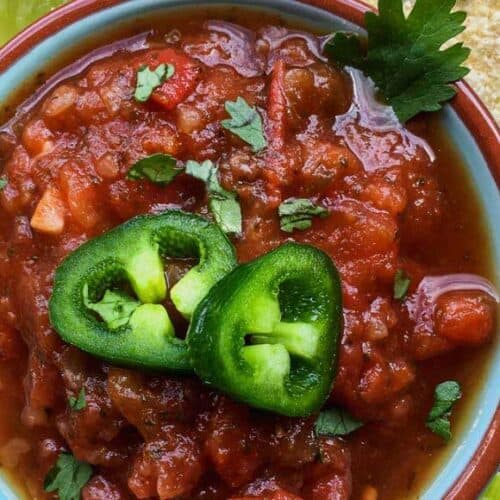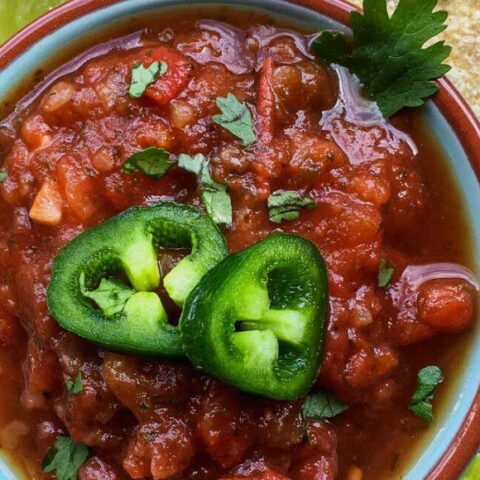 Quick & Easy Spicy Salsa
This healthy and delicious salsa recipe comes together in just 20 minutes.
Ingredients
1 tablespoon extra virgin olive oil
½ medium yellow onion, diced small
2 cloves garlic, diced
1 medium green bell pepper, diced small
1 medium jalapeno, finely chopped
Sea salt and black pepper, to taste
2 large tomatoes, seeded and chopped
½ teaspoon dried Mexican oregano, (or oregano)
¼ teaspoon smoked paprika
¼ - ½ teaspoon crushed red pepper flakes
¼ cup water
2½ tablespoon fresh lime juice
2-3 tablespoon fresh cilantro, finely chopped
Instructions
Heat olive oil in a medium saucepan over medium-high heat. Add onion, bell pepper, and jalapeno and season with salt and black pepper, to taste. Cook, stirring occasionally, until the onion and peppers become soft, around 4-5 minutes.
Add tomatoes, Mexican oregano, smoked paprika, crushed red pepper flakes, and water. Stir to combine and reduce heat to medium-low. Continue cooking, stirring occasionally, for another 4-5 minutes.
Remove from heat and set aside to cool for a few minutes. Once slightly cool, puree mixture with an immersion blender, leaving slightly chunky, or transfer to a regular blender or food processor and pulse a couple of times until just blended.
Transfer salsa to a bowl and stir in fresh lime juice and cilantro. Season with additional salt and black pepper, if desired. Serve immediately or cover and place in the refrigerator until ready to use. Enjoy!
Notes
The recipe calls for a yellow onion, but a red onion will work, too!
This homemade salsa will keep in the refrigerator for several days, so you can double recipe to enjoy with your favorite Mexican or Tex-Mex dishes or as a snack with your favorite tortilla chips.
Nutrition Information:
Yield:

4
Serving Size:

1 grams
Amount Per Serving:
Calories:

60
Total Fat:

4g
Saturated Fat:

1g
Unsaturated Fat:

0g
Sodium:

8mg
Carbohydrates:

7g
Fiber:

2g
Sugar:

3g
Protein:

1g