This easy tomatillo salsa recipe calls for just four ingredients. Also known as salsa verde, this recipe has a bit of a tang and a little heat. It's perfect to pair with chips or serve alongside your favorite Mexican meal.
This garden fresh salsa made with tomatoes is another favorite!
Originally published in June 2015; this post has been updated.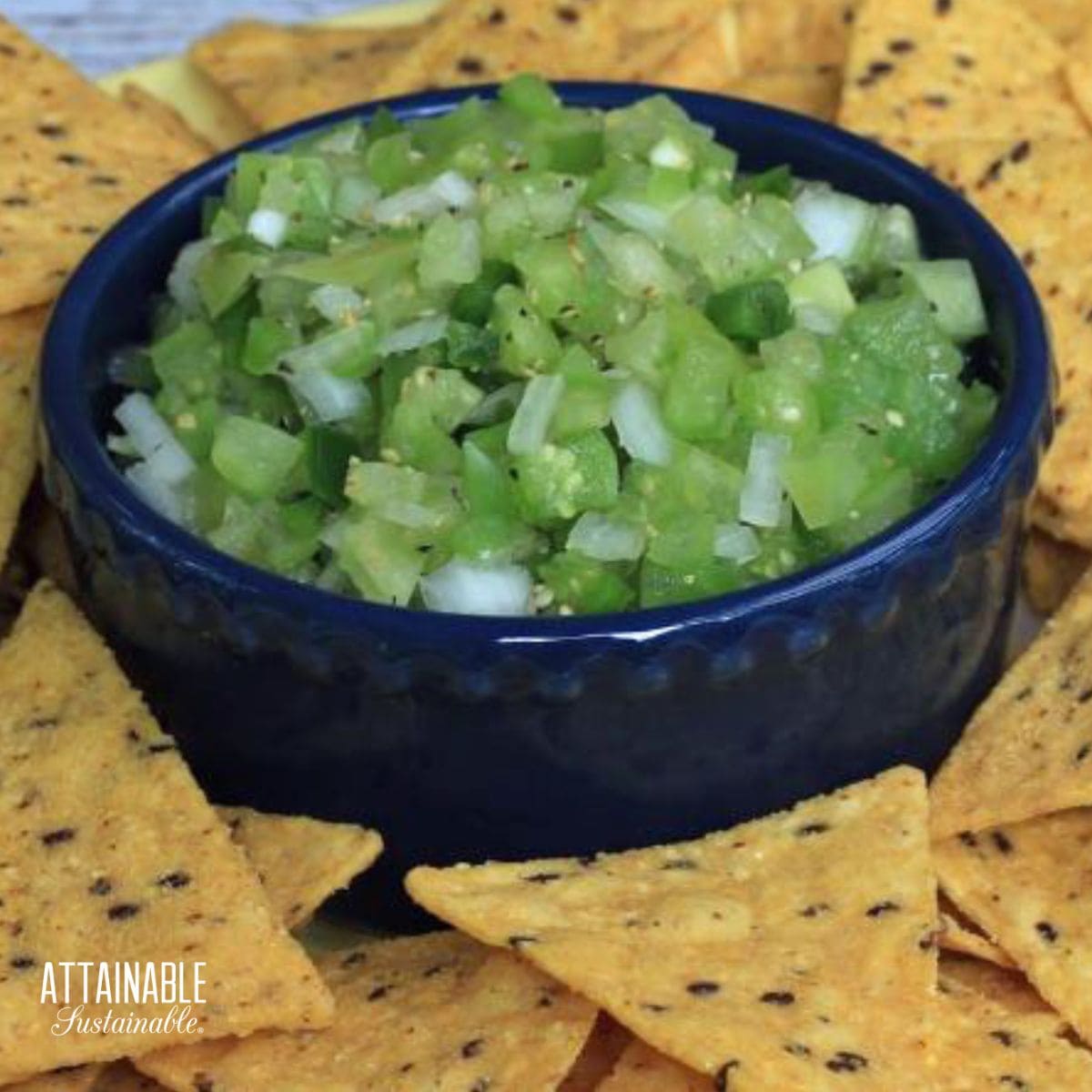 This recipe is featured in my book on page 167. It's a delicious way to use garden fresh tomatillos! Roasted tomatillo salsa is a staple on some supermarket shelves, but this green salsa recipe is an uncooked version that retains a bit of crunchiness.
The Handcrafted Pantry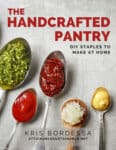 Ready to DIY your pantry with healthier ingredients? Check out my ebook, The Handcrafted Pantry! Filled with delicious recipes for some of your favorite condiments, snacks, and toppings, it's the guide you need to start skipping packaged products and embrace homemade.
Chunky Tomatillo Salsa
While I struggle to grow tomatoes here in this humid climate, tomatillos do really well. I've got three plants in the ground and producing right now, with more seedlings started.
5 Easy Steps to Transform Your Pantry!
Ready to switch from store bought to homemade? Let me help you make some changes! Grab my FREE five-part guide to getting started.
Tomatillos are super easy to grow and more resistant to pests than tomatoes due to their little husks. Since they grow well here, of course I'll be using them to make a lot of this fresh tomatillo salsa recipe. [More on growing tomatillos here.]
This recipe gets raves from my guys, and frankly, if I can't have my fresh tomato salsa all the time, this is a very acceptable substitute! It's a bit tangier than your standard tomato salsa, and the tomatillos maintain their crunchy texture, but this one? Is a winner!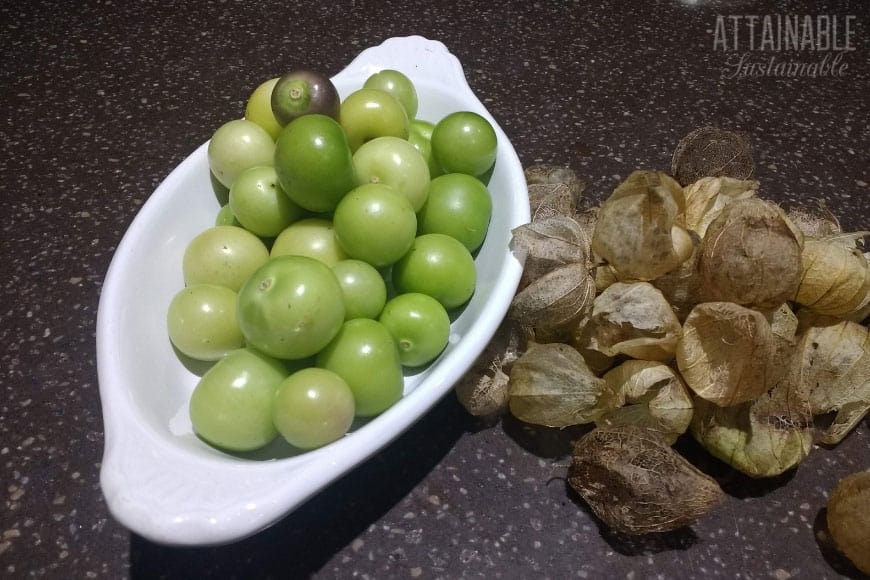 What are Tomatillos?
Sometimes called Mexican husk tomatoes, tomatillos are from the nightshade family — same as a tomato — but are a different fruit entirely. Tomatillos grow inside a papery husk that seems to help foil the bugs in my neighborhood.
They're small — 1-2″ in diameter for the most part — and are usually green, though there is a purple variety as well. The fruit has a sticky residue on its exterior that you'll notice when you're peeling them. They're much firmer than a tomato, and maintain a bit of a soft crunch even when fully ripe. The flavor of a tomatillo is a bit tangy.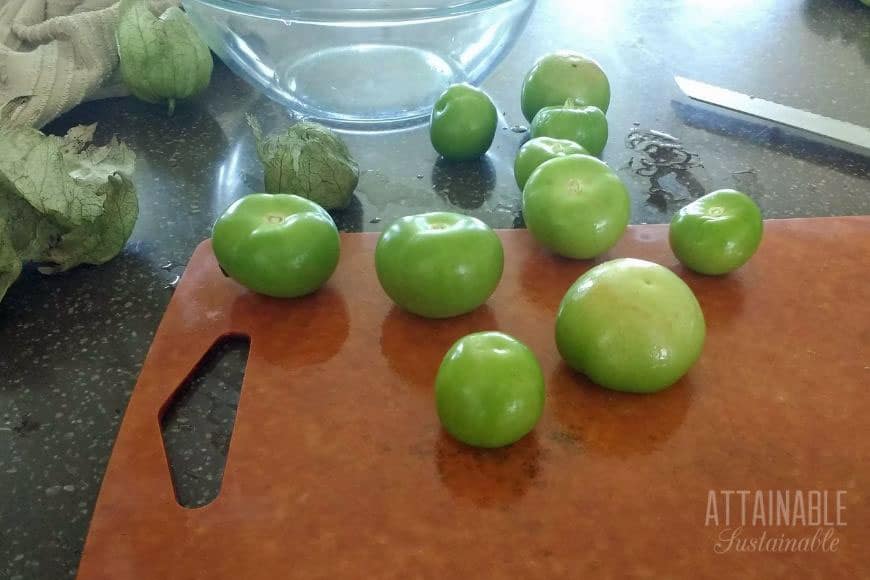 Ingredients
The recipe calls for just a handful of ingredients. If you cleverly made a batch of my hot pepper relish and have a jar tucked in the fridge, you can use that instead of the jalapeño pepper.
Tomatillos — Some supermarket produce sections carry fresh tomatillos. You could also use canned tomatillos, though the end result will be a much softer salsa.
Onion — You can use any kind of bulb onion you have on hand — white, yellow, or red.
Jalapeño pepper — Here's where the heat comes in. Finely dice the jalapeño pepper to add some kick to the dip. Don't like the heat? Skip this ingredient!
Lemon or lime juice — This provides a slight tanginess to the salsa, giving it a brighter flavor.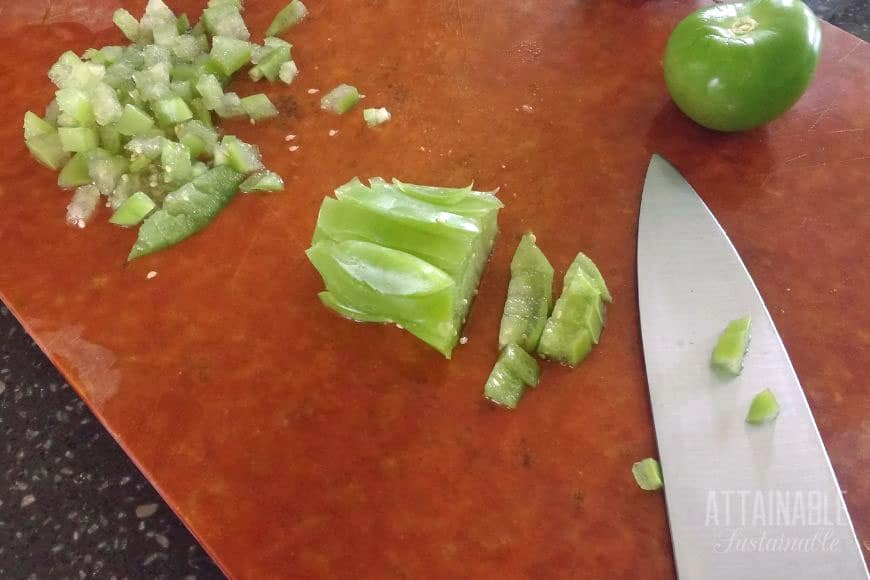 Making the Salsa
This tomatillo salsa recipe is pretty flexible and if you're comfortable doing so, quantities can definitely be eyeballed rather than measured.
Use a sharp knife to chop the tomatillos, onions, and hot peppers. Put all ingredients in a mixing bowl and stir to combine. Easy, peasy!
This recipe makes a chunky salsa, but if you'd prefer you're welcome to toss the ingredients into a blender or food processor to make a finer end product.
FAQs
Is this salsa verde?
Yup! Green salsa – that's made with tomatillo and not tomatoes. You will love the great tanginess here. It's a fair bit different than a tomato salsa, but I love to alternate or even use both. Oftentimes Mexican restaurants will offer both types with their chips.
Can I roast my tomatillos?
That will add more flavor for sure! Try a light mist of olive oil and a sprinkle of salt before roasting the peeled and washed tomatillos at 400 for 10-20 minutes depending on size. Keep in mind this will release a lot of liquid so you will have a looser salsa.
How is green enchilada sauce different than salsa?
Especially if you roast your tomatillos, you are on your way to enchilada sauce. Enchilada sauce is cooked, and you will need some chicken broth as well to turn this salsa into a sauce. But you can easily cook your tomatillos or finished salsa, and blend with broth or water. Then just add to shredded chicken for a great taco filling, or pour over filled enchiladas.
Serving this Salsa
Serve this tomatillo salsa up with tortilla chips, just like you would your favorite tomato salsa. Spoon some into a burrito. Or top off your favorite egg dish. Its fresh flavor will perk up most dishes.
Storage
Store leftover salsa in an airtight container in the fridge for up to a week.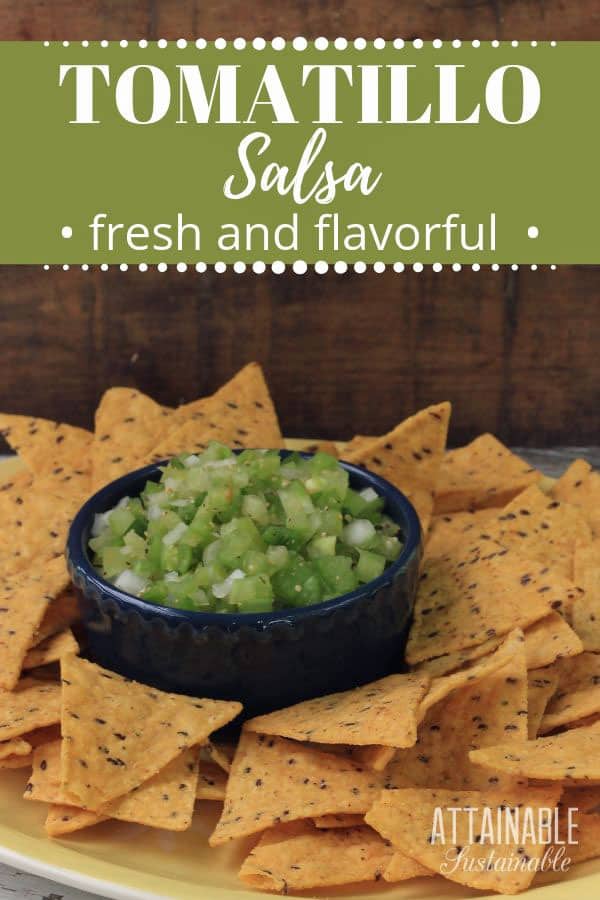 ★ Did you make this tomatillo salsa recipe? Don't forget to give it a star rating below!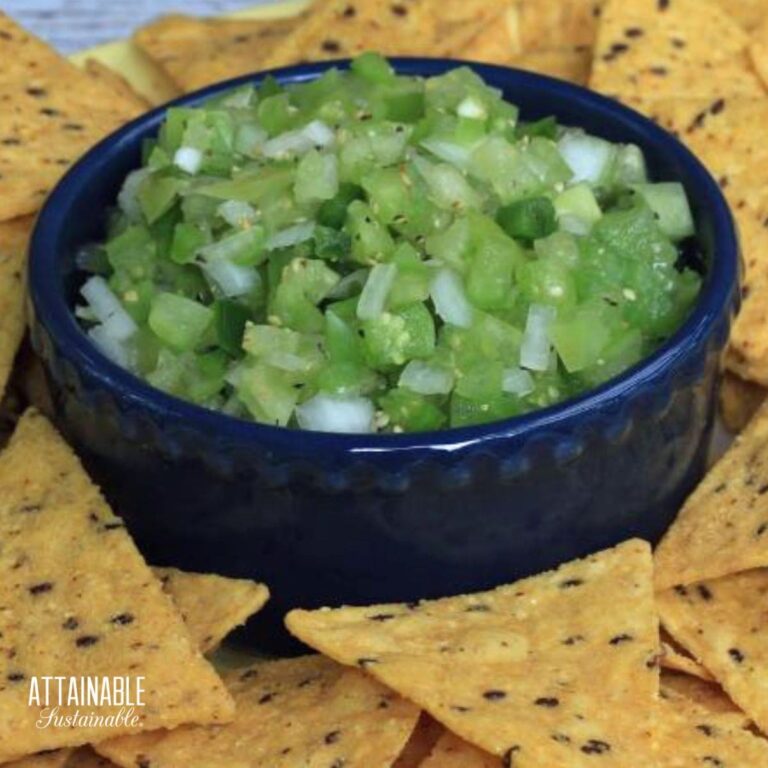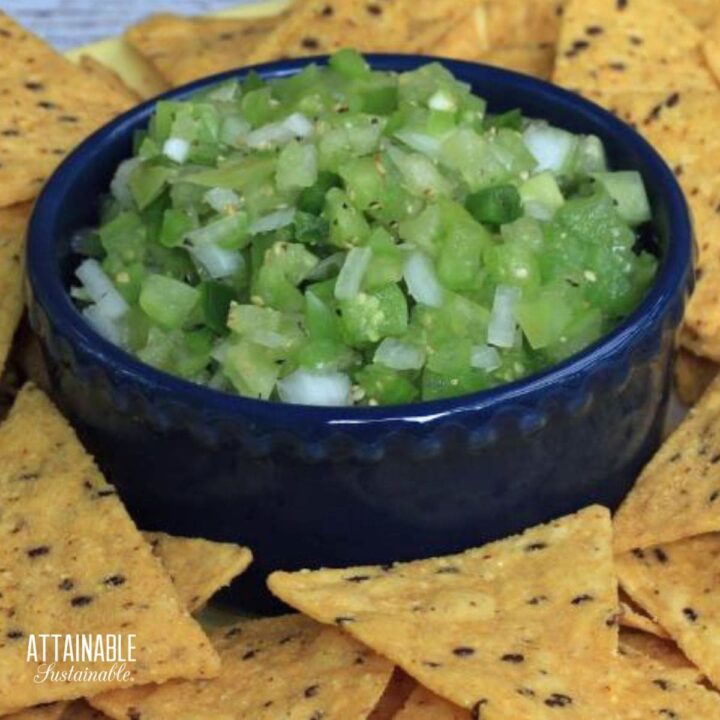 Chunky Tomatillo Salsa Recipe
This recipe is a bit tangier than your standard tomato salsa, and the tomatillos maintain their crunchy texture.
Ingredients
2 cups chopped fresh tomatillos
1/4 cup onion, chopped
1/2 jalapeno pepper
Juice from 1/2 a lemon or lime
1/2 teaspoon sea salt
1/2 teaspoon pepper
Instructions
Chop vegetables into 1/4" dice. You can do this by hand or use a food processor as a shortcut.
Add remaining ingredients and stir.
Store in an airtight container for up to a week.
Notes
If you'd prefer a less chunky salsa,  toss the ingredients into a blender or food processor and pulse to the desired consistency. 
Serve this tomatillo salsa up with chips, just like you would your favorite tomato salsa. Spoon some into a burrito. Or top off your favorite egg dish. Its fresh flavor will perk up most dishes.
Nutrition Information:
Yield:

4
Serving Size:

1 grams
Amount Per Serving:
Calories:

29
Unsaturated Fat:

0g
Sodium:

240mg
Carbohydrates:

5g
Fiber:

1g
Sugar:

3g