Tomatillos are super easy to grow and more resistant to pests than tomatoes due to their little husks. They grow well here, so of course I'll be using them to make a lot of this fresh tomatillo salsa recipe.
While I struggle to grow tomatoes here in this humid climate, tomatillos do really well.
This post may contain affiliate links; I'll earn a small commission if you choose to make a purchase.
I've got three plants in the ground and producing right now, with more seedlings started.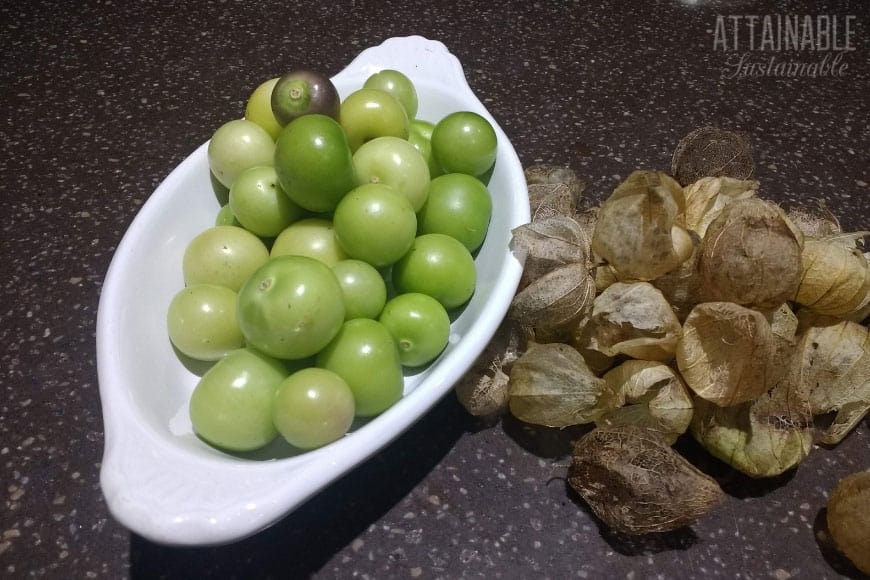 What are tomatillos?
Sometimes called Mexican husk tomatoes, tomatillos are from the nightshade family — same as a tomato — but are a different fruit entirely. Tomatillos grow inside a papery husk that seems to help foil the bugs in my neighborhood.
They're small — 1-2″ in diameter for the most part — and are usually green, though there is a purple variety as well. The fruit has a sticky residue that you'll notice when you're peeling them.
Tomatillo salsa recipe
I harvested some fresh tomatillos this morning and decided to experiment with a tomatillo salsa recipe. It got raves from my guys, and frankly, if I can't have my fresh tomato salsa all the time, this is a very acceptable substitute! It's a bit tangier than your standard tomato salsa, and the tomatillos maintain their crunchy texture, but this one? Is a winner!
Serve this tomatillo salsa up with chips, just like you would your favorite tomato salsa. Spoon some into a burrito. Or top off your favorite egg dish. Its fresh flavor will perk up most dishes.
This tomatillo salsa recipe is pretty flexible and quantities should definitely be eyeballed rather than measured. No need to dirty one more dish!
I'm easy like that.
★ Did you make this tomatillo salsa recipe? Don't forget to give it a star rating below!
Tomatillo Salsa Recipe
This recipe is a bit tangier than your standard tomato salsa, and the tomatillos maintain their crunchy texture.
Ingredients
Instructions
Chop vegetables into 1/4" dice. You can do this by hand or use one of these as a shortcut. Add remaining ingredients and stir.

Serve with chips or spooned on top of my family's favorite refried beans.