This homemade hot sauce recipe has a wonderful smoky flavor. Choose your favorite hot peppers to customize the flavor.
Fans of all things hot sauce will want to try this fermented hot sauce, too!
Related: How to Grow Hot Peppers for Homegrown Fiery Flavor
Some of my best projects start with simple happenstance. Friends of mine recently adopted one of my extra roosters and toted him home in my all-purpose cat carrier. When they returned the cat carrier, they also brought me some wonderful sweet potato-filled rolls and hot peppers from their garden.
The peppers came with a serious warning: They are very, very hot. Kay didn't know the variety but I poked around Google. I'm thinking perhaps Scotch Bonnets? Or Jamaican Yellow Peppers?
I didn't have any problem figuring out what to do with the sweet rolls, but the peppers on the other hand, left me pondering the possibilities.
5 Easy Steps to Transform Your Pantry!
Ready to switch from store bought to homemade? Let me help you make some changes! Grab my FREE five-part guide to getting started.
What to do with five very, very hot peppers? I posted a picture over on Instagram and there were several good suggestions (none of which, you'll note, I followed). Ultimately, I realized that in addition to these mystery peppers, my own Mulato Isleno plants had a handful or two of hot peppers that needed to be harvested.
Related: Spicy Chipotle Hummus – Easy to Make at Home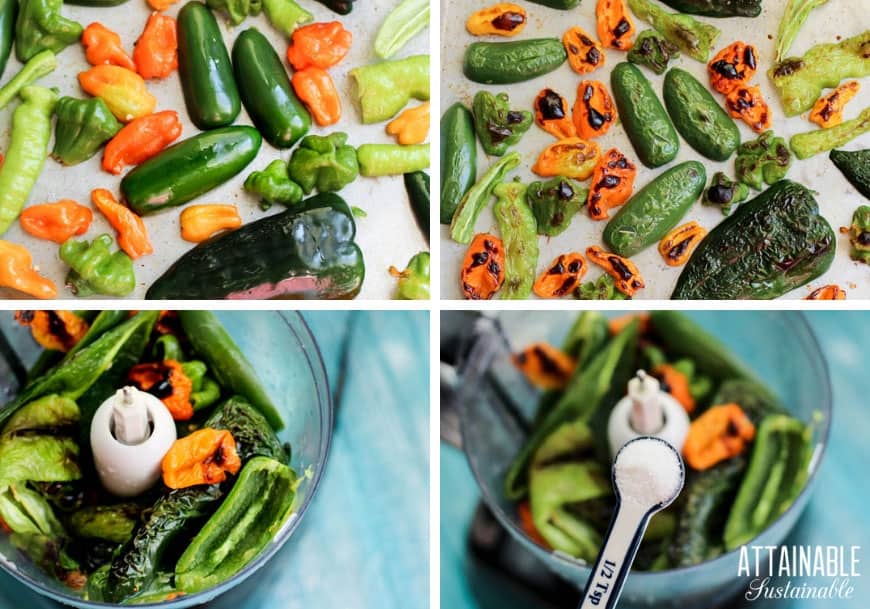 Related: Homemade Chile Pepper Flakes 
---
The Handcrafted Pantry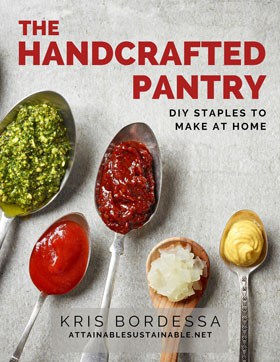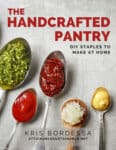 Ready to DIY your pantry with healthier ingredients? Check out my ebook, The Handcrafted Pantry! Filled with delicious recipes for some of your favorite condiments, snacks, and toppings, it's the guide you need to start skipping packaged products and embrace homemade.
---
Homemade hot sauce recipe
My youngest son is a Tabasco sauce fiend; he loves his food spicy. So I thought, why not try my hand at homemade hot pepper sauce? Maybe a smoky hot sauce recipe? I was inspired by this recipe, though I changed the ingredients up a bit to increase the acidity.
"It's the perfect level of heat," my son said after a couple of sample tastes. "It reminds me a little of chipotle peppers."
We have a winner! He adds dollops of it to just about anything he eats. I use it to flavor dishes like enchiladas or chili. And I'll give a few jars away, one in particular to the same friend who set me off on this exploratory adventure!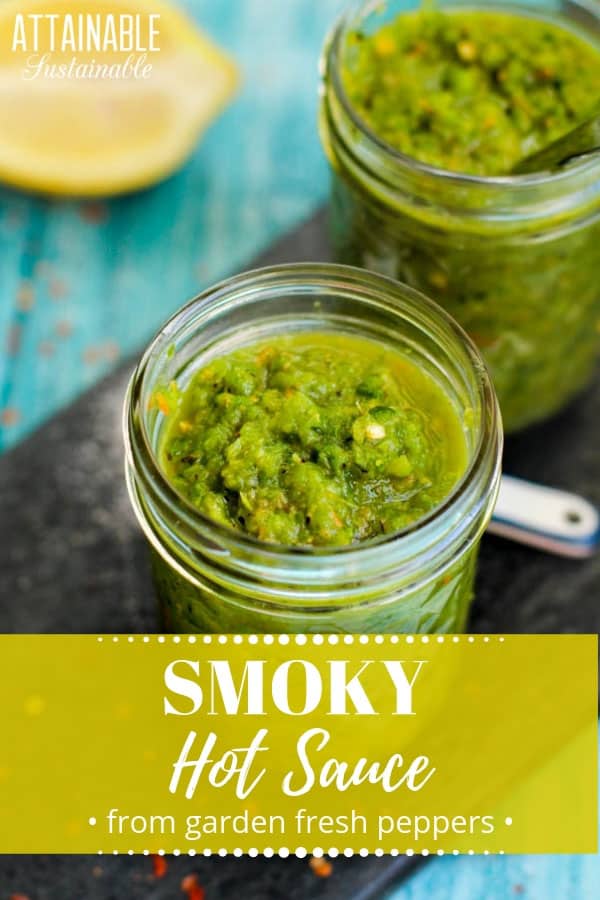 ★ Did you make this homemade hot sauce recipe? Don't forget to give it a star rating below! ★
Smoky Homemade Hot Sauce Recipe
This homemade hot pepper sauce has a wonderful smoky flavor.
Ingredients
15 hot peppers, (feel free to mix and match)
1/2 cup water
Juice of 1/2 lemon
2 Tablespoons apple cider vinegar
1 teaspoon granulated organic cane sugar
Instructions
Consider using disposable gloves to protect your hands if your peppers are "very, very hot." And for the love of Pete, don't touch your eyes while you're making this.
Remove stems from peppers and slice each in half. The seeds are the hottest part of the pepper; depending on how hot you want your sauce to be, you can leave the seeds in or remove them. I was concerned about the heat, so I did discard about 3/4 of the seeds. Place pepper halves, skin side up, in a cast iron skillet or baking dish. Broil for about five minutes, until skin begins to blister and brown.
Use tongs to move peppers into the bowl of your blender. Add all remaining ingredients and puree. Pour hot sauce into a recycled glass jar or portion into smaller containers for gift giving. Store in the refrigerator.
Notes
The color of the finished hot sauce will vary depending on the peppers you use. One batch may be very red (see it here), while another (as you see above) is green. 
This recipe makes about a half pint of hot sauce, but you can easily double it if you like.
Nutrition Information:
Yield:

16
Serving Size:

1 grams
Amount Per Serving:
Calories:

18
Unsaturated Fat:

0g
Sodium:

123mg
Carbohydrates:

4g
Sugar:

2g
Originally published in November 2015; this post has been updated.