They're not a nutritious addition to our meals, necessarily, but toppings and spreads like mayonnaise, mustard, and pesto make meals so much better. Add some of these homemade condiments to your pantry for a flavor boost!
Go here to learn more about making your own jams and jellies.
Can I make you think for a moment? If you pondered your family's eating habits and figured out the one prepared item, one of the pantry essentials that is used the most in your household, what would it be?
I asked a similar question of my readers awhile back and got a variety of answers: ketchup, salsa, ranch dressing, Miracle Whip*, barbecue sauce, bread, spicy mustard…
Now, think about the trash and plastic you could eliminate from the waste stream.
The chemicals (in many cases) you could remove from your family's diet.
And the trips to the store you could avoid if you made that one item at home.
What if instead of depending on Heinz and Kraft and Pace to fulfill your family's desire for that must-have item, you made it yourself?
Of course, you'll likely need the help of a farmer or two for some of the ingredients necessary to make your version, but removing that whole step of manufacturing your favorite staple foods is better for the environment and very likely better for your health.
5 Easy Steps to Transform Your Pantry!
Ready to switch from store bought to homemade? Let me help you make some changes! Grab my FREE five-part guide to getting started.
It gives you the opportunity to choose organic or sustainably farmed items. And it teaches the younger generation that food, real food, doesn't have to come with a label.
The Handcrafted Pantry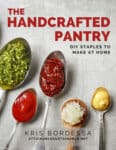 Ready to DIY your pantry with healthier ingredients? Check out my ebook, The Handcrafted Pantry! Filled with delicious recipes for some of your favorite condiments, snacks, and toppings, it's the guide you need to start skipping packaged products and embrace homemade.
Homemade condiments
I've already converted to making many of my own condiments and sauces. In fact, a guest of ours once asked, as I was making up a batch of homemade salad dressing, "Do you make your own salad dressing…every time you have a salad??"
Actually, I make enough to last for a week or so, but yes, all of my salad dressings are homemade.
We've still got a long way to go toward eliminating all prepared foods, but it's a start. And I can tell you that it has been a painless conversion.
In most cases, all you need to do is commit to a half an hour or so of combining ingredients to replace some of your pantry essentials.
And that half-hour in the kitchen will generally net you way more of your favorite condiment than what you'd get at the store – for less money.
In the case of ketchup, it will take longer, but that's because it needs to cook down. There's not much active work needed during that stage.
*I'm not a fan myself, but I found this recipe for homemade Miracle Whip. Even that can be created in your kitchen!
Food staples: Breaking the store bought habit
Long before Best Foods decided to bottle up their popular sandwich spread, someone was making that from scratch.
Same with so many of the things we buy ready made these days. What if I told you that making some of those staple foods isn't only possible, but easy to do at home?
Certainly it takes a little shift in thinking, but that's easy for someone as clever as you, right? Homemade condiments, here you come!
Why switch to homemade condiments?
Less packaging
Avoid unpronounceable ingredients and GMOs
Tastes better
You're not at the mercy of big food producers. Run out of mayo? Simple enough to whip up a quick batch!
You can choose ingredients you love.
Below you'll find a collection of some of the homemade condiments we love, along with links to even more great recipes.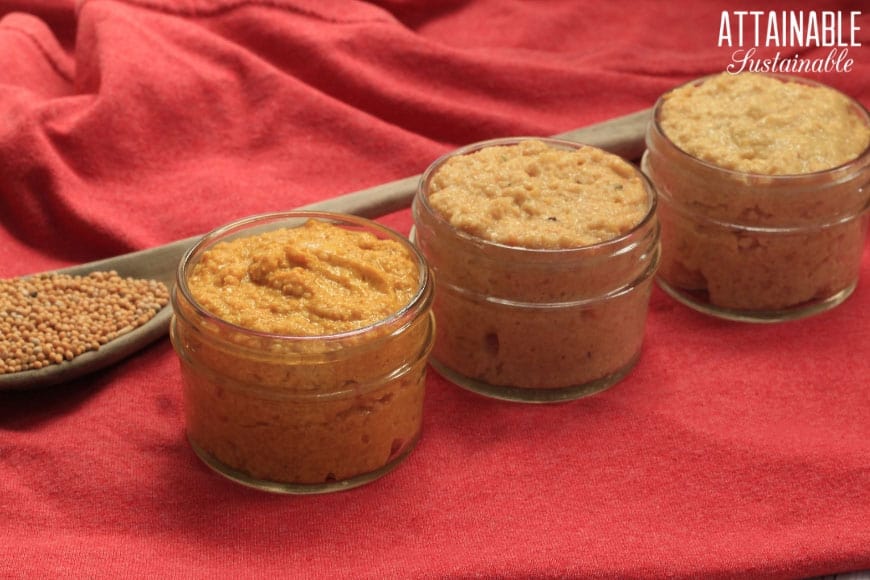 Mustard
I start with mustard because it is one of the easiest homemade condiments to make and a great place to start if this is all foreign to you. Three ingredients (if you count water) and five minutes of hands-on effort and boom!
Here's my recipe, but consider fiddling with it once you've made it a couple of times. Try white wine or ale instead of water, or add some spices to kick it up!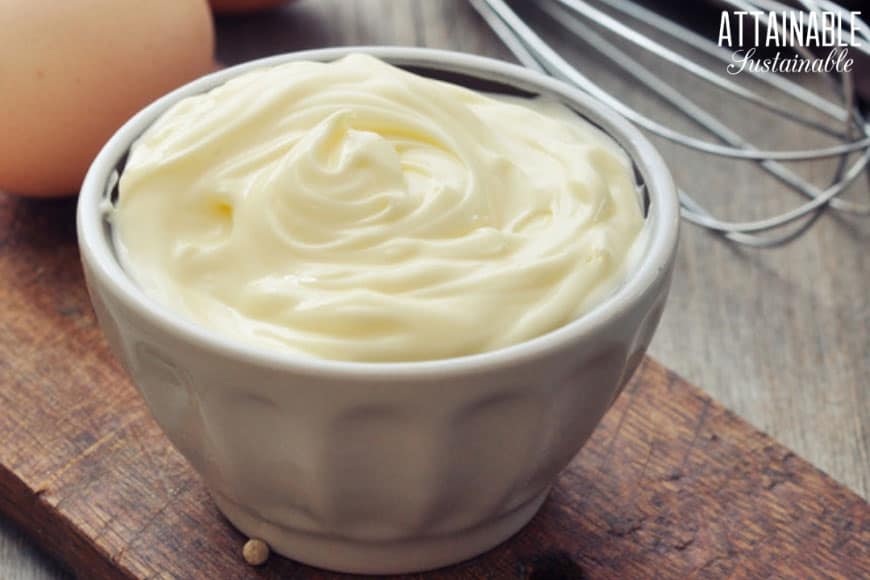 Mayonnaise
Another sandwich topping that we are used to scooping from a jar, mayonnaise has a reputation for being difficult to make–not because the steps are involved, but because the egg and oil sometimes don't emulsify. Years ago, a reader tipped me off to an almost infallible way to make mayonnaise and I've been using that method ever since!
Spicy Mayo
This dipping sauce is SO simple to make but packs a punch of flavor. Use it for dipping fries, sushi, or tossing with ahi to make a homemade spicy poke!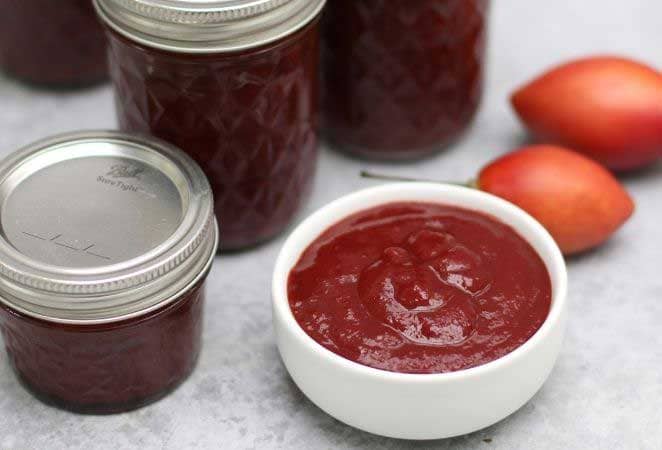 Ketchup
This ketchup recipe a great substitute for your favorite store bought brand. You can make it with tomatoes OR, as I do, with tamarillos. This recipe is safe for canning, but you could also halve the recipe and just keep it in your fridge.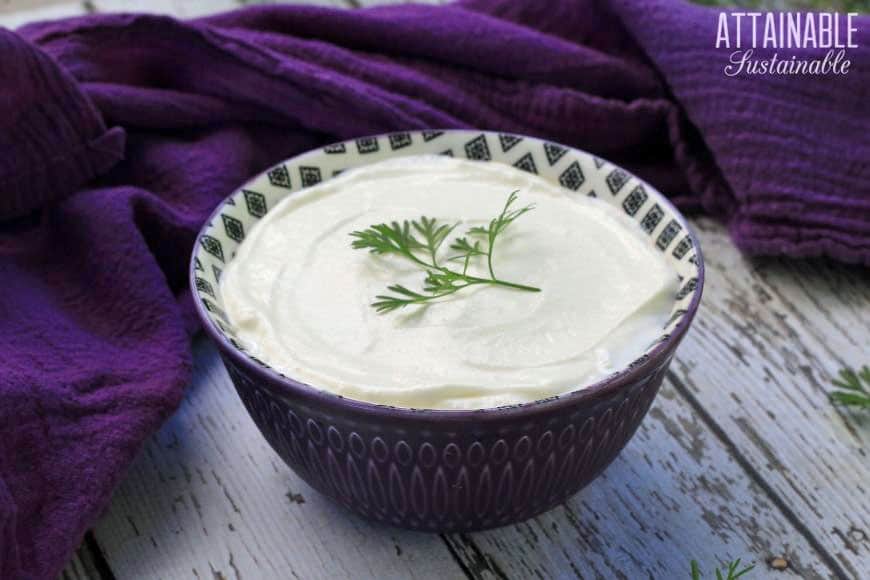 Sour Cream
This is my new favorite thing. As we peck away at making more of our own ingredients at home, I've discovered that DIY sour cream is crazy easy. In fact, my husband has taken to making it! Not that he's incompetent — he's a great cook — but he's habitual.
There are two ways to make it, with slightly differing results. Each requires only two ingredients! Try this sour cream recipe or this recipe for creme fraiche. (The creme fraiche sounds fancy, but it tastes just like our favorite store bought brand.)
Salad Dressing
The salad dressing section in my grocery store is about ten feet long and five feet high. There are flavors that appeal to every taste bud! But those bottled dressings come with wonky ingredients and yet another disposable bottle.
Instead, try your hand at making your own salad dressing. Switching out to this one homemade condiment will save you a bundle if you eat a lot of salad!
Our go to is this Caesar ranch dressing. In the springtime, try making this creamy salad dressing made with fresh radish leaves.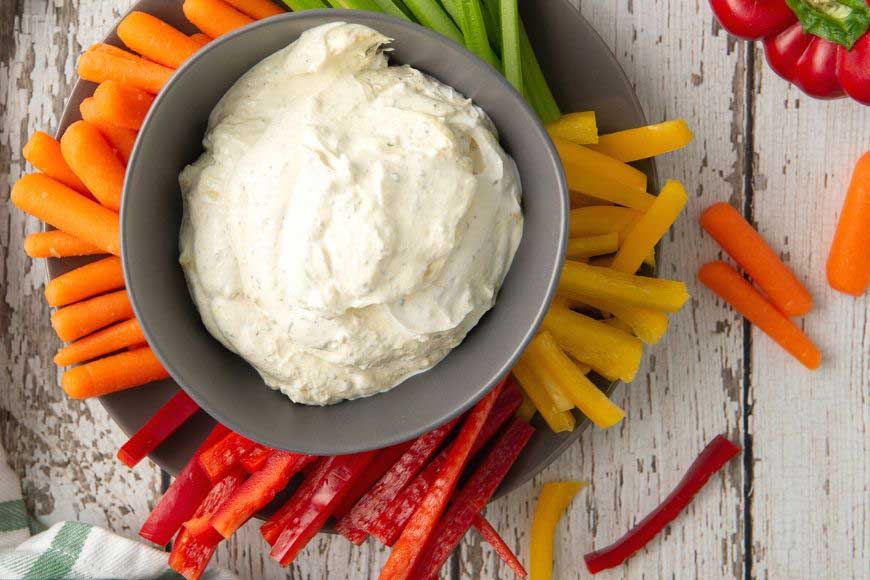 Onion Dip
If you usually buy your onion dip pre-made or as a little mix in packet, homemade dip is going to blow your mind. It's all we make anymore. Try this French onion dip or opt for green onion dip — whichever strikes your fancy!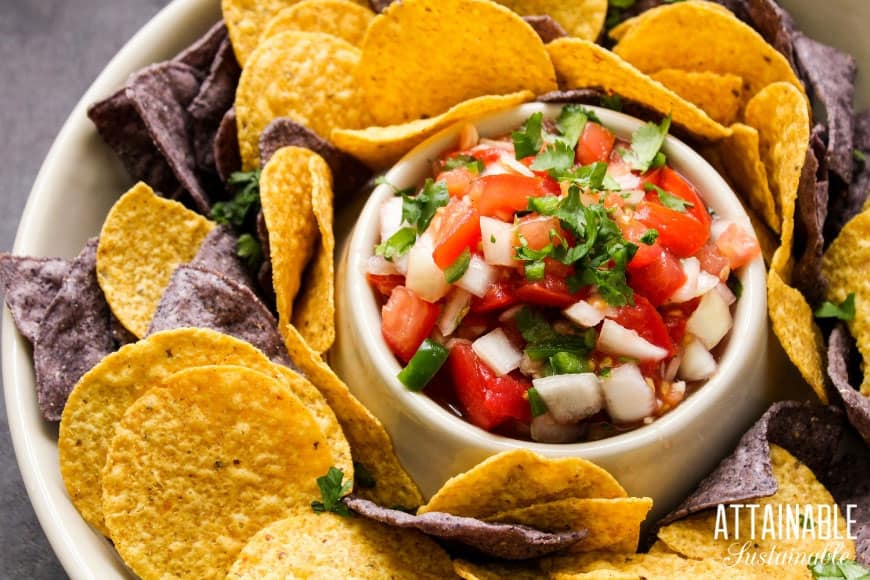 Salsa
I'm trying to remember if fresh salsa was even available at supermarkets when I was growing up. I don't think so. And yet it's standard fare these days.
Five ingredients and a little bit of chopping and you can kiss those little plastic containers goodbye. (You'll definitely want to keep this recipe on hand for summer garden season!)
Or try something a little different and make a batch of tomatillo salsa. For a sweet alternative to salsa that goes well with chicken or fish, try this pineapple salsa! I fermented mine, but if you're not into that, no need.
If you're a fan of cooked salsa, this salsa recipe is for you.

Pickled Jalapeños
My son loves topping his meals with a little heat. These easy pickled jalapeños are a great stand in for the canned variety.
Hot Pepper Relish
Another favorite way to add heat to meals? This fermented hot pepper relish. I use it as an easy-to-grab ingredient for spicing up homemade chili or curry.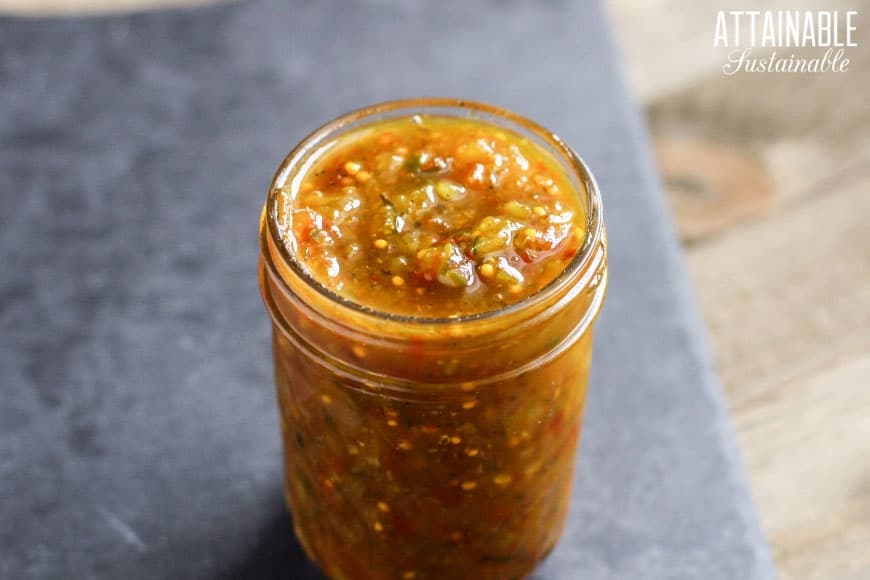 Hamburger Relish
Made from summer's favorite abundant crop, zucchini, this hamburger relish tastes just like your favorite store-bought version.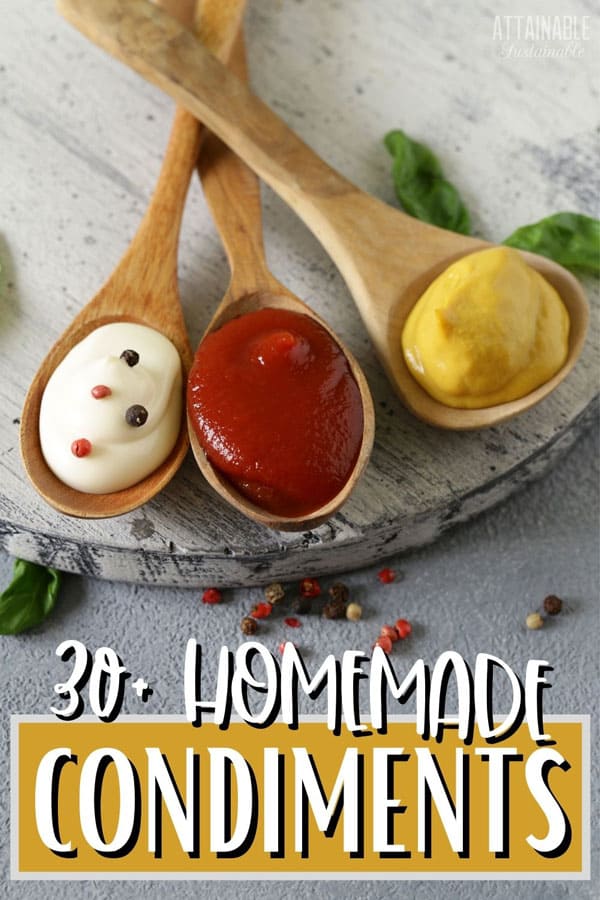 Jam and Jelly
Making jams and jellies is a bit more involved, but if you've been wanting to delve into home canning, this is the best place to start. If you know how to chop and mix ingredients, making jam won't be difficult for you. If you don't want to go through the canning process, you can just refrigerate your jam, but it won't last as long.
This recipe for homemade grape jelly can be canned or made as a freezer jelly.
More jam and jelly recipes:
DIY Peanut Butter
If your family is a fan of peanut butter and jelly sandwiches, this is probably one of the most-used pantry essentials in your kitchen. You'll need a blender for this one, but making homemade peanut butter is about as easy as it gets. Here's how.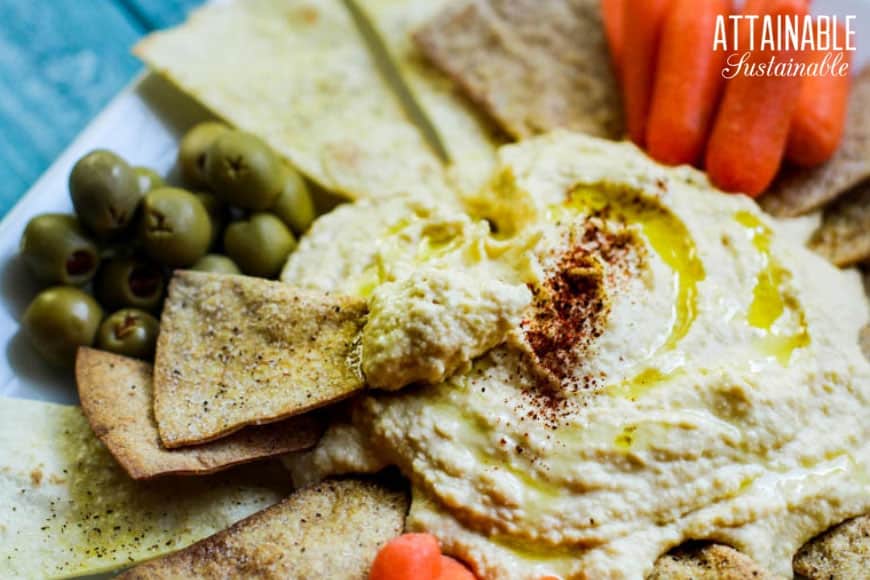 Hummus
Hummus is a fairly new introduction in the United States. Unless you grew up in a Greek or Middle Eastern family, it's likely that the first taste of hummus you had came straight from the supermarket. But good news! Hummus is super easy to make.
And you can switch it up like we do with this spicy chipotle hummus recipe or this roasted red pepper hummus. You will need a food processor or blender of you want that creamy texture, though my son managed to make hummus while he was away at college, patiently smashing it with a spoon.
Pesto
Great as a topping for pasta, pesto also works well to make sandwiches and wraps just that much better. Try classic basil pesto or for something a little bit different, whip up a batch of radish leaf pesto.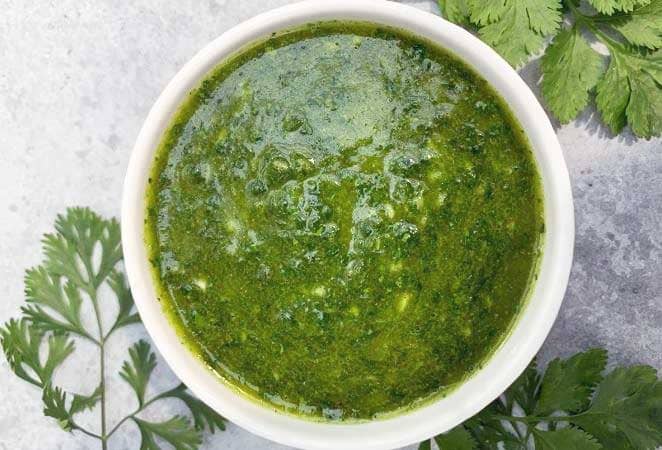 Cilantro Sauce
This light and flavorful cilantro sauce is perfect for taco night, but it's delicious spread in sandwiches and wraps, too.
Hot Fudge Sauce
Everyone needs a little treat once in awhile, right? Store bought hot fudge sauce is usually heavy on GMO corn syrup or sugar. Make your own with some simple ingredients and a little bit of cooking time and you'll be in hot fudge heaven.
Originally published March 2015; this post has been updated.