Keeping a jar of pickled onions in the fridge means instant flavor! Add these flavorful veggies to sandwiches, top a salad, or chop them into potato salad. It will take you just minutes to make them.
Try this easy recipe for refrigerator dilly beans, too!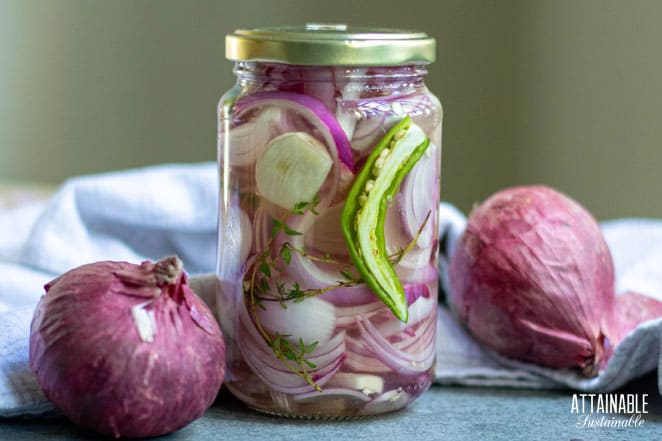 I love having little "extras" to serve with a meal, and these refrigerator pickled onions are easy to put into the rotation. It'll take just 15 minutes to make them, though you'll have to be patient — they need to sit in the brine for 48 hours before they're ready to eat.
Making pickled onions
Since this recipe is a refrigerator pickle, not a canned product, you can use any upcycled jar you have on hand. No need to use up your precious canning jars! The recipe calls for a quart sized jar, but you can divide the ingredients between two pint sized jars as well.
Slice the red onions thinly, and pack them into a jar along with garlic cloves, a hot pepper, and fresh thyme.
Heat the brine ingredients to a simmer, pour that over the onions in the jar, and refrigerate for 48 hours. It couldn't be easier!
5 Easy Steps to Transform Your Pantry!
Ready to switch from store bought to homemade? Let me help you make some changes! Grab my FREE five-part guide to getting started.
As the sliced onions sit in the brine, the liquid takes on a brilliant pink color.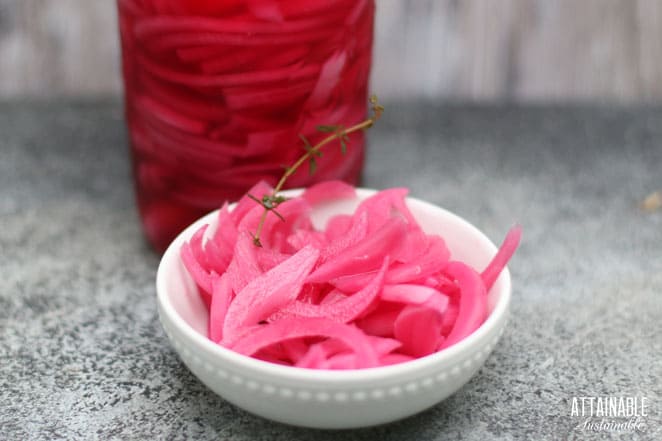 Ingredients
Onions — Sweet red onions are the best choice here, both for their flavor and the resulting deep pink hue that the onions get after sitting for a day or two. You won't break anything if you try it with yellow onions, though!
Hot pepper — Add a little kick to the mix with a hot pepper or two. I used a jalapeno pepper, but any kind will work. Obviously, the heat will vary depending on the variety you use.
Fresh thyme — Add a few sprigs of fresh thyme for extra flavor. You can substitute a half teaspoon of dried thyme.
Seasonings — A bit of salt and sugar round out the brine.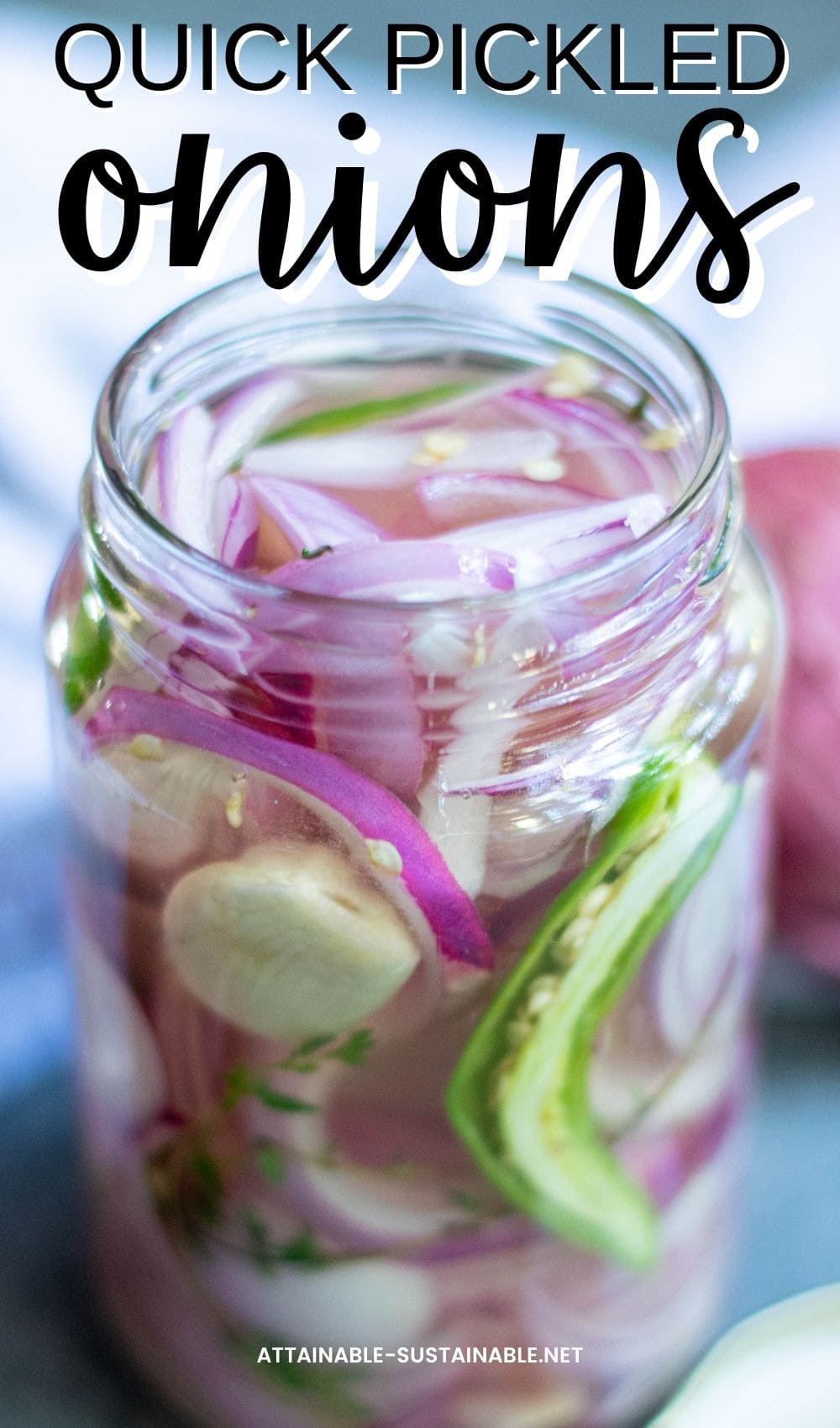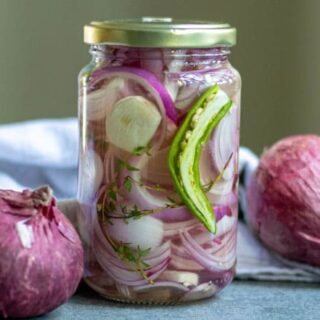 Quick & Easy Refrigerator Pickled Onions
These refrigerator pickled onions add a pop of flavor to sandwiches and are great served alongside grilled meats. Keep some in your fridge at all times!
Ingredients
4 cups red onion, sliced (about 3 medium)
1 jalapeno pepper
4 cloves garlic
1-2 sprigs of fresh thyme
For brine:
1 cup white vinegar
1 cup water
1 tablespoon salt
1 tablespoon sugar
Instructions
Heat brine ingredients in a small saucepan. Bring to a low simmer and stir until salt and sugar is dissolved.
While the brine is heating, slice red onion thinly, cutting each onion in half and then into thin slices. Cut pepper in half.
Fill a quart sized jar with the onions, pepper, garlic, and thyme, pressing lightly to compact the ingredients a bit.
Pour hot brine over the onions in the jar, filling it to within a quarter inch of the jar rim. Cover and refrigerate for 48 hours before using.
Store in the refrigerator for up to a month.
Notes
Feel free to use apple cider vinegar instead of white vinegar if you prefer.