This small batch refrigerator bread and butter pickles recipe is easy to make — no canning required — and serves up a sweet and tangy flavor.
Like easy? Try these pickled refrigerator green beans or pickled onions, too!
Pickles come in a variety of flavors, ingredients often varying depending on what's in season. When cucumbers are abundant in the garden or at the farmers market, this recipe is a perfect way to use some.
Refrigerator Bread and Butter Pickles
It's a funny name for a pickle, isn't it? As the story goes, Omar and Cora Fanning farmed cucumbers and used them to make a family favorite pickle recipe. One hard season, Mrs. Fanning utilized the "cull" cukes to make jars of pickles to barter with.
They bartered for basics like (wait for it) bread and butter. The name stuck.
---
The Handcrafted Pantry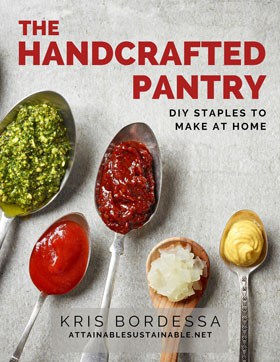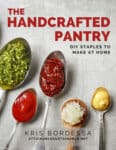 Ready to DIY your pantry with healthier ingredients? Check out my ebook, The Handcrafted Pantry! Filled with delicious recipes for some of your favorite condiments, snacks, and toppings, it's the guide you need to start skipping packaged products and embrace homemade.
---
Ingredients
Cucumbers — I like to use small pickling cucumbers as they will easily fit in the jars, and are the perfect size to use on sandwiches.
5 Easy Steps to Transform Your Pantry!
Ready to switch from store bought to homemade? Let me help you make some changes! Grab my FREE five-part guide to getting started.
Onions — Onions pair so nicely with the cucumber and add a lot of flavor to the brine.
Sugar — Sugar is necessary for creating the pickling liquid so don't be alarmed at the amount used. It is part of the preservation process.
ACV — Be mindful of this little tidbit when buying apple cider vinegar.
Making Refrigerator Bread and Butter Pickles
This recipe begins with sliced cucumbers and onions. You'll soak them in salt water for 1-3 hours in the fridge. This pulls some of the moisture out of the cukes, allowing them to more readily absorb the flavors of the pickle brine.
Drain, rinse, and then pack the cucumbers into clean jars.
Heat the brine until sugar is dissolved and it is just to a simmer. Then pour into the jars over the pickles while still warm.
FAQs
What type of jars should I use?
Good news – whether you aren't someone that does a lot of canning or can't find new lids, you're in luck. These aren't processed under pressure and aren't shelf-stable, so you can absolutely re-use jars and lids. Even jars from store-bought items like pasta sauce are fair game.
What type of cucumbers should I use?
Pickling cucumbers are smaller in diameter, making them easier to fit into jars. You can also look for English or hothouse cucumbers in the store which generally have a thinner skin and fewer seeds. And of course, regular cucumbers will work just fine!
Why do I soak the cucumbers first?
It's a good idea to soak your cucumbers in salted water first. It might seem counterintuitive, but it has a great reason. The salt will help pull excess moisture from the produce – yes, even while it is sitting IN water. This will allow it to then soak up all the tasty brine to turn the cucumbers into pickles.
★ Did you love this recipe? Be sure to give it a star rating below! ★
Easy Refrigerator Bread and Butter Pickles
Total Time:
1 hour
25 minutes
If you like sweet and tangy flavors, you'll love this easy small batch pickle recipe!
Ingredients
1 pound cucumbers, sliced 1/8-1/4" thick
2 small onions, thinly sliced
3 tablespoons sea salt
2 cups sugar
2 cups apple cider vinegar
1/4 cup water
1 tablespoon mustard seed
1 tablespoon turmeric powder
Instructions
Combine sliced cucumbers, onions, and salt in a mixing bowl. Add water to cover and mix to combine. Refrigerate for 1-3 hours.
Combine remaining ingredients in a saucepan and heat over medium-high heat until sugar is dissolved and mixture is just simmering.
While brine is heating, drain cucumber mixture and rinse well.
Transfer cucumbers and onions to jars. This recipe will fill 2 quart sized jars or 4 pint sized jars.
Pour hot brine over cucumbers to within one-half inch of rim. Seal jars with a lid and refrigerate for at least a week before sampling.
Notes
Since you won't be processing these jars of pickles to make them shelf stable, it's a perfect opportunity to re-use glass jars from the store. You can also reuse canning jar lids (which is not safe for canned items).
Nutrition Information:
Yield:

32
Serving Size:

1/4 cup
Amount Per Serving:
Calories:

57
Total Fat:

0g
Saturated Fat:

0g
Trans Fat:

0g
Unsaturated Fat:

0g
Cholesterol:

0mg
Sodium:

596mg
Carbohydrates:

14g
Fiber:

0g
Sugar:

13g
Protein:

0g
History source: https://www.etsu.edu/cph/documents/bread_and_butter_pickles.pdf