Homemade crème fraîche may sound fancy, but this two-ingredient recipe is perfect for topping tacos or stirring into savory sauces. And it's a SNAP to make at home.
Originally published June 2019; this post has been updated.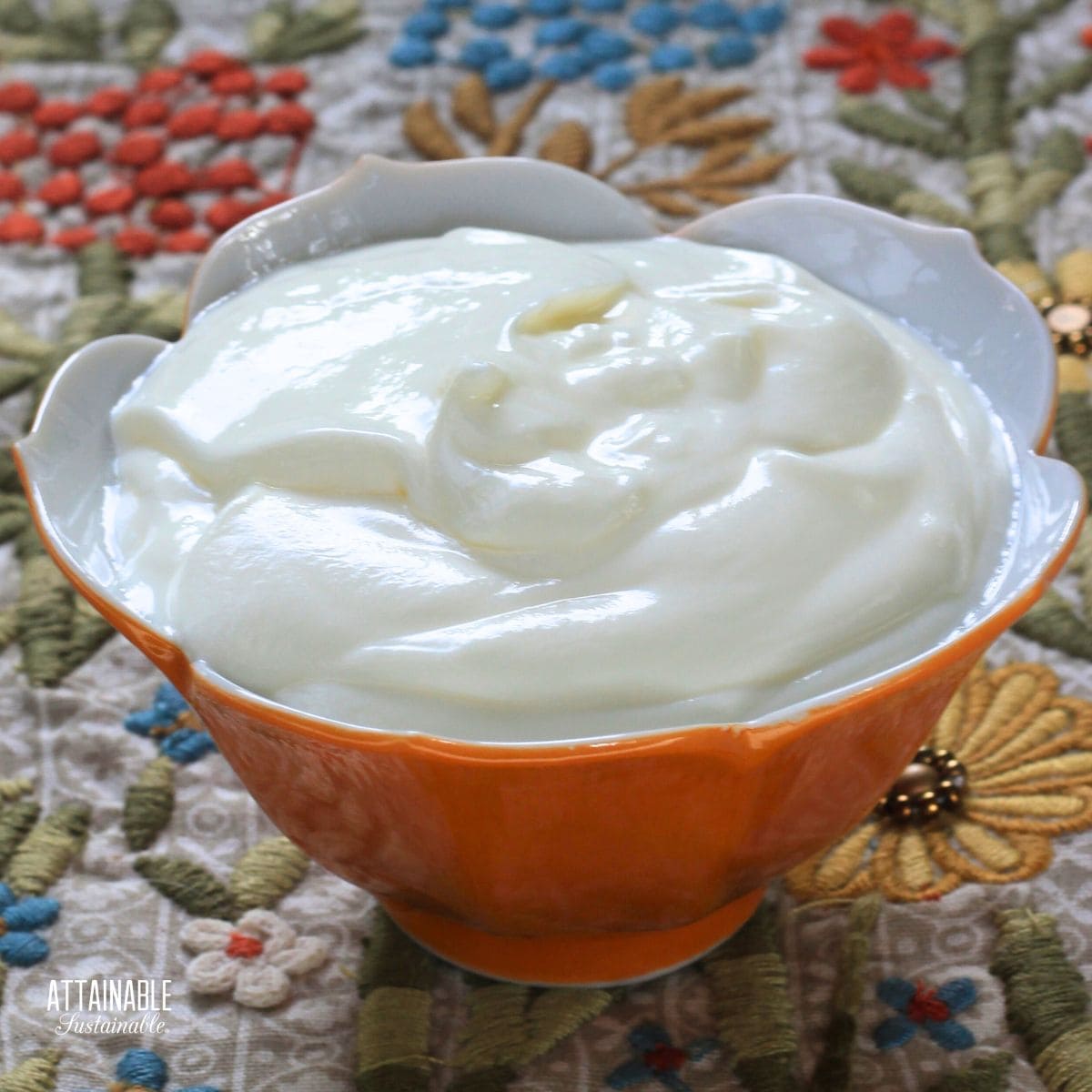 The Handcrafted Pantry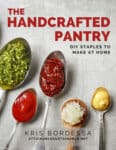 Ready to DIY your pantry with more wholesome ingredients? Check out my ebook, The Handcrafted Pantry! Filled with delicious recipes for some of your favorite condiments, snacks, and toppings, it's the guide you need to start skipping packaged products and embrace homemade.
What is Crème Fraîche?
In a nutshell, it's thickened cream; a rich, thick, creamy wonderfulness. It's a French recipe, made from dairy cream that has been soured.
Made with heavy whipping cream and buttermilk, this homemade crème fraiche recipe is beyond easy to make.
Ingredients
Heavy cream — Traditional French creme fraiche is made with cream that has a fat content more than 30%. The heavy cream and whipping cream on America's dairy shelves both meet this requirement.
Buttermilk — This is an ingredient that not everyone has on hand on the regular, but using it creates a thick texture and tangy flavor.
5 Easy Steps to Transform Your Pantry!
Ready to switch from store bought to homemade? Let me help you make some changes! Grab my FREE five-part guide to getting started.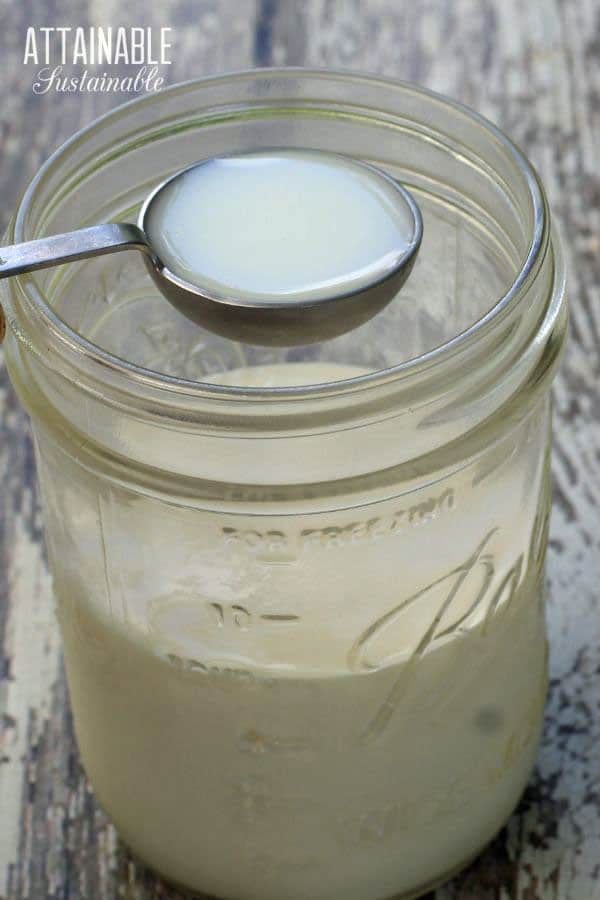 How to Make it
Trust me when I say this couldn't be easier. It's a one-step recipe: combine the cream and buttermilk in a glass jar.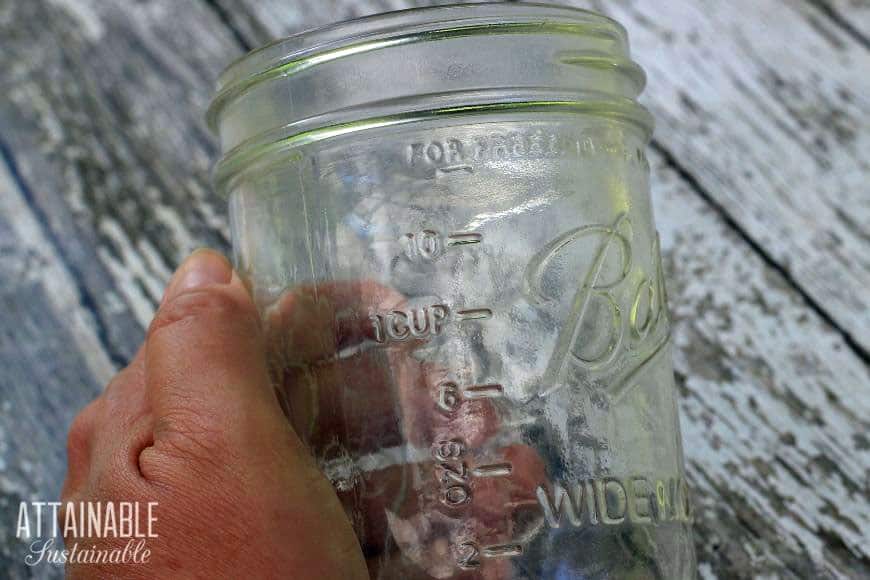 Hot tip: Use a canning jar with measurements on the side and you won't even have to dirty a measuring cup.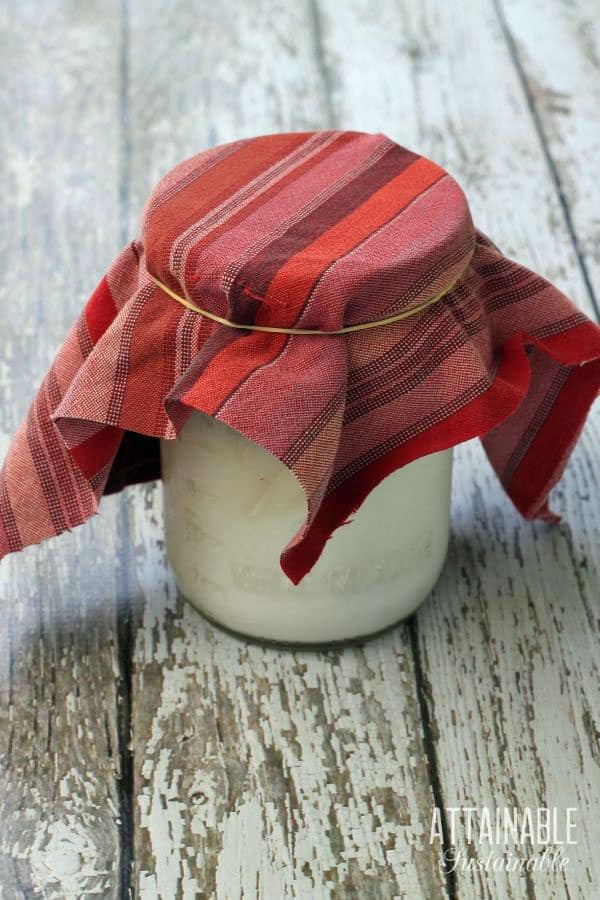 Cover the jar lightly with a cloth and rubber band and allow the mixture stand at room temperature for 8 hours or overnight, until thickened.
I know, letting dairy products sit at room temperature goes against everything you've been taught. But left to sit, the ingredients will thicken and take on a lovely tang.
Store in an airtight container in the fridge for 7-10 days.
Uses for Crème Fraîche
This deliciously tangy topping is so versatile and adds a depth of flavor to so many recipes!
Use it to top tacos, enchiladas, or your favorite Mexican meal
Add a dollop to creamy soups, like this pumpkin soup
It's a great ingredient to use in creamy salad dressings
Top pancakes and crepes
Sweeten it lightly with honey and use it to top fruit pies
Stir some into mashed potatoes for extra creaminess
FAQs
What if I can't make crème fraîche?
If you just don't have the ingredients to make this recipe, the best alternative is to use sour cream. Store bought is fine, you can make your own using this sour cream recipe. It uses lemon juice rather than buttermilk, which is often more readily available in the pantry.
What makes this recipe thick?
As stated above, we are letting this sit on the counter for a bit – yes, seems wrong, doesn't it? But this allows for natural fermentation which will thicken up the cream. This is what makes it different than sour cream, especially store-bought, as it can contain chemical thickeners.
Go here to learn how to replace even more of your pantry essentials.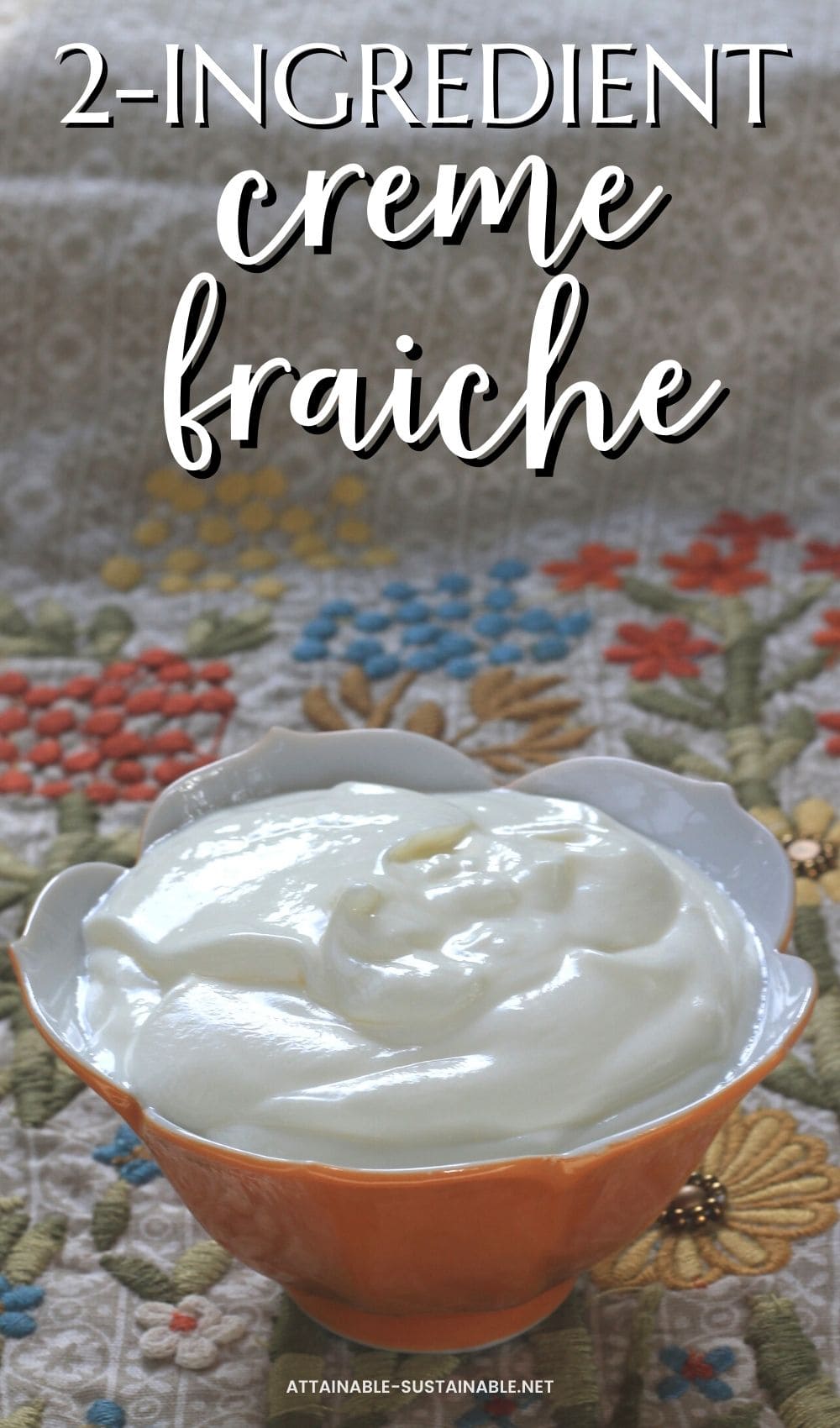 ★ Did you make this crème fraiche recipe? Don't forget to give it a star rating below! ★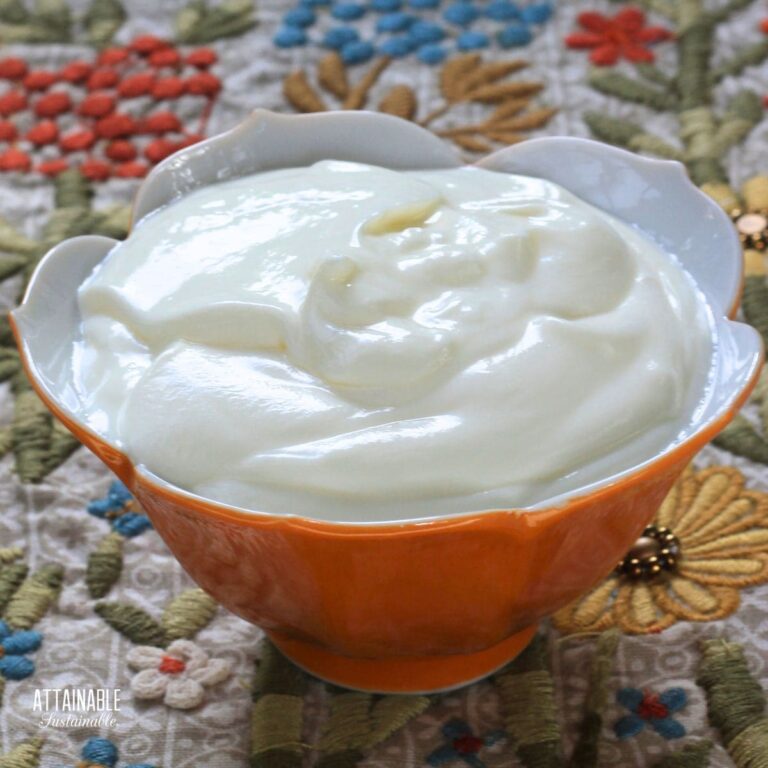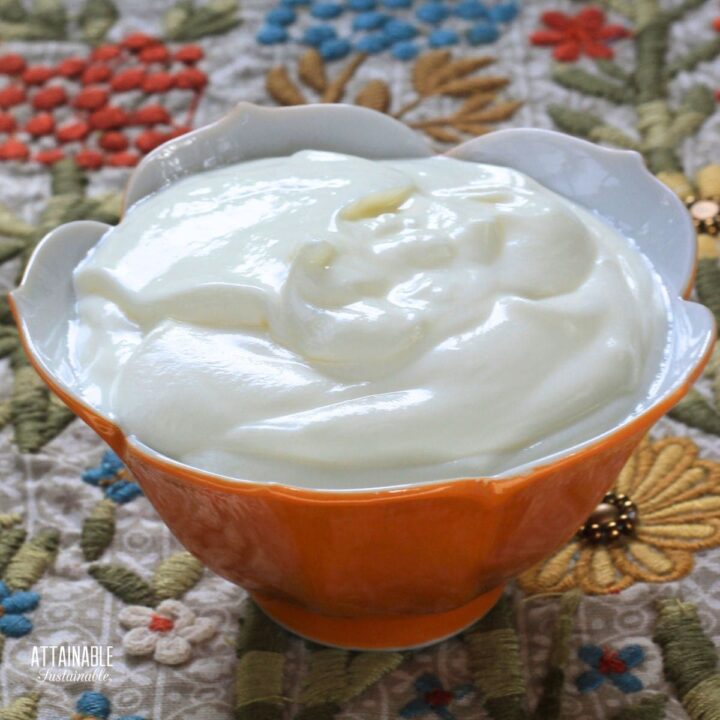 How to Make Crème Fraiche with Just Two Ingredients
Total Time:
12 hours
6 minutes
It sounds fancy, but this two-ingredient recipe is easy as can be and a great substitute for sour cream. It's super easy to make!
Ingredients
1 cup heavy cream
2 tablespoons buttermilk
Instructions
Combine heavy cream and buttermilk in a jar. If you use a canning jar, the measurements on the side of the jar make it easy!
Use a rubber band to secure a thin piece of cloth over the jar.
Let mixture sit at room temperature until thickened to your liking, 8-24 hours.
Stir creme fraiche and store in the refrigerator for up to two weeks.
Notes
Choose a heavy cream or whipping cream with a fat content that exceeds 30%.
Nutrition Information:
Yield:

16
Serving Size:

1 tablespoon
Amount Per Serving:
Calories:

52
Total Fat:

6g
Saturated Fat:

3g
Unsaturated Fat:

0g
Cholesterol:

21mg
Sodium:

8mg
Carbohydrates:

1g
Sugar:

1g
Protein:

1g