Crème fraiche may sound fancy, but this two-ingredient recipe is perfect for topping tacos or stirring into savory sauces. And it's a SNAP to make at home.
---
The Handcrafted Pantry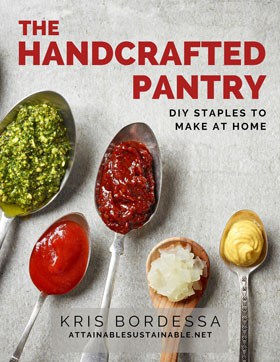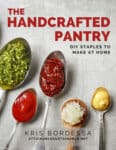 Ready to DIY your pantry with healthier ingredients? Check out my ebook, The Handcrafted Pantry! Filled with delicious recipes for some of your favorite condiments, snacks, and toppings, it's the guide you need to start skipping packaged products and embrace homemade.
---
What is crème fraiche and how do you make it?
In a nutshell, it's thickened cream; a rich, thick, creamy wonderfulness.
Made with heavy whipping cream and buttermilk, this crème fraiche recipe is beyond easy to make. In my quest for a sour cream replacement (so I can stop bringing home those plastic tubs of store bought sour cream) I've experimented with a couple of different recipes. For topping tacos, this crème fraiche recipe got thumbs up as the best of the recipes I tried.
The homemade sour cream recipe I made results in a somewhat tangier, somewhat looser option than this creme fraiche.
These recipes are so similar, they're kind of interchangeable in recipes. Which one you choose to make may just depend on availability of ingredients. You may not always have buttermilk on hand; if you don't, use my sour cream recipe instead. (Lemon juice is a staple in most refrigerators, right?) That sour cream recipe is perfect for making dips and makes a fine creme fraiche substitute.
Here's a trick, though. When you buy buttermilk to make these buttermilk biscuits, freeze the leftover buttermilk in ice cube trays. Measure two tablespoons into one cell of an ice cube tray, then pour buttermilk into the remaining cells to match that level. (That way you don't need to measure each and every one!) When you're ready to make a batch of crème fraiche, pop out a cube, let it melt, then stir it into the cream as directed.
5 Easy Steps to Transform Your Pantry!
Ready to switch from store bought to homemade? Let me help you make some changes! Grab my FREE five-part guide to getting started.
Here's how to make creme fraiche in a nutshell: combine two ingredients — that will take you five minutes or less. Let them stand at room temperature. I know, letting dairy products sit at room temperature goes against everything you've been taught. But trust me on this. Left to sit, the ingredients will thicken. Stir the mixture and store it in an airtight container in the fridge.
Making this recipe is as easy as can be and completely eliminates the need to buy sour cream in plastic containers. It's an easy step to embrace on your path to using less plastic!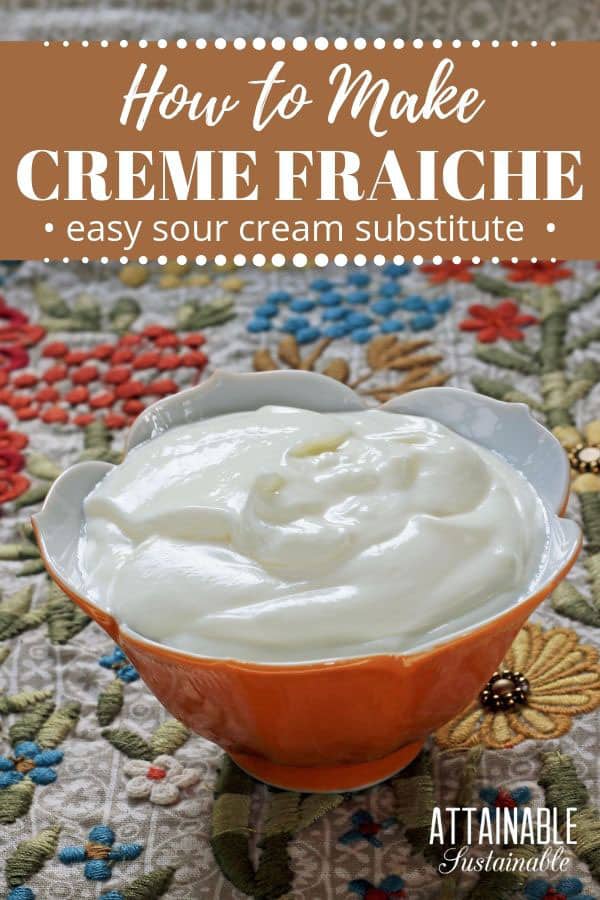 ★ Did you make this crème fraiche recipe? Don't forget to give it a star rating below! ★
Easy Homemade Crème Fraiche
Total Time:
12 hours
6 minutes
It sounds fancy, but this two-ingredient recipe is easy as can be and a great substitute for sour cream.
Ingredients
1 cup heavy cream
2 tablespoons buttermilk
Instructions
Combine heavy cream and buttermilk in a jar. If you use a canning jar, the measurements on the side of the jar make it easy!
Use a rubberband to secure a thin piece of cloth over the jar.
Let mixture sit at room temperature until thickened to your liking, 8-24 hours.
Stir creme fraiche and store in the refrigerator for up to two weeks.
Notes
Serve creme fraiche over tacos or stir some into this creamy pumpkin soup.
Note: To be clear, there is no COOKING involved with this recipe, but the recipe card feature I use here isn't allowing me to leave that space blank. :/
Nutrition Information:
Yield:

16
Serving Size:

1 tablespoon
Amount Per Serving:
Calories:

52
Total Fat:

6g
Saturated Fat:

3g
Unsaturated Fat:

0g
Cholesterol:

21mg
Sodium:

8mg
Carbohydrates:

1g
Sugar:

1g
Protein:

1g