These easy pumpkin pancakes take the flavor of pancakes up a notch with the addition of pumpkin puree and pumpkin spice. Pancakes are a snap to make and an inexpensive breakfast option that both kids and adults love.
Originally published October 2018; this post has been updated.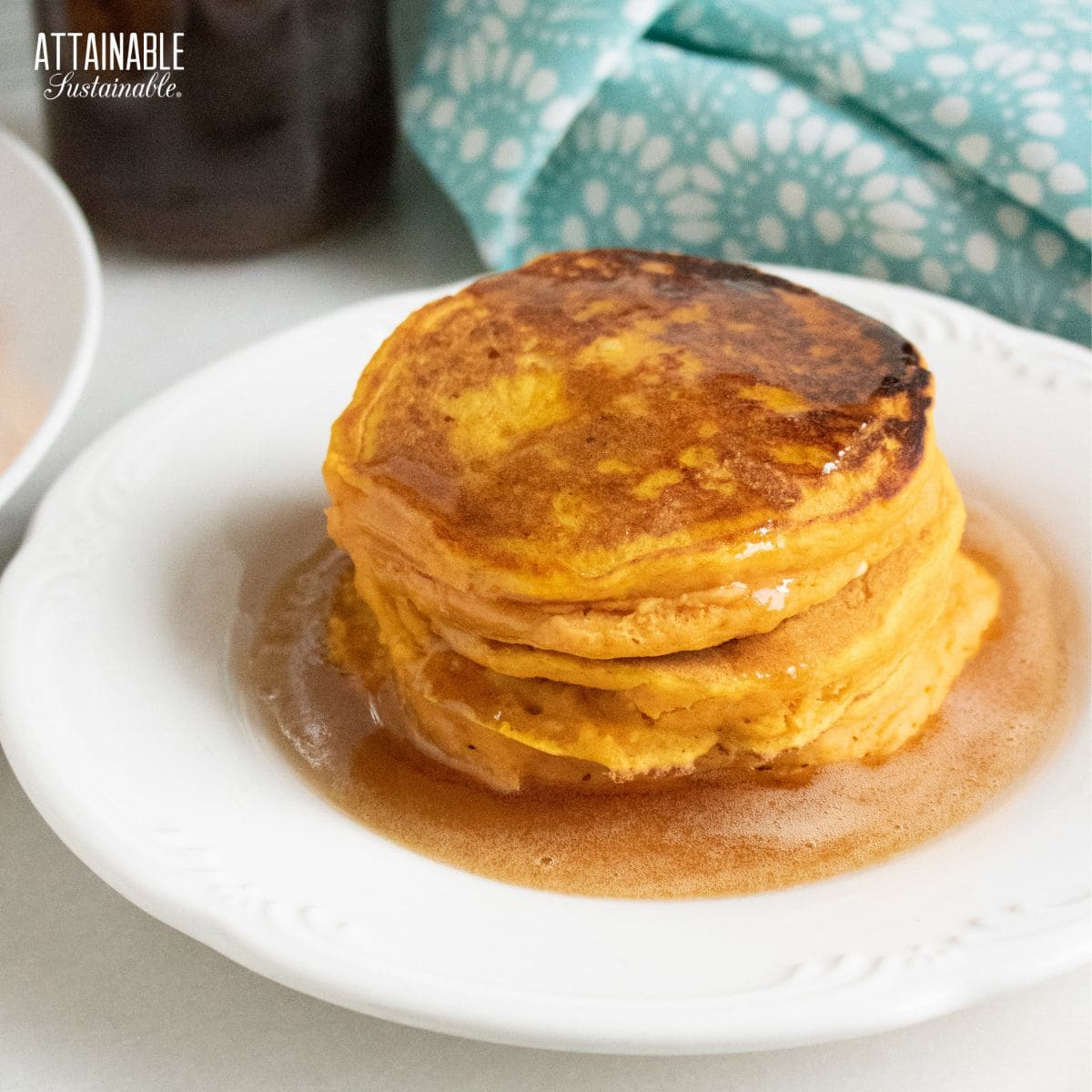 Easy Pumpkin Pancakes
If you've been sold on the idea that pancakes are hard to make from scratch, you've been snookered. Store bought pancake mix in the familiar yellow or blue packaging is a dry mix that needs to be mixed with milk and eggs.
Homemade pancakes simply require you to measure a few of your own much-less-expensive ingredients and (you guessed it) mix them with milk and eggs.
This pumpkin pancake recipe calls for the extra addition of pumpkin puree and spices.
Ingredients
Flour — When I bake with all-purpose flour I opt for the unbleached version. Bleached flour is very white, but it's also treated with bleaching agents that I don't really need in my food. If you'd like to add some whole grain goodness, you can substitute whole wheat flour for half of the all-purpose flour.
5 Easy Steps to Transform Your Pantry!
Ready to switch from store bought to homemade? Let me help you make some changes! Grab my FREE five-part guide to getting started.
Brown sugar — Opting for brown sugar provides a slight molasses flavor. You can certainly use granulated sugar if you don't have light or brown dark sugar.
Pumpkin puree — I like to make my own pumpkin puree but canned pumpkin puree works fine here, too.
Eggs — Fresh eggs, store bought, use what you have readily available.
Milk — Use whatever type you typically keep on hand. The addition of milk helps the pancakes brown nicely. You can certainly use nut milk if you prefer.
Seasoning and leavening — The baking powder is what gives rise to these pancakes, making them a light and fluffy addition to the breakfast table. Pumpkin pie spice gives them the old pumpkin spice flavor we've come to love.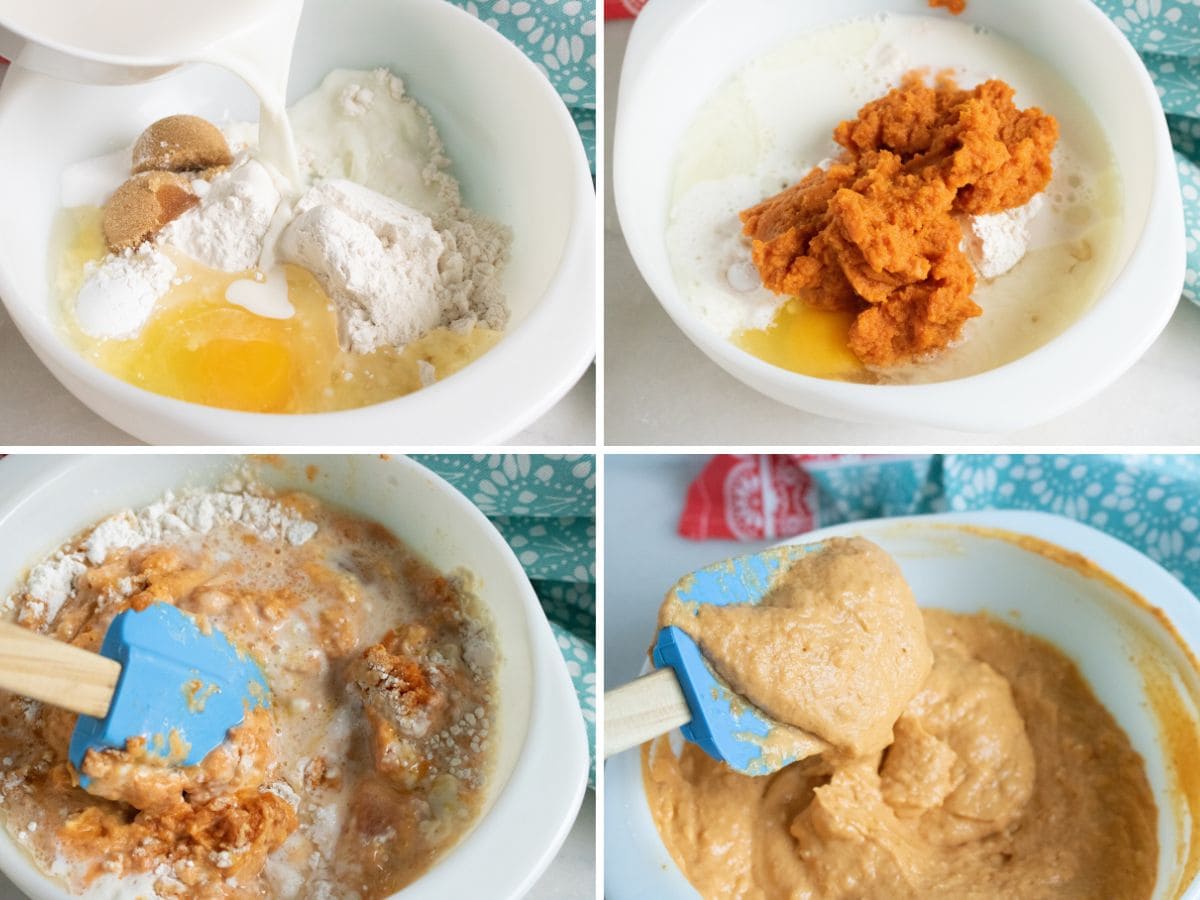 One Bowl Pumpkin Pancakes
You can make this recipe all in one bowl! Start by measuring the dry ingredients together. Stir until combined, then add the wet ingredients. This ensures that the baking soda is evenly distributed so you don't get an accidental mouthful of it in a finished pancake.
The packaged mixes might shave off a minute or two of measuring at best. If you really like to have ready to make pancake mix at hand, make up a batch of this homemade pancake mix for a fraction of the cost.
Set a skillet over medium heat or use an electric griddle. Once hot, add a pat of butter or coconut oil and then scoop spoonfuls of pancake batter onto the hot surface. Cook until bubbles appear around the edges of the pancake and the surface becomes a bit dull. Flip and cook the other side.
Serving
Top these fluffy pumpkin pancakes with:
A drizzle of maple syrup or homemade ginger syrup
Chocolate chips, nuts, and whipped cream for a special treat
Peanut butter
Your favorite jam or jelly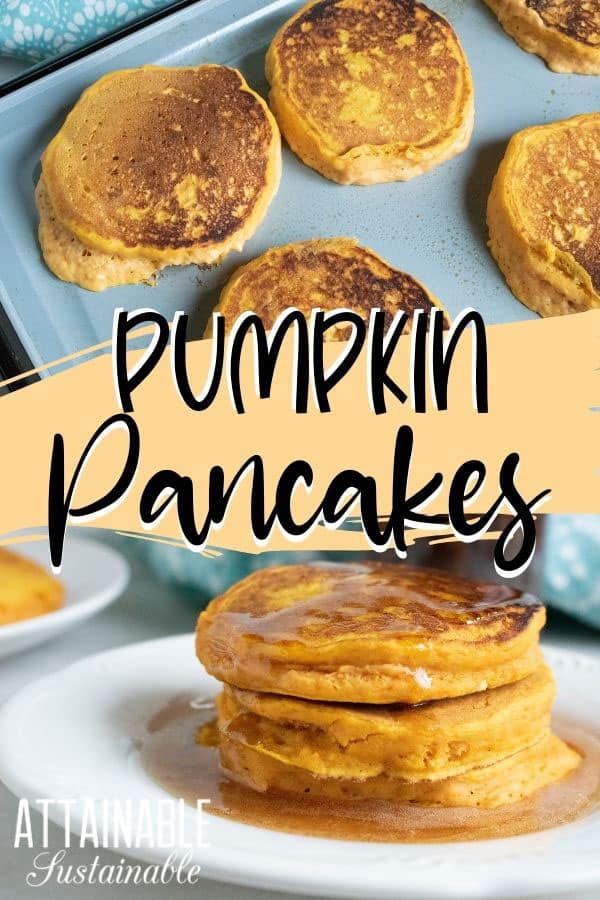 ★ Did you make these easy pumpkin pancakes? Don't forget to give it a star rating below! ★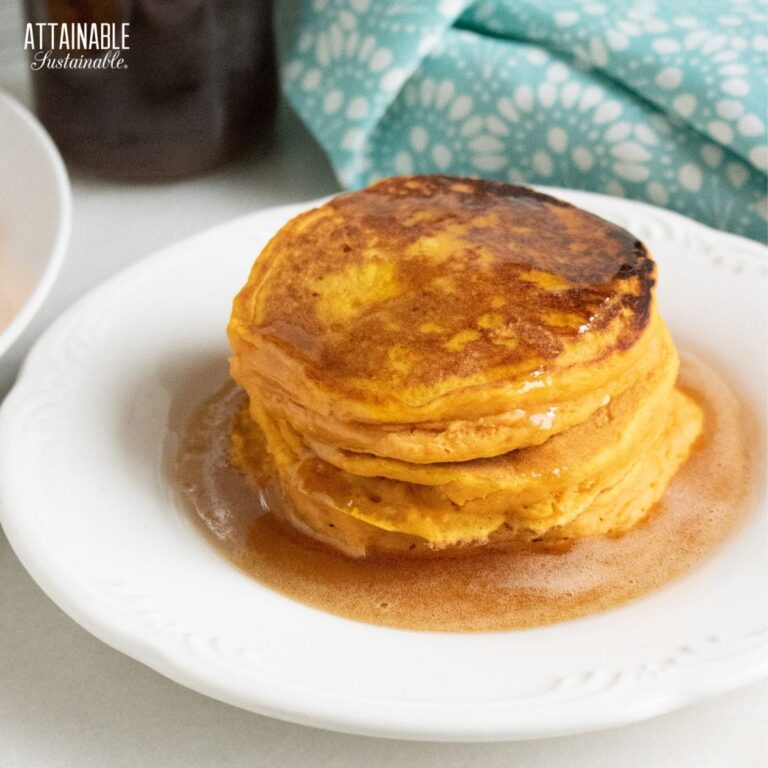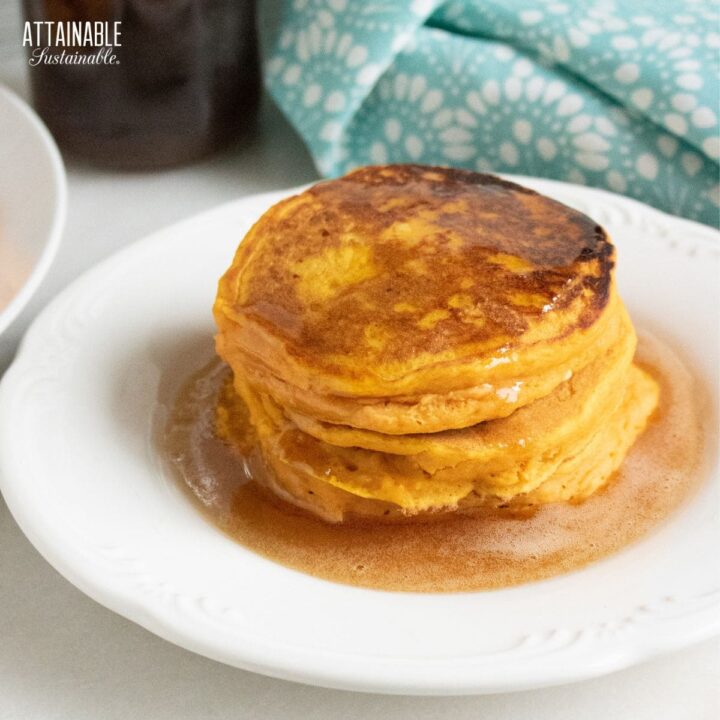 Easy Pumpkin Pancakes
These easy pumpkin pancakes make for a hearty breakfast with a little bit of sweetness!
Ingredients
1 cup all-purpose flour
2 tablespoons brown sugar
1 egg
3/4 cup milk (or nut milk)
2 tablespoons avocado oil
3/4 cup pumpkin puree, or canned pumpkin
2 teaspoons baking powder
1/2 teaspoon sea salt
2 teaspoons pumpkin pie spice
1 tablespoon butter or coconut oil, for frying
Instructions
Whisk together flour, brown sugar, baking powder, salt, and pumpkin pie spice in a mixing bowl.

1 cup flour
2 tablespoons brown sugar
2 teaspoons baking powder
1/2 teaspoon salt
2 teaspoons pumpkin pie spice

Add egg, milk, oil, and pumpkin puree, stirring just until combined.

1 egg
3/4 cup milk
2 tablespoons avocado oil
3/4 cup pumpkin puree

Heat griddle or frying pan on medium heat. Drop the butter on the griddle and spread to coat the cooking surface.
Spoon about a quarter cup of pancake batter onto the griddle. Cook on each side for 1-2 minutes or until lightly browned. Watch for bubbles and a slight dulling to form at the edges of the pancakes before flipping.
Serve with maple syrup or your favorite jam.
Notes
You'll know the griddle is hot enough when a drop of water sizzles and dances on the surface.
Nutrition Information:
Yield:

8
Serving Size:

1 pancake
Amount Per Serving:
Calories:

190
Total Fat:

11g
Saturated Fat:

2g
Unsaturated Fat:

0g
Cholesterol:

26mg
Sodium:

178mg
Carbohydrates:

19g
Fiber:

1g
Sugar:

5g
Protein:

4g