This DIY Pancake Mix recipe is your shortcut to a hot breakfast on a busy morning. Keep a jar in your fridge and you can have pancakes from scratch whenever you feel like it.
Be sure to try these delicious pumpkin pancakes, too!
We're all busy, but you know what? We all need to eat! This make-ahead kitchen shortcut will have you eating freshly made homemade pancakes from scratch even on the busiest of weekday mornings. You can skip the famous yellow box with its unpronounceable ingredients and make your own ready to use pancake mix.
The Handcrafted Pantry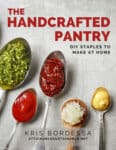 Ready to DIY your pantry with healthier ingredients? Check out my ebook, The Handcrafted Pantry! Filled with delicious recipes for some of your favorite condiments, snacks, and toppings, it's the guide you need to start skipping packaged products and embrace homemade.
DIY Pancake Mix Recipe
This easy recipe comes together in a hurry and can be stored in the refrigerator for a month or two, making a pancake breakfast easy to pull together whenever you feel like a stack! It's one of those must-have pantry staples for busy parents.
Ingredients
Flour — When I use all-purpose flour I opt for the unbleached option. Bleached flour is very white, but it's also treated with bleaching agents that I don't really need in my food.
Sugar — Use your favorite brand of granulated cane sugar. I prefer organic.
5 Easy Steps to Transform Your Pantry!
Ready to switch from store bought to homemade? Let me help you make some changes! Grab my FREE five-part guide to getting started.
Baking powder — This is what gives the pancakes their lift, making them light and fluffy.
Salt — Use your favorite table salt or finely ground sea salt. If you're on a low sodium diet, you can skip the salt.
Butter — You can use salted or unsalted butter for this recipe. I tend to keep salted butter on hand, and using it doesn't make these pancakes too salty.
Making the Pancake Mix
Start by combining the dry ingredients in a mixing bowl. Whisk together until well blended, then cut in the butter.
Store the mix in an airtight container in the fridge for a month or two.
Using Homemade Pancake Mix
When you're ready to eat pancakes, combine 1 cup of the dry pancake mix with 3/4 cup of milk and an egg. Whisk until smooth and cook.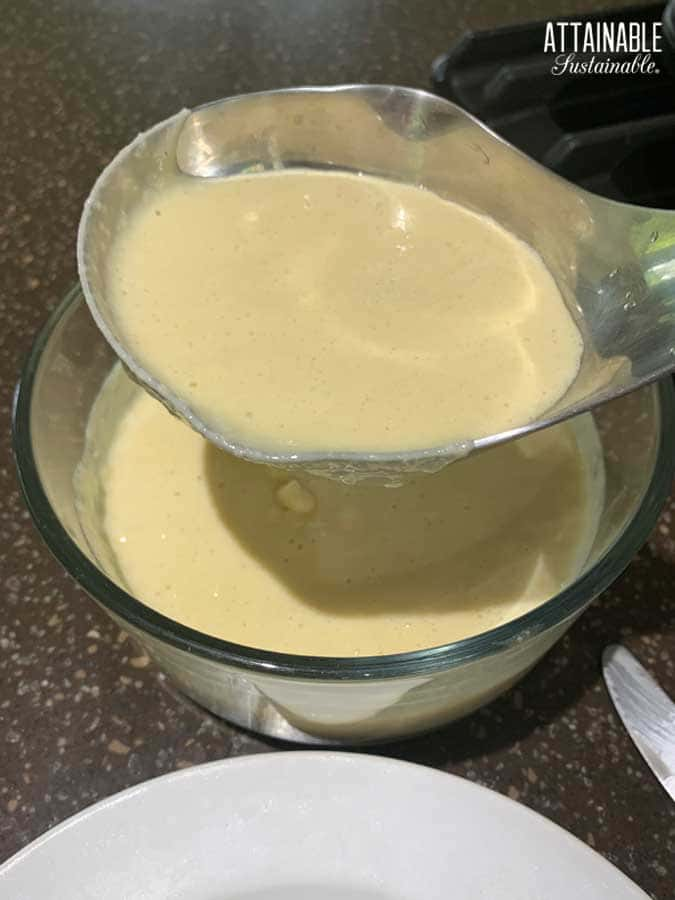 I use a cast iron griddle to cook pancakes, as I find it's easier to flip the hot cakes and I can cook more at one time. Heat the griddle or a large skillet well before beginning to cook.
Once the pan is hot, drop a pat of butter onto its surface and spread it around. The melted butter prevents the pancakes from sticking.
Use a ladle to spoon pancake batter onto the greased pan.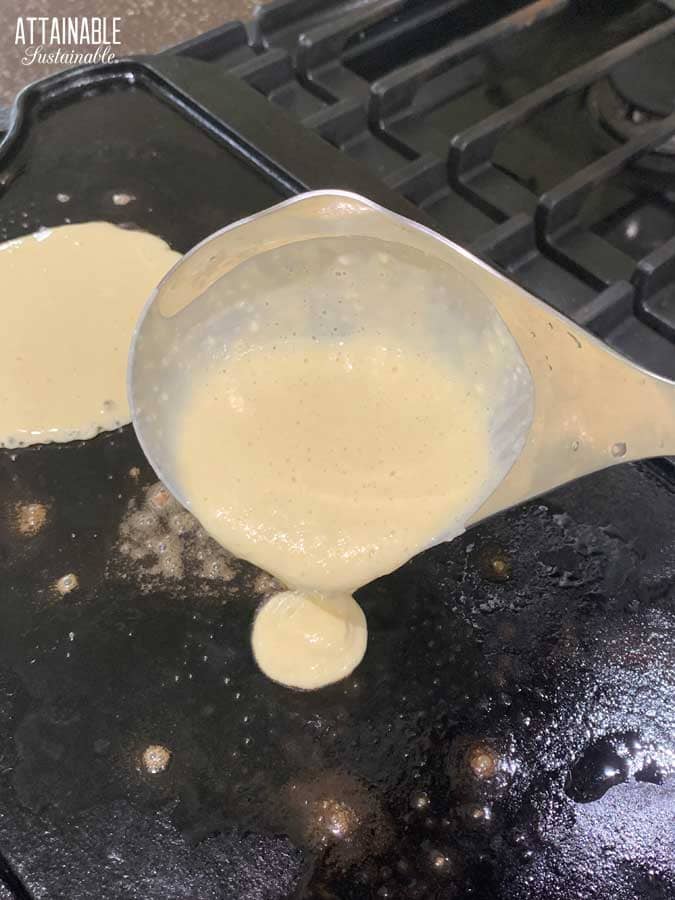 Let the pancakes cook on the hot surface until air holes begin to form and pop. The edge of the pancake batter will begin to look dull.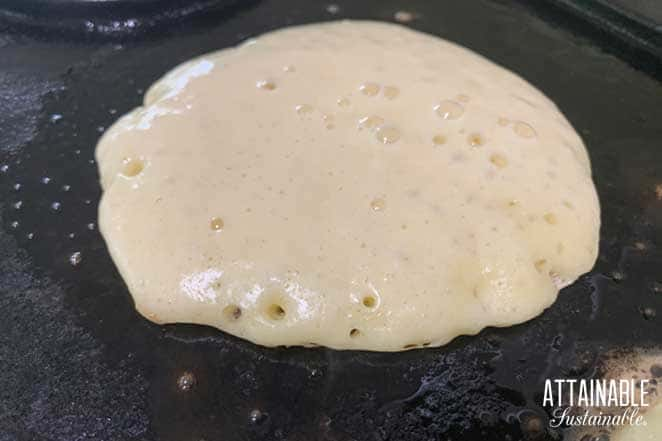 When most of the air holes have popped and are holding their shape, use a spatula to flip the hotcakes. The underside of the pancake should release easily and be nicely browned.
Add More Flavor
This recipe results in a fluffy pancake with no bells and whistles. Like your pancakes with a bit more oomph? Once you've ladled the batter onto the hot griddle, sprinkle the batter with fresh blueberries or chocolate chips.
Topping Hot Pancakes
When it comes to topping your 'cakes, the sky's the limit. Maple syrup is, of course, the most common topping, but check out these other ideas to mix things up!
Finely chopped almonds, toasted walnuts, or macadamia nuts
Butter and honey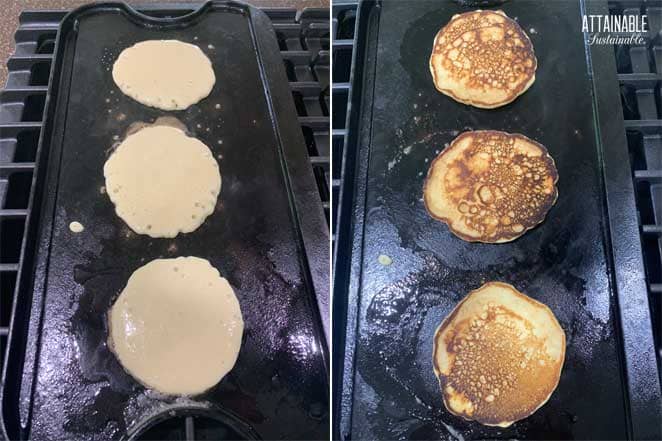 Freezing Pancakes for a Quick and Easy Breakfast
Once the dry mix is put together, making pancakes from scratch is a snap, but to really speed things up, here's a trick. Plan a day to make a double (or triple) batch of pancakes using this pancake mix. (I love Sunday mornings for this.) Eat what you need and then save the rest, cooling them completely before freezing the pancakes.
FAQs
How do I store homemade pancake mix?
Unlike a box mix, we use fresh butter so you'll want to store this mix in an airtight container in the fridge. The nose knows so if you go to use it and anything smells off, it is best to discard the mix.
How do I freeze extra pancakes?
Using your favorite waxed paper (if you're being extra careful to avoid toxins, try a soy based wax paper) cut wax paper into squares and place a piece in between each pancake. Store pancakes in a freezer friendly container. Place a layer of waxed paper on the bottom of the freezer container so the pancake doesn't stick to it.
Another option for freezing pancakes would be to place the cooled pancakes on a baking sheet and freeze. When the pancakes are frozen, place them into your freezer-safe container and put them in your freezer. By freezing pancakes on a baking sheet first, you reduce the chances of the pancakes sticking together and you don't have to use waxed paper.
How do I reheat frozen pancakes?
Simply place frozen pancakes in a toaster or toaster oven straight from the freezer until completely thawed and warm. Serve with freshly made warm applesauce for a yummy breakfast!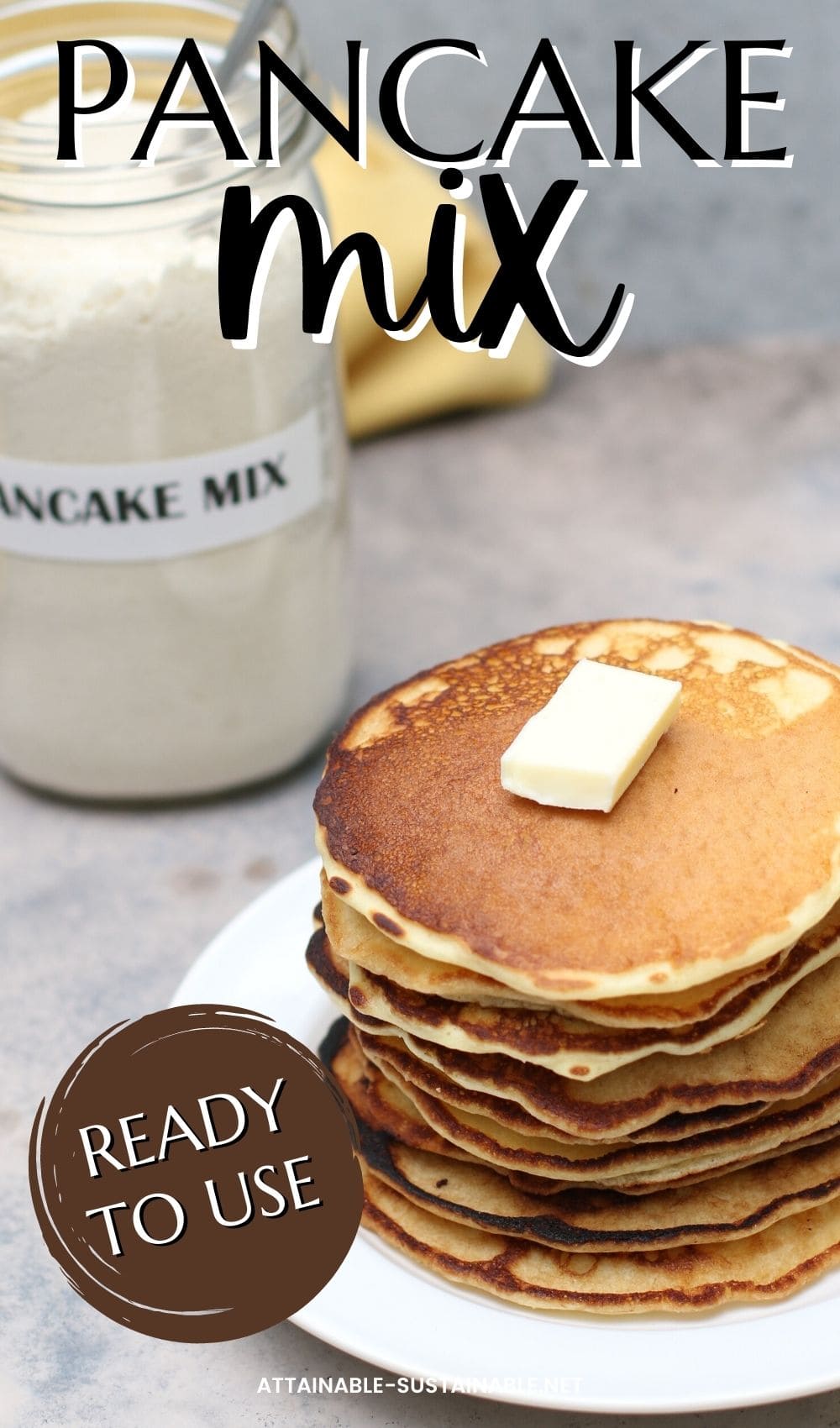 ★ Did you love this recipe? Be sure to give it a star rating below! ★
Pancake Mix
Yield:
6 cups of prepared mix
Store this homemade pancake mix in the fridge and making pancakes from scratch will be a snap!
Ingredients
For dry pancake mix
4 1/2 cups all-purpose flour
2-1/2 tablespoons  baking powder
1/4 cup granulated sugar
1/2 cup butter (room temperature)
Instructions
How to make pancake mix
Combine dry ingredients in a large bowl; mix well with a whisk.
Use a pastry blender or two knives to cut the butter into the dry ingredients until the butter pieces are smaller than the size of peas. Transfer mix to an air-tight container.
Store in the refrigerator until you're ready to make homemade pancakes. Keeps for up to two months.
Pancake recipe
Preheat griddle or skillet over medium-high heat.
Combine 1 cup dry pancake mix, 3/4 cup milk, and one egg in a bowl. Whisk until thoroughly combined. There will be some small lumps; this is the butter. Optionally, you can add 1 teaspoon vanilla extract to the mixture.
Adjust burner to medium heat and melt a pat of butter on a griddle or in a large skillet, spreading it across the surface. Pour about a 1/4 cup of pancake batter onto the hot surface. When you see bubbles on the top of the pancakes begin to pop and hold their shape, flip. Wait a few more minutes until the bottom is golden brown.
Repeat with remaining pancake batter. One batch of prepared pancakes makes about 10 4" pancakes.
Notes
Nutrition facts are based on the pancake mix alone.
Nutrition Information:
Yield:

20
Serving Size:

3 4" pancakes
Amount Per Serving:
Calories:

153
Total Fat:

5g
Saturated Fat:

3g
Trans Fat:

0g
Unsaturated Fat:

2g
Cholesterol:

12mg
Sodium:

183mg
Carbohydrates:

24g
Fiber:

1g
Sugar:

3g
Protein:

3g
Nutrition facts are based on the pancake mix alone.
This post was originally contributed by Loriel Adams from Naturally Loriel in September 2015. It has been completely updated.