Making pancakes from scratch can seem like a daunting endeavor on a busy morning. Is a hot pancake breakfast possible on hectic mornings? It sure is! Here's how to make pancake mix from wholesome ingredients for a fast-fixing breakfast.
Most ready-made pancake mix contains unnecessary — and often unpronounceable — ingredients. Making pancakes from scratch means you get to choose the ingredients. Homemade pancakes only require a few ingredients. Making your own homemade pancakes is the surest way to know what's in the food you're serving your family. Plus? This homemade pancake mix is so much less expensive than the store bought version, so you'll save on your grocery bill, too. 
Preparing this dry mix ahead of time means you can have hot homemade pancakes in a jiffy. It's a perfect Sunday morning shortcut!
Related: Blueberry French Toast Casserole
---
The Handcrafted Pantry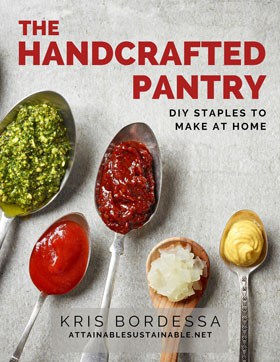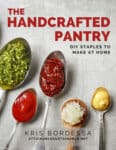 Ready to DIY your pantry with healthier ingredients? Check out my ebook, The Handcrafted Pantry! Filled with delicious recipes for some of your favorite condiments, snacks, and toppings, it's the guide you need to start skipping packaged products and embrace homemade.
---
Making pancakes from scratch
Making pancakes from scratch is easy when you learn how to make pancake mix from scratch. This homemade pancake mix is similar to store-bought baking mixes but without the partially hydrogenated cottonseed oil, enriched flour, dextrose, or other yucky ingredients.
5 Easy Steps to Transform Your Pantry!
Ready to switch from store bought to homemade? Let me help you make some changes! Grab my FREE five-part guide to getting started.
To make it, you'll measure out the dry ingredients necessary for making pancakes, cut in fresh butter, and store this DIY pancake mix in the fridge. With a jar full of this ready-to-use pancake mix on hand, it's just a matter of stirring in milk and an egg to make a pancake batter that will produce fluffy pancakes. If you do it often enough, you'll be able to make these pancakes without measuring the milk in no time. You'll know exactly the consistency they should be.
Related: Persimmon Pancakes for Fall Harvest Season
Top warm pancakes with maple syrup or this homemade blueberry jam. Or try them with this homemade ginger syrup.
Be sure to read below for ideas on how to use this pancake mix as the foundation for quick and easy breakfasts all week long.
Freezing pancakes for a quick and easy breakfast (without much extra work)
Once the dry mix is put together, making pancakes from scratch is a snap, but to really speed things up, here's a trick. Plan a day to make a double (or triple) batch of pancakes using this pancake mix. (I love Sunday mornings for this.) Eat what you need and then save the rest, cooling them completely before freezing the pancakes.
To freeze extra pancakes: 
Using your favorite waxed paper (if you're being extra careful to avoid toxins, try a soy based wax paper) cut wax paper into squares and place a piece in between each pancake. Store pancakes in a freezer friendly container. Place a layer of waxed paper on the bottom of the freezer container so the pancake doesn't stick to it.
Another option for freezing pancakes would be to place the cooled pancakes on a baking sheet and freeze. When the pancakes are frozen, place them into your freezer-safe container and put them in your freezer. By freezing pancakes on a baking sheet first, you reduce the chances of the pancakes sticking together and you don't have to use waxed paper.
To reheat homemade pancakes: 
Simply place frozen pancakes in a toaster or toaster oven straight from the freezer until completely thawed and warm. Serve with freshly made warm applesauce for a yummy breakfast!
Related: Fluffy and Delicious Pumpkin Pancakes
★ Did you make these pancakes from scratch? Don't forget to give it a star rating below!
Pancake Mix
Store this homemade pancake mix in the fridge and making pancakes from scratch will be a snap!
Ingredients
For dry pancake mix
4 1/2 cups unbleached organic all-purpose flour
2 1/2 Tablespoons  baking powder, (preferably aluminum-free)
1/4 cup coconut sugar
1/2 cup butter
Instructions
How to make pancake mix
Combine dry ingredients in a large bowl; mix well with a whisk.
Using a pastry blender or two knives, cut the cold butter into the dry ingredients until the butter pieces are the size of peas. Store in an air-tight container in the refrigerator until you're ready to make homemade pancakes.
To make pancakes
Combine 1 cup dry pancake mix, 3/4 cup milk, and one large egg together in a bowl. Whisk until thoroughly combined. There will be some clumps due to the pieces of cold butter.
Melt a pat of butter on an electric griddle (these revolutionize breakfasts and cut cooking times in half) or pan set on medium-high heat, and ladle on about a 1/4 cup of pancake batter. When you see bubbles on the top of the pancakes, flip. Wait a few more minutes until the bottom is golden brown.
Repeat until pancake batter is gone. Top with lots of butter, pure maple syrup, and fruit, if you'd like.
Notes
Nutrition facts are based on the pancake mix alone.
Nutrition Information:
Yield:

12
Serving Size:

1 grams
Amount Per Serving:
Calories:

249
Total Fat:

8g
Saturated Fat:

4g
Unsaturated Fat:

0g
Cholesterol:

20mg
Sodium:

91mg
Carbohydrates:

38g
Fiber:

1g
Sugar:

2g
Protein:

4g