Try this Instant Pot Spanish Rice recipe as a side for tacos, burritos, or enchiladas. This easy Spanish rice is budget friendly and flavorful — the perfect combination!
Wrap it up in a burrito with my family favorite refried beans!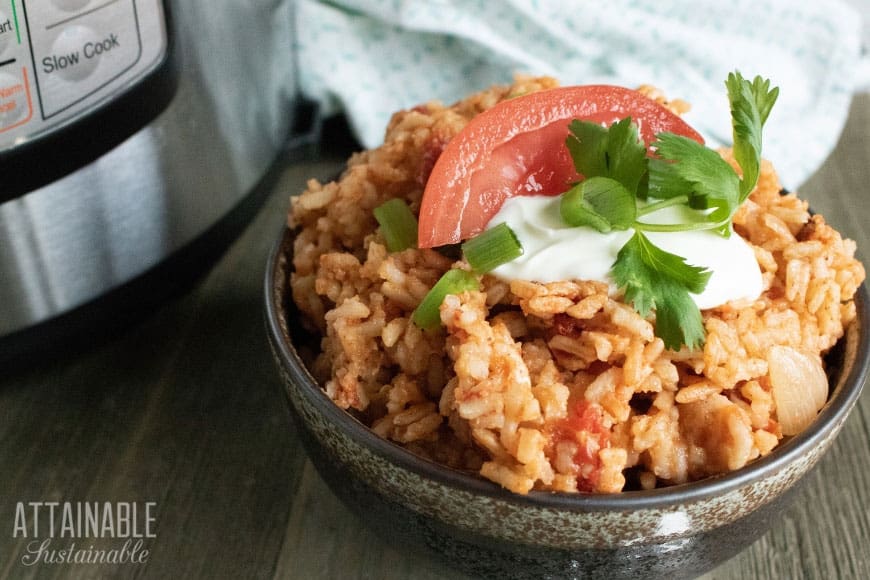 I grew up in California, where Mexican restaurants were prolific. The food that came out of some of those family style restaurants were some of the best meals I've had.
Replicating the Spanish rice that was served alongside the enchiladas was a challenge for me, though. Try as I might, my efforts generally resulted in a sticky mess. While the flavor was good, the rice itself was kind of a clumpy and lumpy mess. It was just not appealing.
But! I'm not one to give up. Rice is inexpensive and easy to keep on hand.
We eat a lot of Mexican food and it seemed a shame to miss out on homemade Spanish rice.
5 Easy Steps to Transform Your Pantry!
Ready to switch from store bought to homemade? Let me help you make some changes! Grab my FREE five-part guide to getting started.
Instant Pot Spanish Rice
Turns out, my Instant Pot electric pressure cooker is the secret to easy Spanish rice that turns out perfectly.
This version gets a thumbs up from my in-house recipe critic who always lets me know when I haven't quite nailed it. (He's an incredibly honest aspiring chef. We'll cut him some slack.)
And it gets my thumbs up because it is so stinking easy.
Super. Easy.
Ingredients
Rice — While I used brown rice, you can alter this Instant Pot Spanish rice recipe by using white rice easily enough.
Salsa — Using salsa in the recipe provides flavor along with tomatoes and other chopped veggies. If you have a pantry full of home canned salsa, use that. Or use your favorite salsa, mild or spicy — your call. If you don't have salsa on hand, you can use diced tomatoes instead. You'll need to add some spices to flavor it up, though. I like chili powder and cumin.
Onion — You can use any kind of bulb onion you have on hand — white, yellow, or red.
Garlic — Finely chopped garlic adds that spicy zing we all love so much. Can you use powdered? You could, but…
Bell pepper — Opt for a green pepper here. In a pinch you could use a red pepper, but it will add a little sweetness to the recipe.
Olive oil — Use a good quality extra virgin olive oil for sautéing.
Making Easy Spanish Rice
Because the Instant Pot has a sauté function, you can do this part right in the pot. Easy peasy. Start by sautéing the spices and onion in the pot. Once they're beginning to turn transparent, add the rice and sauté that. Finally, add the tomatoes and water or broth.
Cook on high pressure, and then let it rest for 10 minutes once cooking time is up.
We serve this Instant Pot Spanish rice with tacos or roll it up in a tortilla with my refried beans for burritos.
FAQs
What type of rice should I use?
Regular long grain brown rice. So any bag of rice at the store that is simply brown rice. This isn't white and it isn't parboiled/parcooked. And yes, it still takes a decent amount of time in the "instant" pot but it is foolproof compared to the stovetop! You cannot substitute white rice at this cooking time or you will have a bowl of mush.
How do I store leftovers?
Rice is good for a couple days in the fridge. I recommend reheating only the portion you will be eating, and not the entire bowl. You can also freeze leftover rice for an easy side dish on busy days. Freeze flat in freezer bags, and then you can easily thaw under running water just enough to break it into chunks. The chunks will fit in a bowl for the microwave or in a pot for quick reheating.
★ Did you make this Instant Pot Spanish rice recipe? Don't forget to give it a star rating below!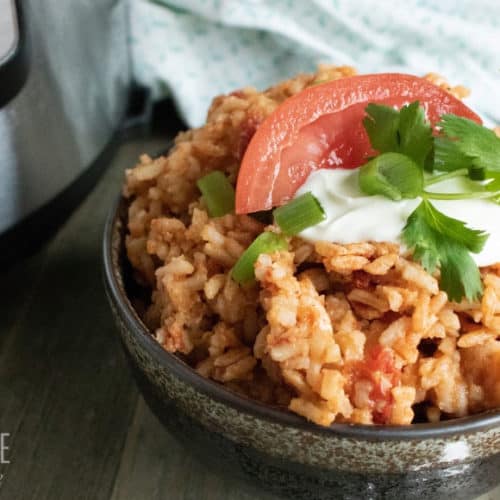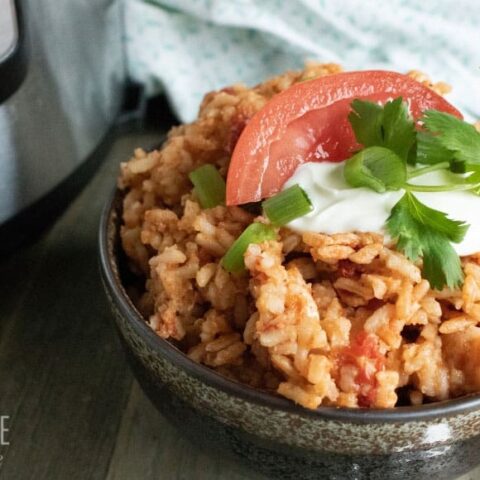 Easy Spanish Rice
Totally hands-off rice is yours in the Instant Pot! Serve this Instant Pot Spanish rice alongside tacos, wrapped up in burritos, or with homemade enchiladas. 
Ingredients
1 teaspoon extra virgin olive oil
1/4 cup onion, finely chopped
1/4 cup green bell pepper, diced
3 cups brown rice
2 2/3 cups water (or broth)
2 teaspoons garlic, minced
Instructions
Measure oil, onion, and pepper into the Instant Pot liner. Choose "sauté" and cook until onions are transparent, stirring often for about five minutes. Add remaining ingredients.
Lock lid in place. Using the "manual" setting, set the Instant Pot to cook for 25 minutes.
Let rice rest for ten minutes once cooking time expires, then carefully release pressure.
Notes
You can use water or the broth of your choice in this recipe,
Nutrition Information:
Yield:

12
Serving Size:

1/2 cup
Amount Per Serving:
Calories:

68
Total Fat:

1g
Saturated Fat:

0g
Trans Fat:

0g
Unsaturated Fat:

1g
Cholesterol:

0mg
Sodium:

245mg
Carbohydrates:

14g
Fiber:

1g
Sugar:

1g
Protein:

2g
Recipe nutrition is a rough estimate.
Originally published in February 2016; this post has been updated.