Infused vinegar is super easy to make, especially with berries and small juicy fruit like cherries or pomegranates. It's a simple matter of combining the right ingredients and allowing the flavors to meld over time. Gourmet vinegar makes great gifts; it's so much less expensive than the store bought flavored vinegar. (See below for packaging ideas!)
You might even want to try it in this recipe for caramelized onion jam with balsamic vinegar.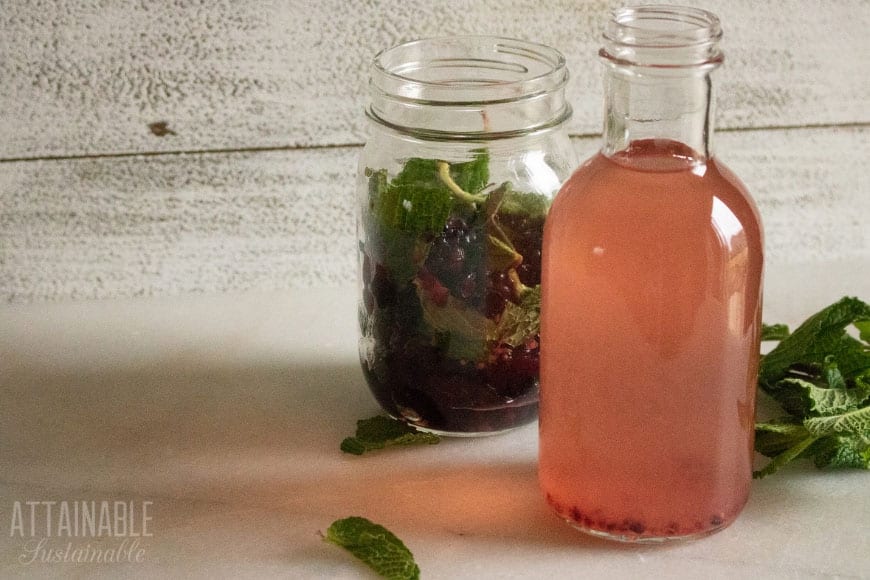 Have you tried the expensive infused vinegar from specialty stores? This gourmet vinegar runs about $30 for 500 ml here in Canada or about $25 (US) for a pint. This flavored vinegar makes an exciting and easy vinaigrette combined with (just as expensive) infused olive oil. I bought them for a few months until I came to my senses.
Infused vinegar is super easy to make, especially with berries and small juicy fruit like cherries or pomegranates. If you garden you probably have the small handfuls of fruit the recipe calls for, at the beginning and the end of your berry harvests.
---
The Handcrafted Pantry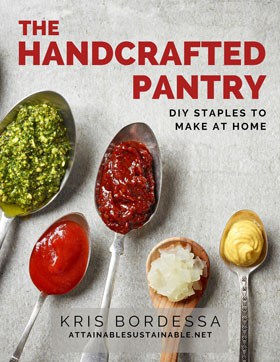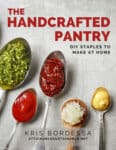 Ready to DIY your pantry with healthier ingredients? Check out my ebook, The Handcrafted Pantry! Filled with delicious recipes for some of your favorite condiments, snacks, and toppings, it's the guide you need to start skipping packaged products and embrace homemade.
---
Flavored vinegar infused with fruit
With a just a few steps you can have a quality fruit-infused flavored vinegar at home for 80% less than the cost of the specialty store bottles. And your homemade infused vinegar will be fresher. When you make your own gourmet vinegar, you can customize the flavors to your family's taste.
5 Easy Steps to Transform Your Pantry!
Ready to switch from store bought to homemade? Let me help you make some changes! Grab my FREE five-part guide to getting started.
Related: Banana Peppers: Fermented Hot Sauce Recipe
Pair fresh berries with herbs like fresh basil, fennel, or dill for a unique flavor profile that you can't find even in the specialty stores. You'll use a 1:1 ratio of fruit or fruit and herbs to vinegar. If you have only a handful of fruit, add more herbs to the recipe. If you have lots of fruit, skip the herbs.
Store the flavored vinegar in wine bottles or small colored glass bottles for gift giving. The completed gourmet vinegar is stable at room temperature.
Gourmet infused vinegar for less
You'll need white balsamic vinegar for this recipe. Balsamic vinegar is sweet wine vinegar made from green grapes and aged in oak barrels. I can buy cheap white balsamic at my local grocery store for $4 for 500 grams, about 16 fluid ounces. White wine vinegar will also work but you'll want to add some honey to sweeten your flavored vinegar a bit.
Don't use apple cider vinegar or distilled white vinegar. The flavor will be disappointing with the strong acid taste of these other vinegars. [Note from Kris: Be aware of this issue when choosing your white wine vinegar.]
★ Did you make this infused vinegar? Don't forget to give it a star rating below! ★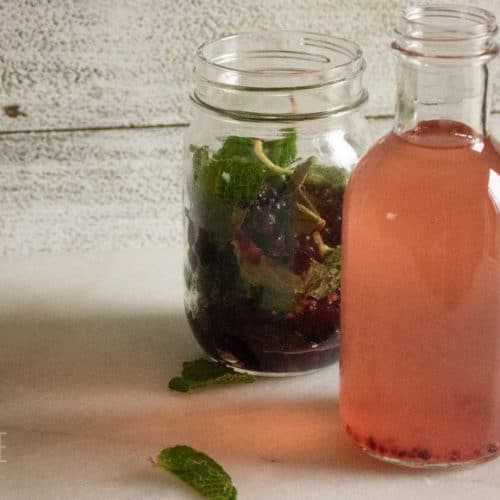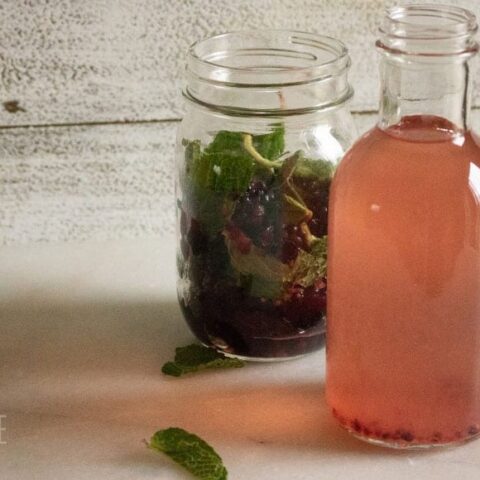 Berry Infused Vinegar
My personal favorite is raspberry or blackberry infused vinegar. The berries release a lot of juice and flavor into the vinegar without effort. You can double or triple this recipe or even cut it in half to make use of the berries you have on hand. Keep the proportions the same 1:1 berries and herbs to vinegar.
Ingredients
3 cups white balsamic vinegar
2 cups fresh berries like raspberries, strawberries, blueberries, mulberries, or cherries
1 cup herbs like basil, mint, citrus zest, or shallots
Instructions
Infuse the vinegar
Warm the vinegar in a pan on the stove, until it just begins to steam. Don't let it simmer or boil. Place the berries in a clean and sanitized wide-mouth mason jar. Use a muddler to tamp down the fruit to release a little juice. Chop the herbs finely, to release their aromatic essence. Add them to the jar. Pour the warmed vinegar over the herbs and fruit in the jar. Cap tightly.
Place it in a spot on the counter where you'll remember it. Shake the jar gently once a day.
Pasteurize the vinegar
After two weeks, strain the gourmet vinegar. Reserve the liquid. Set the fruit aside to use in another recipe. (The leftover fruit can be used as a marinade or fruit basting sauce for meat, poultry, or fish.)
Place the strained vinegar in a saucepan. Bring to a simmer and hold it there for 10 minutes. Don't let it boil. Turn off the heat. Allow it to cool slightly.
Clean and sanitize a glass bottle. Warm the bottle in the oven at 150°F while the vinegar is pasteurizing. You can use the bottle that the vinegar originally came in.
Pour the pasteurized vinegar into the warmed bottle, using a funnel. Cap with a cork or a screw cap. Once this is pasteurized, keep the infused vinegar at room temperature. The high acid value of the vinegar means that botulism spores can't develop. This vinegar lasts indefinitely if kept at room temperature in a cool, dark place. If the vinegar is not pasteurized it should be kept refrigerated and used within 3 months.
Notes
You'll use a 1:1 ratio of fruit or fruit and herbs to vinegar. If you have only a handful of fruit, add more herbs to the recipe. If you have lots of fruit, skip the herbs.
Nutrition Information:
Yield:

12
Serving Size:

1 grams
Amount Per Serving:
Calories:

66
Unsaturated Fat:

0g
Sodium:

14mg
Carbohydrates:

13g
Fiber:

1g
Sugar:

10g

Packaging flavored vinegar for gift giving
I have a bottle collection. Fancy bottles from liqueurs, the green glass bottles from the olive oil store, ice wine bottles; they're all great for filling and gifting. Use a cork or rubber stopper to close the bottles.
My favorite presentation is to seal the bottle with a wine cork, and cover with the heat seals used for wine bottles. It's fast and elegant, only requiring a heat gun. Tie a note card or tag with the following recipe to the bottle of flavored vinegar. (Here's a cute way to wrap the bottles!)
Write the kind of berry that your fruit infused vinegar is made from. If you made blackberry vinegar, write the card for 'Blackberry Vinaigrette'. If you made cherry infused vinegar, write the card for 'Cherry Vinaigrette'.
How to Make Raspberry Vinaigrette

Ingredients:

¼ cup raspberry vinegar
½ cup olive oil
½ tsp. Dijon mustard

Method:

Pour all the ingredients in a small jar. Blend with an immersion blender for 30 seconds until the dressing is thick. Serve.
Originally published in August 2016; this post has been updated.