Mm. Mustard. I love mustard. But those fancy pants Dijon mustards give me a headache. I can get organic Dijon that comes in plastic. Or non-organic Dijon in glass. (Go figure, right?)
Then it occurred to me that this is yet another product we've become accustomed to buying ready to use, when there's a perfectly good way to make it at home. Never mind that I didn't know the perfectly good way to make it at home; surely I could figure it out.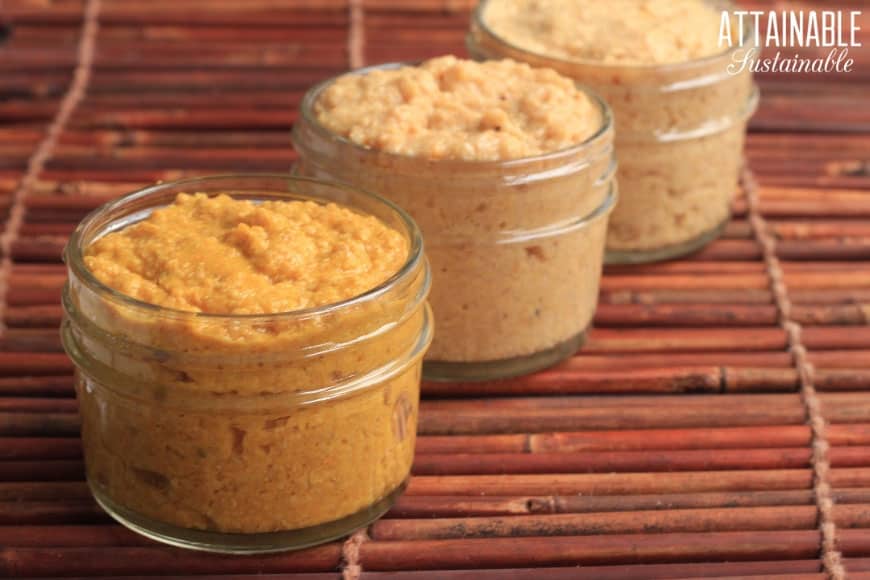 Score one for me and the internet. I found a number of recipes with a variety of methods – including cooking the ingredients – but when I distilled all of this information, I decided to go with the simplest method. And my, how simple it is. Follow this mustard recipe to make your own – you'll be glad you did!
Homemade Grainy Mustard Recipe
Place all ingredients in a covered jar and allow to sit for a couple of days so that the seeds soften. Don't get too persnickety about the time frame. I can tell you with absolute certainty that if your week gets a little out of control busy with too many people needing too many things, it will be a-okay if you leave the soaking seeds sitting on your counter for a full week.
Over the course of a couple of days, the seeds will absorb almost all of that liquid. If the liquid is completely absorbed and your seeds look a little dry, add a bit more water. (The absorption rate varies by seeds, I've found. If you feel like you're adding a lot of extra water, you could add a splash of vinegar, too, to maintain the vinegary kick.)
After a couple of days (or a week) pour the contents of the jar into your blender and process until the mustard is the desired consistency. Less if you like it grainy, more if you prefer it creamy. Put the finished mustard right back into the jar the seeds were in. Not even a jar to wash!
I kept it simple and just added a bit of thyme for seasoning, but you can go crazy with different spices. If you like traditional yellow mustard, add 1/2-1 teaspoon of turmeric. Or try using white wine or your favorite stout instead of water. I've found that you really do need some vinegar (a batch made with just white wine was yucky), but you can play around with the amounts and ingredients a fair bit once you've seen how simple this is.
The mustard mellows a bit as it sits, but it's still quite bold. We had it with roasted potatoes the other night and it was delicious.
This was so easy. I don't see any reason to ever buy Dijon mustard again – in glass or plastic.
Want to learn to make more of your own pantry staples? 
Check out Off The Shelf: Homemade Alternatives to the Condiments, Toppings, and Snacks You Love!
50+ recipes from some of the web's top real food bloggers.
100 pages featuring gorgeous photos and simple instructions.
Replace your favorite supermarket "cheats" with simple homemade alternatives.
Discover just how easy it is to make your own.
Save money and eliminate wasteful packaging.