Turmeric is easy enough to pick up at the grocery store, certainly, but when one has ready access to freshly grown turmeric it's easy to make turmeric powder at home. Making turmeric powder yourself from fresh roots will assure a high-quality powder. Really, who knows how long those spice jars have been sitting on the shelf?!
Love the idea of making your own spices? Here's how to make your own red pepper flakes!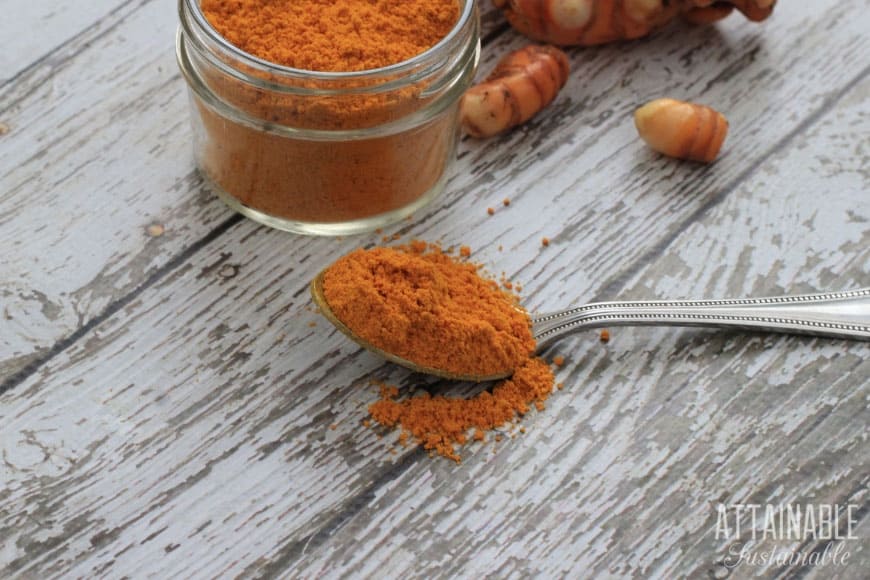 Fresh turmeric roots are similar to ginger, thought a bit smaller. And much more orange. Just look at that color! They will stain surfaces a bright yellow, especially porous surfaces. This is true of turmeric powder, as well.
Anti-Inflammatory turmeric
By now, we've all heard about turmeric and its anti-inflammatory properties, right? I recently had a guest who experienced an allergic reaction while she was here. We had fresh turmeric on hand and she requested tea made from grated roots, as she's had good luck with this in the past. She ingested the tea, of course, but she also dabbed a bit of the tea under both of her eyes. The sneezing and itchy-eyed discomfort dissipated in just ten minutes or so. It was remarkable!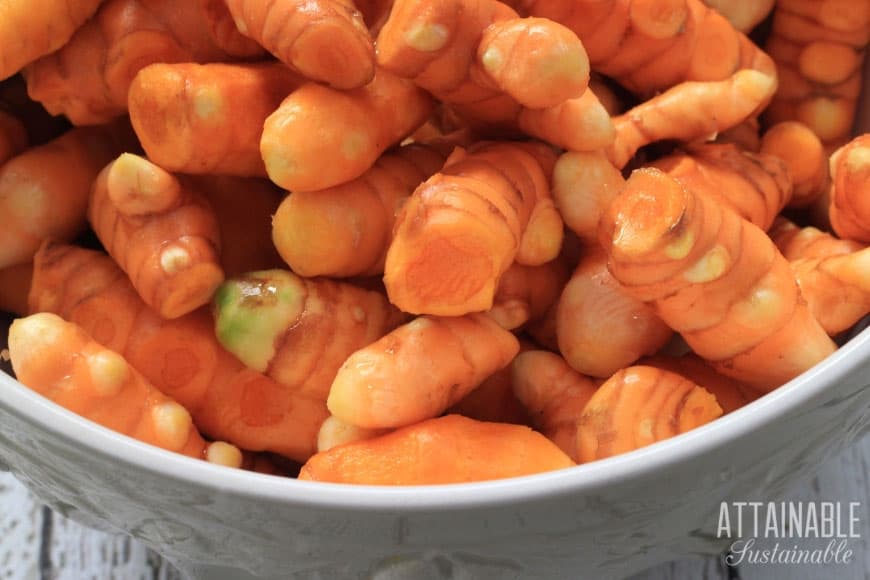 ---
The Handcrafted Pantry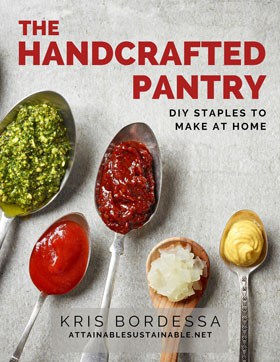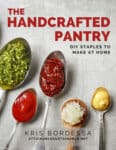 Ready to DIY your pantry with healthier ingredients? Check out my ebook, The Handcrafted Pantry! Filled with delicious recipes for some of your favorite condiments, snacks, and toppings, it's the guide you need to start skipping packaged products and embrace homemade.
---
Where to get turmeric root
Your best bet for finding turmeric root is at an ethnic food store, though you may be able to order it online as well. Once you've acquired turmeric roots, be sure to set a few aside so you can start growing your own!
5 Easy Steps to Transform Your Pantry!
Ready to switch from store bought to homemade? Let me help you make some changes! Grab my FREE five-part guide to getting started.
Check out the turmeric harvest at my place in the video below and then head over here to learn how to grow a turmeric plant.
How to make turmeric powder at home
Spoiler: It's easy.
To make turmeric powder, you'll need to remove all of the moisture from the turmeric roots. This is achieved by slicing the turmeric thinly, and then dehydrating it. I use a dehydrator, but this can certainly be done in an oven set to low as well.
There's no need to peel the turmeric roots if they're fresh. A stiff scrub brush will remove residual dirt as well as some of the soft skins. If you do want to remove the skin, the easiest way to do so is by scraping the root with the side of a spoon.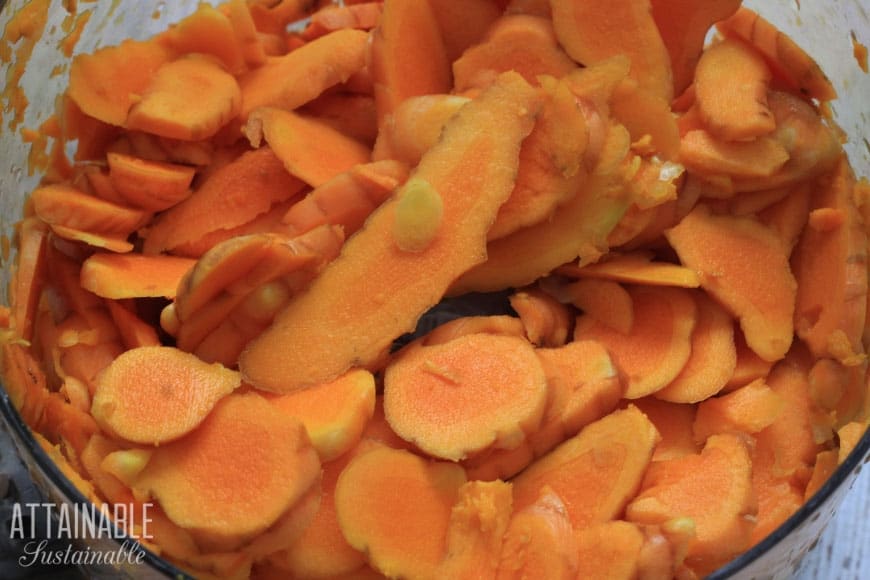 Once clean, slice fresh turmeric root into uniform thickness. I used my food processor, but a mandoline would work, as would a knife. The thinner the slices, the faster they'll dry in the dehydrator. Spread the turmeric onto the trays of a dehydrator and dry for 5-7 hours at 135 degrees Fahrenheit.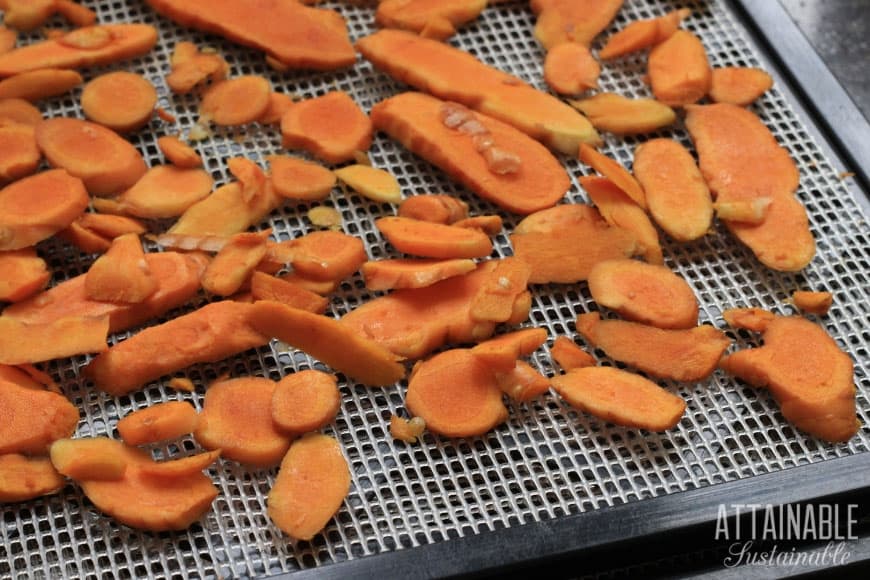 The color of the turmeric root is somewhat less neon-colored than the fresh turmeric root. Be sure to dry it until it's crispy and cracks easily in two when you bend it.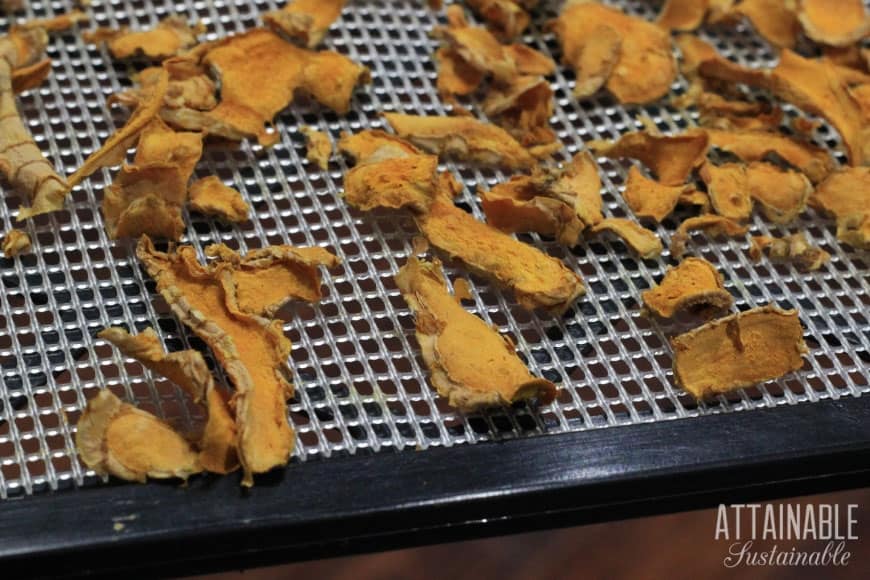 When you've achieved this level of dryness, transfer the dried turmeric to a blender and process until it's a fine powder. You may want to sift out the finest powder and reprocess the larger bits. Store the dried turmeric in an airtight container. If you live in a humid region, as I do, these homemade desiccant packs can extend the shelf life of your homemade turmeric powder.
How to use turmeric powder
★ Did you make this recipe? Don't forget to give it a star rating below! ★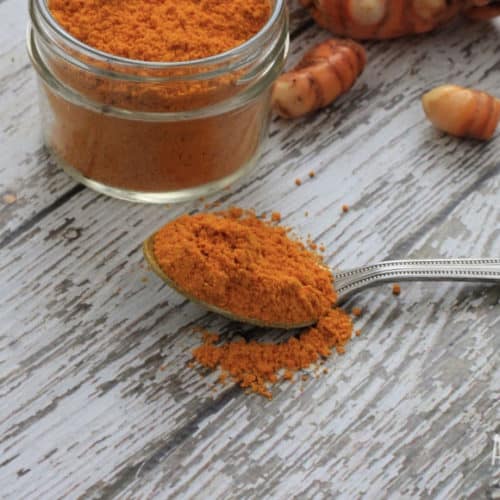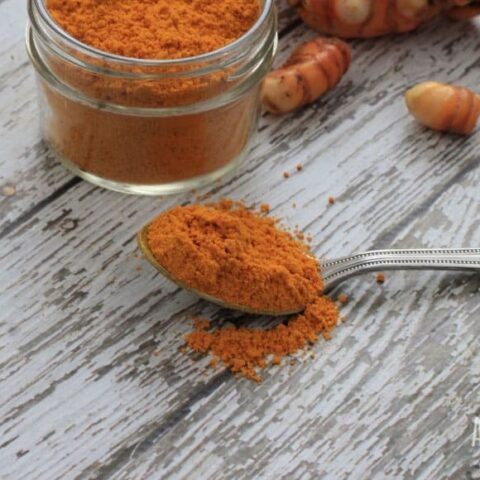 How to Make Turmeric Powder from Fresh Roots
Total Time:
5 hours
40 minutes
This neon-bright spice has a distinctive flavor that's used frequently in Indian cuisine. You can make turmeric powder at home from turmeric roots for a fresher product.
Instructions
Thoroughly wash turmeric root. Use a stiff scrub brush to remove most of the outer skin. (It's not necessary to peel the turmeric; just remove any really dry or rough patches.)
Thinly slice turmeric. Use a food processor equipped with a slicing blade, a mandoline, or simply a knife. Just aim for a uniform thickness, 1/8" thick or less.
Place turmeric root slices on dehydrator trays.
Dry at 135 for 5-7 hours, or until the turmeric root is crispy and completely dried. Allow to cool.
Place dried turmeric in blender and process until it becomes a fine powder.
Store in an airtight container.
Notes
If you want to make sure that this homemade turmeric powder is very finely ground, you can sift it and return larger bits to the blender for further processing. 
Do not seal turmeric into a container while it's still warm, as this can limit storage time.
Using a homemade moisture absorber in the storage container can help to extend the shelf life if you make turmeric powder at home. 
4 cups of fresh turmeric root will make about 1 cup of dried turmeric powder.
Nutrition Information:
Yield:

48
Serving Size:

1 teaspoon
Amount Per Serving:
Calories:

38
Total Fat:

0g
Saturated Fat:

0g
Trans Fat:

0g
Unsaturated Fat:

0g
Cholesterol:

0mg
Sodium:

3mg
Carbohydrates:

8g
Fiber:

3g
Sugar:

0g
Protein:

1g