We are a big fan of curry around here, so we make it often. It's easy to mix up a batch of this homemade yellow curry powder recipe instead of buying it ready-made.
This homemade taco seasoning is another easy DIY spice hack for your pantry.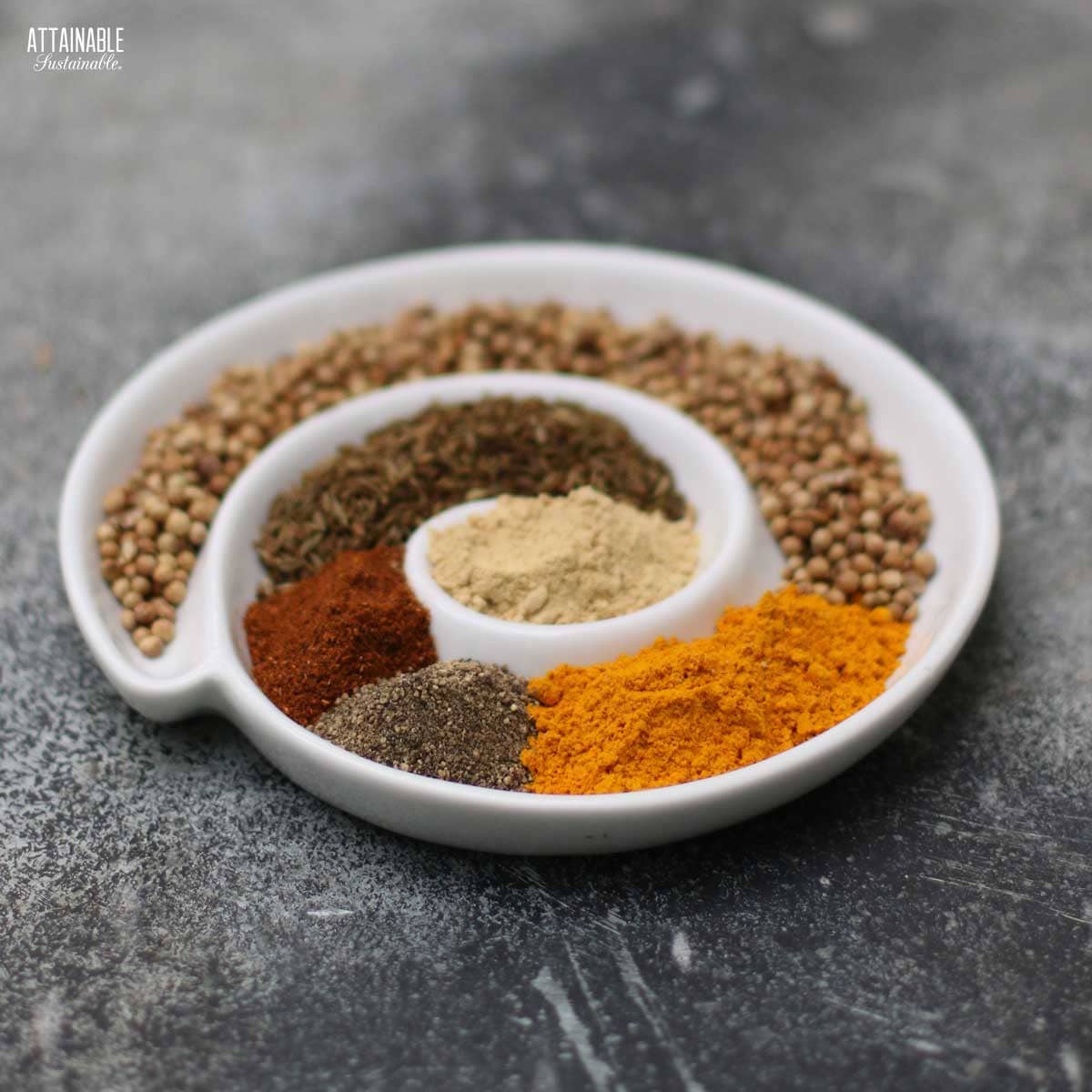 ★ Did you love this recipe? Be sure to give it a star rating below! ★
First, let's be clear. The curry we make here isn't traditional Indian food. Or Thai food. It's generally a combination of ingredients that we have on hand, combined with flavorful curry powder and coconut milk. It's never the same thing twice.
Actually, maybe that IS how clever home cooks in India make their curry — as a way to use up what's on hand.
In any case, we make it a lot, as my son is dairy free and curry is delicious made with coconut milk, an ingredient that makes our curry lean a little more to the Thai side of the curry spectrum.
5 Easy Steps to Transform Your Pantry!
Ready to switch from store bought to homemade? Let me help you make some changes! Grab my FREE five-part guide to getting started.
---
The Handcrafted Pantry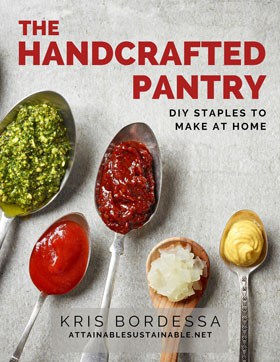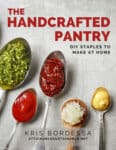 Ready to DIY your pantry with healthier ingredients? Check out my ebook, The Handcrafted Pantry! Filled with delicious recipes for some of your favorite condiments, snacks, and toppings, it's the guide you need to start skipping packaged products and embrace homemade.
---
What is Curry Powder?
You might think that curry powder is straight out of Indian cuisine, but this is not so. In Indian cuisines, a curry is a sauce or gravy served with vegetables or meat. The curry seasoning that's familiar to so many of us actually has quite a long history that goes back to the British colonization of India.
Making this Yellow Curry Powder Recipe
This easy curry powder is a mild seasoning, but if you prefer more spice you can add heat by stirring in some cayenne powder. It uses both whole spices and ground spices, resulting in a delicious seasoning mix.
If you maintain a well-stocked spice cabinet, you can pull this recipe together when you need it, thus eliminating a trip to the store!
Ingredients
Coriander seed — The seed of a cilantro plant, but don't worry. If you're a cilantro hater, coriander bears no resemblance in flavor to fresh cilantro. If you wish to use ground coriander, use 5 tablespoons.
Cumin seed — You might recognize cumin from making your favorite chili recipe. It's essential for curry powder, too.
Turmeric — This is the spice that gives the curry powder its yellow color. I use my homemade ground turmeric powder.
Black pepper — Your favorite table top black pepper will work perfectly. No need to get anything fancy.
Chili powder — A mild chili powder blend provides lots of flavor with minimal heat. If you'd like to amp up the spice level, you can add an extra teaspoon (or two!) of cayenne pepper.
Ginger — Dried ginger provides its own little flavor kick.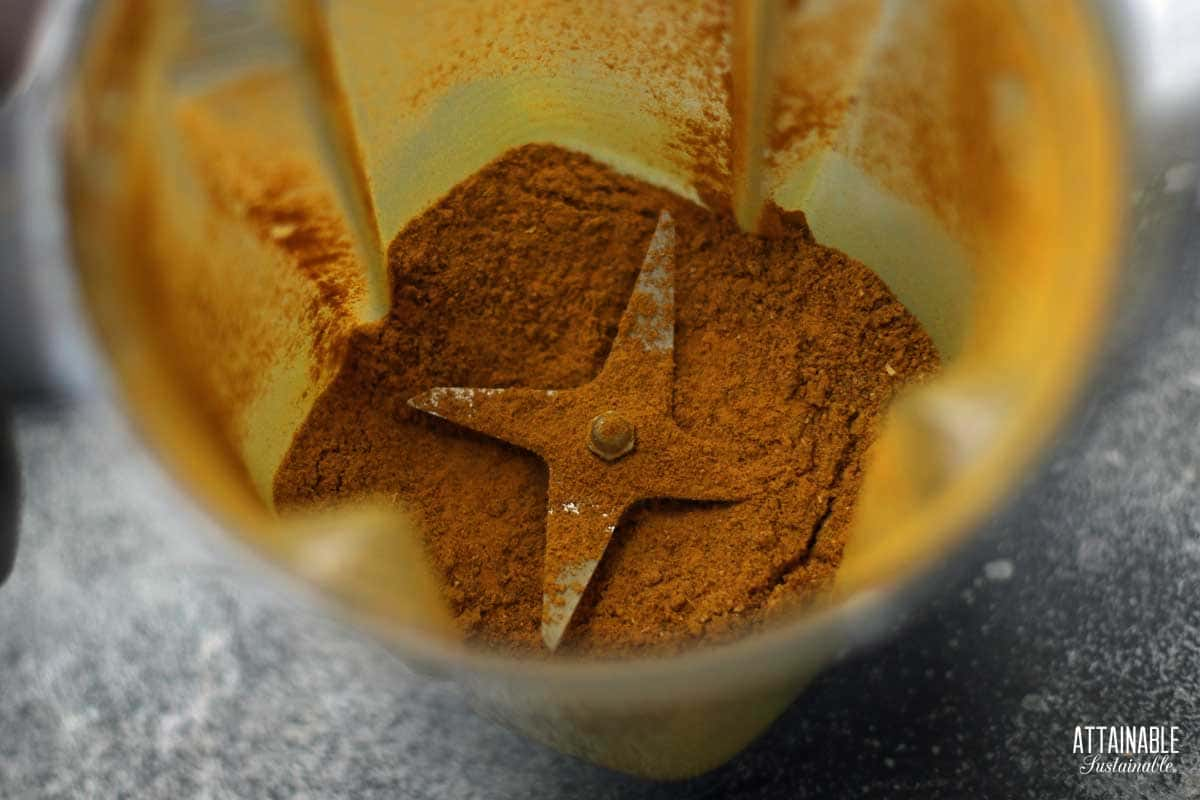 Process
There's nothing to it! Combine all of the ingredients together in a blender carafe and process until finely ground.
You could use a food processor, but the results may be somewhat more coarse.
Store this yellow curry powder in an airtight container for up to six months.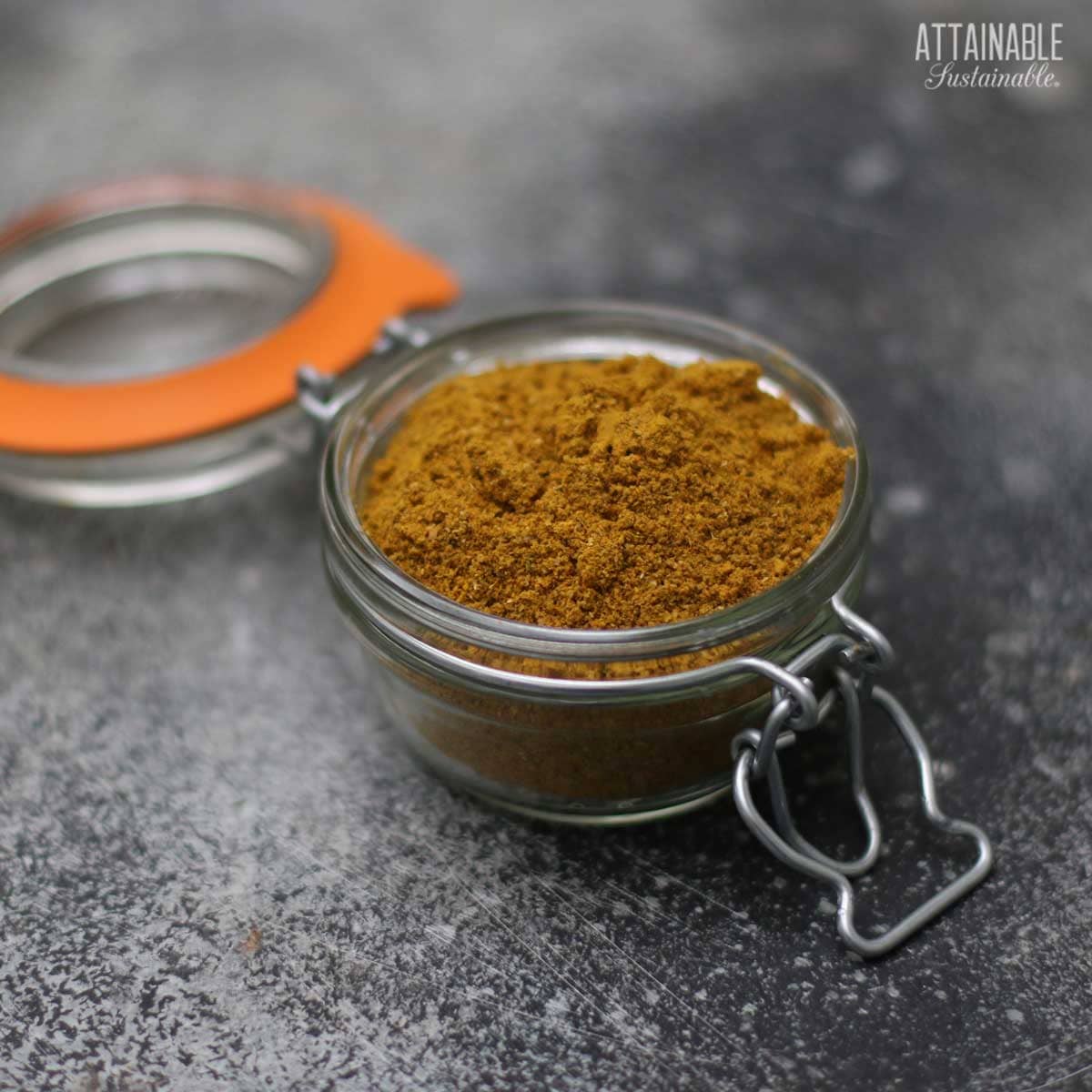 Using Curry Powder
You can use this seasoning mixture in any recipe that calls for yellow curry powder, especially any that requires a curry sauce. But you can also use it to flavor the unexpected!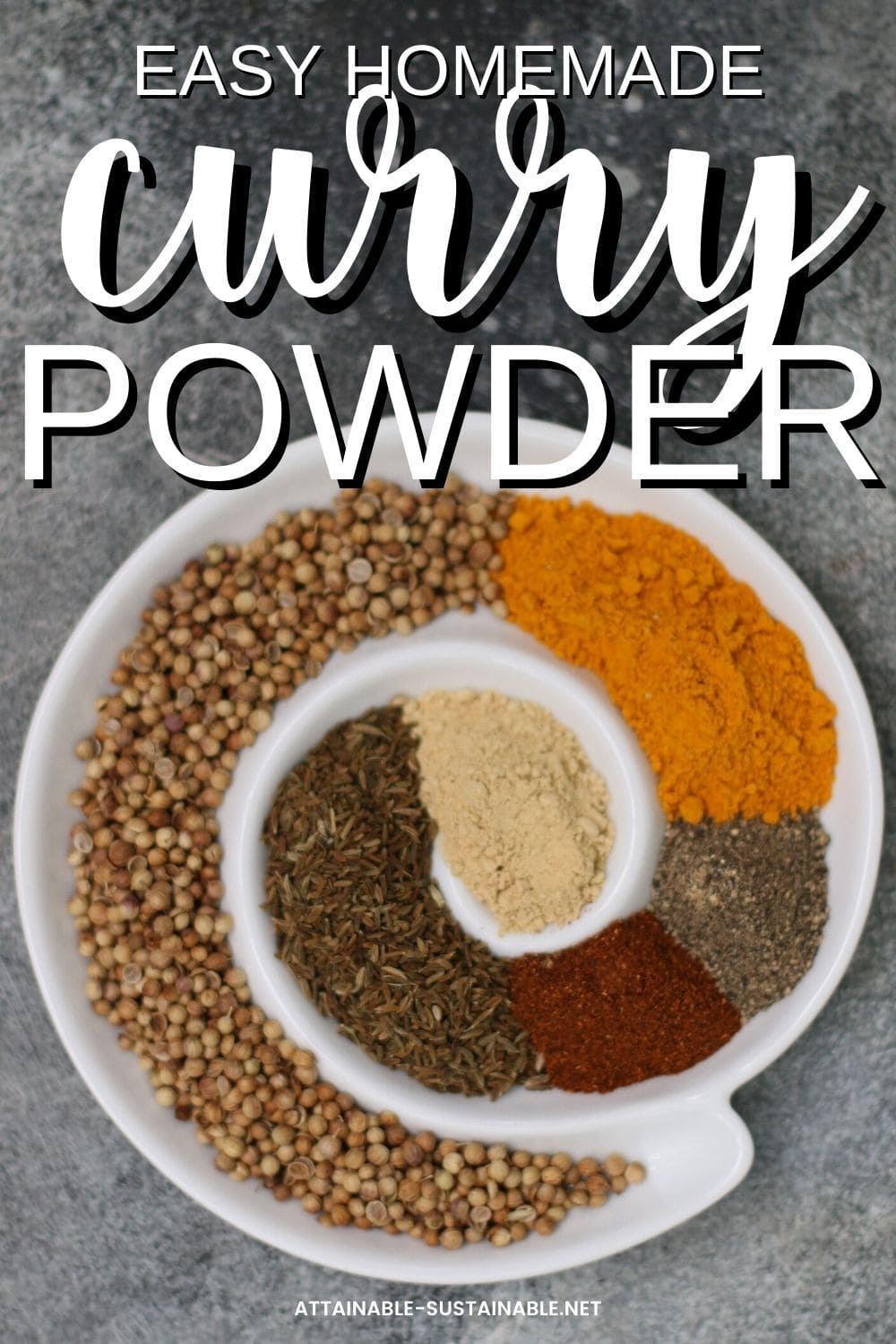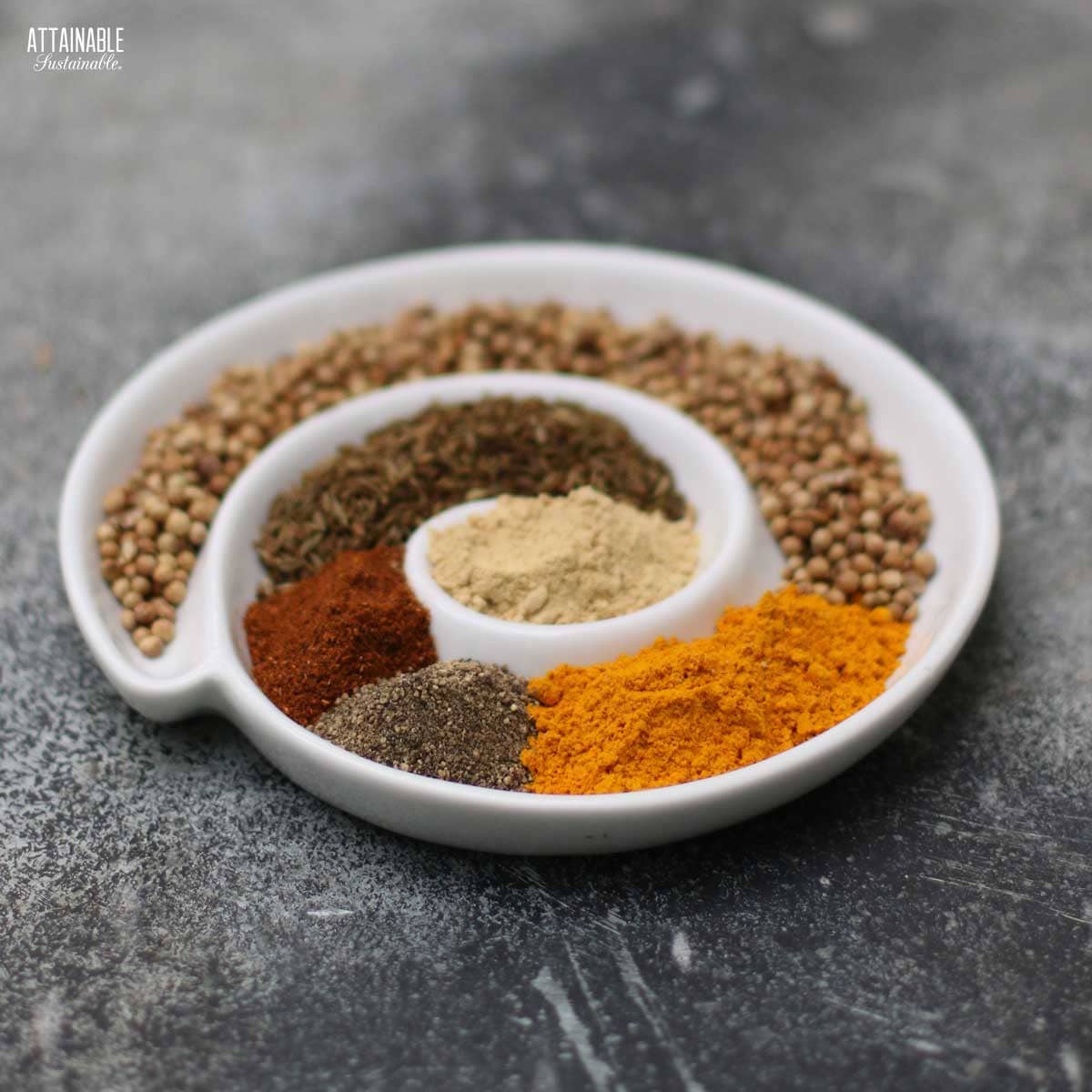 Mild Yellow Curry Powder
This easy yellow curry powder recipe gives flavor to a variety of dishes. Keep some in your spice cabinet to shake things up in the kitchen!
Ingredients
1/4 cup coriander seed
2 tablespoons cumin seed
4 teaspoons turmeric 
2 teaspoons ground black pepper
2 teaspoons chili powder
1 tablespoon ground ginger
Instructions
Measure ingredients into a blender container.
Process on high until seeds are finely ground.
Store in an airtight container.
Notes
If you wish to use ground coriander, use 5 tablespoons. If you'd like to amp up the spice level, you can add an extra teaspoon (or two!) of cayenne pepper.
Nutrition Information:
Yield:

6
Serving Size:

1
Amount Per Serving:
Calories:

32
Total Fat:

1g
Saturated Fat:

0g
Trans Fat:

0g
Unsaturated Fat:

1g
Cholesterol:

0mg
Sodium:

31mg
Carbohydrates:

6g
Fiber:

3g
Sugar:

0g
Protein:

1g