Those little individual packets of taco seasoning mix? They're expensive, plus you generate trash every time you use them. The big bulk bottles at Costco? Less expensive, but plastic. Happily, once you have the ingredients on hand, it takes just a few minutes to make your own homemade taco seasoning.
Those little packets of taco seasoning were standard fare when I was growing up. There was nothing wrong with the flavor that came out of those packets, but what I didn't realize then is how crazy expensive they are.
These days, I buy my spices individually and mix up my own homemade taco seasoning. It's an easy swap to make!
Buy your spices in bulk at the natural food store using your mini bags to tote them home – you've made some, right?? – and you'll save on trips to the supermarket, avoid adding to the landfill, and save some cashola.
Related: Slow Cooker Pork Tacos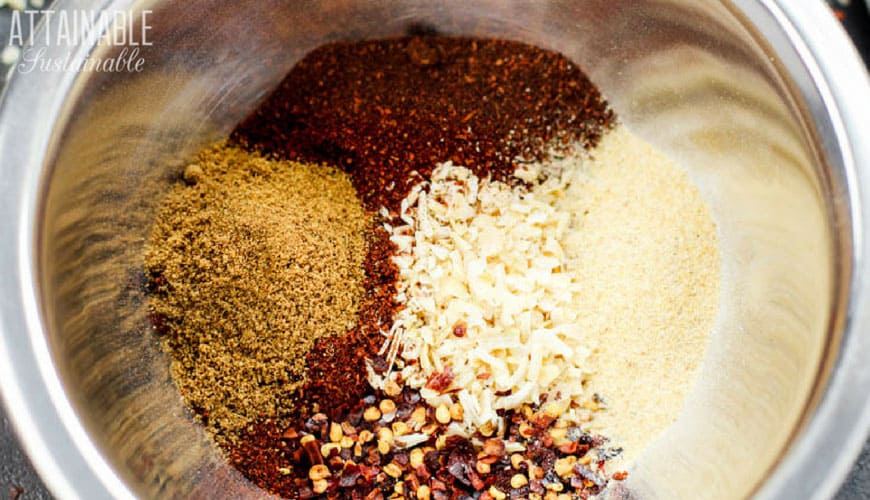 Homemade taco seasoning
This is a mild taco seasoning, offering flavor without a lot of heat. If you like things spicy, be sure to add the optional red pepper flakes, and consider increasing the quantity to fire it up.
We use this homemade taco seasoning for ground beef on a regular basis, but it's also great with shredded chicken tacos. And we stir it into refried beans to make a spicy bean dip.
Homemade taco seasoning is one of the easiest swaps you can make in your DIY pantry.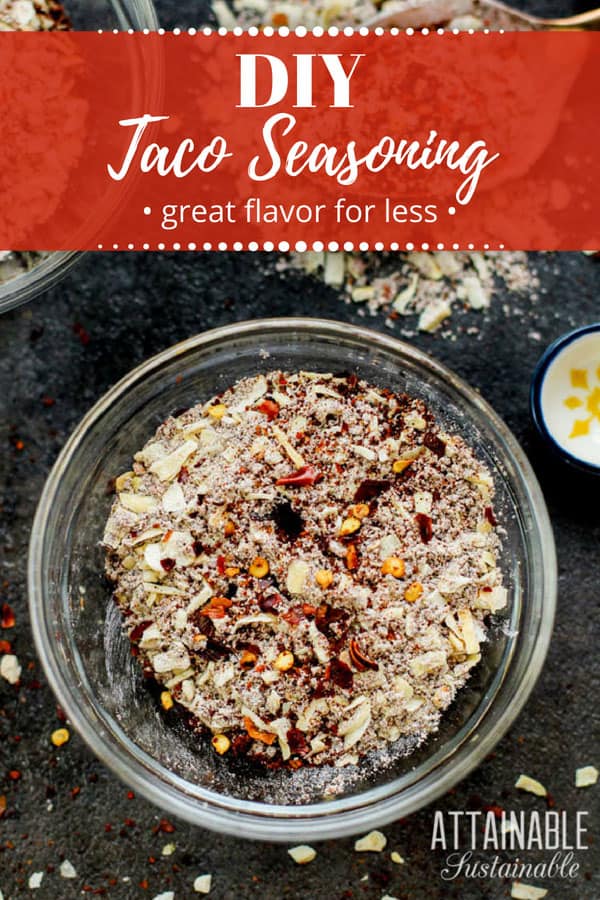 ★ Did you make this homemade taco seasoning? Don't forget to give it a star rating below! ★
Homemade Taco Seasoning
Skip the preservatives in the packet and make your own homemade taco seasoning mix.
Instructions
Measure ingredients into an airtight storage jar.

Screw on lid and shake well until combined.
Recipe Notes
To use: Stir 2-3 tablespoons of taco seasoning into a pound or so of browned ground meat along with 1-2 cups of water. Simmer until liquid is absorbed.
This homemade taco seasoning recipe was originally published in January, 2012. Updated August, 2018.