Adopting the idea of reusable bags can prevent a lot of single use plastic bags from ending up in the trash. These small cloth bags are great for purchasing items like bulk spices and tea.
Reusable bags as another option
My health food store has a spice section where I can buy spices in bulk. The store provides customers with small plastic bags to fill, and that's certainly less plastic than I'd be throwing away if I purchased the spices in a plastic bottle, but it's still waste.
I finally had some time yesterday to sew some small cloth bags that I can use for buying things like tea and spices in bulk. Note that in my humid climate, I don't store spices in these little cloth bags. I store my tea and spice collection in air tight glass jars and use these DIY moisture absorbers to keep things as fresh as possible. These bags could work as storage in drier climates, I suppose.
This project took me about an hour and netted three mini bags. You don't need to have mad sewing skills for this project. As long as you can sew a straight line, you're in business.
Note: These would be great for little gifts, too!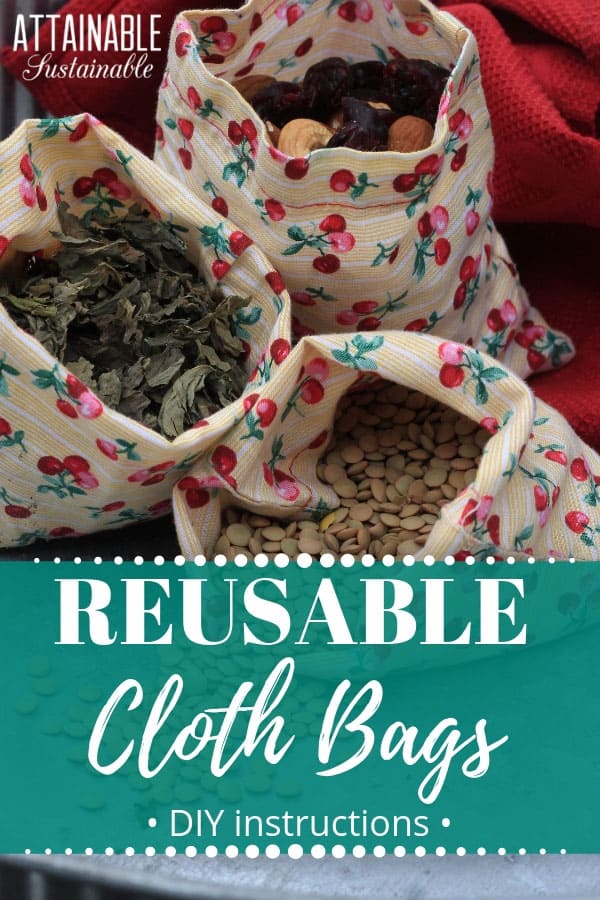 Take a Peek Inside My Book!
Get a free excerpt from my book, Attainable Sustainable: The Lost Art of Self-Reliant Living! You'll also get my free weekly newsletter, complete with recipes, gardening tips, and a little peek at what's going on around here — both the zany and the mundane.
Related:
How to make small cloth bags
Start by cutting a 6″ strip of fabric from the end of a 44″ wide piece of cloth. This length (6″ x 44″) will ultimately make three bags.
I opted to use a French seam, so there will be fewer loose ends or threads to contend with when I use the bags.
To start, fold the fabric in half, wrong sides facing. (I know. This goes against everything you've ever been taught about sewing!) Sew a straight stitch along both long edges. I used a 1/8″ seam allowance for these small cloth bags.
Turn inside out and press seams.
Now use a 3/8″ seam allowance to again sew down the length of the fabric. This seam is essentially securing the loose ends inside of the seam.
Measure your sewn piece of fabric, cutting it into three even lengths. Mine were each about seven inches long. One of these pieces – the one with the fold – will already have three finished sides. The other two will need to have bottoms sewn in to form the small cloth bags.
Using the same French seam method, sew one of the open ends closed, starting with wrong sides facing, then turning the bag to sew another seam with right sides facing. Repeat with third cloth bag.
Turn all three reusable bags inside out and hem the opening by folding the fabric over twice (about a quarter inch each time) toward the inside of the bag. Sew around the edge.
Have you had any luck eliminating the plastic bags from your bulk shopping? Do you bring your own cloth bags? Or does your store weigh your containers for a tare weight so you can fill them directly?