Changing how we do things – adopting eco conscious habits – can make a huge impact on our environment and the sustainability of this planet. Tackle some of these easy to adopt changes!
Adopting eco-friendly habits is not hard
There are so many small things that can collectively make a difference in our footprint on the earth. Will you try to add one or more of these to your list of green living changes to tackle? Will you share this list with your family and friends or on your social networks?
Even people who are reluctant to step out of their comfort zone will find something here that they can embrace with relatively little effort. We just need to convince them that it needs to be done, and that adopting eco conscious habits truly is not painful.
Becoming conscious of the problem is the first step in making changes. Honestly, it requires an assessment of the way we do things. If it's your habit to slip sandwiches into a disposable plastic sandwich bag, you might not think twice as you pack up lunches. But now that I've put the thought into your head that dropping a plastic baggie in the trash every day at the end of a meal might not be the greenest choice, maybe you'll consider another alternative. Could you try a reusable plastic container? Or perhaps you're ready to embrace beeswax wraps and try making your own.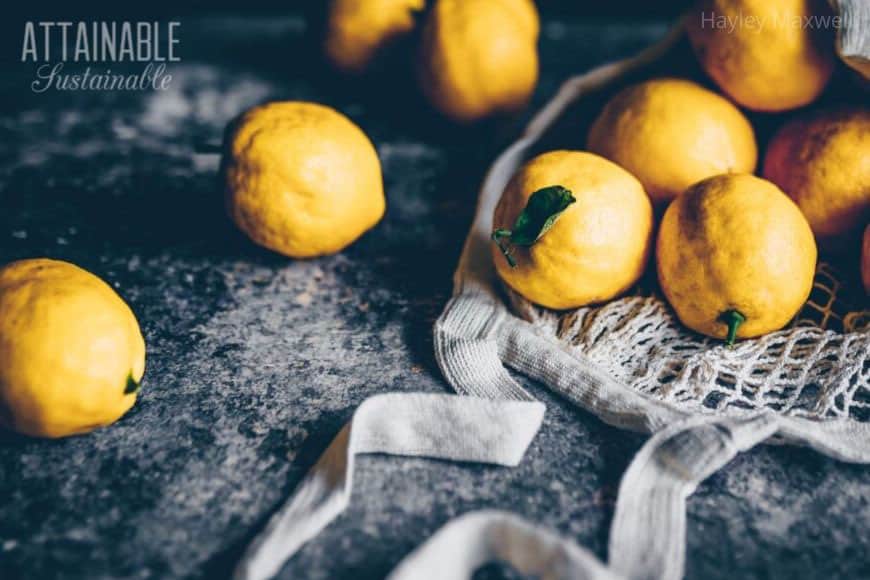 Green Living in the Kitchen:

Stop buying fruits and vegetables that have been imported from another country, for so many reasons.
Buy real food. If you can't trace its origin, it shouldn't go into your body (ahem, IMHO) and it's surely not doing our environment any good.
Quit relying on takeout food. If you succumb, find a restaurant that uses compostable packaging and say no to plastic straws.
Learn to cook some really simple, really fast meals so you won't be tempted by fast food.
Find a local butcher that uses butcher paper instead of buying your meat cuts on Styrofoam.
Find a source for local meat and eggs for eco-friendly protein.
Make a set of reusable beeswax wraps or snack bags to cut down on plastic waste. No time to make your own? Get a pack of three here!
If you use a dishwasher, switch to a less-caustic detergent. Or make your own dishwasher soap tablets. If you wash dishes by hand, skip the disposable plastic bottles and make this homemade dish soap.
Not ready to make your own homemade dish soap? Check out these solid dish soap bars – they're entirely plant based and zero plastic!
Use a dish cloth instead of a sponge. Or opt for a more eco-friendly natural sponge.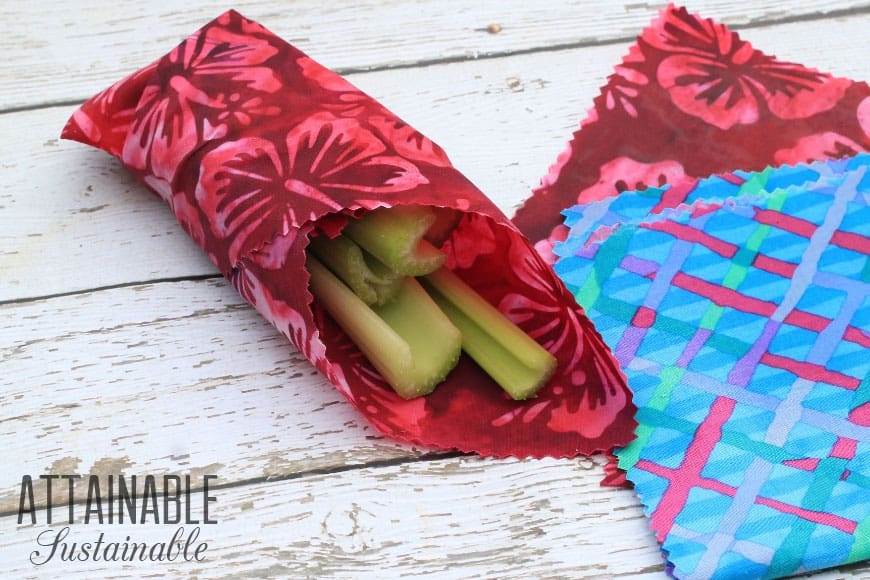 Take a Peek Inside My Book!
Get a free excerpt from my book, Attainable Sustainable: The Lost Art of Self-Reliant Living! You'll also get my free weekly newsletter, complete with recipes, gardening tips, and a little peek at what's going on around here — both the zany and the mundane.

The eco conscious bathroom:
Nix the chemical cleaners; opt for less harsh eco-friendly options.
Take shorter showers. Less hot water used, less energy used.
Switch to less chemically laden soaps and shampoos, or try your hand at making your own.
Still using disposable razors? (Stores are still stocking them; somebody must be using them!) Switch to one with a replaceable blade.
Instead of buying pump bottles of liquid hand soap, get this liquid hand soap concentrate that comes packaged in…beeswax!
Try a fabric shower curtain instead of a plastic one.
Swap your plastic toothbrush for a compostable bamboo one.
Switch to these toothpaste tablets to avoid the plastic toothpaste tube.
If you use cotton swabs, make sure that you're using those that are made of paperboard rather than plastic. They'll break down easier in the landfill and can even be added to your compost.
Instead of getting a fresh bath towel every time you shower, hang your damp towel up to dry and use it several times before you toss it in the laundry pile. Bonus: Your towels will last longer meaning you won't have to replace them as often.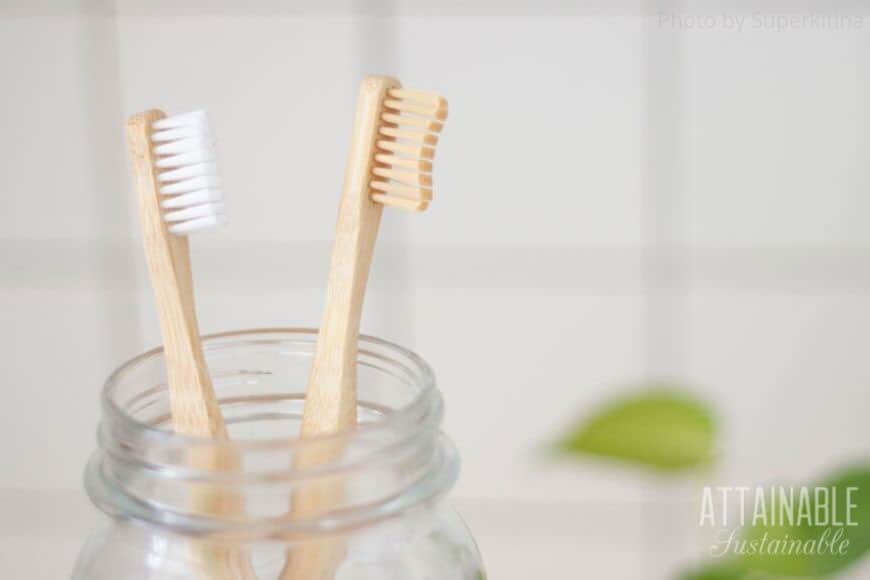 Eco-friendly habits in the office:
Switch to padded envelopes that don't have a plastic bubble liner. It's a painless and eco conscious change.
Stop junk mail before it gets to your house.
Consider online banking. You'll eliminate the envelope as well as the use of much fuel to get your payment where it needs to go.
Opt to receive your monthly statements via email. Again, you'll eliminate paper waste as well as fuel usage.
Use public transportation. Not an option? Find someone to carpool with.
Transform the water cooler at work: request paper rather than plastic cups. Better yet, encourage fellow employees to bring a cup from home.
Refill your ink cartridges instead of buying a new one when the ink runs out.
Not using your computer? Turn it off or put it to sleep.
Adopt these energy saving habits to save on utility fees and be more green.
Eco-friendly laundry room:
Wash only full loads of clothes.
Switch to a more eco-friendly laundry detergent. Or make your own.
Get clothes out of the dryer as soon as they're dry, so you're not tempted to "give them a little fluff."
Better yet, set up a clothesline and hang your clothes to dry some of the time.
Install a timer on your hot water heater. It's an eco-friendly effort that will also save you some cash.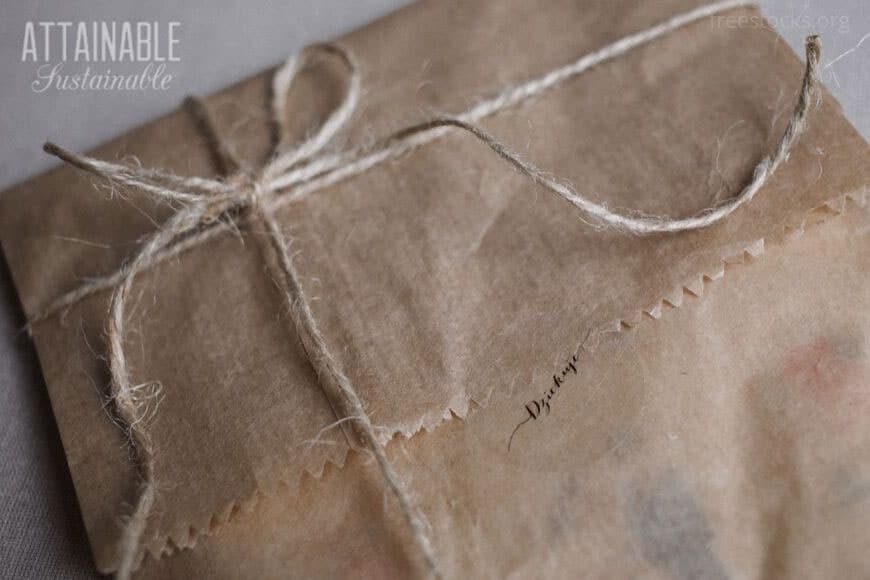 The rest of the house:
Find out where your power comes from. Is it generated by diesel? Coal? Wind? Knowing that your energy usage is tied directly to environmentally unfriendly sources might make it easier to cut your energy use (good for the planet and your bank account).

Say no to products that come in plastic clamshells.
Keep a blanket on the sofa.
Turn down the thermostat on your heater, just a touch (with that blanket, you won't notice).
Next time you need to buy linens and blankets, skip the man-made materials.
Turn off the TV if you're not watching it.
Install window blinds as an eco-friendly effort to help keep the house cool in the summertime and warm in winter.
Shop second hand.
Wash your windows with newspaper instead of paper towels.
When it's time to shop for a new mattress, consider opting for an organic mattress that is free of polyester, polyurethane, and toxic fire retardants.

Outside:
If you have an arbor, plant a deciduous vine that will shade you in the summertime and allow sunlight and warmth in during the cold winter. This can cut your energy usage, making your home more eco-friendly.
Grow your own food. If you've never done so, start small. Plant radishes. Or lettuce.
If you're a gardening veteran, consider sharing your knowledge with amateurs.
Plant an extra row for the food bank. It's eco conscious and community-minded.
Collect some of your rainwater and use it to water the garden during dry spells.
If you're still maintaining your lawn using chemicals, stop! (Now, wasn't that easy? Think how much time I just saved you!) The U.S. Environmental Protection Agency estimates that U.S. households use nearly 90 million pounds of herbicides and pesticides on their lawns each year. Those chemicals end up in our groundwater and run off into rivers and oceans. If growing your own food is on your sustainability agenda, you certainly don't want those poisons ending up on your kitchen table via the vegetables you grow. Read this for more information.
If you regularly forget to turn off your porch or garage light, set it up on a timer.
Deal with pests and weeds without chemicals.
Mulch. It will help hold moisture in, and mean less water used. It will also help keep the weeds in check.
Compost your kitchen waste. No space? Get worms to do the dirty work with a worm composter. (You can make your own for less than $5.)

Eco conscious living around town:
Stop accepting the bags that stores offer (plastic OR paper) and bring your own.
Switch from plastic to glass bottles when buying goods at the grocery store. If it's only available in plastic, skip it (bonus points for writing to the manufacturer to complain).
Say no to drinking straws. Get it the habit of telling your server ahead of time that you don't want a plastic straw.
Choose fruits and vegetables that are sold loose. There's absolutely no reason for peas, peppers, or tomatoes to be wrapped in plastic or strapped to Styrofoam.
Seek out local produce at the supermarket or (better yet) farmers market.
Eliminate excess baggage in your car. If you don't need to carry it around, don't. You'll use less gas.
Take your own insulated mug for your coffee stops. Most coffee shops are happy to serve their patrons coffee in a reusable container, and some even offer a slight discount. By some counts, 14.4 billion cups of coffee are bought in disposable paper cups each year. Placed end-to-end, they say, these cups would wrap around the earth 55 times and weigh around 900 million pounds. How's that for inspiration to change?
20+ Ways to Cut the Plastic Waste at Your Place (Recycling isn't the Answer)
Ditto a reusable bottle so you can eliminate single use plastic bottles.
Combining errands so that you use less fuel is a smart eco conscious move.
Live near town? Walk, sometimes!
Seek out one wild food source in your area. Maybe it's dandelion greens. Or maybe you've got a source for wild asparagus or blackberries.
Go meet your neighbors. Having a friendly community means a chance to share equipment rather than everyone owning the same snow blower or tractor.
Those same neighbors? May share their garden surplus or help you tackle all of those excess zucchini.
Think about needs versus wants. We've become a society of shoppers. Do you really need that new pair of shoes?
Choosing to live with less stuff is simply more eco-friendly.
Be sure to read Bill McKibben's Eaarth: Making a Life on a Tough New Planet.
Got another simple change to add for a more eco conscious home? Please share more eco-friendly habits in the comments!
Originally published in April 2013; this post has been updated.