Liquid dish soap does a fine job of cleaning dishes, but I cringe every time I have to buy a plastic bottle full of soap. I had an epiphany about homemade dish soap several months ago, and I've been experimenting. If — like me — you're trying to cut back on single-use plastic, this solid dish soap might be just the solution you've been looking for.
Check out this recipe for homemade liquid laundry soap, too!
Originally published July 2019; this post has been updated.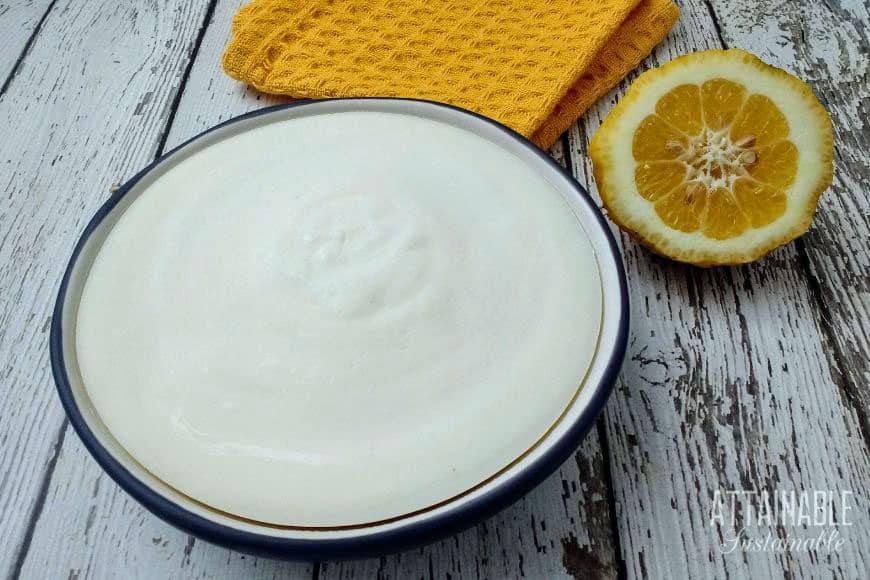 How I Wash Dishes by Hand
My dishwashing method has changed over time. I grew up in a house without a dishwasher. For our dish washing duties, we filled the kitchen sink with hot water and bubbles and then stacked dishes in the sink.
As we washed each plate or cup, the water in the sink got colder, less bubbly, and dirtier. If you wash dishes like this, you know what I'm talking about.
When we moved to Hawaii, I began seeing a method of washing dishes that I'd never seen before. Imagine — such a simple chore, but done completely differently in another part of the world! I've completely converted to this method for hand washing dishes.
Take a Peek Inside My Book!
Get a free excerpt from my book, Attainable Sustainable: The Lost Art of Self-Reliant Living! You'll also get my free weekly newsletter, complete with recipes, gardening tips, and a little peek at what's going on around here — both the zany and the mundane.
Instead of filling a big sink, I now fill a medium-size bowl with hot water. None of the dirty dishes go into the water, so the water always stays clean.
To wash each dish, I dip a dish rag or sponge into the hot water and then squeeze on a bit of dish soap. The suds transfer to each dirty dish as I clean it, getting sudsy and clean. I repeat this with all of my dirty dishes, wetting the sponge and recharging it with dish soap as necessary.
This method works beautifully, but there's still the question of the plastic bottle. Not to mention that store bought dish soap uses some harsh ingredients.
A Vintage Solution: Solid Homemade Dish Soap
Then I remembered my mom telling me that my Grandma used to make tallow bars to wash laundry. Instead of the powder or liquid that we use today, she'd cut off a piece of the soap bar and toss it into the washing machine with the dirty clothes.
This made me wonder about using a solid homemade dish soap bar as an eco friendly option. Why not?
Before I made up a solid homemade dish soap specific for that purpose, I wanted to try the idea. I set a bar of homemade soap in a shallow bowl and began using it instead of liquid soap. It worked perfectly well! The dishes came out clean and my sponge was suitably sudsy. The only trouble with this method was that the soap did get quite soft in the bowl. This told me that I needed a harder bar.
Love the idea of a solid dish soap bar but
not quite ready to make your own
? The folks over at Etee have you covered with these
vegan dish soap bars!
I started poking around the internet for a recipe without much luck.
Further searching left me looking for a laundry soap bar and I landed on my friend Jan's recipe. (By the way, I credit Jan for giving me the confidence to start making my own soap. Check out her Soapmaking ebook collection here.)
Jan's recipe is made with pure coconut oil. I didn't have enough coconut oil on hand, so I used a soap calculator to figure out how to use half coconut oil and half tallow. And instead of forming this recipe into bars, I poured the batter into shallow bowls that I picked up at the thrift store.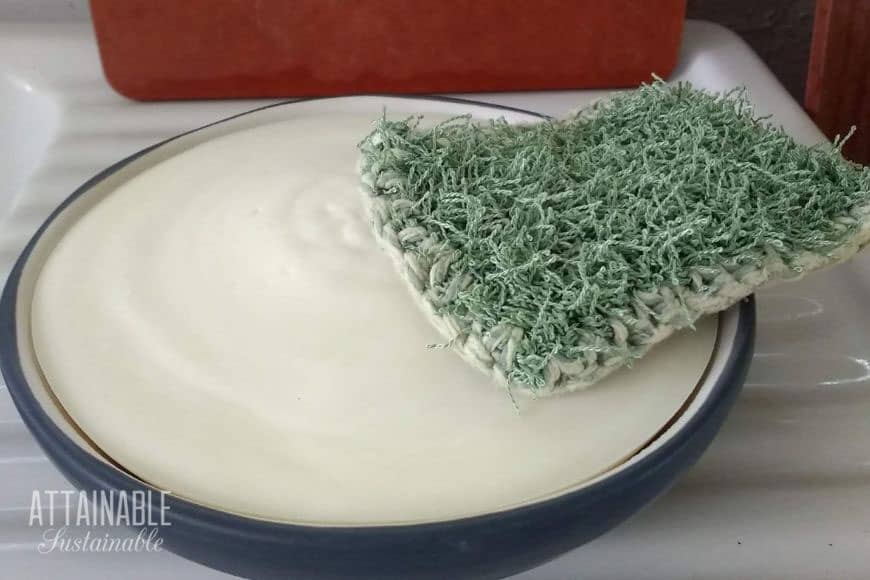 I ordered a handmade sponge — like this one — from Etsy. But on my list of projects to try is one of these homemade reusable sponges.
Note: I've had a LOT of people ask about using alternative oils. If you need instructions for making a vegan soap block, scroll to the notes section of the recipe at the bottom of this page for the appropriate measurements. Or, you can purchase a vegan soap block here.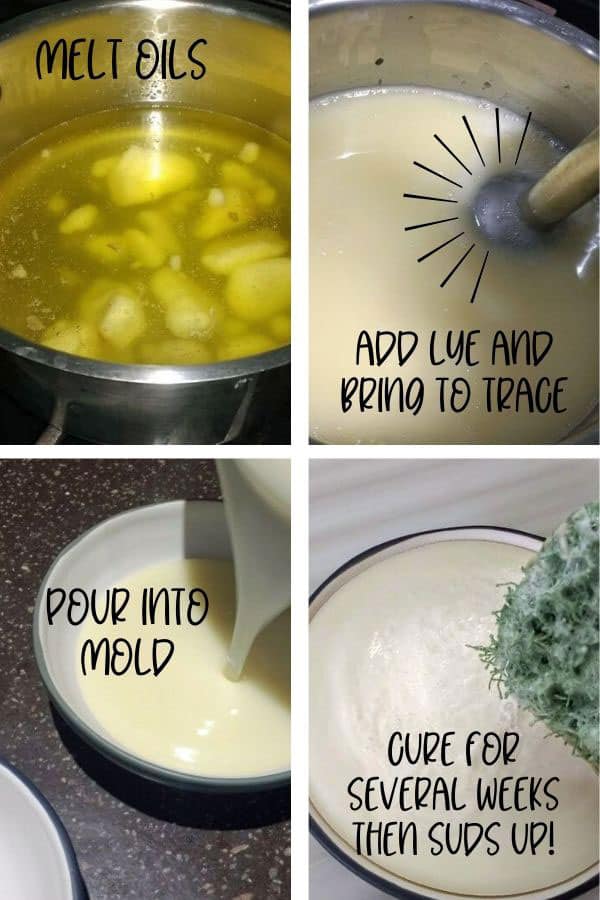 Making a Solid Dish Soap Bar
This is a cold process soap recipe. This method calls for combining oils with sodium hydroxide (aka lye).
Lye is caustic, so you'll need to use caution, but please don't let this scare you away from making it, since soap making is really not difficult!
Begin by pouring the lye into the water. (Never pour water into lye.) Stir carefully. Combining the water and lye will create a chemical reaction and the water will become VERY hot.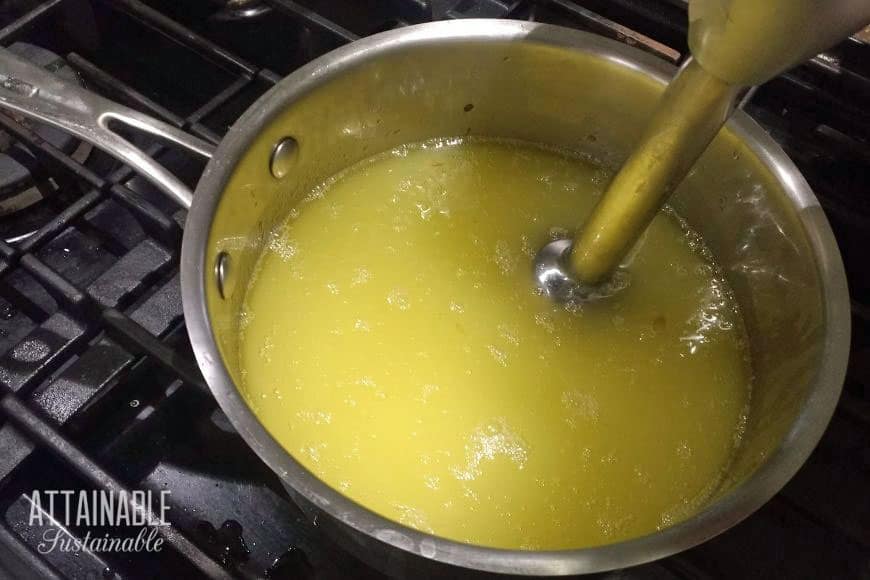 Meanwhile, melt the oils in a saucepan. When the lye mixture and oils are both about 100ºF, add the lye to the oils in the saucepan. Mix until the soap reaches trace. This is easiest when done with an immersion blender. You can stir by hand but it will require a lot of stirring!
What is trace?
Soapmakers use the term trace" to describe the consistency of the soap batter when it's ready to be poured into molds. When the soap begins to look like cooked custard and holds its shape across the top, you've achieved trace. There's not an exact science to this. The level of trace can range from light (thinner) to heavy (thicker). Mixing the batter until it reaches heavy trace allows for layering soap of different colors, since it holds its shape to support additional layers.
Pour the soap batter into a mold. I like using a shallow bowl for this dish soap recipe, but you could also pour it into a larger mold and cut it into bars.
Let the soap cure for a minimum of two weeks before using. If you've opted to use one large mold, now is the time to cut it into dish soap bars.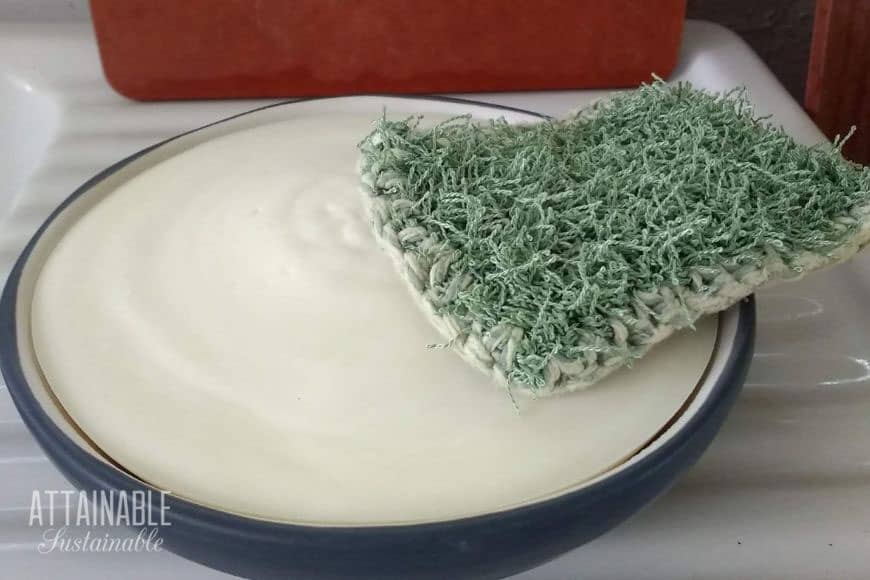 Using this Homemade Dish Soap
I keep the bowl of hard soap right next to my sink. If I'm washing a lot of dishes, I'll fill up a container with hot water and dip my sponge in that as I wash.
If I just need to clean a few dishes, there's not even any need to fill a bowl — I just wet the sponge with hot water, then rub it on the hard soap until it begins to foam.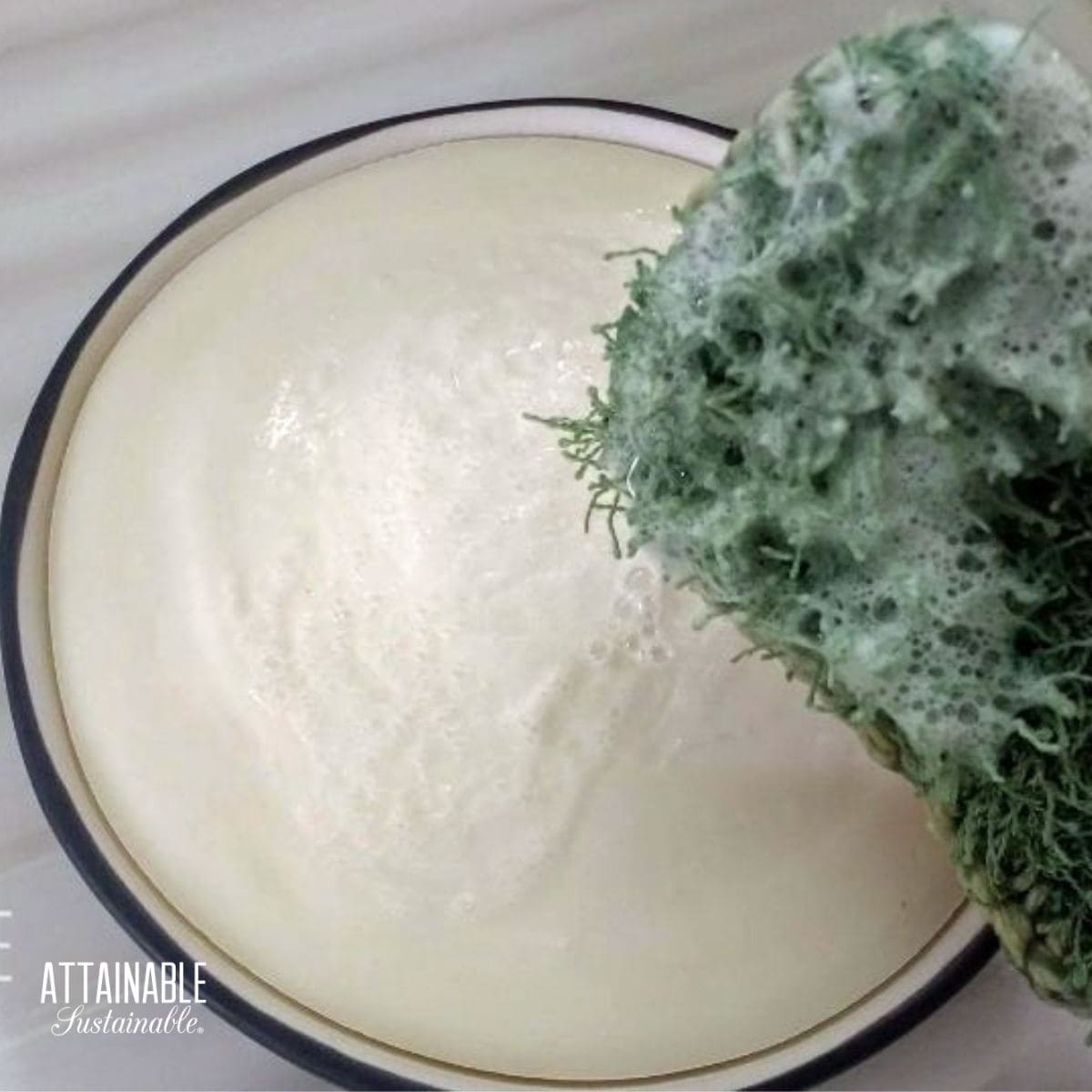 One thing to note. By the time you get to the end of the soap bar, it can start to look a little…gross. It helps to drain off any water that may have puddled in the dish when you're done washing dishes. (This will also extend the life of the soap.)
Another tactic is to go small with your bar dish soap. Use small bowls or cut bars into small pieces.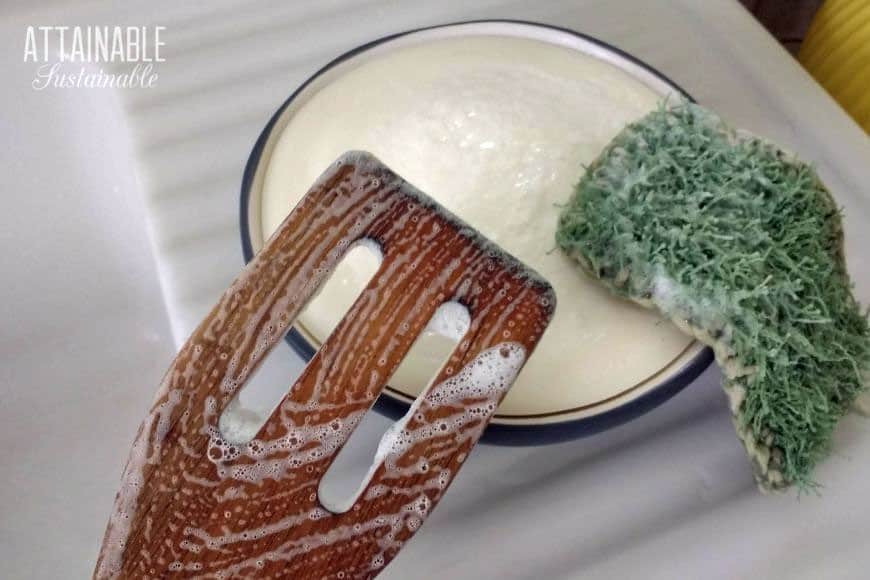 Making Dish Soap
Home made dish soap is not difficult to make, but you really do need to follow some basic safety precautions.
Always wear goggles and long sleeves when working with lye.
Measure ingredients exactly. You will need a scale in order to make soap at home. There's no getting around this.
Never pour water into lye; instead, measure the lye into the water.
Soapmaking Success E-Course
If you're ready to dive into soapmaking, check out Jan's Soapmaking Success e-course! It includes six lessons that will have you making soap like a pro in no time. It includes:
Incorporating fruits & veggies
Soapmaking with flowers & herbs
Using alternative liquids
Using natural colorants
Simple soap designs
Designing soap labels
You should also give Jan's basic soap bar a try.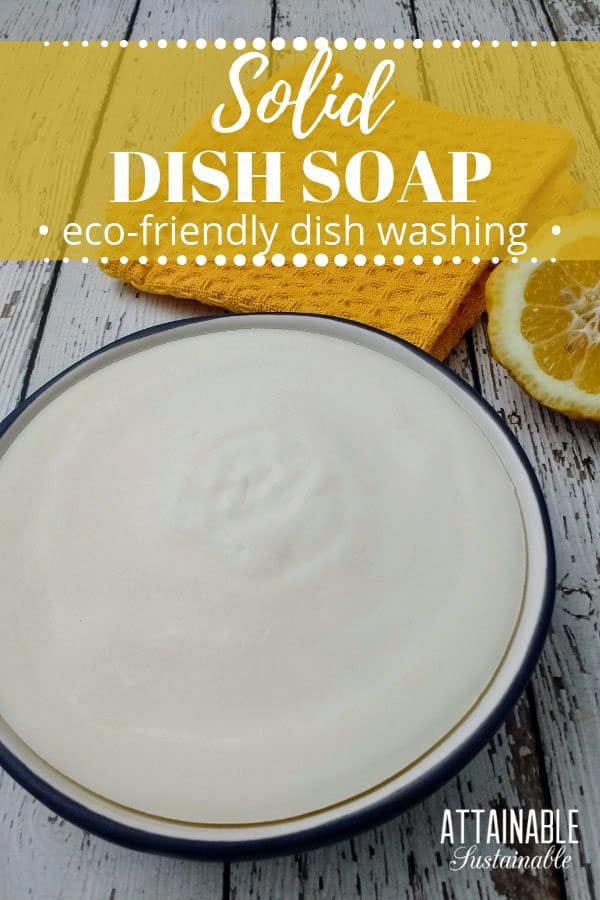 ★ Did you make this homemade dish soap? Don't forget to give it a star rating below! ★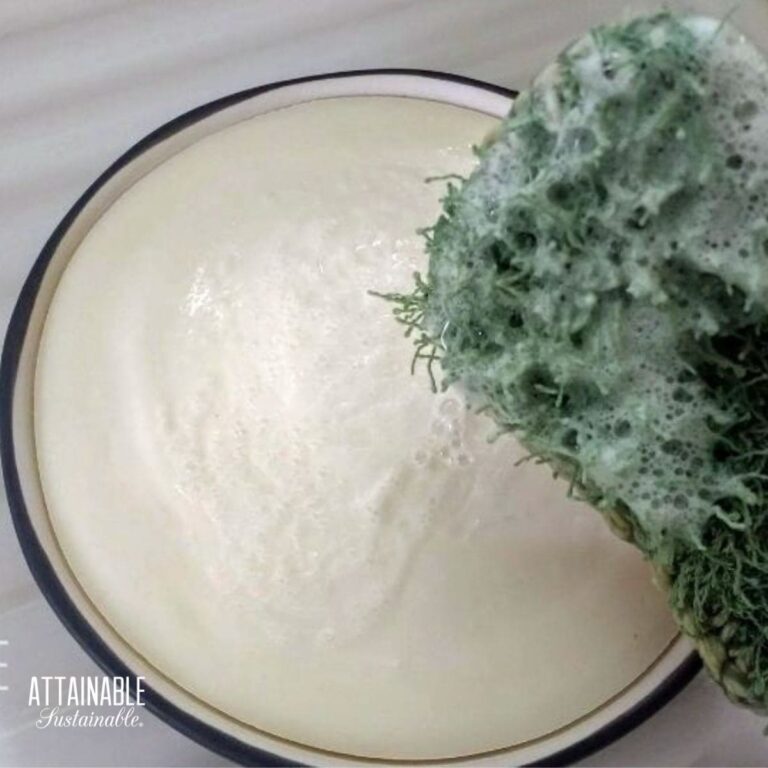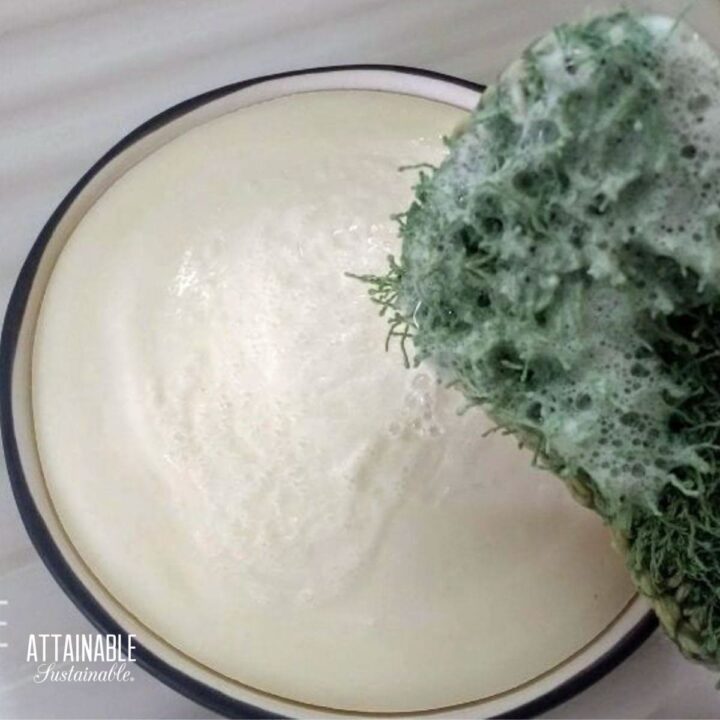 Homemade Dish Soap Bar
Total Time:
14 days
1 hour
Changing up the way you wash dishes by using a solid dish soap bar can substantially reduce the number of plastic bottles you use.
Materials
9.96 ounces water
14 ounces beef tallow
14 ounces coconut oil
1-2 tablespoons essential oil, lavender or citrus are great
Instructions
Measure the water into a non-reactive heatproof container.
Carefully pour the lye into the water. (Never pour water into lye.) Stir carefully. Combining the water and lye will create a chemical reaction and the water will become VERY hot.
Set the lye mixture aside. While the lye cools, heat coconut oil and tallow to about 90 to 100°F. The tallow will take longer to melt than the coconut oil. If you achieve the desired temperature before it's completely melted, just turn off the heat and let the mixture sit for a few minutes. The residual heat will melt the tallow all the way.
Pour the lye solution into the warm coconut oil and stir by hand briefly. (Note: The lye and oils should both be about 100ºF when you combine them; you may need to allow the lye mixture to cool a bit.)
Use an immersion blender to bring the soap to trace.
Incorporate essential oils.
Pour soap into shallow bowls and allow to cure for 2 weeks before using.
Using this solid dish soap
Wet sponge and rub onto soap until suds form.
Use sudsy sponge so thoroughly wash dirty dishes.
Notes
Always wear safety goggles and long sleeves when making soap. 
Never pour water into lye (pour lye into water). 
Using lavender, orange, or lemon essential oils gives this homemade cleaner a light fragrance. 
To make a vegan soap block
Follow the instructions above using the following measurements: 
28 ounces coconut oil
11.15 ounces water
4.98 ounces lye

You can purchase lye here.