The laundry detergents available to us at the supermarket are good at getting our laundry clean. But this homemade liquid laundry soap recipe gets clothes and linens clean without the harsh chemicals and fragrances, not to mention — you can skip the plastic jugs!
And while you're making a healthier change in the laundry room, consider making your own non-toxic dryer sheets, too.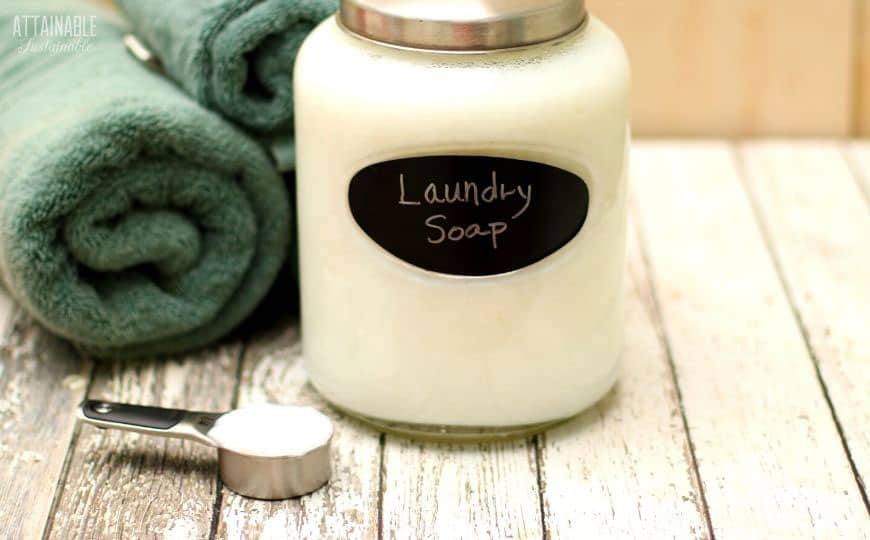 Do you drive by the local laundromat and get choked up by the smell? I sure do. Those chemical fragrances are powerful!
And they're not exactly good for us, either.
I've been making my own laundry soap for years now. (Admittedly, with a few gaps in there when I don't get it made it time and my husband buys the "natural" store bought stuff.
My powdered laundry soap recipe appears on page 139 of my book, but some people prefer a liquid soap for doing laundry.
Take a Peek Inside My Book!
Get a free excerpt from my book, Attainable Sustainable: The Lost Art of Self-Reliant Living! You'll also get my free weekly newsletter, complete with recipes, gardening tips, and a little peek at what's going on around here — both the zany and the mundane.
Reasons to use a liquid laundry soap:
You live in a humid climate (as I do) and get tired of the powdered version clumping.
It's pre-dissolved, so no worries about the occasional powdery residue left in the laundry.
Liquid laundry soap can be rubbed into a stain as a pre-treatment.
What's the difference between soap and detergent?
Soap is made from natural ingredients. Detergents are comprised of manufactured ingredients and often include synthetic surfactants.
These surfactants make oils and dirt easier to remove, but many get a poor safety rating from the Environmental Working Group and are known carcinogens.
Making this liquid laundry soap recipe
This is an easy recipe to make, and only requires three ingredients (plus water). I generally have these ingredients on hand, as I use them in a variety of recipes, but you may not.
Check the laundry aisle at the supermarket for both Borax and washing soda. If you can't find them there, you may find them at the hardware store. Short of that, there's always ordering online.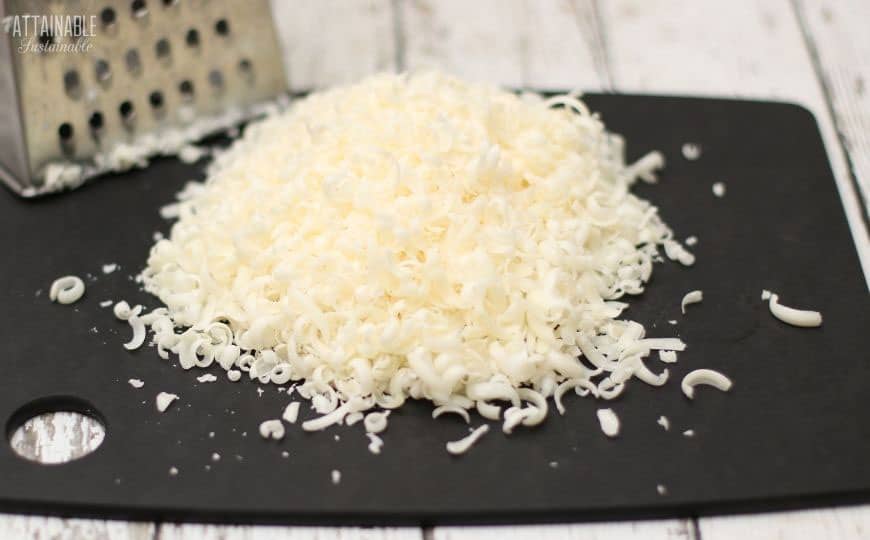 You can use any type of bar soap, grated so that it dissolves more quickly. Grate it by hand or use a food processor if you have one.
Essential oils for fragrance are optional, but choose a scent that complements the soap you use!
Using this DIY laundry soap
Store the soap in a large container with a lid. The glass container you see here is a one-gallon container and holds only about 2/3 of the recipe; the remainder is in another sealed container. I've opted for this container because the lid is easy to lift off.
A two-gallon bucket works well, as do a number of upcycled containers.
Keep a scoop handy for transferring soap to the washing machine. Use 1/8-1/4 cup per load.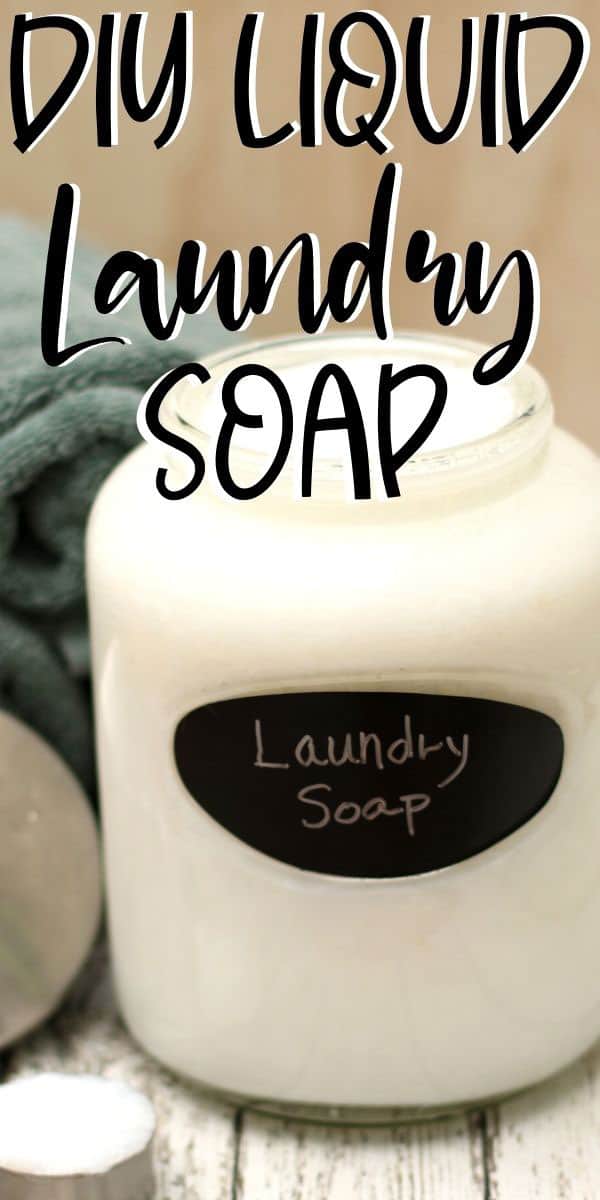 ★ Did you make this laundry soap recipe? Don't forget to give it a star rating below! ★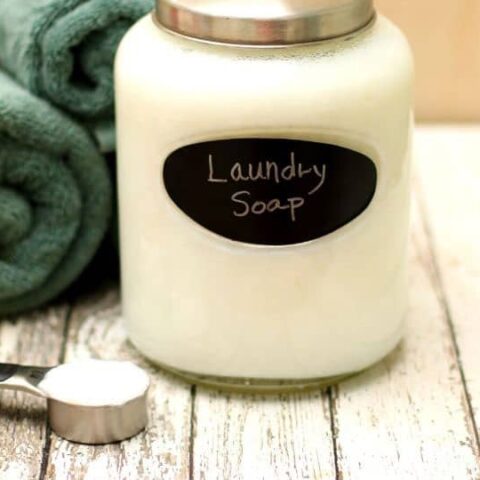 Homemade Liquid Laundry Soap
This liquid laundry soap recipe gets clothes clean without the harsh chemicals & fragrances. Plus -- you can skip the plastic jugs! 
Materials
1 1/2  gallons water, divided
1 5-oz bar of soap
1 cup Borax
1/2 cup washing soda
Instructions
Grate soap using a grater or a food processor.
Put soap and 1/2 gallon water into a stock pot.
Heat until soap is nearly dissolved, stirring occasionally.
Turn off heat and add Borax and washing soda. Stir gently to dissolve.
Add remaining 1 gallon of water. Stir to combine.
Cover pot and allow to sit overnight.