There's certainly a little bit of nostalgia that goes with dyeing eggs with one of those supermarket kits. But did you know that you can dye Easter eggs naturally with ingredients you may have right in your kitchen?
Be sure to use all of those hard boiled eggs to make these delicious avocado deviled eggs!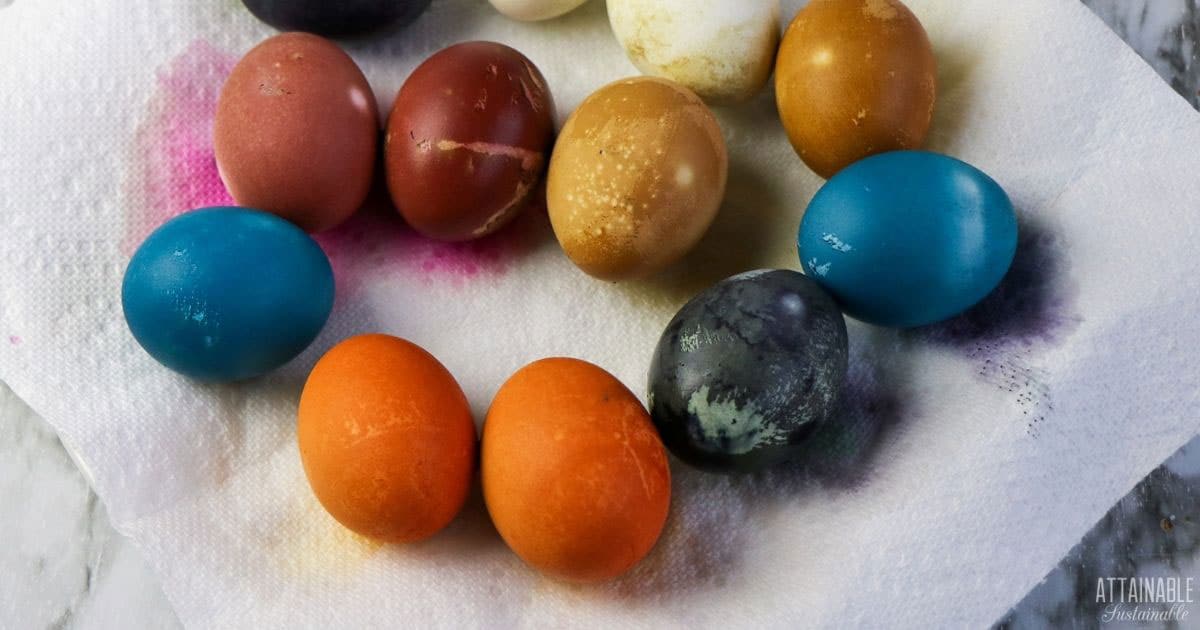 Why dye Easter eggs with natural food ingredients?
As I discussed in the introduction to my book, one of my sons reacted poorly to food dyes when he was young. That was really the impetus for us to begin shifting into a "cleaner" lifestyle.
It makes sense to eliminate those ingredients wherever we can, right? Even Easter eggs!
Dyeing eggs with natural ingredients also offers a chance for kids to experiment. They might be surprised to see the resulting colors with some of these vegetables.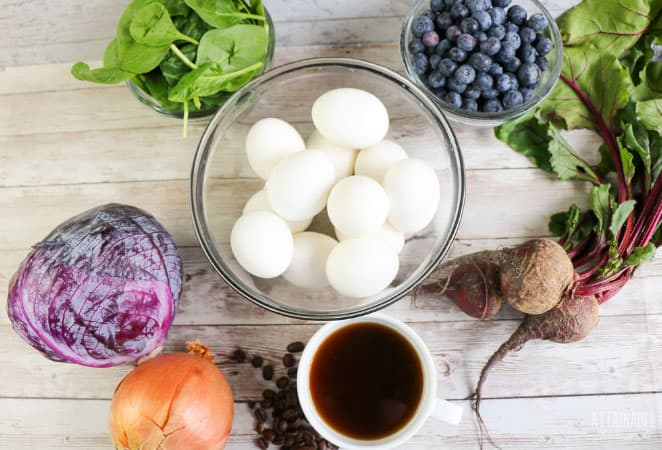 Take a Peek Inside My Book!
Get a free excerpt from my book, Attainable Sustainable: The Lost Art of Self-Reliant Living! You'll also get my free weekly newsletter, complete with recipes, gardening tips, and a little peek at what's going on around here — both the zany and the mundane.
The process to dye Easter eggs naturally
Using kitchen ingredients to dye eggs requires a bit more work than the instant color tabs, but consider it art. And a fun science project for the kiddos!
To make dye, you'll need to extract the color from natural ingredients by simmering them in water. Once the dye is made, the hard boiled eggs will need to soak in the colored water for an extended time. This is where patience will come in.
Refrigerating the eggs IN the water overnight will result in the deepest coloration.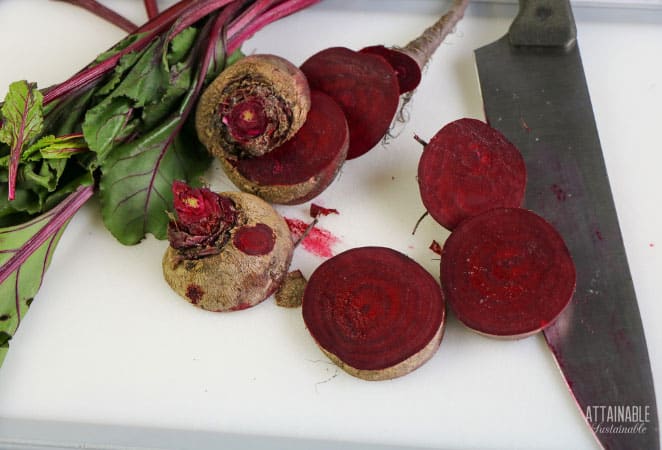 Fun egg decorating ideas
Since this method kind of eliminates the possibility of dipping eggs in various colors over a short period of time, it's a good time to employ some alternative decor!
Use a white crayon to write on the eggs.
Stick on a bunch of office dots for a polka dot egg.
Use skinny floral tape to make stripes.
Pulling the eggs out of the dye the next day and seeing the magic that happened means two days of egg dyeing fun!
Once the dye dries, remove the labels or tape. If there is any residual stickiness from the labels, a little vegetable oil on a rag will remove it (and shine the egg up, too).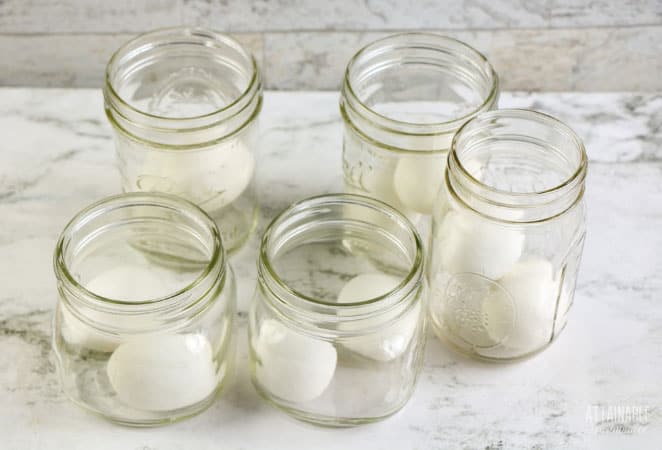 What to expect your naturally dyed eggs to look like
The short answer is: It depends! These natural dyes can be quite intense in their final coloring once they've spent the night in a color bath.
Since these are natural ingredients, expect variations in the color and intensity with naturally dyed Easter eggs.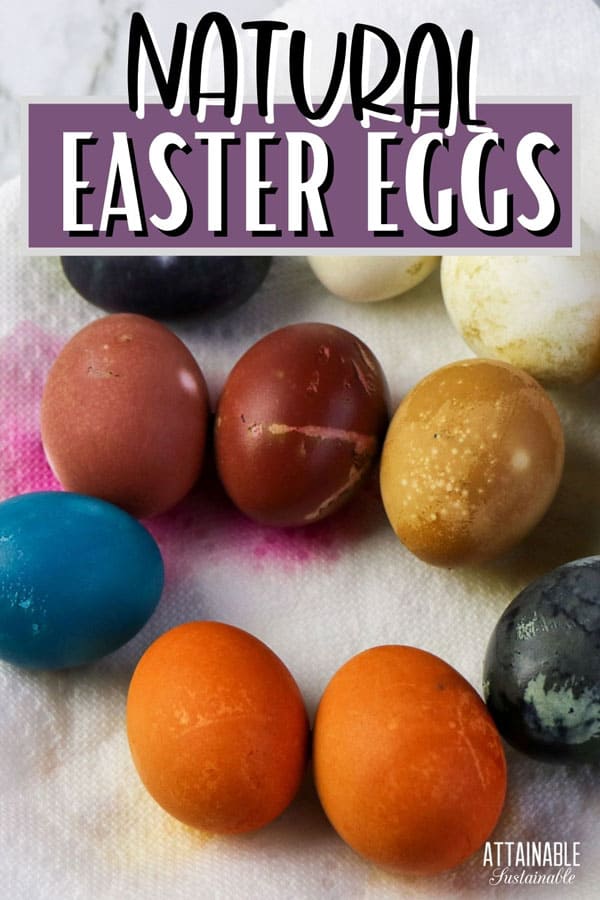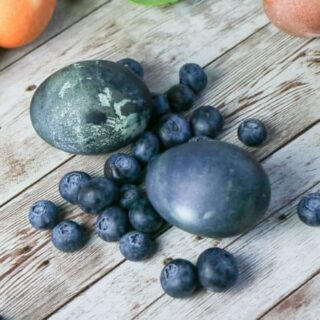 How to Dye Easter Eggs Naturally
Science meets art when you dye eggs with natural ingredients that you have right in the kitchen.
Materials
Blue
1/2 head red cabbage (2-3 cups)
4 cups water
1 tablespoon vinegar
Dark blue
2 cups blueberries (fresh or frozen)
2 cups water
1 tablespoon vinegar
Dark green
6 Chlorophyll tablets (available at health food stores)
2 cups water
1 tablespoon vinegar
Yellow
2 cups water
1 tablespoon vinegar
Light green
2 cups fresh spinach
2 cups water
1 tablespoon vinegar
Pink/Red
Fresh beets
2 cups water
1 tablespoon vinegar
Brown
2 cups strongly brewed coffee
Instructions
To prepare the dye for everything but the coffee:
Place water, vinegar, and the selected vegetable, roughly cut if necessary, into a medium saucepan.
Bring to boil over medium-high heat. Reduce heat and simmer for 20 minutes with the lid on.
Remove from heat. Allow to cool for 10 minutes. Pour the dye through a fine mesh strainer.
To dye eggs, place two boiled eggs in a jar. Pour the dye or coffee over to cover. For the deepest coloring, place the lids on the jars and refrigerate overnight.
Carefully remove the eggs from the dye and transfer to a wire cooling rack. Allow to dry completely before touching to avoid disturbing the dye.
Notes
Eggs dyed naturally will differ in color and intensity from those made with chemical dyes. Half the fun is seeing what they look like after they emerge from the dye!