Growing stevia is a way to produce some of your own natural sweetener. Plus, it's a pretty addition to your herb garden, calorie free, and easy to grow.
Growing stevia in the home garden
One of the plants that thrives here for me is stevia. I'd never grown it before moving here, so I'm pleased to see it do so well–but what, exactly, does one do with it? For that matter, what is it??
What is stevia?
You might know stevia as a natural sweetener, an alternative to those nasty little pink packets of sweetener you'd get at a restaurant. You can buy it in tiny packets or as a sugar substitute for baking, but hello! That "natural sugar replacement" is derived from stevia leaves. Instead of buying the packets, why not try growing stevia?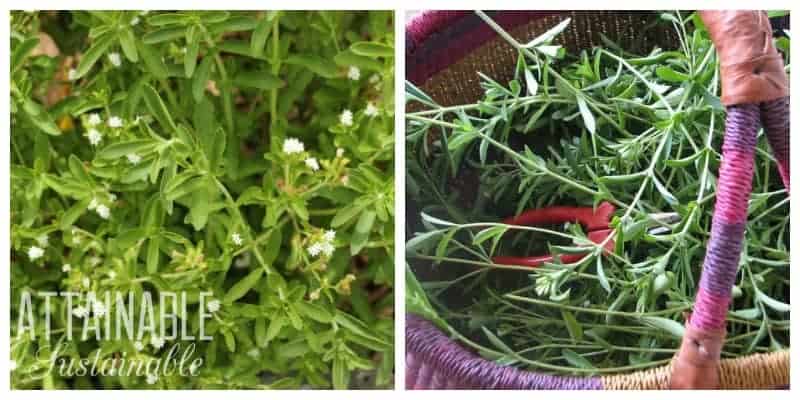 Growing stevia
The leaves of a stevia plant are small and serrated, and it's one of those nice looking herbs that you can easily tuck into an edible garden. It grows about 18″ tall and as wide. It needs well-drained soil; it doesn't like soggy feet.
You can often find stevia plants at a nursery, but you can also grow stevia from seed. If you start with seeds, here are some guidelines for getting started.
Plant your seedlings out in your garden after all danger of frost has passed. Mix a little compost into the planting hole to get it started on the right foot!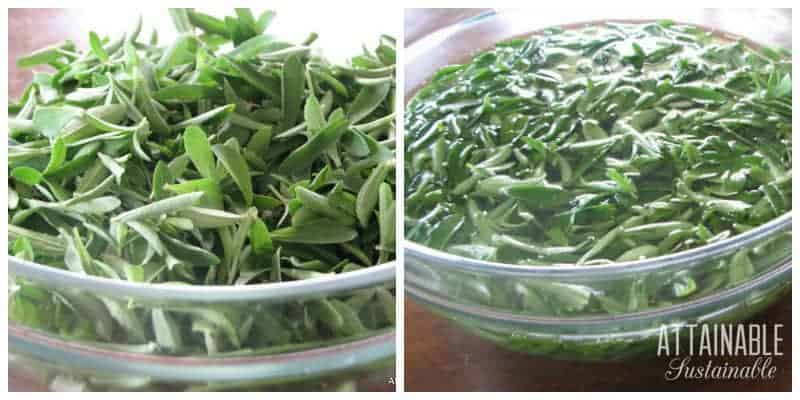 Harvesting stevia
The best time to harvest this herb is when the plant starts to enter its blooming stage.
To harvest, use scissors or snips to cut the stems several inches from the base of the plant. (Depending on your climate, the stevia may very well put out another round of fresh growth before winter sets in.)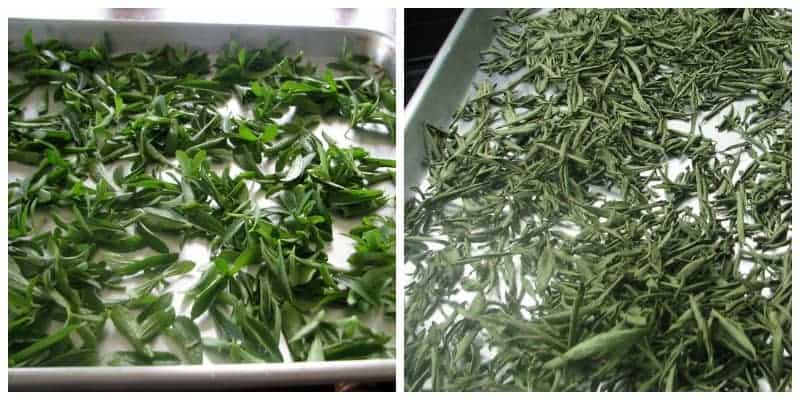 Drying stevia
I stripped the leaves from the stems, cleaned them in a bowl of water, and took them for a spin in the salad spinner.
And this is where I got a little crazy. Instead of drying the leaves in my dehydrator (hardly worth the energy for just a few trays) or my oven (again, with the wasted energy), I spread it out on two cookie sheets and put them in my car.
I am so serious. It gets warm in there! Even with our overcast and cloudy weather, the leaves dried overnight.
Using stevia
For starters, just chewing on a fresh leaf gives a burst of sweetness that's welcome when you're trying to cut back on processed sugars. I've tried tossing a few fresh leaves in with hot tea, but don't notice much in the way of sweetening with this method.
Drying stevia allows you to store the sweet leaves more easily, and it works well for sweetening hot drinks. If you brew loose leaf teas, the easiest way you can use your dried stevia is to add some to your tea strainer along with your tea.
You can also grind the fresh leaves in a simple mortar and pestle, though be aware that this natural stevia doesn't dissolve.
You might also like:
This post may contain affiliate links; I'll earn a small commission if you choose to make a purchase.