Make a DIY chicken swing from items you probably already have on hand. It's easy and it's instant entertainment for you AND your hens!
Not enough room to raise chickens? Consider raising quail!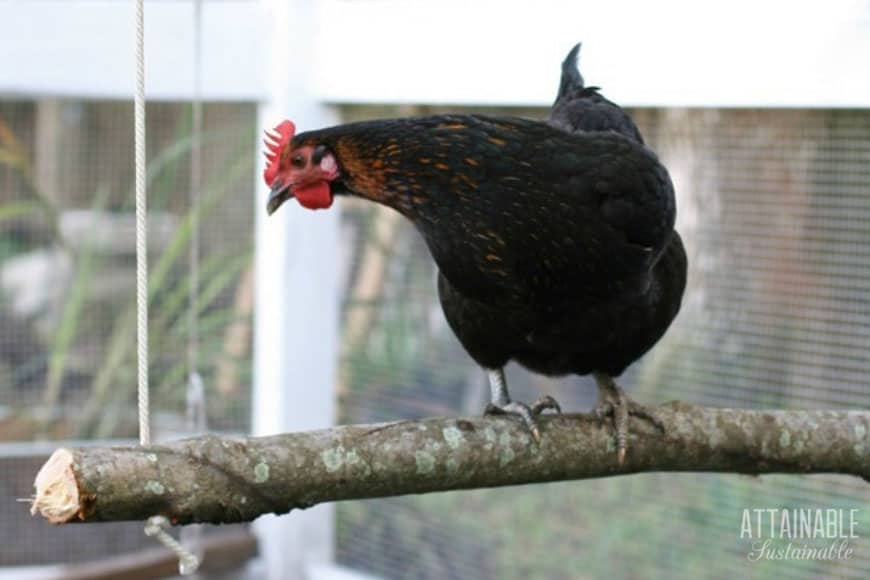 I never thought I'd care about an animals' well-being like I do with my chickens. Lilly cat can roam free and do things that satisfy her crazy little cat soul like bolt through the yard and climb up a tree as if she has part monkey in her. My chickens, however, are a whole different story.
I currently live on less than 3/4 of an acre without a dividing fence at the property line (this is something Scott and I are both hoping will happen this year), so when we built our chicken coop we had to keep those things in mind.
Our enclosed run and coop is 8 feet wide by 17 feet long. The inside of the chicken coop is fairly large, but if you've ever raised chickens before, you know that they tear their space up quickly. Desolate area = no bugs = bored chickens.
Or at least that's what I think and therefore worry about. I can't have bored chickens!
Take a Peek Inside My Book!
Get a free excerpt from my book, Attainable Sustainable: The Lost Art of Self-Reliant Living! You'll also get my free weekly newsletter, complete with recipes, gardening tips, and a little peek at what's going on around here — both the zany and the mundane.
Solving my problem on the cheap
Desperate times call for desperate measures. Thinking creatively, I was inspired to create a chicken swing. That had to be the solution, right? A swing for chickens! I turned to my backyard for materials to create a DIY chicken swing without going to the store or spending any money.
The broken down chain link fence on the south side of our property is overgrown with small trees. (This was the only time I've been thankful for our messy fence line.) I scouted the fence line and there it was — the perfect branch for a chicken swing. With a rusty old saw and some elbow grease, I sawed the tree down. With help of my husband of course. Lots of help — like 80% of the work help. 🙂
Side note: If you don't have a small tree hanging around, look up to see if any trees in your yard could use some trimming.
Making a swing for chickens
You'll need:
a 3′ length of wood (roughly)
Saw
Rope (1/2″ in diameter)
Drill (a cordless drill is handy)
Drill bit (5/8″) use a bit larger than the size of your rope
Measuring tape
Scissors
An extra pair of hands
Saw down your tree branch or gather alternative materials for the swing (think: scrap wood). Shave off the ends. Don't leave any pieces of wood that could hurt your chickens.
Next, drill holes on both ends of the tree branch (you want your drill bit to be a bit larger than the circumference of the rope you're using).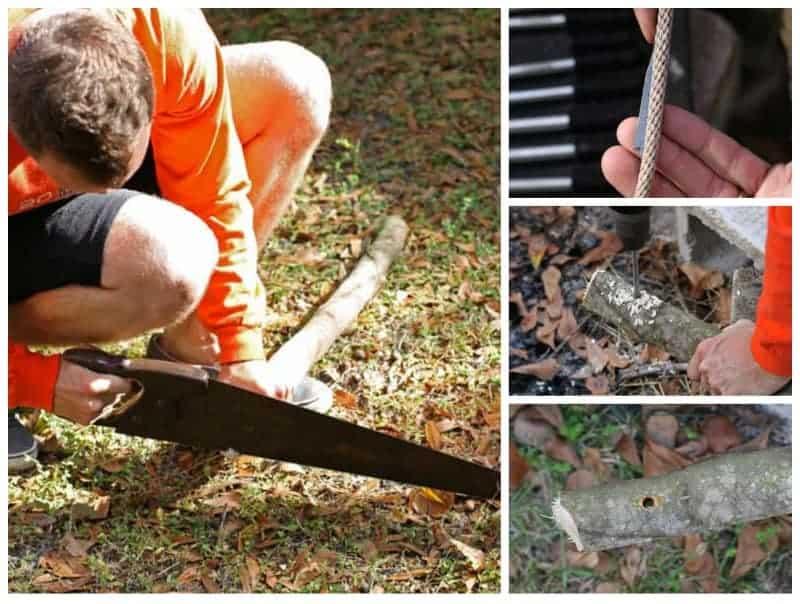 Figure out how long you want the swing for your chickens to be. Measure and cut your rope to the length desired. Be sure to give yourself at least a foot extra for tying knots and attaching to your structure. Feed one piece of rope through one end of your tree branch and tie a good knot. Repeat for the other end.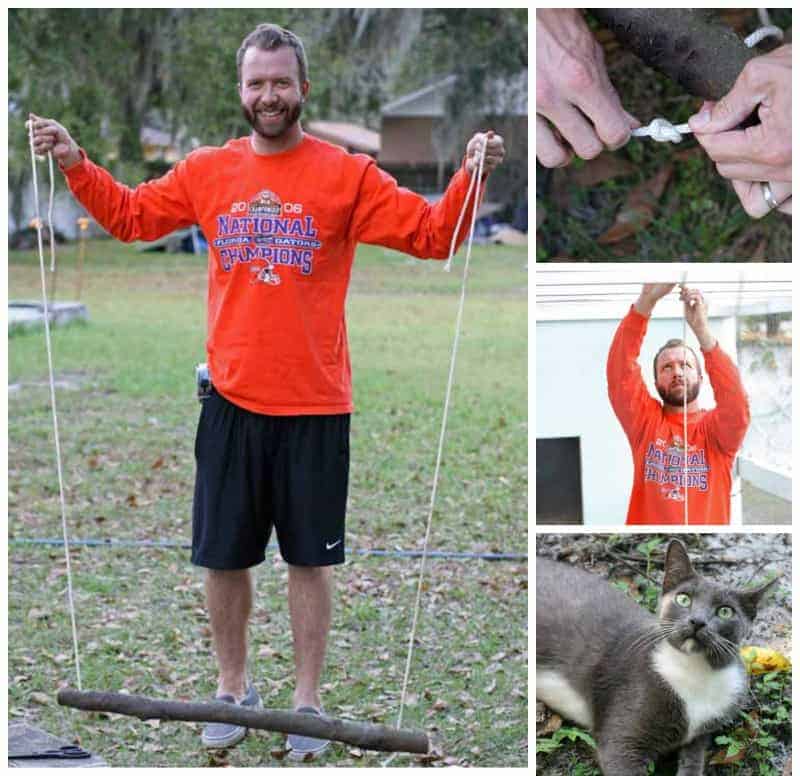 Using your extra pair of hands, have one person hold the swing so you can attach it to an upper beam on your chicken coop. Tie the knot securely and do the same for the other side. Push down on the swing to make sure your knots will not come undone.
Let the girls swing!
Next, marvel at your piece of art work and anxiously and impatiently hope one of your chickens will jump up and start swinging.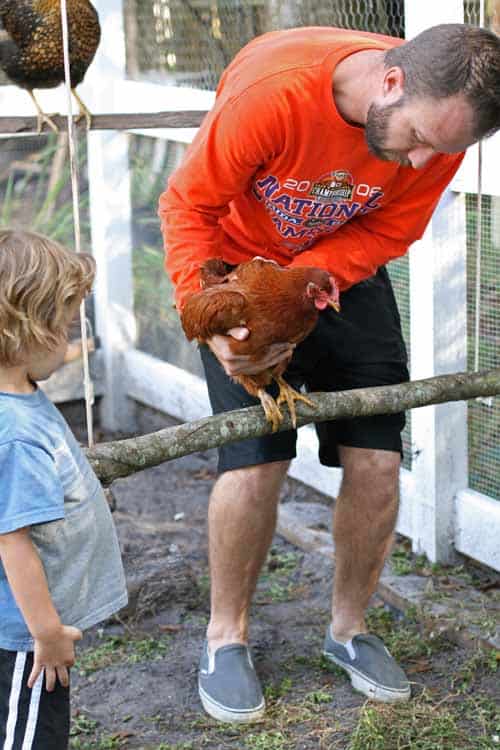 Everyone wants to see their chickens swing, right? Or, if you're like my husband, you can try and give a loving nudge and show your chickens how it's done.
Hints & Tips for Keeping Chickens in Your Backyard
Originally published January, 2015.