Summer has arrived and it's letting us know. With some simple, inexpensive tactics, you can keep chickens cool and happy during the summertime heat! In Florida, this means temperatures went from hot to ridiculously hot since there are basically only two seasons here.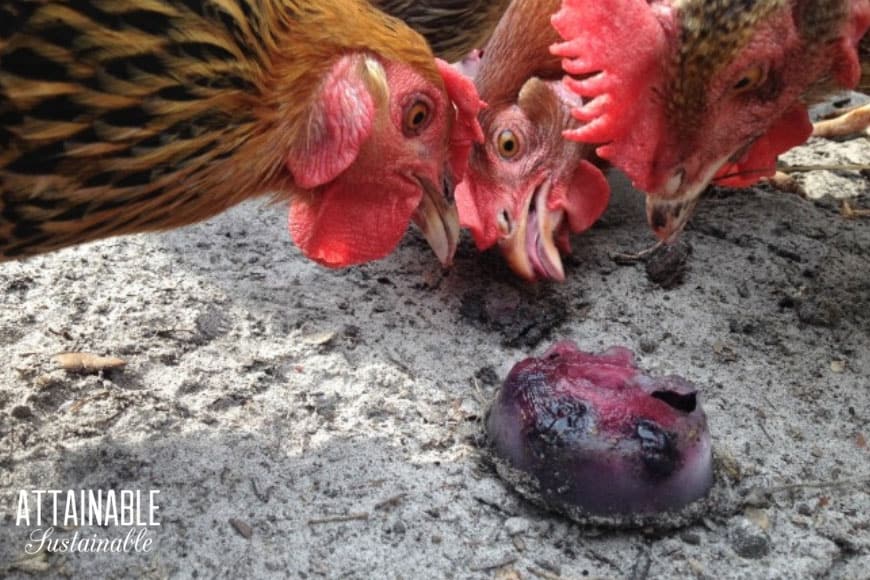 I get concerned about my backyard chickens because of how HOT it gets. Poor girls. I've been researching ways to help keep chickens cool because heat stroke in chickens is a real thing.
One of the most important things is to make sure your chickens have an adequate amount of shade and a place for them to dust bathe to keep cool. Many people mentioned putting fans out by the coop but unfortunately, I don't have power out there since the coop is in the back corner of our property.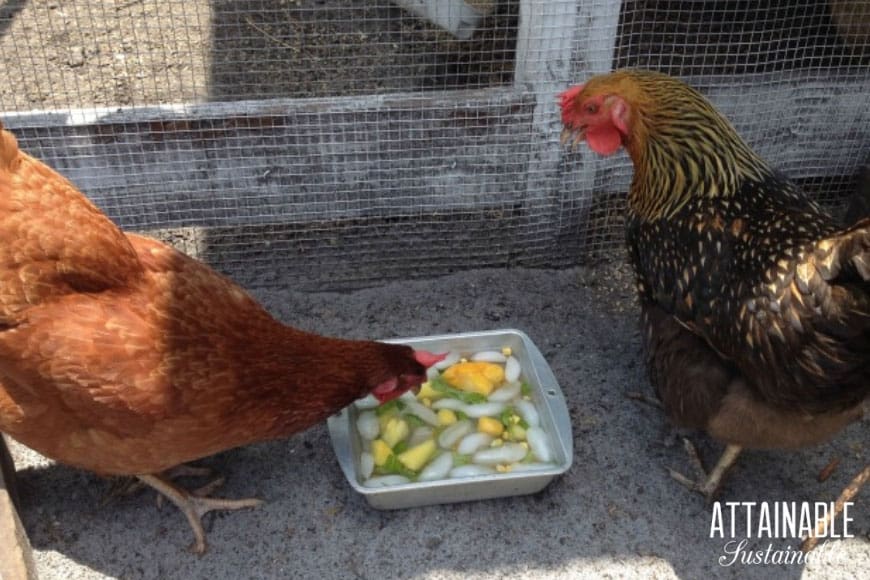 Five ways to keep chickens cool
Ice, ice, baby
Fill recycled two liter bottles with water, freeze, and place them in the coop and run. As the ice melts, the cool air radiates and hens tend to lay down or stand next to or on top of the bottles.
Let them cool off with a swim
Buy a small hard plastic wading pool and fill it to about four inches of water. Chickens cool down through their feet so the idea is that they stand in the wading pool to cool down. Ideally you'll put this wading pool in the shade so your poor, hot chickens are more likely to try it out.
Take a Peek Inside My Book!
Get a free excerpt from my book, Attainable Sustainable: The Lost Art of Self-Reliant Living! You'll also get my free weekly newsletter, complete with recipes, gardening tips, and a little peek at what's going on around here — both the zany and the mundane.
My chickens, unfortunately, are big chickens (badum-psh!) so they stared at the wading pool and walked away. I even tried to put their favorite weeds in there but it didn't work. I ended up turning the pool upside down and placing it against a wall to provide extra shade.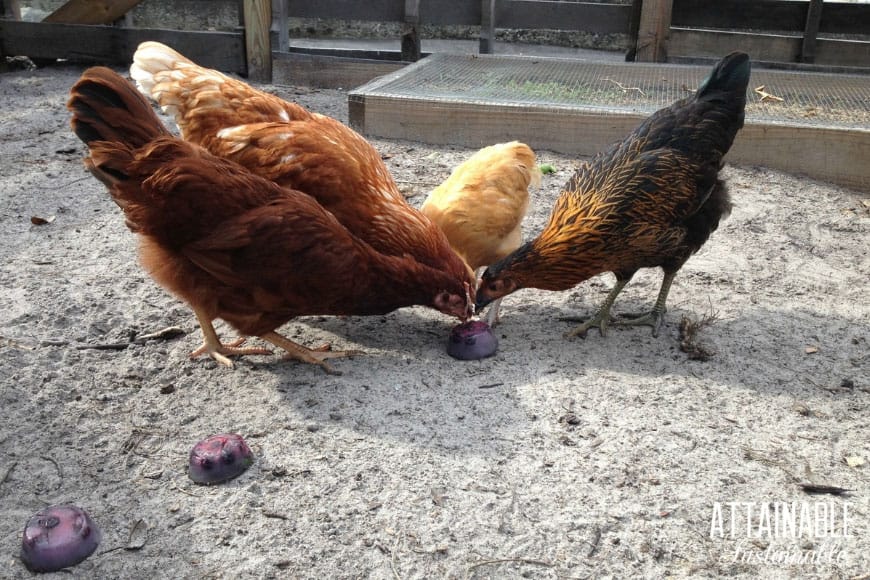 Related: How to Make a DIY Chicken Swing
Frozen treats
Help chickens cool off with frozen treats. Freeze fruits, veggies, herbs, and/or meal worms in containers. While it melts, the hot chickens peck at them for the treats but also keep cool by keeping their feet near the cool ice melting. My chickens tend to gravitate towards the sweet frozen treats — go figure, right? You can skip putting it in the refrigerator the night before, but it just adds a little bit more coolness to the treat.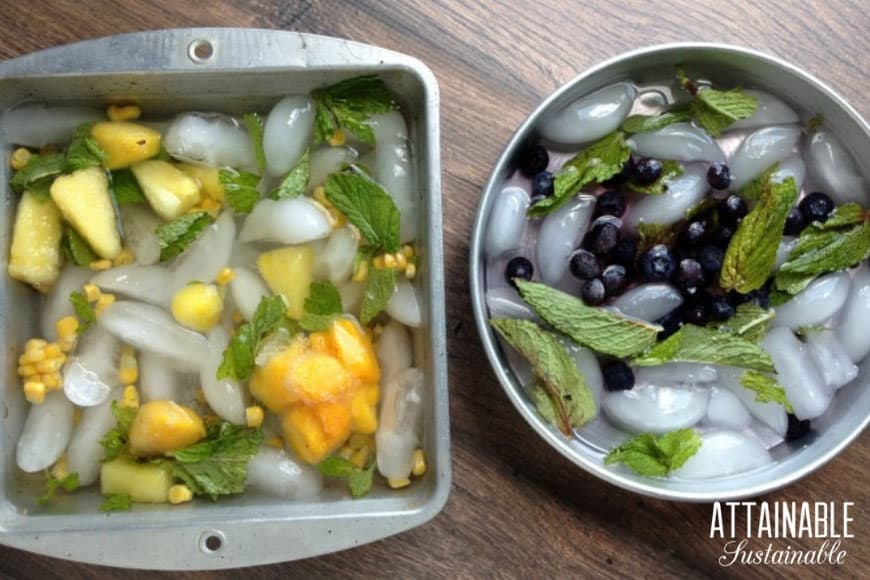 If you're feeling generous and want to spoil your chickens, here are a few frozen treats you can make for your hens:
Put meal worms, blueberries, mint, and water in muffin tins and freeze. Once frozen, pop out and let the girls at it.
Put pineapple, mango, mint, peas, ice, and water in a shallow pan. Place out in the run for your chickens to enjoy
Freeze grapes and place in a shallow pan with ice water
Make scrambled eggsicles (learn more about that here)
Watermelon
Frozen treats for the hens is one way to keep chickens cool. Here's another: Simply cut watermelon into slices and place it in the refrigerator or freezer overnight.
Provide clean water
Of course, you should always provide your hens with clean water, but it's especially important when you're concerned about keeping chickens cool in the summertime heat. When it's hot, they'll drink more, meaning you might need to fill their water container more frequently. Water grows algae quickly in warm weather. Cleaning their water trough regularly will help prevent this.
Who's counting down the days to cooler weather?
This girl right here — and her hot chickens, of course.