During the winter months, a reduction in eggs is something you can expect from your hens. Is lighting the chicken coop in the winter the answer? Supplemental lighting for chickens can have some benefits, but only you can decide if chicken coop lights are something you'd like to install.
If you're raising poultry for eggs, you'll want to know how to test to be sure eggs are still fresh.
Have your chickens stopped laying eggs?
As most chicken owners know, with fall comes a slow down in egg production. Here's why: Daylight stimulates the chicken's pituitary gland which then stimulates the ovaries to make eggs.
A chicken needs 12-14 hours per day of light for maximum laying efficiency. So, shorter days and less sunlight means that your girls' production levels go down. Sometimes they stop laying altogether. What's a hungry chicken owner to do? Eat fewer eggs, I suppose.
Supplemental lighting for chickens
On the other hand, one solution that some chicken keepers (and most commercial egg producers) have come up with is to create an artificial environment with chicken lights (or supplemental lighting) in order to get more eggs by lighting their chicken coop in the winter months.
These chicken coop lights trick the chicken's body into thinking it is still summer. (And honestly, it is really easy to trick a chicken's body.)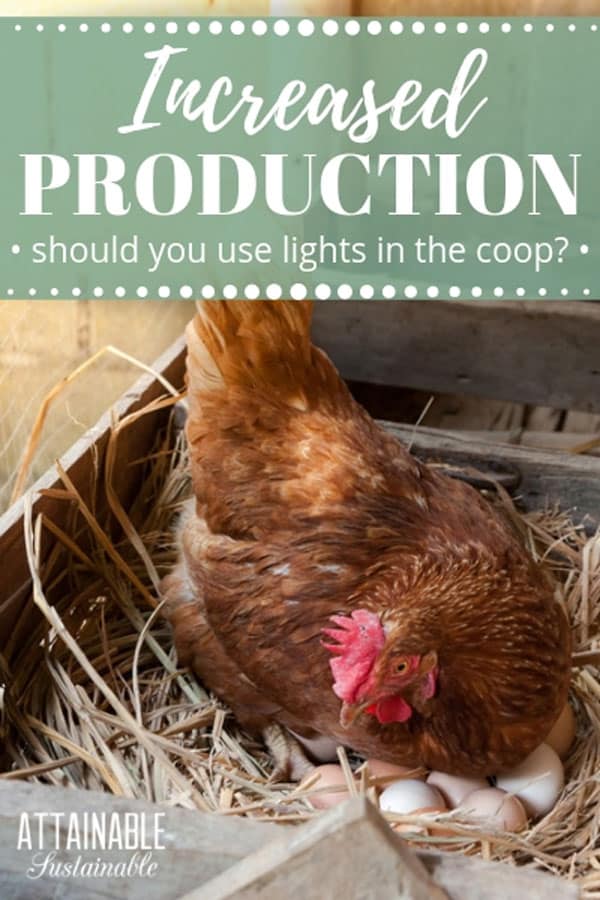 Related: 6 Mistakes I Made in the Hen House (And How You Can Avoid Them)
Take a Peek Inside My Book!
Get a free excerpt from my book, Attainable Sustainable: The Lost Art of Self-Reliant Living! You'll also get my free weekly newsletter, complete with recipes, gardening tips, and a little peek at what's going on around here — both the zany and the mundane.
But do chickens need light at night?
Need? No. But supplemental lighting for chickens will almost certainly increase egg production through the winter. It's how commercial egg facilities keep their hens laying regularly.
As with anything, there are many opinions on both sides of the chicken coop light debate. Here is a list of the pros and cons to providing supplemental lighting during the winter when raising chickens.
Pros:
Increased egg production. What more can I say? The main reason to keep egg laying hens is to get eggs. If your chickens stopped laying eggs, then they are basically freeloaders.
More eggs = more food and/or more money (if you sell your eggs). This reasoning alone is enough for a lot of people.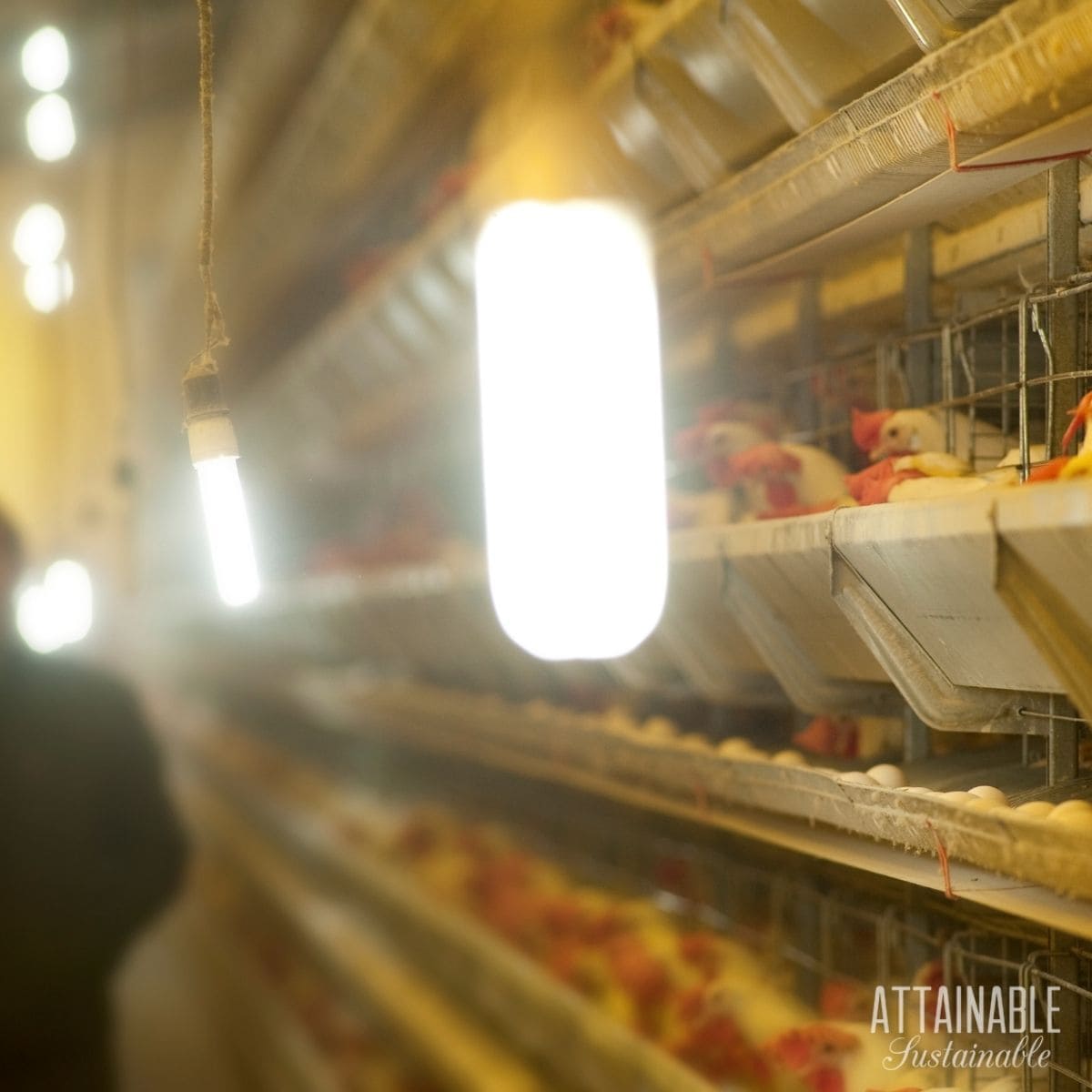 Cons:
Chicken coop lights are not natural. Chickens are naturally meant to slow down on egg production in the winter. They are often coming off a molt and need to replenish their bodies and calcium stores. Many believe that forcing them to lay through winter will negatively affect their health, which seems entirely reasonable to me.
Extended laying has been linked to higher chances of vent prolapse and ovarian cancer.
Putting a light bulb, cords, and electricity in a coop poses a serious fire risk. Coops are generally made of wood and are covered in sawdust or other dry material, which burns easily.
Energy usage increases when using supplemental lighting for chickens, thus egg costs and dependency on fossil fuels increase.

Related: Your Winter Duck Coop: Keeping Ducks in Cold Weather
Are your girls freeloading?
In my opinion, freeloader or not, chickens should get the winter off from laying (though they will definitely still lay some eggs, just not as many as they did in the summer). I try to raise my chickens as naturally as possible, which includes allowing them to follow their natural cycle, even in the winter.
If you think of eggs as a seasonal food (like any other "crop"), then it makes complete sense that you would take the highs with the lows and skip the supplemental chicken coop lights. I can certainly see why—practically speaking—people would want or need to get as many eggs as possible from their hens.
Another way to make sure you have access to fresh eggs year round?
Consider duck eggs
. Ducks do not require supplemental lighting and will produce throughout the winter.
If you do add artificial lighting to your chicken coop in the winter, make sure your set-up is completely safe and well installed. You don't want the supplemental lighting for chickens to turn into a chicken coop fire.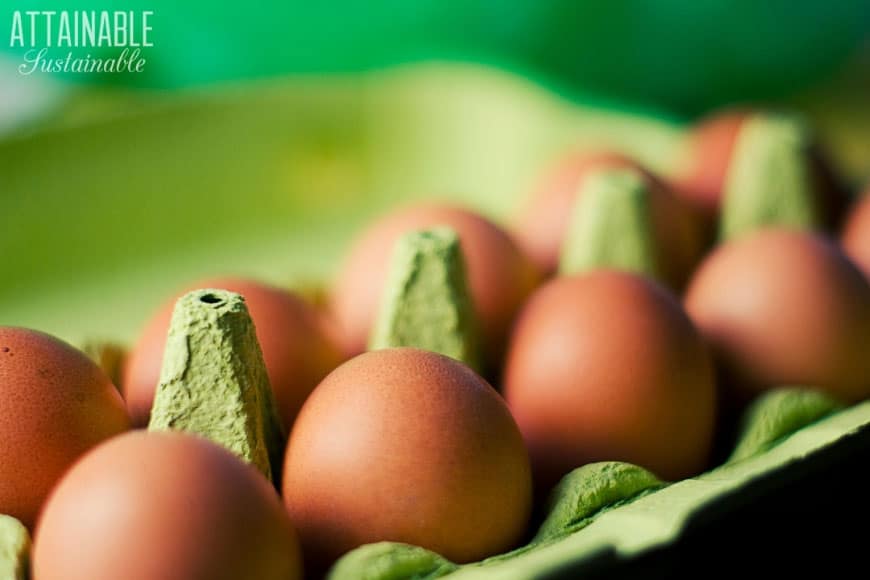 Related: Quail Eggs: The Perfect Solution for Urban Homesteaders
Ensure that you are feeding and supplementing your girls so that their bodies can keep up with the extra demands that extended laying puts on them. Additionally, consider the breed that you choose.
Pick a breed that is more cold tolerant and that is known for laying well in the winter months. At the end of the day, just make sure you are being as safe and treating your chickens as humanely as possible if you opt to light your chicken coop in the winter months.
Happy chickens = plentiful eggs. Good luck and happy chicken keeping!
Hints & Tips for Keeping Chickens in Your Backyard
Originally contributed by Colleen from Five Little Homesteaders in 2013; this post has been updated.