When housing ducks in winter, there are some simple tactics to keep things hospitable in the duck coop. They don't mind the cold, really.
Read more on getting started with ducks here.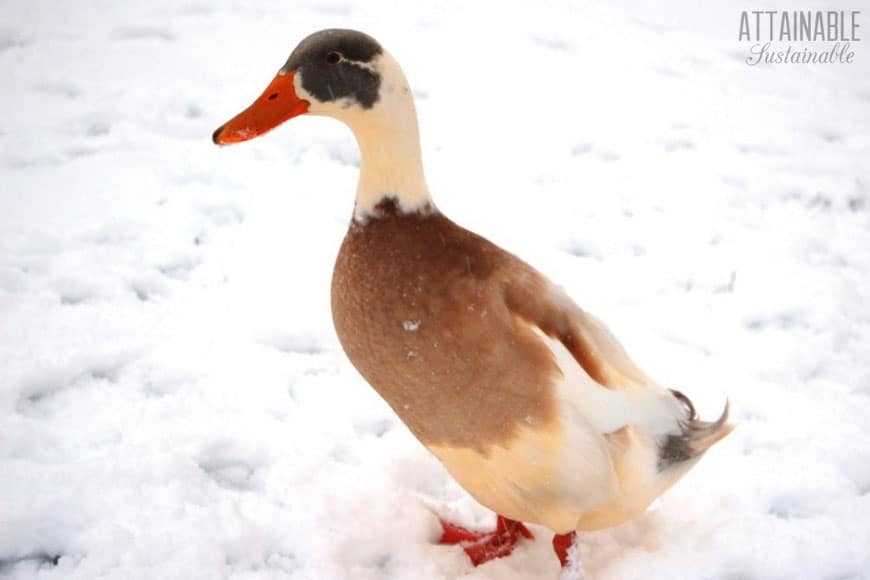 Raising ducks on your homestead is fun. They are full of personality, enjoyable to watch, and relaxing to be around. When the weather is warm, they are very low maintenance. Fill their pool with fresh water, feed nourishing food, and collect fresh duck eggs.
In warm weather, they don't even need a duck coop. They tend to tuck themselves under shrubs or in grasses when they want to rest. They don't roost at night like chickens do, but rather wander around, looking for food.
Keeping ducks in winter weather is a bit different, but not difficult.
Do ducks get cold in winter?
The big question is, do ducks get cold in the winter? The biggest concern is their feet, which can become frostbitten at very low temperatures. Ducks have a counter-current heat exchange system which prevents their feet from becoming damaged even in icy conditions.
Take a Peek Inside My Book!
Get a free excerpt from my book, Attainable Sustainable: The Lost Art of Self-Reliant Living! You'll also get my free weekly newsletter, complete with recipes, gardening tips, and a little peek at what's going on around here — both the zany and the mundane.
Take a look at these happy ducks having a little bath in snowy conditions!
That means that the warm blood flowing in veins from their heart flows very close to the cold blood flowing from their feet. This helps normalize the temperature in their feet. [More on that here.]
Domestic ducks survive winter in gentler conditions than wild ducks, as we take a bit more care in providing a hospitable duck coop.
Ducks will survive even when temperatures dip into negative numbers, but on these cold nights, take extra care to make sure you take the following into consideration.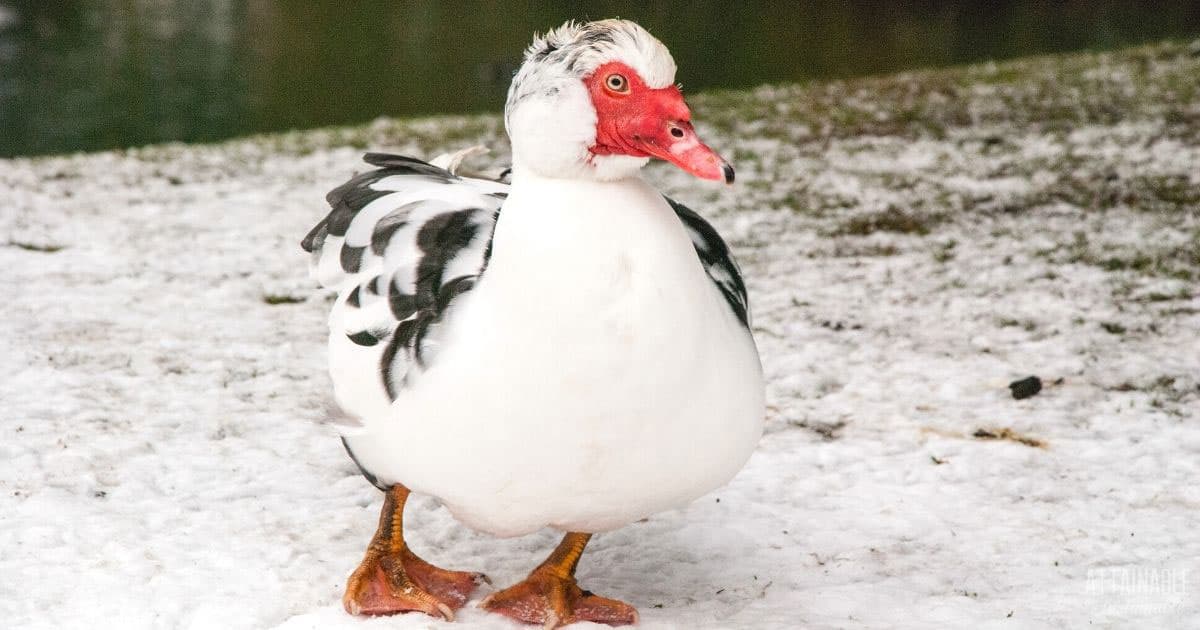 Keeping ducks in winter
Your adult ducks can be happy egg producers all year round if they have a dry duck coop where they can escape the nasty weather. Setting up a duck shelter for winter is easy, though.
A winter duck house can be a productive duck house with just a few extra steps of care and some planning ahead.
Heather says about her ducks: I live where the winter temps get to -30F. The ducks have a layer of fat under their skin that keeps them warm.
Note that there are a lot of anecdotes about keeping ducks in cold winters in the comment section, too!
What size duck coop?
If your ducks will be locked into the coop for extended periods of time, provide 4-5 square feet of ground space per bird. If you live where the temps dip below freezing regularly and plan to keep the ducks inside for a good part of the winter, even more space would make them happy.
Flying the coop
If your coop is situated inside a fenced paddock area, the ducks can be released during the day if the weather isn't too blustery. Round them up at night and tuck them back into the coop where they'll be warmer and safe from hungry predators.
Do they have to be locked up? The concern here is purely predators. If they're safe from predators in a fenced area, the answer is no. The ducks will make themselves at home wherever they are comfortable. They tend to wander at night, so they might move in and out of the duck coop you've made for them.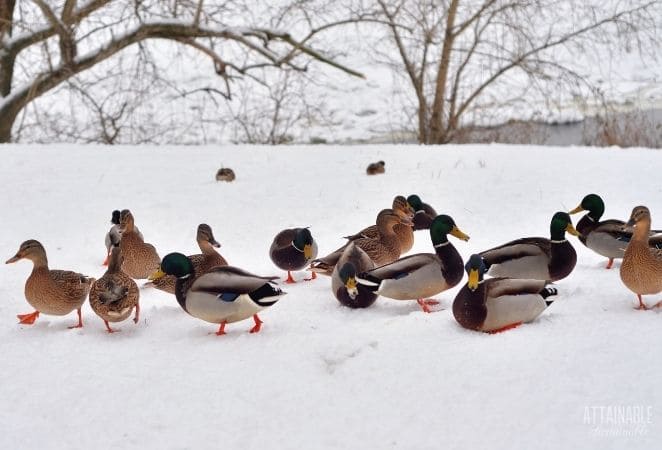 Provide extra straw in the duck coop
Since most duck breeds don't roost like chickens do, they are on the ground all the time. Extra straw helps keep them off the cold ground and helps to manage the copious amounts of duck poop that will accumulate.
You'll likely need to put down a full bale of straw two to three times throughout the winter.
Collect the old straw for the compost pile, then scatter fresh straw through out the coop. The ducks will settle into the straw, and build nests to lay their eggs in. This makes it much easier to find their eggs instead of the daily hunt, too.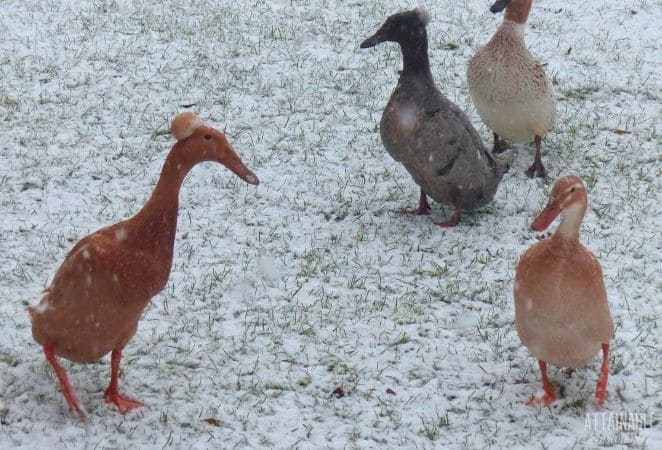 Deep litter
Another option is to use a deep litter method. With this method, you'll just add fresh straw every few days as needed to keep the pen fresh. (Ahem, cover the poop.) The thick layer of straw helps keep the ducks warm during the cold months.
When spring weather arrives, shovel out the straw and move it into the compost pile.
Raise the ducks
A coop that's raised off the ground by a foot or is another option. This way, the ducks are not right on the frozen ground. If you live in a very cold region, you can insulate the floor to keep the space cozier. You'll still want to provide straw on the floor of the coop.
Related: 3 Good Duck Breeds for Beginners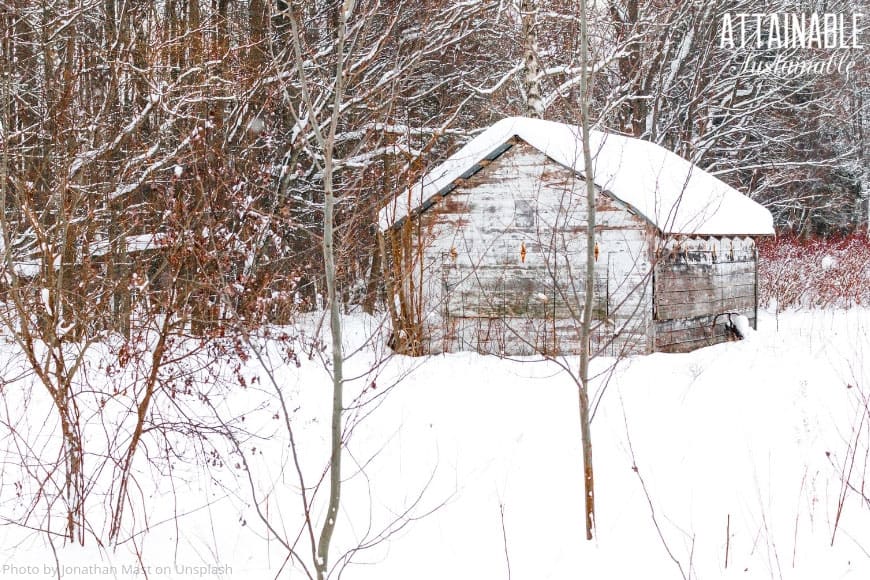 Water for ducks in winter
Ducks LOVE water and need it to process their food. Heated bowls assure the duck water does not freeze. It also prevents the need to worry about chipping away frozen blocks when it's 30 degrees below. Depending on the size of the containers, you may need to replenish the water daily.
While ducks do need water to process their food, it's not necessary to maintain a place for them to swim.
Heather shared a great idea in the comments section:
I got the long flat storage tubs that are for under your bed. I took the lids and cut 4 largish square holes in it. It's deep enough that they can get their whole head in to clean their beaks off, but cant get in to swim. I have almost no ice around their waterer. I have two, so if one's frozen, I can swap with a fresh one. Works great!
Consider the ice
To combat slipping and sliding all over the place, use straw around the water buckets by basically burying the water buckets in straw two to three inches deep.
The straw helps to minimize the formation of ice. Replace it often, and send the old, wet straw to the compost pile.
Related: 5 Reasons to Add Ducks to Your Homestead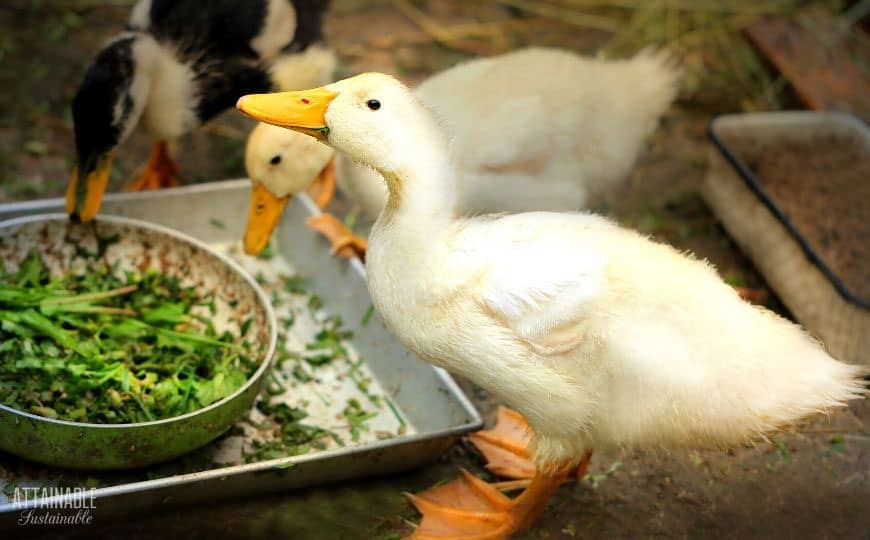 Keep them fed
During mild weather, ducks forage for snails and slugs and bugs. Since ducks will not be able to forage for much food when there's snow and ice everywhere, you need to make sure that they get enough feed. Plan on at least doubling their food rations each winter.
That, along with fodder and added treats such as cracked corn, peanuts, or cabbage shreds will help keep them happy and healthy.
Do ducks need heat in winter?
Ducks do NOT need a heat lamp in their coop. They are a terrible fire hazard, especially if the coop is not wired specifically for lighting.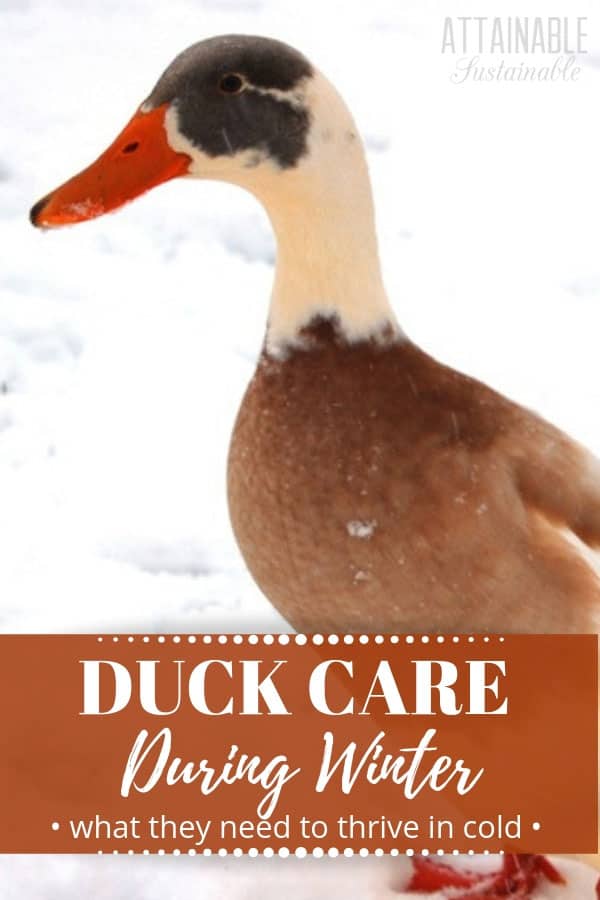 The layers of fat and feathers that ducks are equipped with keep them warm, even when they are wet.
As you can see, keeping ducks in winter is pretty easy. You can keep a happy, healthy flock all winter long, even in the coldest of areas!
This post was originally contributed by Heather Harris from The Homesteading Hippy. It has been completely updated with new information.