Oh, strawberry season! There's so much to love, but this simple strawberry compote is at the top of the list. Two ingredients and less than half an hour is all it takes to make a delicious strawberry sauce for ice cream — or toast!
If you've got an abundance of berries, be sure to make some of these healthy dried strawberries.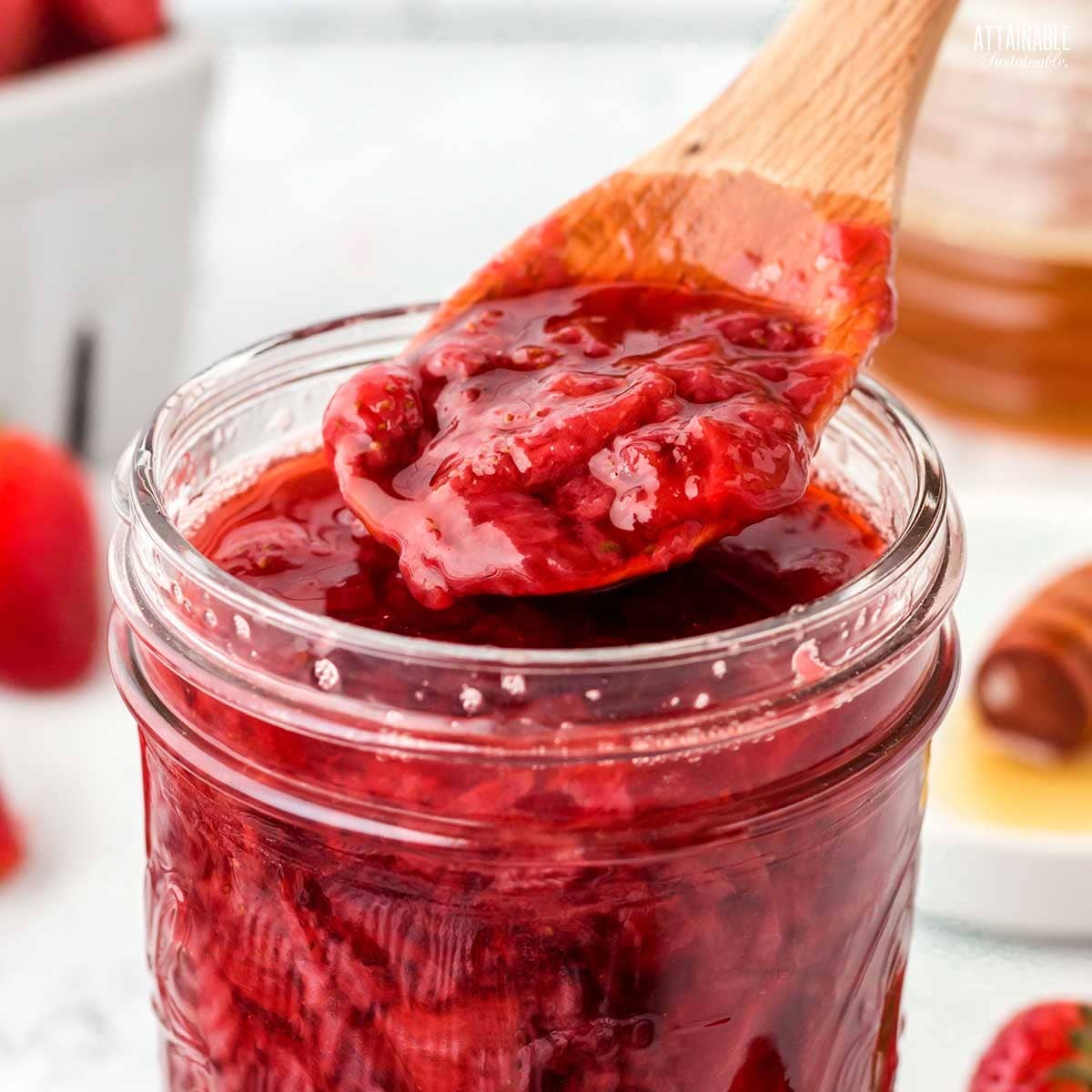 But wait, what IS compote? Basically, it's whole or roughly chopped fresh fruit cooked in a sugar syrup. It is served fresh, whereas a chunky jam is usually processed in jars to be a shelf-stable product.
Homemade Strawberry Compote
When fresh strawberries are in season it would be a shame to miss out on trying this easy recipe. With just two ingredients it's easy peasy to make!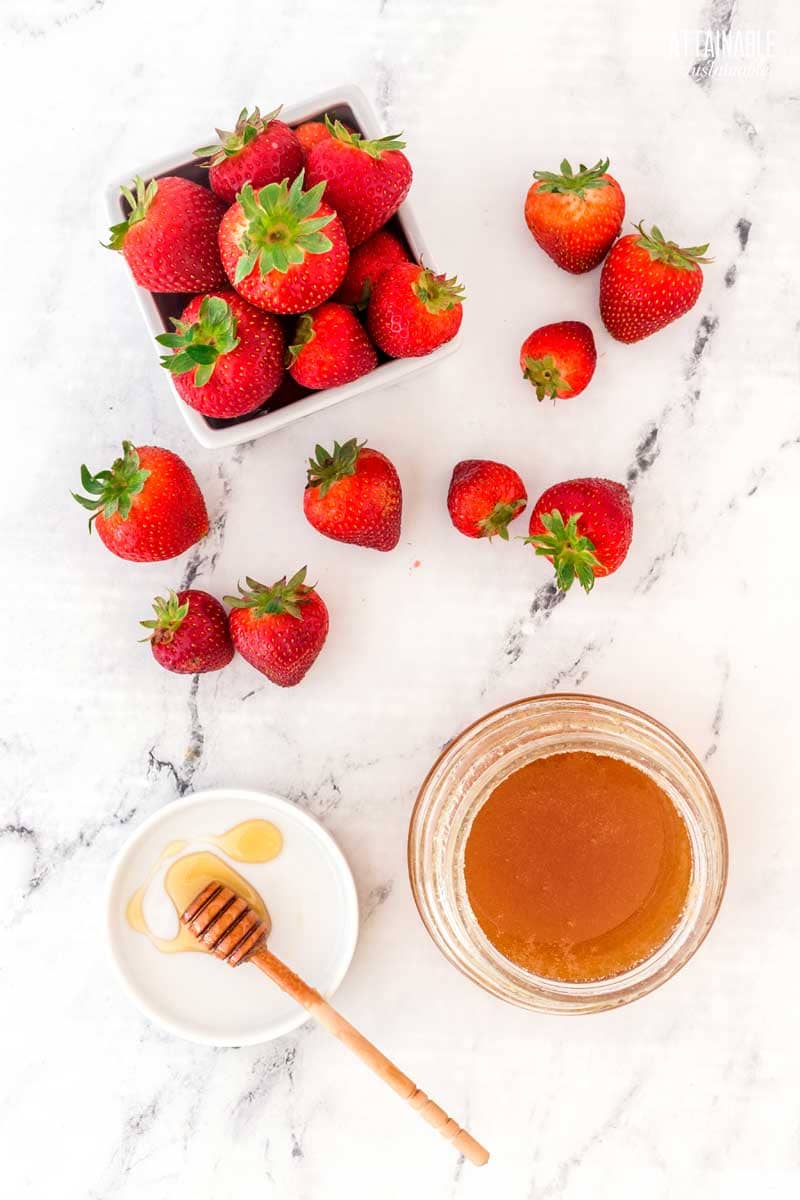 Ingredients
Fresh strawberries — The star of this easy recipe, strawberries are listed on the on the Dirty Dozen list put out by the Environmental Working Group, so you might want to opt for the organic berries. Or try growing strawberries in your backyard!
5 Easy Steps to Transform Your Pantry!
Ready to switch from store bought to homemade? Let me help you make some changes! Grab my FREE five-part guide to getting started.
Honey — This simple strawberry sauce is made with honey, rather than sugar. It doesn't take much of this natural sweetener to make this strawberry compote recipe shine.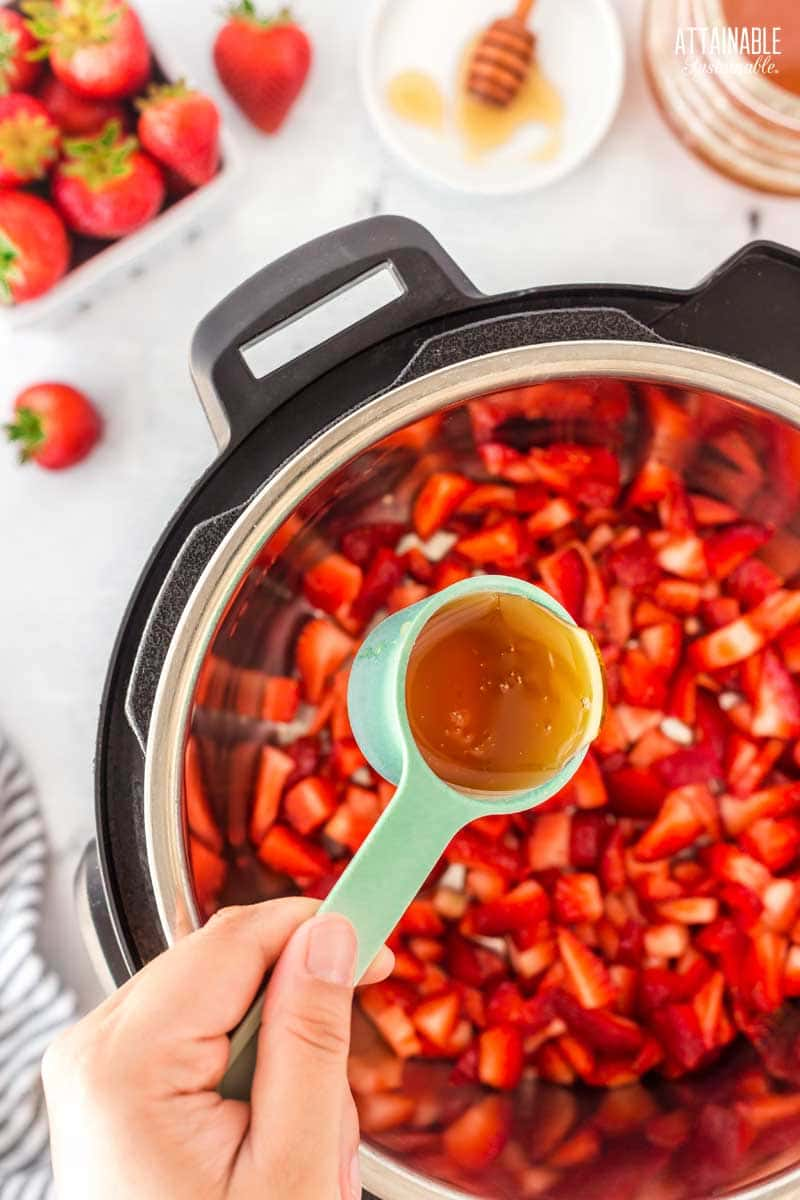 Making this Recipe
This compote recipe can be made on the stovetop or in an Instant Pot. Use whichever method seems easiest to you.
Easy in the Instant Pot
If you've used an Instant Pot electric pressure cooker, you know just how quickly a soft fruit such as strawberries will cook down. It's a "set it and forget it" kind of a recipe. (Mmm, and just imagine the lovely fragrance when you release the steam vent!)
No Instant Pot? No problem. While an Instant Pot makes quick work of this strawberry topping, you can make it on the stove top, too.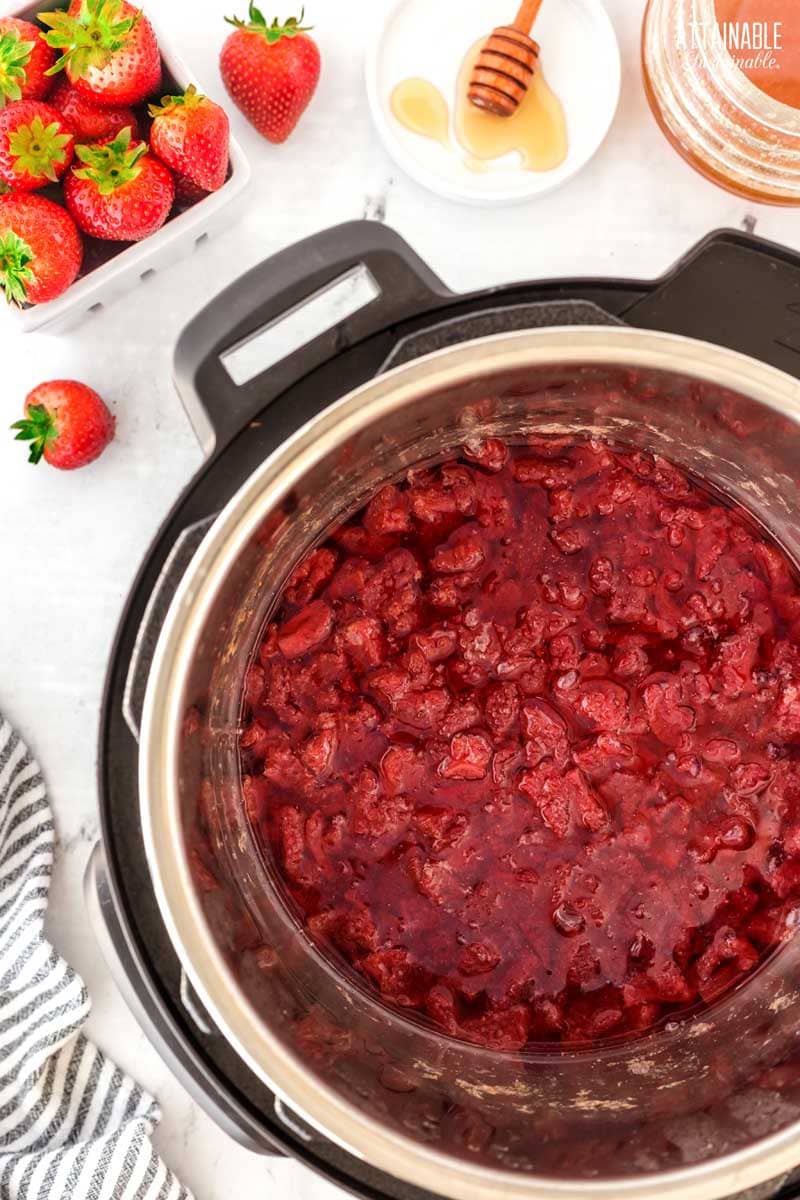 Strawberry Compote on the Stove Top
To make a stove top version of this strawberry compote, simply combine the ingredients in a saucepan and cook over medium heat, stirring occasionally, until the strawberries are quite soft. This will take about 20-to-30 minutes.
As you cook the strawberries, use the back of a wooden spoon to mash them a bit, until you're happy with the texture.
If you prefer a texture that's less chunky — more like strawberry jam — you can use an immersion blender or a standing blender to process the fruit to a finer consistency.
Recipe Variations
Toss in a thumb of fresh ginger to make a gingery strawberry compote.
Stir some fresh mint leaves into the cooked compote.
Once cooled, add a splash of tequila for a strawberry-margarita compote.
Stir a little bit of balsamic vinegar and black pepper into the cooled compote.
Add a little lemon zest to brighten the flavor.
FAQs
Can you use frozen berries?
You absolutely can. Thaw the berries and drain off excess liquid before you cook the recipe.
How long can you keep fruit compote?
This recipe will keep in the refrigerator for up to two weeks.
What is the difference between jam and compote?
Strawberry jam is somewhat thicker and the fruit is more mashed than in this strawberry compote recipe. Jam also tends to last a bit longer in the refrigerator.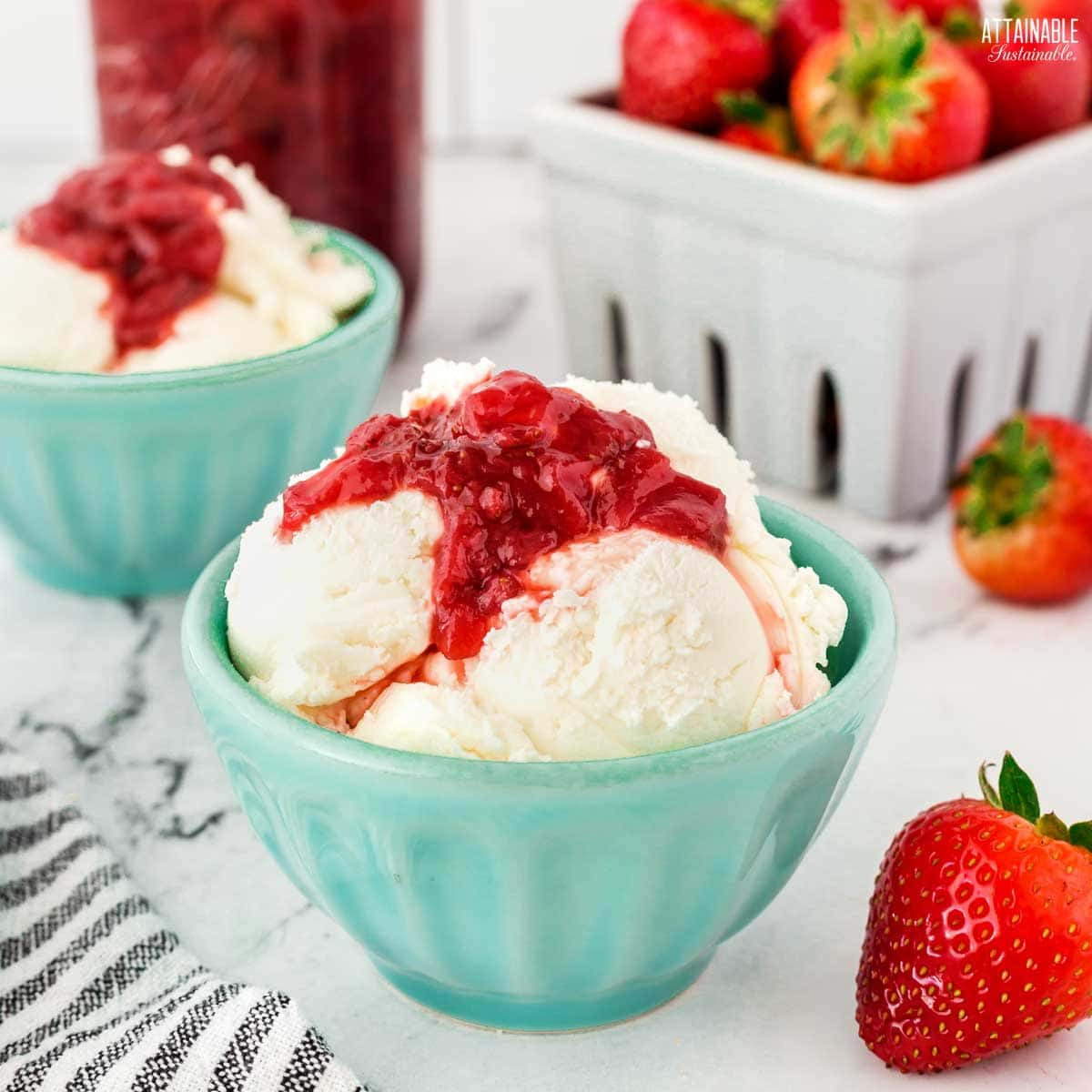 Using Strawberry Compote
Spread it on toast. This is the obvious solution, isn't it? It's like instant gratification to spread some of this sweet sauce on toasted bread and dive into delicious.
Top pancakes or waffles. Syrup is great, but this fruity sauce offers so much more flavor.
Make a sandwich. While it's a little softer than jam, this recipe is delicious in a peanut butter sandwich. Keep some napkins handy!
Add a dollop to vanilla ice cream. You will be in dessert heaven.
Spread it on French toast. If you put this sauce cooking while you're flipping homemade French toast, it will be warm and ready for breakfast.
Spoon it over cheesecake. This is the perfect (easy!) strawberry sauce for cheesecake. Such a delicious spring dessert!
Stir it into yogurt. If you make your own yogurt (or even if you don't), this fruit sauce is the perfect way to add a healthy dose of sweet flavor to plain yogurt.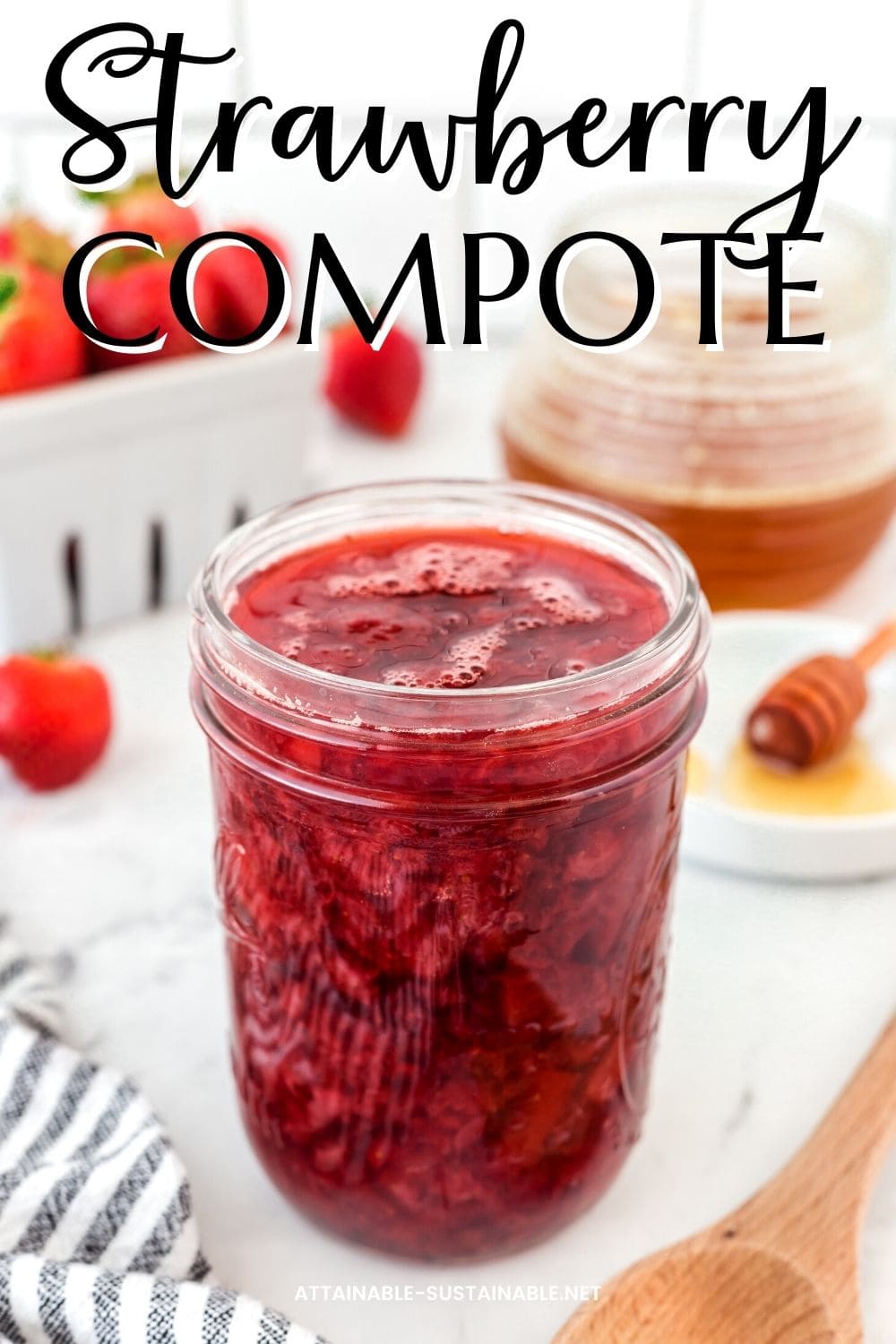 ★ Did you make this recipe? Don't forget to give it a star rating below!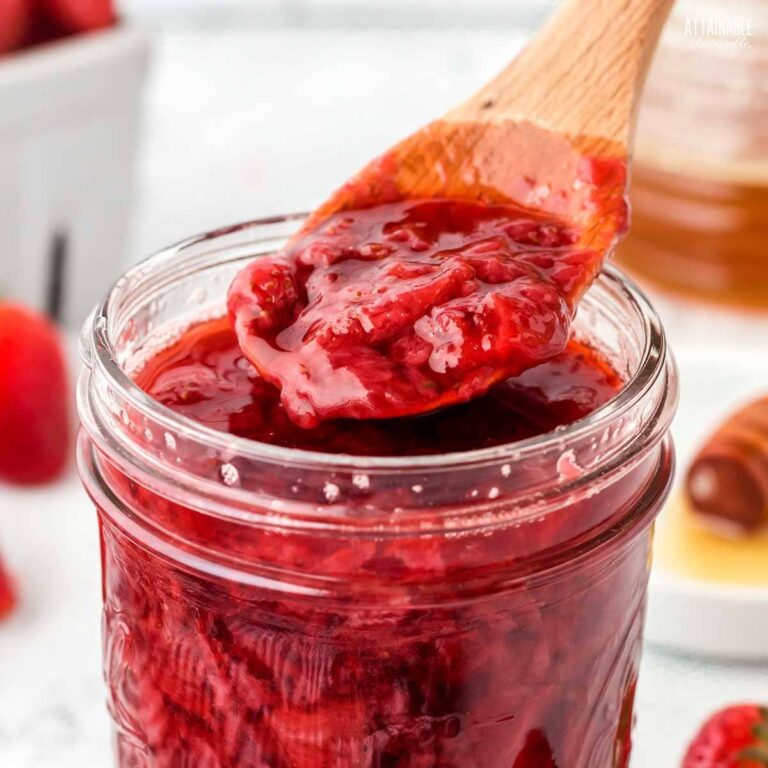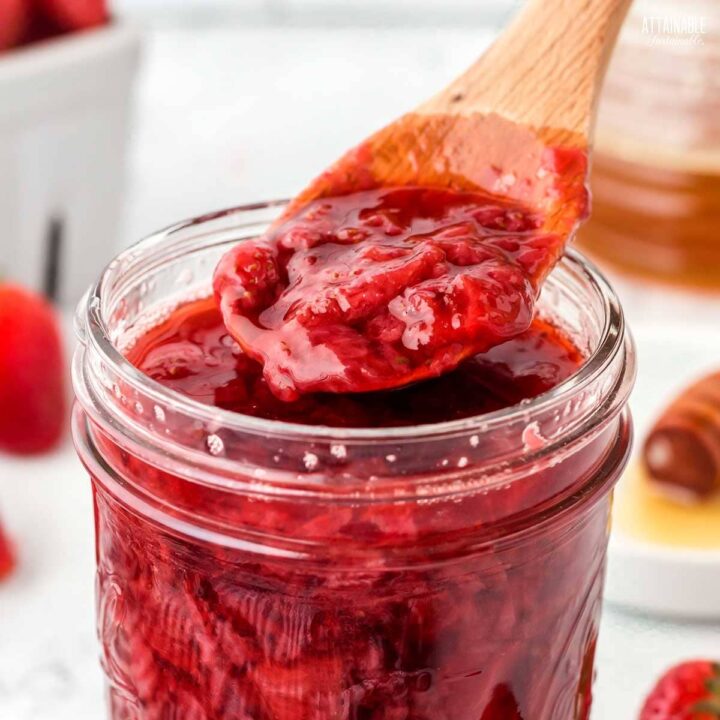 Instant Pot Strawberry Compote
This easy two-ingredient strawberry compote is great on French toast or spooned over ice cream.
Ingredients
3 cups fresh strawberries, washed, dried, and diced
1/3 cup honey
Instructions
On the stovetop
Combine the ingredients in a saucepan. Cook over medium heat, stirring occasionally, until the strawberries are quite soft. This will take about 15-20 minutes.
In the Instant Pot
Combine strawberries and honey in Instant Pot.
Set Instant Pot for 3 minutes on manual with steam release closed.
Once done, steam release to open and allow to vent.
Prepare the compote
Mash strawberries with a fork for a chunky compote. For a smoother texture, use an immersion or upright blender to process further.
Serve warm over ice cream or pour strawberry compote into jars. Allow to cool before covering with lid. Refrigerate and enjoy within 2 weeks.
Notes
This is not a canning recipe. Make up a batch, store it in the fridge, and use it within two weeks.
If you don't have fresh strawberries on hand, you could certainly use frozen strawberries.
Makes: 2 cups
Nutrition Information:
Yield:

8
Serving Size:

1 grams
Amount Per Serving:
Calories:

60
Unsaturated Fat:

0g
Sodium:

1mg
Carbohydrates:

15g
Fiber:

1g
Sugar:

14g
Originally published July 2018; this post has been updated.