This waffle recipe is just the thing for Sunday breakfast. Freezing waffles for later will make weekday breakfasts a breeze, too.
Originally published September 2015; this post has been updated.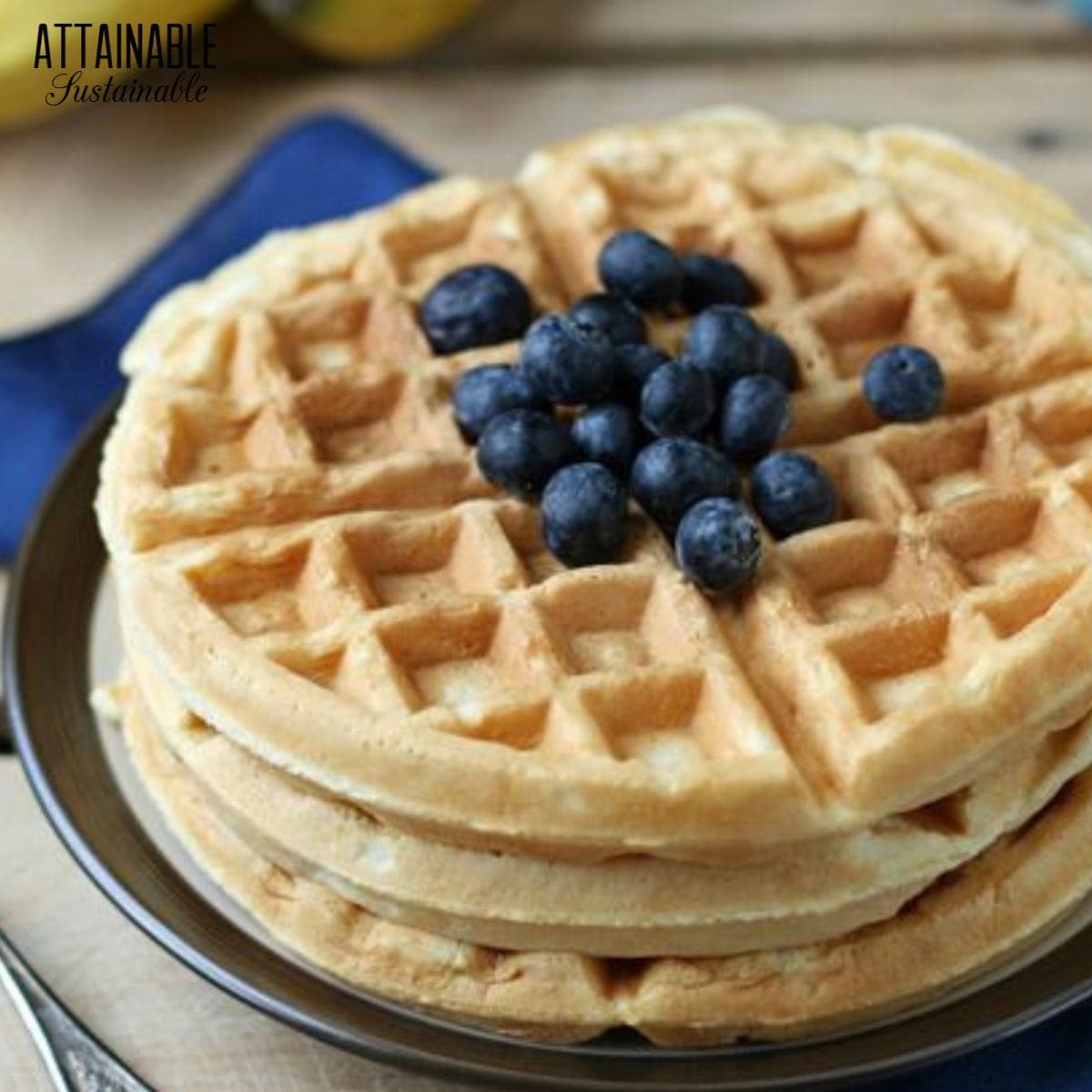 Convenience food often comes at some sort of price — whether it be funky ingredients or creating more unneeded waste. For earth-conscious folks that are busy, that whole scenario can be a bit of an issue. Fortunately, you don't need to sacrifice quality ingredients or spend hours in the kitchen. Where there is a will there is a way, my friends.
This waffle recipe is excellent fresh out of the waffle iron, but it makes great freezer waffles, too.
New to waffling? Be sure to check out this step-by-step guide to making waffles.
The Handcrafted Pantry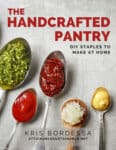 Ready to DIY your pantry with more wholesome ingredients? Check out my ebook, The Handcrafted Pantry! Filled with delicious recipes for some of your favorite condiments, snacks, and toppings, it's the guide you need to start skipping packaged products and embrace homemade.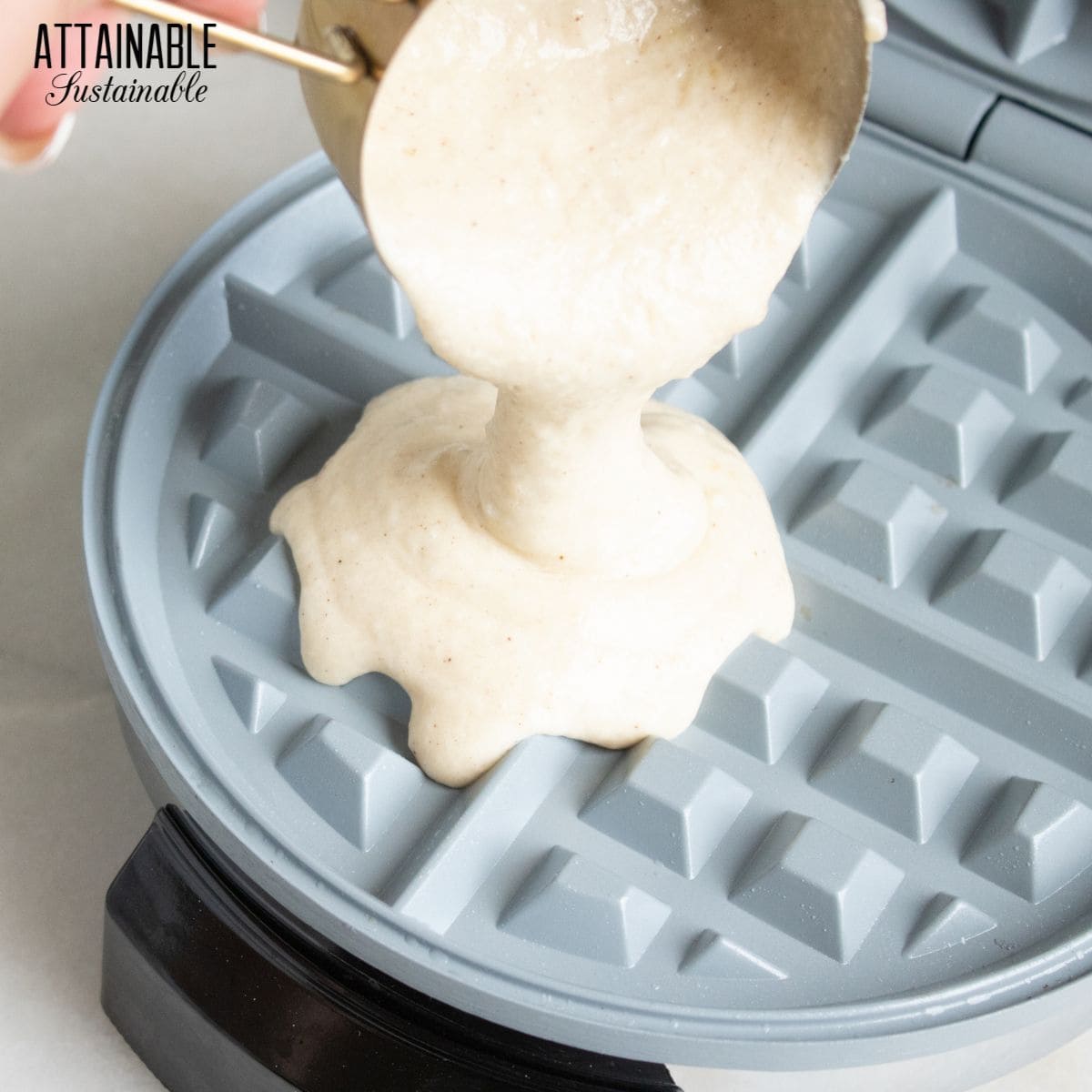 5 Easy Steps to Transform Your Pantry!
Ready to switch from store bought to homemade? Let me help you make some changes! Grab my FREE five-part guide to getting started.
Creating a Waffle Recipe for Freezing

Everyone loves waffles from the freezer section because they're a quick, easy breakfast for those mornings that feel like the clock is against you. This waffle recipe allows you to make your own waffles using ingredients you feel confident about.
Freeze half of the batch using the methods below to enjoy a quick and easy homemade breakfast without extra work.
The ingredients for these freezer waffles are basic whole foods: Eggs, flour, and milk with some leavening. The addition of a bit of sugar and vanilla gives these waffles a great flavor.
Serve these waffles with real maple syrup, top them with honey and butter, add fresh fruit, strawberry compote, try this easy blueberry sauce, or slather on your favorite jam or jelly.
Here's another fun way to use these freezer waffles: Turn them into a sandwich! Pop two of these waffles into the toaster until they're warm, then spread on peanut butter and jelly for a fresh take on the PB&J.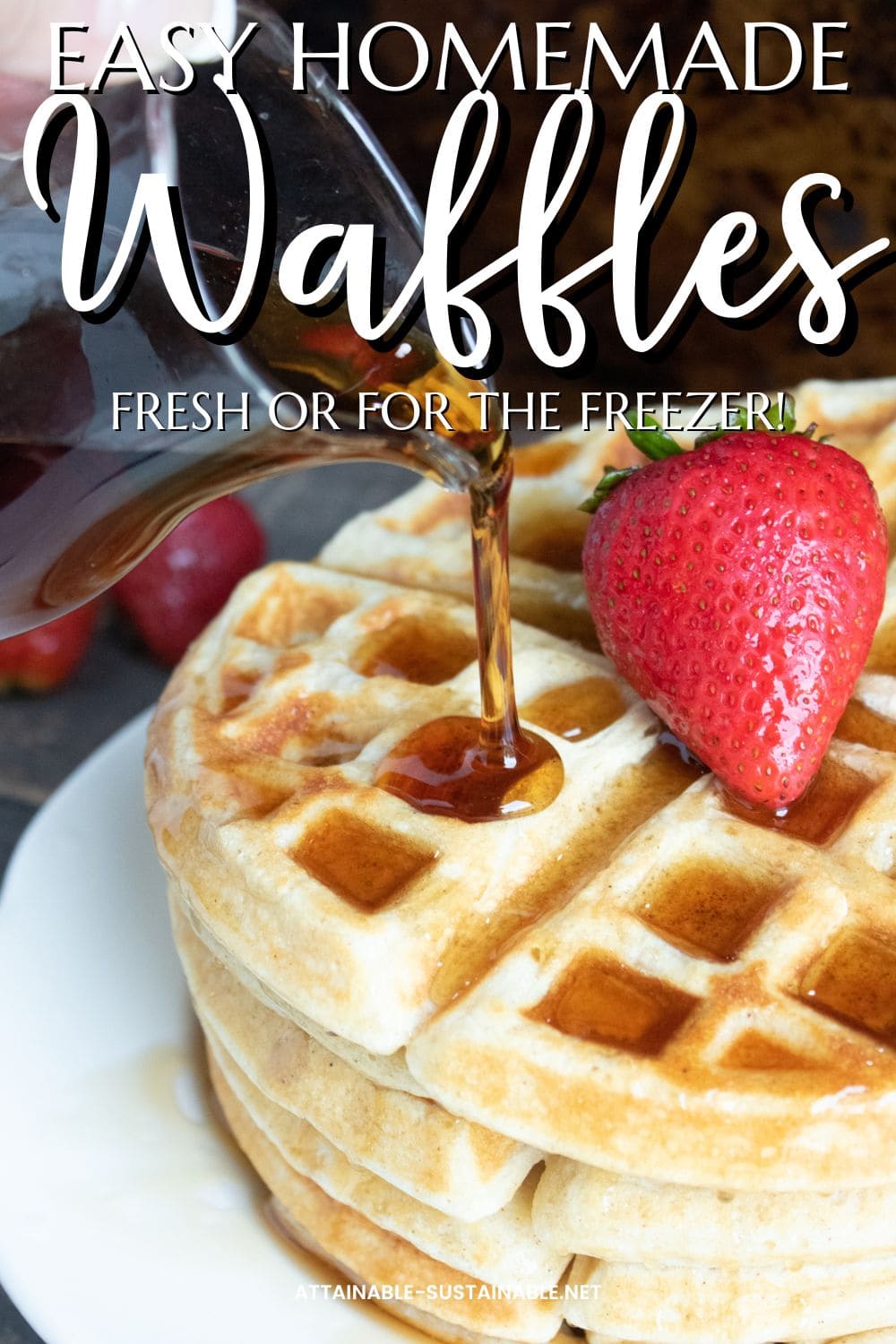 ★ Did you make this waffle recipe? Don't forget to give it a star rating below! ★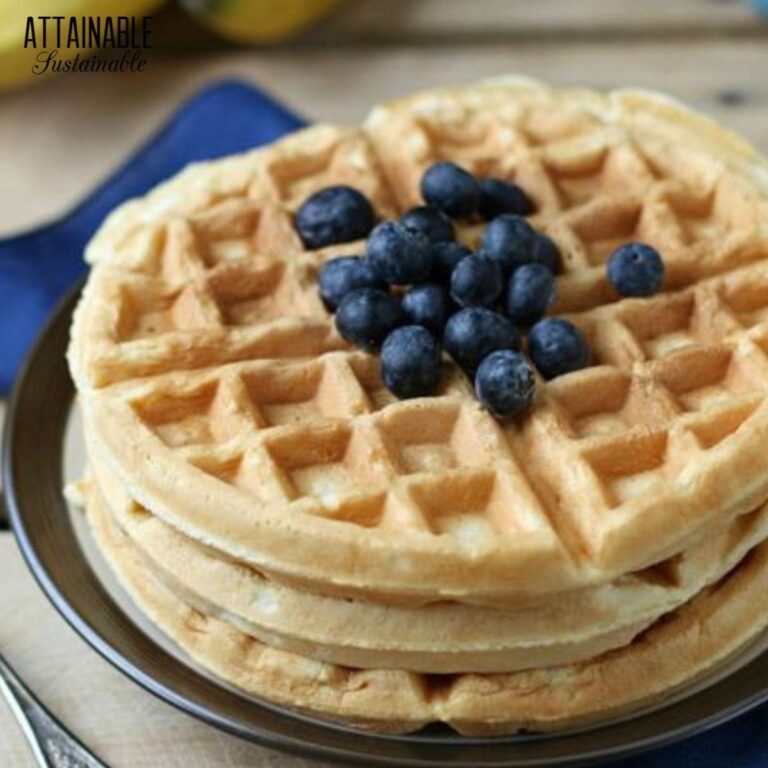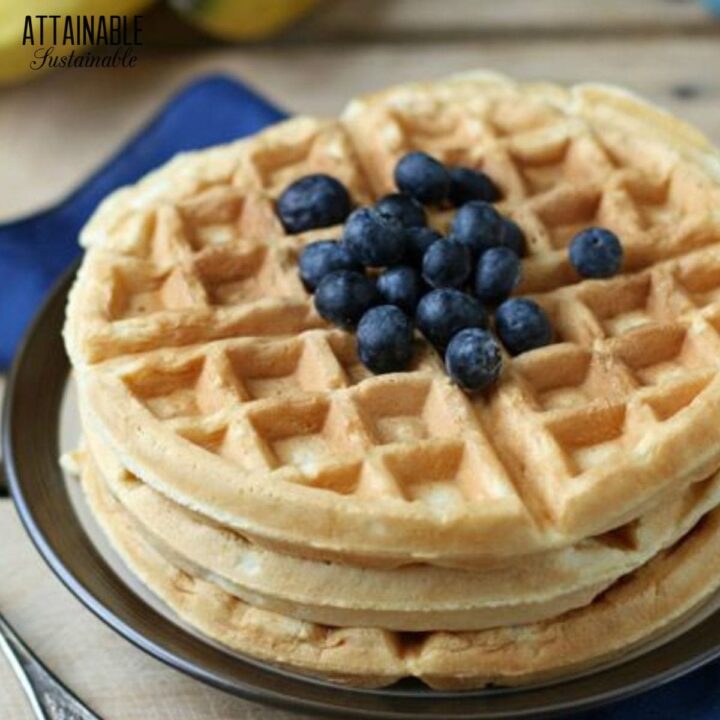 Homemade Waffle Recipe for Breakfast (or the Freezer)
This waffle recipe is just the thing for Sunday breakfast. Freezing waffles for later will make weekday breakfasts a breeze, too.
Ingredients
4 large eggs
4 cups unbleached organic all-purpose flour
1/2 cup refined coconut oil, melted
3-3 1/2 cups milk
2 Tablespoons sugar, or coconut sugar
8 teaspoons baking powder
1 teaspoon sea salt
Instructions
Pre-heat waffle iron while you're mixing your batter. In one large bowl, mix the dry ingredients together. In another large bowl, mix together the wet ingredients (start with 3 cups of milk first). Add the wet to the dry ingredients and mix well. If the batter is too thick, add the additional 1/2 cup of milk.
Scoop 1/4 cup of waffle batter into preheated waffle iron and let cook for 5-7 minutes depending on your waffle iron. Once browned, remove from waffle iron and
Note: If you are going to freeze a majority of these waffles, don't cook them as long as you normally would to prevent overcooking when you reheat them.
Freezing waffles
Grab your freezer-friendly container (these glass pyrex containers are super durable and have been happily used by Kris). Wrap each waffle in it waxed paper. (If you're being extra careful to avoid toxins, here's a soy-based wax paper to try.) Alternatively, cut wax paper into squares and place a piece in between each waffle. If you are not individually wrapping each waffle, place a layer of wax paper on the bottom of the glass dish so the waffle doesn't stick to it.
Another option for freezing waffles would be to place the cooled waffles on a baking sheet and stick in the freezer for 5-10 minutes. When the waffles are almost or fully frozen, place them into your freezer-safe container and put them in your freezer. By freezing waffles on a baking sheet first, you reduce the chances of the waffles sticking together and you don't have to use wax paper.
To reheat:
If the waffles you made are Belgian waffles, break the waffle apart into 1/4 pieces so they will fit your toaster. Toast until fully warmed through. If you have a toaster oven simply place the whole -- or 1/2 waffle depending on the size -- in the oven and toast until fully warmed through.
Notes
How about banana waffles? Chop up some dried bananas and stir banana bits into the batter before pouring it into the waffle iron. 
Nutrition Information:
Yield:

16
Serving Size:

1/2 waffle
Amount Per Serving:
Calories:

281
Total Fat:

11g
Saturated Fat:

8g
Trans Fat:

0g
Unsaturated Fat:

2g
Cholesterol:

59mg
Sodium:

470mg
Carbohydrates:

34g
Fiber:

1g
Sugar:

10g
Protein:

10g