There are a couple of natural methods of Japanese beetle control — and Chinese rose beetle control — that you can use in your garden or orchard: Hand-picking and applying (natural) milky spore. Read on for how to use these methods when you're faced with damage from a Japanese beetle infestation.
This post may contain affiliate links; I'll earn a small commission if you choose to make a purchase.
You may have heard me mention that we're experimenting with some low-chill apple trees in our new location. Turns out, something else was excited about us planting apples here, too.
Reader Favorites from Attainable Sustainable
Japanese beetle infestation
Within a couple of weeks of planting, the leaves on our trees looked more like lace than leaves. I've been carefully observing and have found a couple of weevil-like bugs and another that looked like a Japanese beetle. I've experienced a Japanese beetle infestation in another garden, so I recognized these guys — kind of.
I tried a couple of natural sprays. I tried a sticky barrier. But nothing seemed to work.
I searched the internet with little luck — I found one DIY Japanese beetle trap, but it seemed silly to make something like that when I could easily just handpick the few bugs that I spotted. I finally remembered to ask the grower who sold me the apple trees. He just nodded. Yep. Those bugs are a problem. But here's where he pointed me in the right direction.

My beetles are nocturnal feeders.
Which means that the few beetles I'd spotted during the day were an anomaly. And it turns out, they're not Japanese beetles, but rather Chinese rose beetles. Good thing I am a highly experienced nighttime pest hunter!
How to combat the Japanese beetle and Chinese rose beetle:
Whether Japanese beetle infestation or Chinese rose beetle, the technique is the same. Fill a jar with about an inch of soapy water and head out to your garden or orchard. Look for beetles on the top and underside of leaves.
Quickly handpick the beetles and drop them into the soapy water. If you're dealing with a Japanese beetle infestation, do this during daylight hours. To combat Chinese rose beetles naturally, don your headlamp and head out just after nightfall, when they are the most active.
My first night of beetle control netted 20-30 beetles, including numerous mating pairs who were interrupted in their procreation. I'll continue doing this until I see a marked decrease in beetles, though my friendly farmer tells me that the worst of the damage is probably nearing an end — the beetles cause extensive damage like this for just a couple of months during mating season.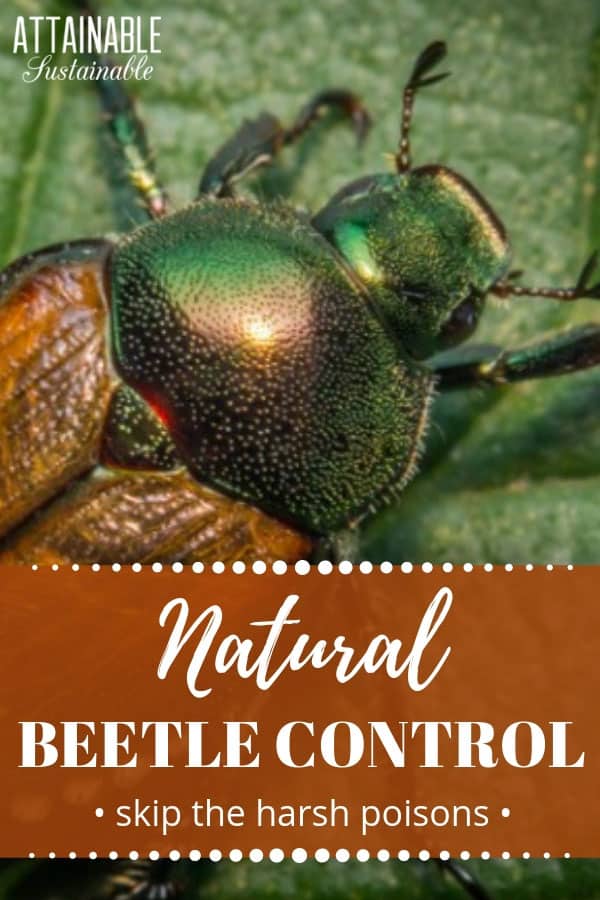 Milky spore for beetle control
And here's another trick, thanks to one of my readers. He suggested using milky spore powder. I'd never heard of it, but he said it had really worked well for him. Coincidentally, I was visiting with a friend of mine a couple of months later and out of the blue he suggested the milky spore powder for beetle control.
Milky spore is a natural, microscopic bacteria that apparently kills beetles in their grub stage — when they're underground. You simply apply it to the soil (it doesn't take much) around infested areas and let it get to work. According to the milky spore product literature, it takes three years to reach peak effectiveness. The time is now, my friends.
UPDATE: I've been using milky spore for almost three seasons now and I do feel like the infestation of beetles is less devastating after applying the milky spore powder. I didn't do nearly as much handpicking, either.
Hopefully the milky spore powder will continue to work its magic in the soil and wipe out most of the beetle population, eliminating damage from Chinese rose beetle or Japanese beetle infestation.