You've seen those Topsy Turvy contraptions, right? Here's how you can make one of your own with a 5-gallon bucket. It will take you less than half an hour to put together, and growing upside-down tomatoes is a good way to get the most out of your space. 
This vertical tower garden is another great space saver!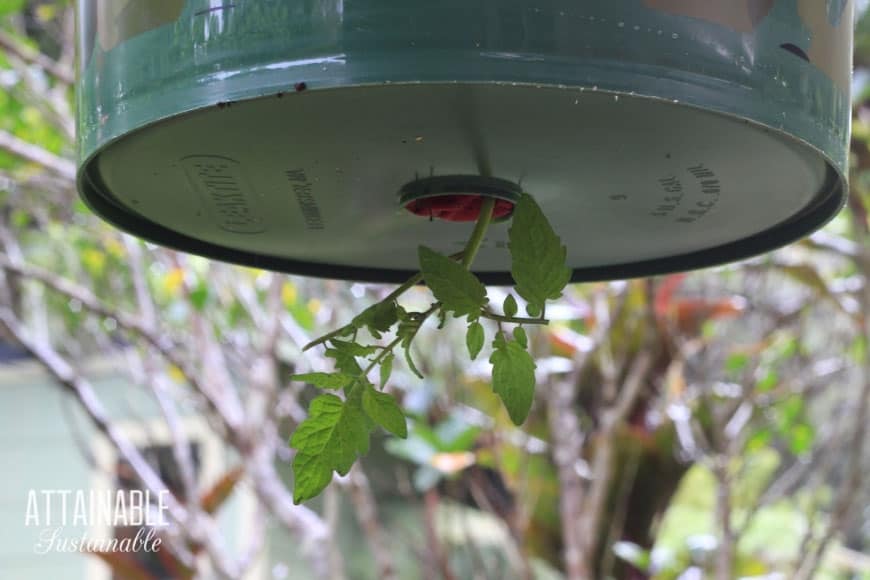 This upside-down tomato planter works well with both determinate and indeterminate tomato plants. A cherry tomato is a nice choice if you'll be hanging this on a patio — perfect for summertime snacking! It also works well with a Roma tomato.
This is really an easy project, though you'll need one specialized piece of equipment to make it: A hole saw that attaches to a drill. If you've got a woodworker friend, maybe you can borrow one.
Much like growing tomatoes in containers on the ground, you'll need to make sue that the soil in this hanging tomato planter remains moist (but not wet). Fertilize every couple of weeks with a diluted compost or manure tea.
How to make a planter for upside-down tomatoes
Step 1: Drill a hole in the bottom of a 5 gallon bucket. I used a 1.5″ or so hole saw. (I also opted to paint the bucket so it wasn't so glaringly white.)
Grow Some Greens!
Ready to grow fresh greens, no matter WHERE you live? Sign up for my
FREE quick-start guide and start growing some of your own food!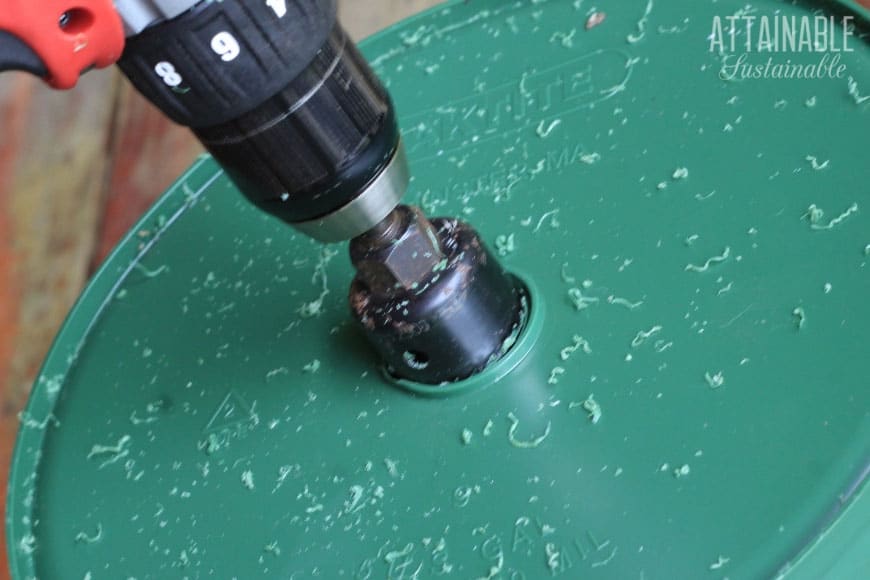 Step 2: Cut a piece of scrap fabric roughly the size of the base of the bucket.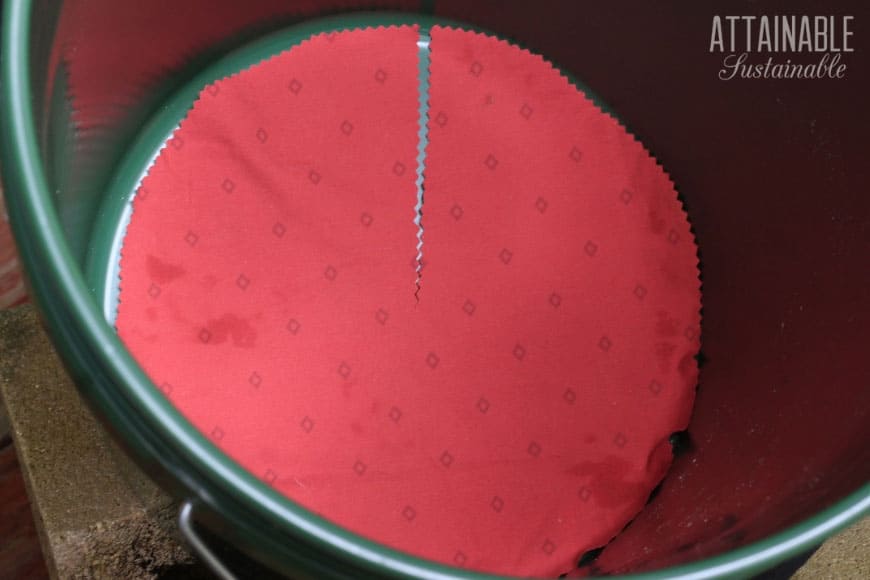 Step 3: Cut a slit to the center of the fabric. This will help hold the soil and tomato seedling in place until the tomato plant gets rooted in.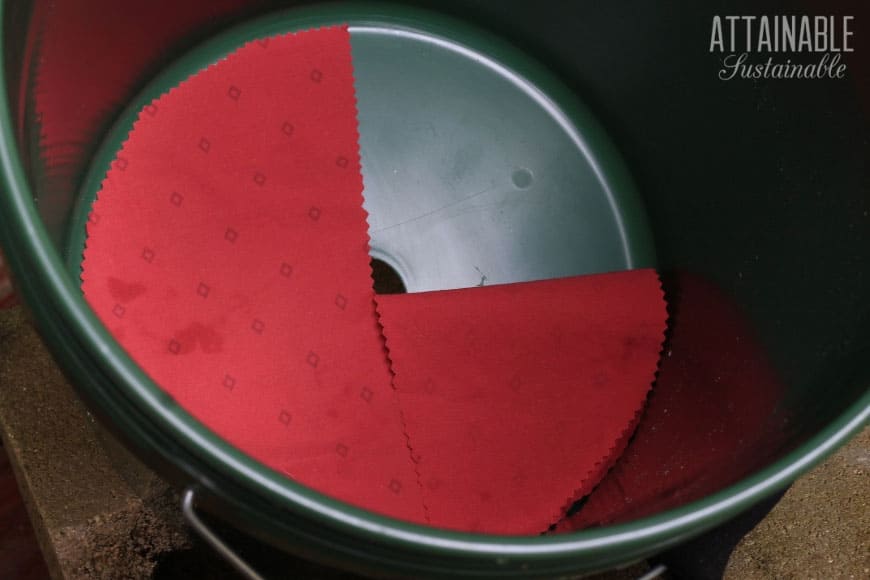 Step 4: Set the bucket up on blocks of some sort. This will allow you to place the tomato seedling into the hanging planter without smashing it.
Step 5: Place the tomato seedling in the hole, with the greens hanging below the bucket. Pull the edges of the fabric slit together, snug around the stem.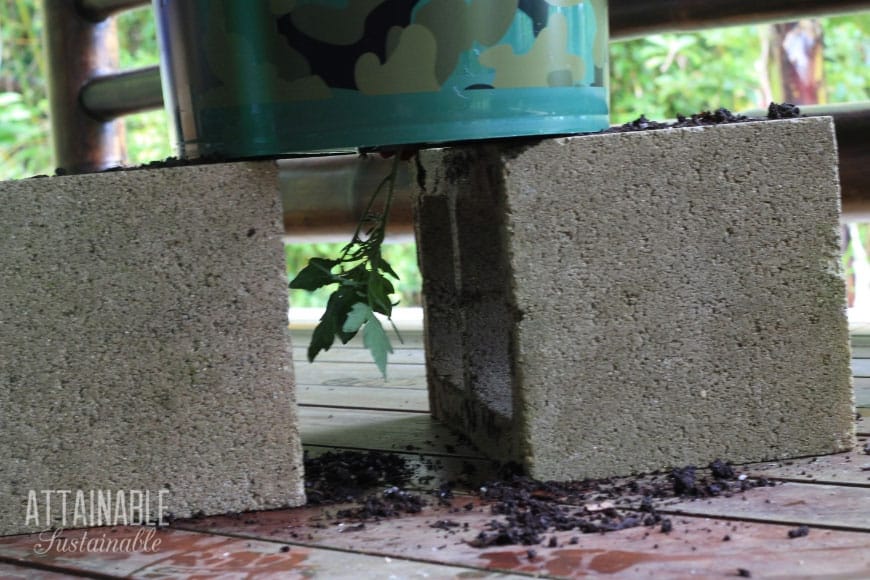 Step 6: Gently add soil around tomato roots and continue adding soil until the bucket is nearly full. Use a mixture of roughly two parts potting soil, two parts peat moss, and one part perlite for a lighter mix, since it will be hanging. You don't want the upside-down tomato planter to be so heavy that it breaks!
Note: I'm updating photos for this post and growing more upside-down tomatoes under a new awning. The next photo you'll see is from the first ones I made. I'll be adding a new photo of my thriving upside-down tomato planter soon! Stay tuned.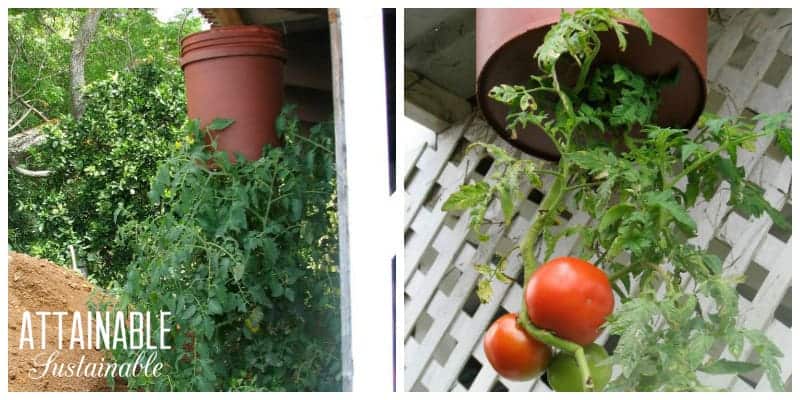 Originally published in February 2012; this post has been updated.