Because of our mild weather and steady moisture, I've had good success here with growing carrots. I find that the easiest way to preserve them is to freeze carrots in various amounts so that I can add them to soups or baked goods as I need them.
Fermenting carrots is another great way to preserve them!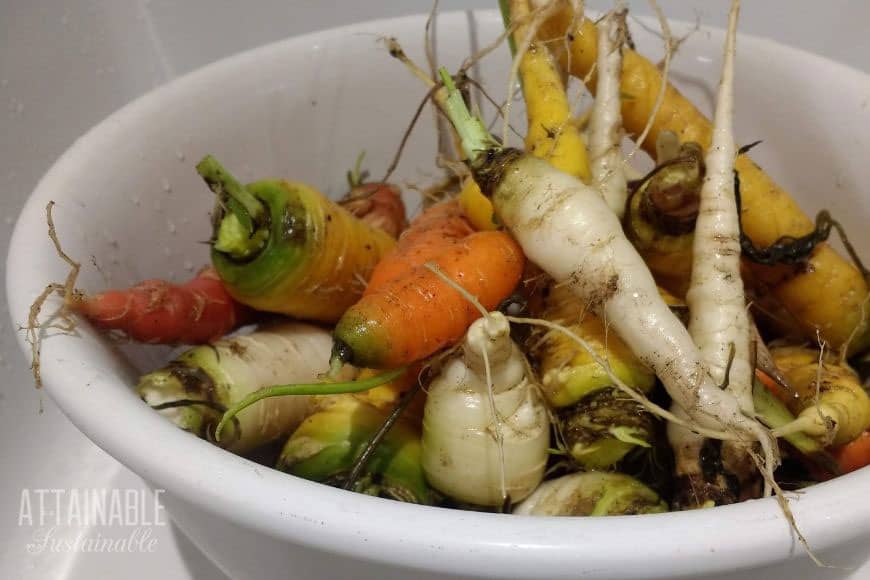 My carrot crop this year netted a variety of colors rather than just orange, including white, yellow, and a deep orangish-red. Aren't they beautiful?
How to freeze carrots
First off, let me remind you that I'm the queen of shortcuts. If there's a faster way to do things, I'll take it. There are a couple of different ways to freeze carrots; I like my method because it's fast and easy.
---
The Handcrafted Pantry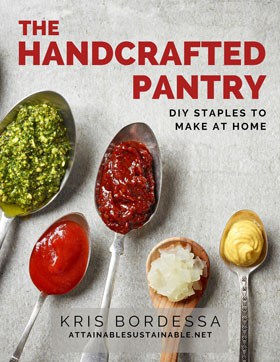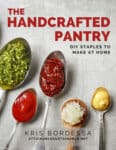 Ready to DIY your pantry with healthier ingredients? Check out my ebook, The Handcrafted Pantry! Filled with delicious recipes for some of your favorite condiments, snacks, and toppings, it's the guide you need to start skipping packaged products and embrace homemade.
---
Can you freeze carrots without blanching?
Of course you can. Yes. Blanching may preserve some of the flavor of carrots, but the extra steps required to blanch them doesn't — in my opinion — make enough of a difference in flavor to make blanching worthwhile.
Especially since I'm primarily using the frozen carrots for stirring into recipes — none of us care much for cooked carrots as a dish by itself. If you like serving cooked carrots, you may want to try blanching some to see which method you prefer.
5 Easy Steps to Transform Your Pantry!
Ready to switch from store bought to homemade? Let me help you make some changes! Grab my FREE five-part guide to getting started.
If you want to try, here's how to blanch carrots:
Thoroughly wash carrots; there's no need to peel them.
Slice carrots into desired thickness.
Bring water to boil in a large stockpot. (How much water will depend on how many carrots you're blanching. Use roughly three times as much water as you have carrots.)
Add carrots to boiling water. Return to a boil and cook carrot slices for 3 minutes. (Cook larger chunks for 5 minutes.)
Drain carrots and immediately submerge in a bowl of ice water to stop the cooking process.
Freezing shredded carrots
Since we prefer carrots cut in small pieces for soups and stews, shredding them for freezing just makes sense. This also means that I always have shredded carrots on hand if I want to make a carrot cake for dessert. Or carrot cake waffles for breakfast.
Shredding can be done manually, but if you have access to a food processor that will make the job go much more quickly.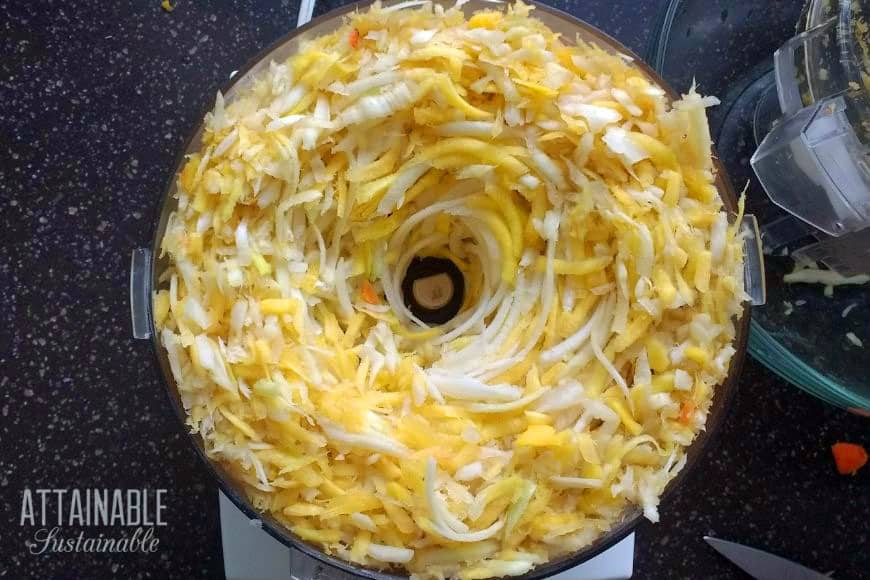 Clean your garden fresh carrots to remove the soil and cut off the tops. I leave the peels on, but if you prefer to remove them, by all means do. Once they're shredded, it's merely a matter of portioning the raw carrots into containers.
Choosing the right containers
You will save yourself a lot of headache later if you portion the shredded carrots into amounts that you'll use. For instance, if your favorite carrot cake recipe calls for 1 cup, measure some carrots into 1 cup containers. If you only use 1/2 cup for soup, be sure to freeze some carrots in half-cup increments.
A muffin tin is an easy way to freeze carrots in small quantities. Press shredded carrots into each cup and freeze. Once frozen, use a butter knife to pop the carrots out and transfer them to a freezer safe storage container.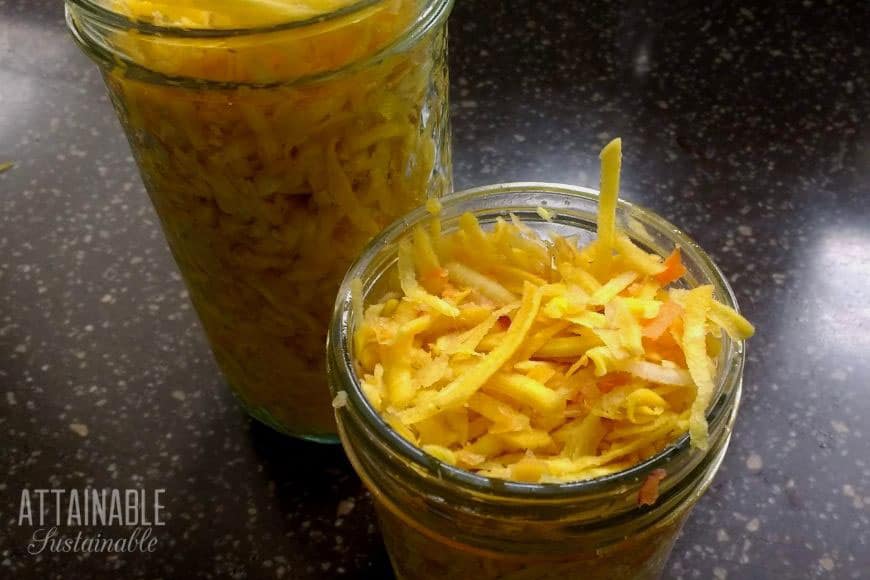 Canning jars are another option. Again, press carrots into the jars, add a lid, and freeze. Remove the jars of frozen carrot when you're ready to use them and allow to thaw. [More on freezing food in Mason jars here.]
Using the carrots in recipes
If you use Mason jars for freezing, you'll need to allow the carrots to thaw before use. (You'll want to do this anyway, if you're stirring the carrots into baked goods.) If you're adding them to soup, though? It's easy as can be to drop a frozen block of carrots into the broth.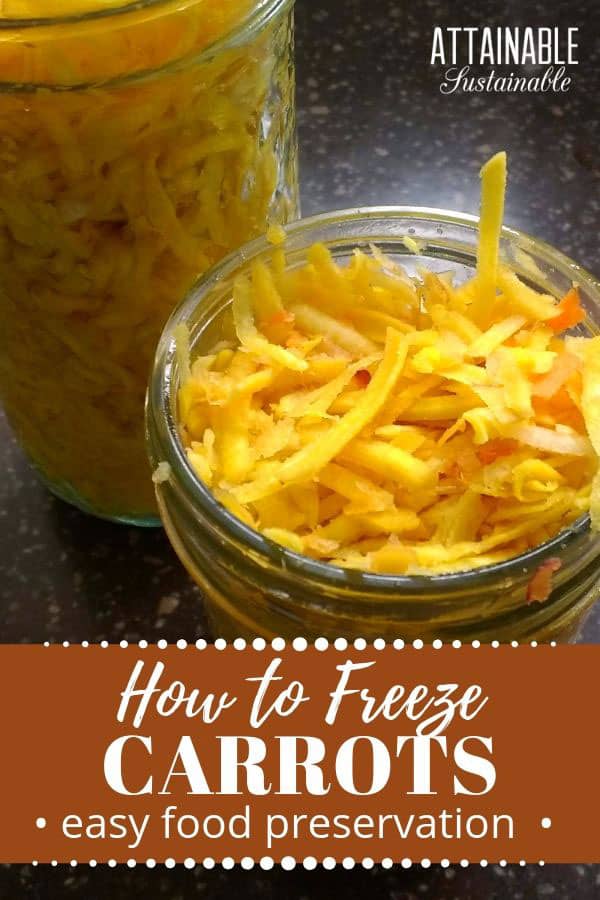 ★ Did you use this method to freeze carrots? Don't forget to give it a star rating below! ★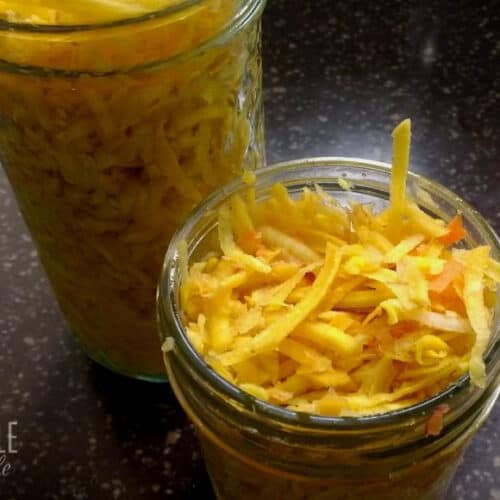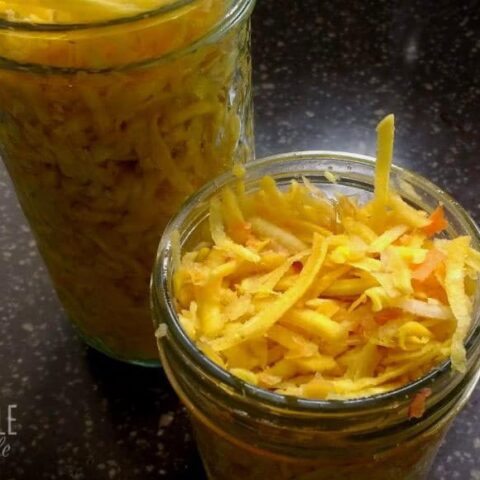 How to Freeze Carrots for Preservation
Total Time:
6 hours
21 minutes
Freezing carrots when they're in season makes it easy to keep them on hand for baking and cooking.
Instructions
Shred carrots manually or with a food processor.
Portion shredded carrots into muffin tins or suitable freezer containers.
Freeze carrots for 6 hours or overnight.
If you used a muffin tin for freezing, transfer carrot "cups" to a freezer safe container.
Nutrition Information:
Serving Size:

1 grams
Amount Per Serving:
Unsaturated Fat:

0g