If you've never thought about preserving radishes from the garden, this recipe for lacto fermented radishes with turnips might surprise you.
This post is sponsored by Fermentools. They sent me a kit to experiment with. Because I've found them to be an excellent and easy way to start fermenting successfully, I'm sharing with you. 
This post may contain affiliate links; I'll earn a small commission if you choose to make a purchase.
A friend brought over a radish abundance the other day, as well as some turnips. We munched on some raw, but the radishes were much too spicy and strong for us. Not wanting to waste them, I decided to try fermenting them. I found this recipe and modified it to include both radishes and turnips.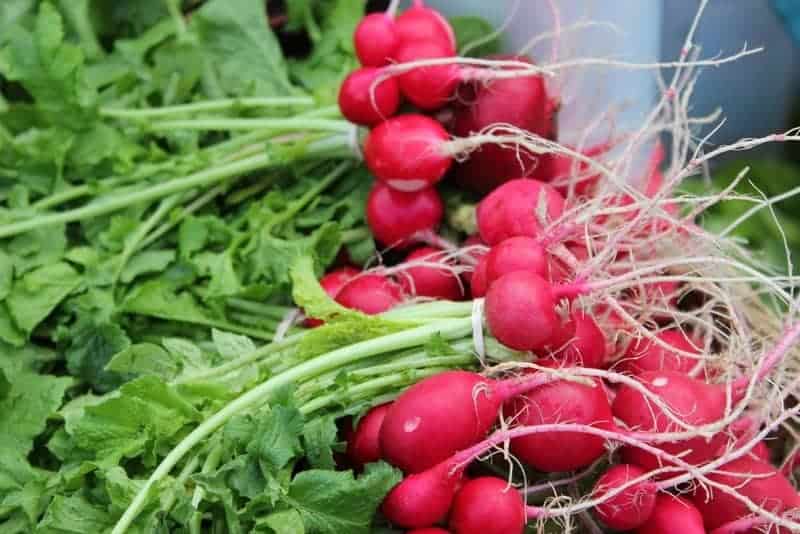 Related: Banana Peppers: Fermented Hot Sauce Recipe
"Oh, these are good, Mom. You did good with these," said my youngest (grown) son.
Sometimes I really hit one out of the park. Sometimes.
Fermented radishes – a radish pickle of sorts
I took the time to layer the red radishes with the white turnips because in my head this would be such a pretty jar of ferments! Like a candy cane!
In reality, what happened is that the red leached from the radishes and turned everything the same shade of pink. Also lovely, but not exactly what I imagined.
The radishes completely mellowed out and remained crispy.
The turnips were less crispy, but the flavor on both was out of the park wonderful. Tangy and pickle-like with a slight vinegar flavor. I'll definitely do this again!
Related: Radish Leaf Pesto
★ Did you make this fermented radishes recipe? Don't forget to give it a star rating below! ★
Fermented Radishes with Turnips
If you've never thought about preserving your radish crop, this recipe for lacto fermented radishes with turnips might change your mind.
Ingredients
3-1/2 to 4

cups

sliced radishes and turnips

2

T.

sea salt

3

cups

distilled water

3-4

cloves

garlic
Instructions
Dissolve sea salt in water to make brine. Drop garlic into bottom of a wide-mouth, quart-size jar. Layer sliced radishes and turnips in jar.

Pour brine over vegetables to cover, leaving about one inch of headspace. Place a glass weight on top of the vegetables to make sure they remain submerged. This is really important with these particular vegetables - they really wanted to float.)


Cap jars with a Fermentools seal and air-lock. Set aside at room temperature for a week or so. Once fermented to your liking, store in the refrigerator. (Though I have to be honest - mine never made it that far.)

Recipe Notes
Water: Municipal tap water contains chlorine, which can inhibit fermentation. Be sure to use filtered or distilled water instead. Salt: Salt with iodine or anti-caking agents can inhibit fermentation.