If you've never thought about preserving radishes from the garden, this recipe for lacto fermented radishes might surprise you.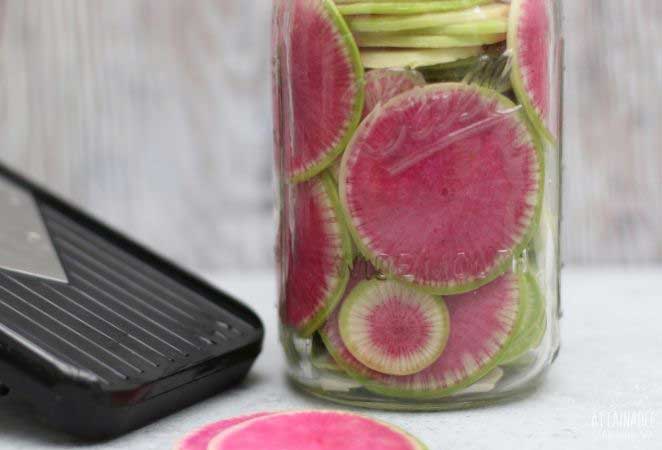 When radishes are abundant, you can preserve some as pickled radishes, or try these probiotic fermented radishes, made with a lacto-fermentation method. It's easy to do and the act of fermenting actually helps tone down the spiciness of radishes may have too much heat for eating fresh.
The Handcrafted Pantry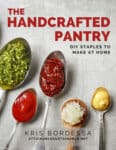 Ready to DIY your pantry with healthier ingredients? Check out my ebook, The Handcrafted Pantry! Filled with delicious recipes for some of your favorite condiments, snacks, and toppings, it's the guide you need to start skipping packaged products and embrace homemade.
Fermented Radishes
The radishes you see here are a watermelon radish. They're just lovely. But you can use any type of radish — whatever is available at the farmers market or from your backyard garden.
Start by slicing the radishes thinly. I used a mandoline slicer to get a uniform thickness.
Pack slices snugly into a jar (or jars) and cover them completely with the salt brine. It's important that the solids remain completely submerged in order to prevent spoilage. (Bits of radish that are exposed to air can mold – you don't want that!)
I use glass weights to hold the radishes below the brine.
5 Easy Steps to Transform Your Pantry!
Ready to switch from store bought to homemade? Let me help you make some changes! Grab my FREE five-part guide to getting started.
Screw a lid on loosely or use a specialized fermentation cap. If you're using a regular jar lid, be sure to open it daily to allow the ferment to "burp."
The radishes maintain a wonderful crispness. Tangy and pickle-like with a slight vinegar flavor. They're delicious, and my family agrees!
They do not, however, retain this sharp color. The fermenting process kind of causes the color to bleed, making all of the slices a lovely shade of light pink.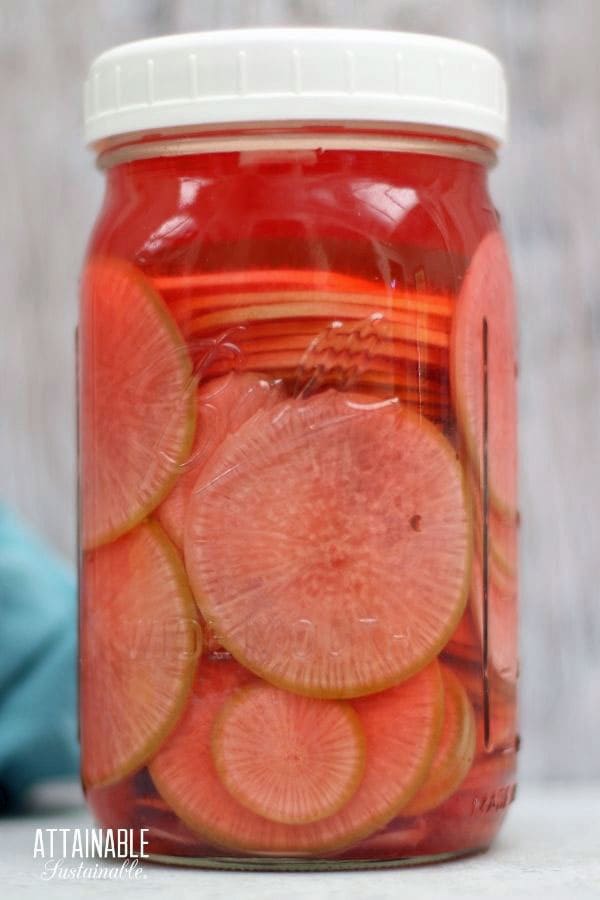 And psst! Don't toss out the radish greens! They're edible and make a wonderful pesto.
Municipal tap water
contains chlorine, which can inhibit fermentation, so be sure to use filtered or distilled water instead.
A Berkey water filter provides clean water that's free of toxins.
Great for making your drinking water free of chemicals, but perfect for fermentation, too.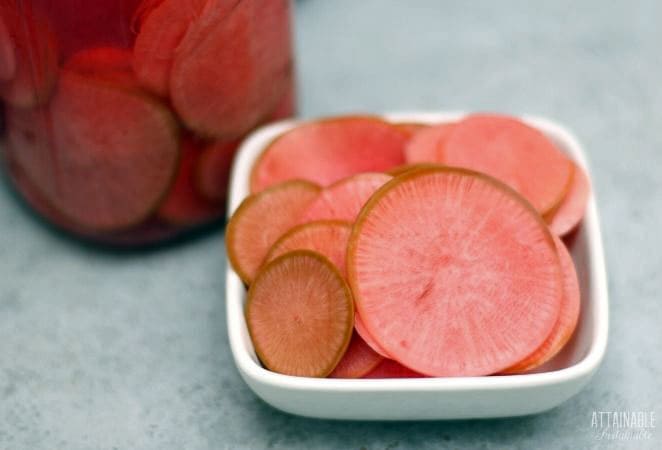 ★ Did you make this recipe? Don't forget to give it a star rating below! ★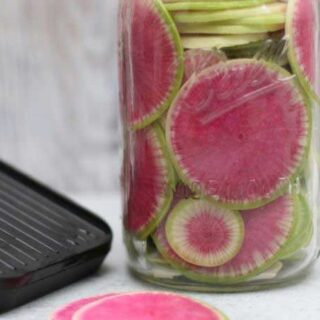 Fermented Radishes
Total Time:
7 days
10 minutes
If you've never thought about preserving your radish crop, this recipe for lacto fermented radishes might change your mind.
Ingredients
3-1/2 to 4 cups sliced radishes
3 cups distilled water
3-4 cloves garlic
Instructions
Dissolve sea salt in water to make brine. Drop garlic into bottom of a wide-mouth, quart-size jar. Fill the jar with sliced radishes to within 1-2" from the top.
Pour brine over the radishes to cover, leaving about one inch of headspace. Place a glass weight on top of the vegetables to make sure they remain submerged.
Cap jars with an air-lock if you have one, or screw a lid on loosely. If you use a regular lid, be sure to loosen it daily to allow built up gasses to escape.
Set aside at room temperature for a week or so. The radishes will bubble and begin to take on a tangy odor. Allow them to continue fermenting until the flavor is to your liking.
Once fermented, store in the refrigerator indefinitely.
Notes
Water: Municipal tap water contains chlorine, which can inhibit fermentation. Be sure to use filtered or distilled water instead.
Salt: Salt with iodine or anti-caking agents can inhibit fermentation.
Nutrition Information:
Yield:

8
Serving Size:

1 grams
Amount Per Serving:
Calories:

3
Unsaturated Fat:

0g
Sodium:

203mg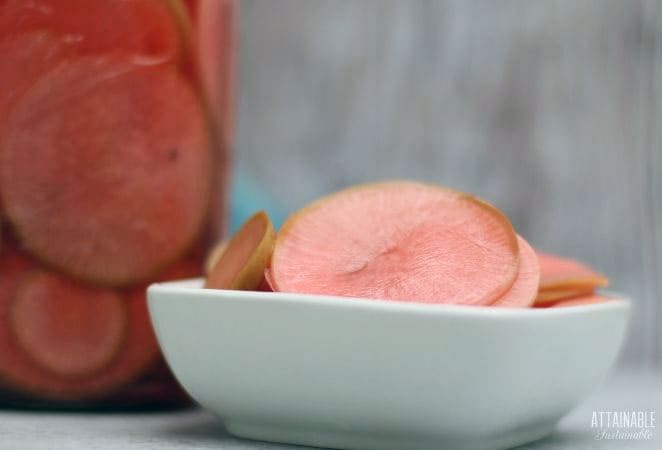 This post was originally sponsored by Fermentools. Originally published in May 2015; this post has been updated.