This homemade Italian sausage recipe is surprisingly easy to make at home. The level of spice can be adjusted to suit your palate, but no matter how you like it, you'll be glad to have some in the freezer for topping pizza or serving with eggs.
Be sure to try my family's favorite pizza dough recipe!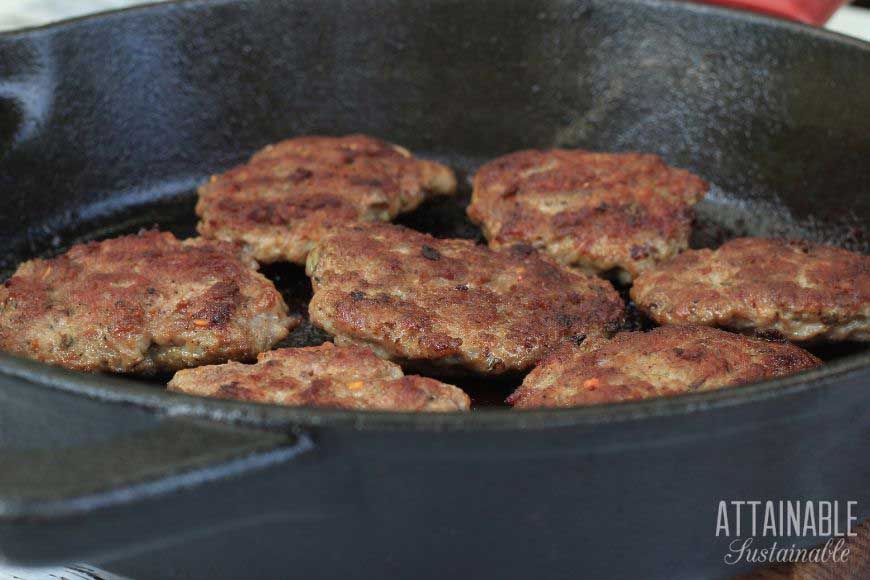 Homemade Italian sausage recipe – to link or not to link?
Sausage comes in all kinds of shapes and sizes. Link sausages are made by stuffing ground meat and seasonings into a casing (more often than not, these are made from intestines). These can be used fresh, like a breakfast sausage, or hung to dry for various amounts of time, with or without smoke, to create all kinds of different flavors. Making link sausage requires a few more steps than making a simple bulk sausage. Guess which one I prefer to make?
We've experimented a bit with sausage recipes, and this is our favorite ground Italian sausage recipe, the one that we come back to again and again. Note that I say OUR favorite Italian sausage recipe. Sausage makers all think their recipe is the best, I've noticed.
Making sausage at home
Here's the thing that you probably don't realize: Making homemade Italian sausage is really easy to do. Plus, freshly made sausage is so much better than the stuff from the grocery store. It takes us about 15 minutes to make this homemade sausage recipe if we start with ground pork. It takes longer when we grind our own meat for this recipe. All you need is good-quality pork, some seasonings, and red wine. No sweeteners, no fillers, no brown sugar — easy, peasy.
I encourage you to try this, especially if you've got access to locally raised pork. I don't think you'll be disappointed — it's so much better than store bought!
5 Easy Steps to Transform Your Pantry!
Ready to switch from store bought to homemade? Let me help you make some changes! Grab my FREE five-part guide to getting started.
How to make bulk Italian sausage
If you're starting with pork butt, you'll need to grind the pork using a meat grinder. That can be a bit messy, but it's worth it especially if you have farm raised pork to start with. If you're starting with ground pork, it couldn't be easier.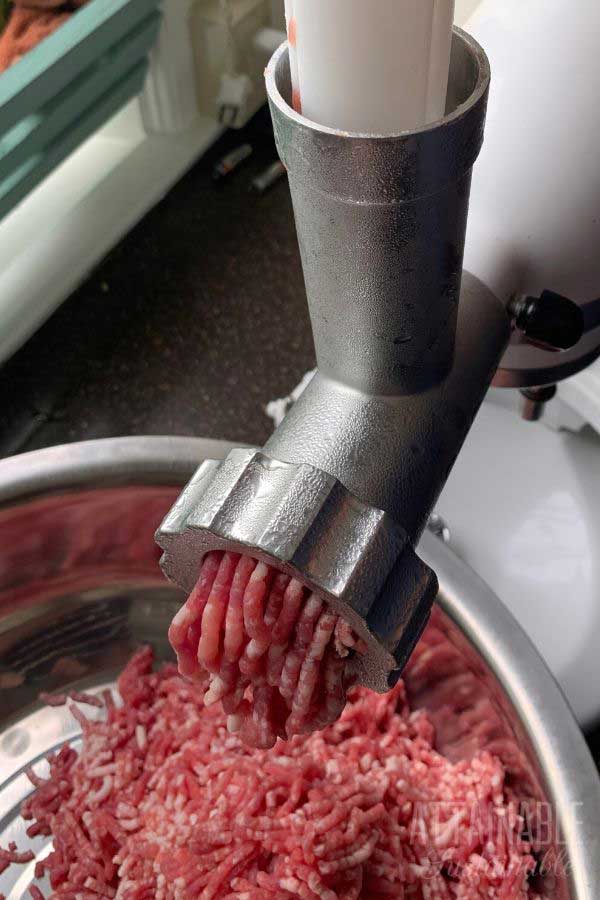 We use a KitchenAid stand mixer equipped with a Chef's Choice meat grinding attachment to grind pork. We've found that it works best with meat that's partially frozen. Here's how we do it:
Cut pork butt into chunks that will fit into the feed tube
Place chunks in the freezer for an hour or two
Turn grinder on low and begin feeding the chunks into the grinder and pushing them down.
Turning the ground pork (whether you've made it yourself or you're starting with store bought ground pork into Italian sausage is just a matter of combining ingredients. Use a large bowl and mix with your hands until very well blended. That's it. I'm telling you, homemade sausage is easy if you opt for making bulk sausage rather than making links.
Once you've mixed the ingredients together you can cook up a little sample to make sure that the flavors are right for your taste buds.
Freezing
We preserve this homemade Italian sausage by freezing it in (roughly) one-pound packages. I prefer not to use plastic bags for storage. We usually use freezer paper to package ours, but it's not always easy to find. Another alternative is to wrap the sausage in waxed paper and then a layer of aluminum foil.
There are a number of less wasteful options that will work for freezing your homemade sausage at this post about freezing without plastic, too.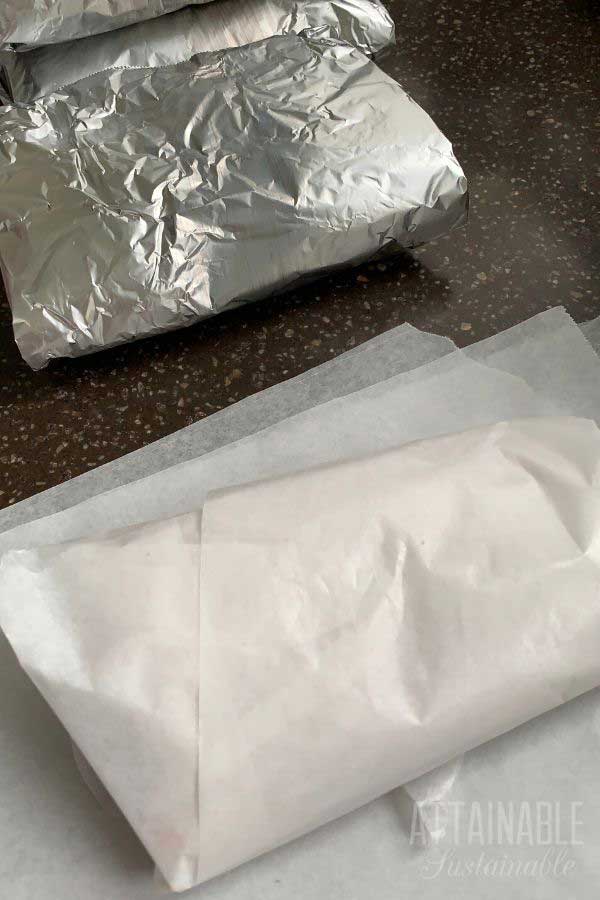 Using Italian sausage in the kitchen
We use this bulk sausage (ie; not link sausage) to top our homemade pizza, in this sausage lentil soup, to stir into polenta, and in creamy mushroom risotto. For those recipes, cook the sausage in a pan over medium heat; crumble sausage as it cooks, then add it to the dish. As a breakfast sausage recipe, we make sausage patties and fry them up in my cast iron skillet, cooking them for about 10 to 15 minutes per side.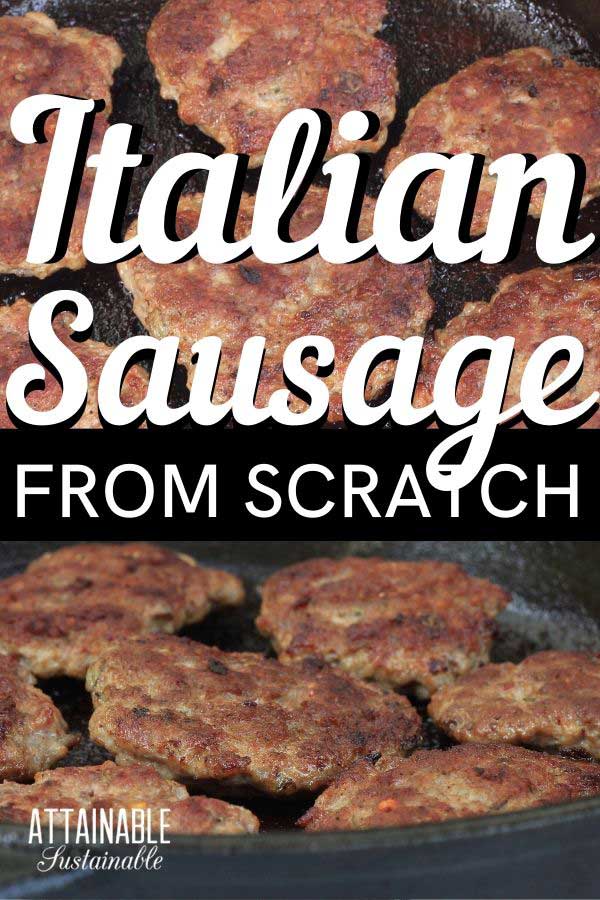 ★ Did you make this homemade sausage recipe? Don't forget to give it a star rating below! ★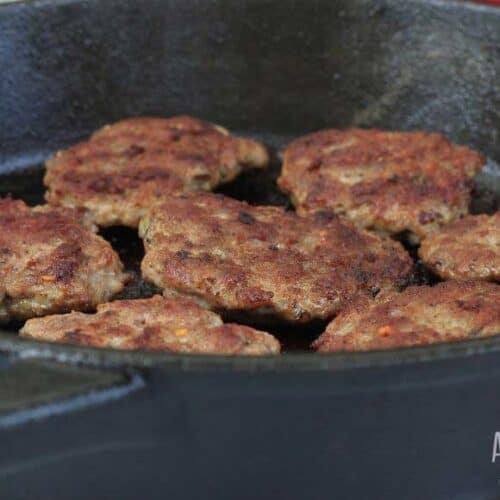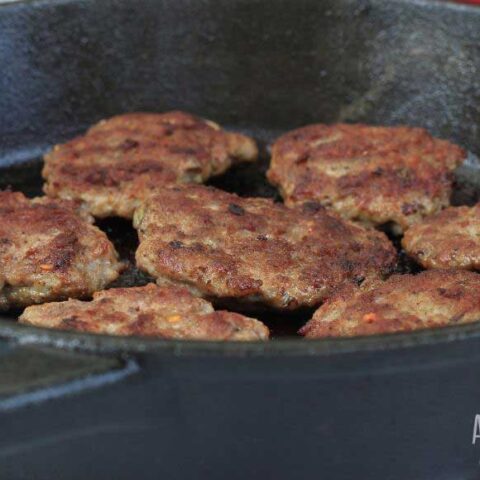 Homemade Italian Sausage Recipe
This homemade sausage recipe is surprisingly easy to make with ground pork and spices.
Ingredients
5 pounds ground pork, buy it in bulk or grind your own
1/2 cup red wine
2 Tablespoons Italian seasoning
8-10 garlic cloves, minced
5 Tablespoons smoked paprika
1/2 cup onion, finely chopped, (optional - I like it better without, but my husband is the sausage maker around here)
Instructions
Measure all ingredients into a large bowl. Mix with your hands until ingredients are well blended.
Optional: Sample the sausage. Of course, the flavors won't have saturated the pork, but by frying up a little mini patty, you'll be able to check the seasoning to make sure you're happy with the flavor.
Notes
We store this homemade sausage recipe in the freezer in roughly one-pound parcels.
We use it crumbled for pizza topping or made into patties for breakfast.
Nutrition Information:
Yield:

32
Serving Size:

1 grams
Amount Per Serving:
Calories:

193
Total Fat:

15g
Saturated Fat:

5g
Unsaturated Fat:

0g
Cholesterol:

51mg
Sodium:

343mg
Protein:

12g
Originally published June 2011; this post has been updated.