This mango chutney recipe can be processed in a water bath canner for a shelf stable pantry item or be savored fresh.
If you've got mangoes aplenty, make up a batch of this delicious mango jam, too.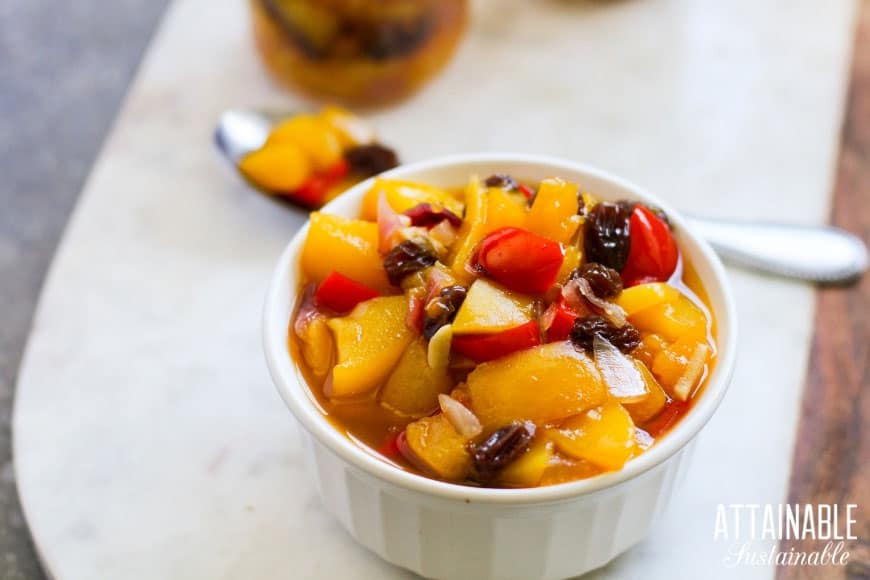 My husband and I were out running errands the other day when we happened across several mango trees dropping ripe mangos onto the narrow roadway. Cars had driven over what must have been hundreds of pounds of fruit, and the road was mushy and smelled heavily of fermented mangoes.
Instead of driving by as so many had clearly done before us, I convinced my husband to stop so I could gather some of the undamaged mangoes. I came home with about 40 pounds of not-so-perfect fruit that was still plenty good for doing a little canning. I made mango butter in the slow cooker. It got a resounding "meh" from my boys. This mango chutney recipe, on the other hand, got several thumbs up. It's a great recipe; I love chutney as a pantry staple, since it's a little bit special and good for when unexpected guest arrive at my door. (It's delicious spooned over cream cheese and served with crackers — easy, peasy!)
Related: Summer Canning Recipes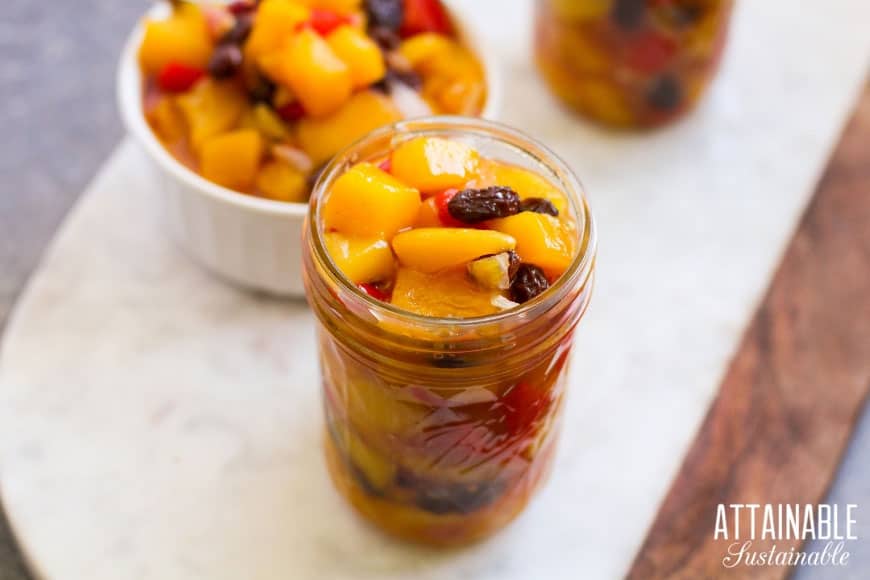 ---
The Handcrafted Pantry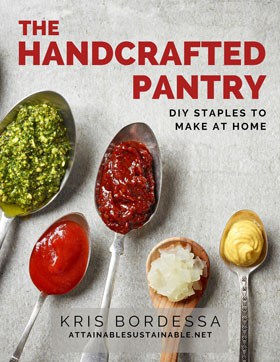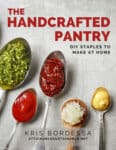 Ready to DIY your pantry with healthier ingredients? Check out my ebook, The Handcrafted Pantry! Filled with delicious recipes for some of your favorite condiments, snacks, and toppings, it's the guide you need to start skipping packaged products and embrace homemade.
---
5 Easy Steps to Transform Your Pantry!
Ready to switch from store bought to homemade? Let me help you make some changes! Grab my FREE five-part guide to getting started.
Sweet and savory mango chutney recipe
The making of this mango chutney recipe is simple. It's mostly a lot of chopping and a little simmering on the stove. You'll need to stir occasionally during the cooking time, but it doesn't demand a lot of attention.
Once cooked, serve it warm with roasted chicken or allow it to cool and add it to a sandwich. It's good served alongside soft cheese and crackers, too. Store this mango chutney in the fridge for several weeks.
To preserve this mango chutney recipe so it will last all year, you'll need to process it in a water bath canner to make it shelf stable.
Canning Safety
Canning is an excellent way to preserve food for the pantry, but there are some important safety considerations to keep in mind.
Know the difference between water bath canning and pressure canning. Low acid items must be pressure canned for safety.
Altering ingredients may change the recipe's pH, posing a safety issue. I highly recommend investing in pH paper to test your products for acidity level when canning. Note: The Hawaii Master Food Preservers suggest a pH of 4.2 or lower in the tropics. In other regions, the recommended pH is 4.6 or lower.
Use the proper jars and lids. Never reuse lids, with the exception of the Tattler lids that are intended for such a purpose.
For more on canning equipment, please go here.
The recipes on this site have been made following safe canning procedures by a certified Master Food Preserver.
Start with clean half-pint or pint-size jars.
Spoon hot mango chutney into jars to within half an inch of the rim.
Wipe jar rims with a damp cloth to ensure sealing.
Set lid on jar and screw canning ring on finger tight.
Process in a boiling water canner for 10 minutes if you are below 1,000′ elevation, 20 minutes if you're between 1,000′ to 6,000′, or 25 minutes above 6,000′.
Use a jar lifter to remove hot jars from the water bath and set them on a towel-covered countertop for several hours. [More about canning equipment here.]
Allow to sit undisturbed for 8 hours or overnight. As jars cool, the lids will seal (that pleasing little 'tink' is a canner's favorite sound! Check this by pushing in the center of cooled jars (don't do this when they're hot). If the lid is solid, the jar is sealed. If it flexes, it's not. Put unsealed jars in the fridge and use those first.
Remove rings from sealed jars, rinse and dry jars, then store in the pantry.
Related: Tomato Chutney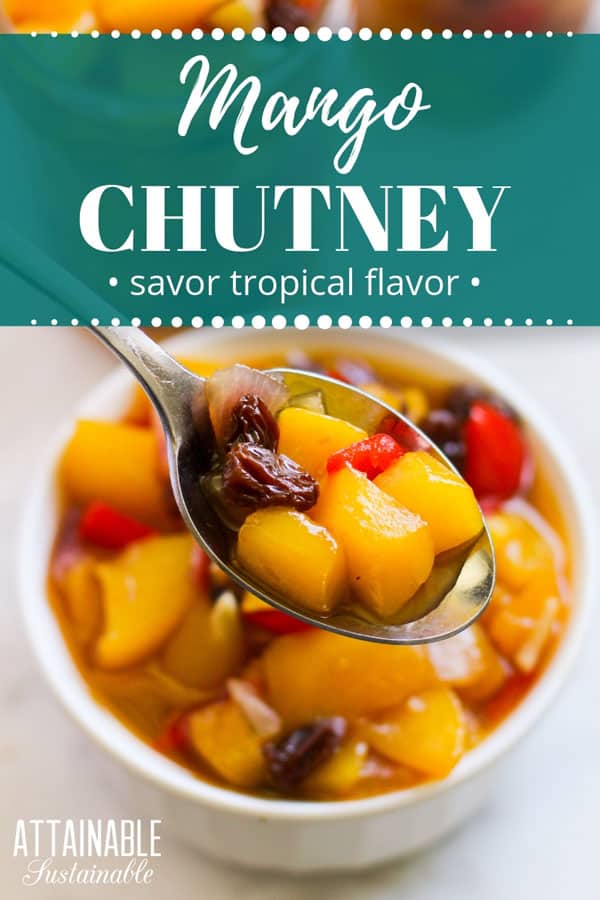 ★ Did you make this mango chutney recipe? Don't forget to give it a star rating below!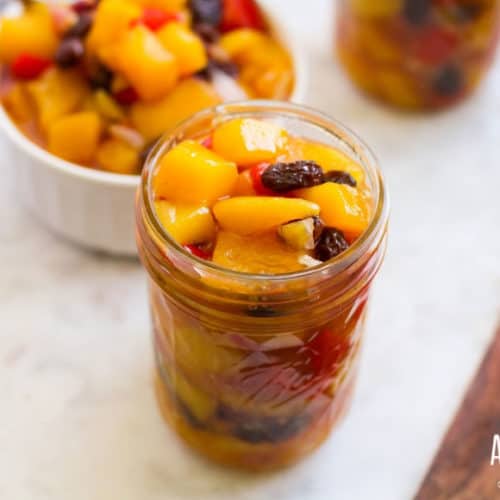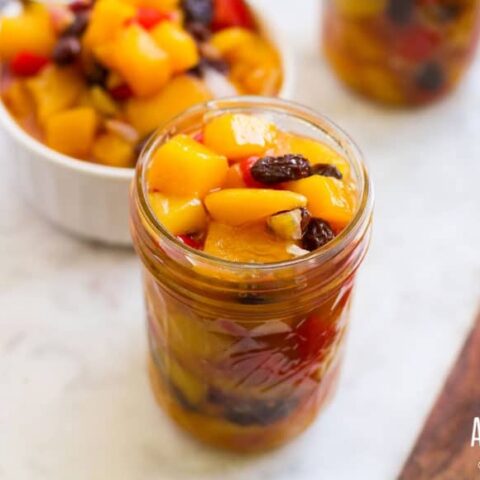 Mango Chutney Recipe
This mango chutney hits the right sweet and spicy notes to accompany both sweet and savory dishes.
Ingredients
1 cup apple cider vinegar
3/4 cup honey
1 red bell pepper, seeded and diced (about 1 cup)
1 medium red onion, diced, (about 1 cup)
1/3 cup organic raisins, (I prefer organic)
2 cloves garlic, finely chopped
7  cups mango, peeled, pitted and sliced into 1" chunks
Instructions
Combine vinegar and honey in a large pot. Bring to a boil over medium heat.
Stir in the bell pepper, onion, raisins, chili pepper flakes, garlic, and salt; simmer 15 minutes.
Add the mango slices and simmer an additional 10 minutes or until thickened to suit your preference.
Refrigerate, or to make shelf stable, process it using the hot water bath method. Ladle hot chutney into sterilized jars, leaving 1/2-in. headspace. Clean rims with a damp cloth (to assure a good seal), screw sterilized lids on, and process for 10 minutes in a boiling water bath.
Nutrition Information:
Yield:

12
Serving Size:

1 grams
Amount Per Serving:
Calories:

146
Unsaturated Fat:

0g
Sodium:

170mg
Carbohydrates:

37g
Fiber:

2g
Sugar:

31g
Protein:

1g