Tepache is a slightly fermented drink made from the skins of fresh pineapple. I love the idea of utilizing the skins that would otherwise be tossed to the compost pile, plus the drink itself is delicious!
Save the skins when you make my pineapple salsa or this pineapple jalapeño jam and you'll be ready to roll!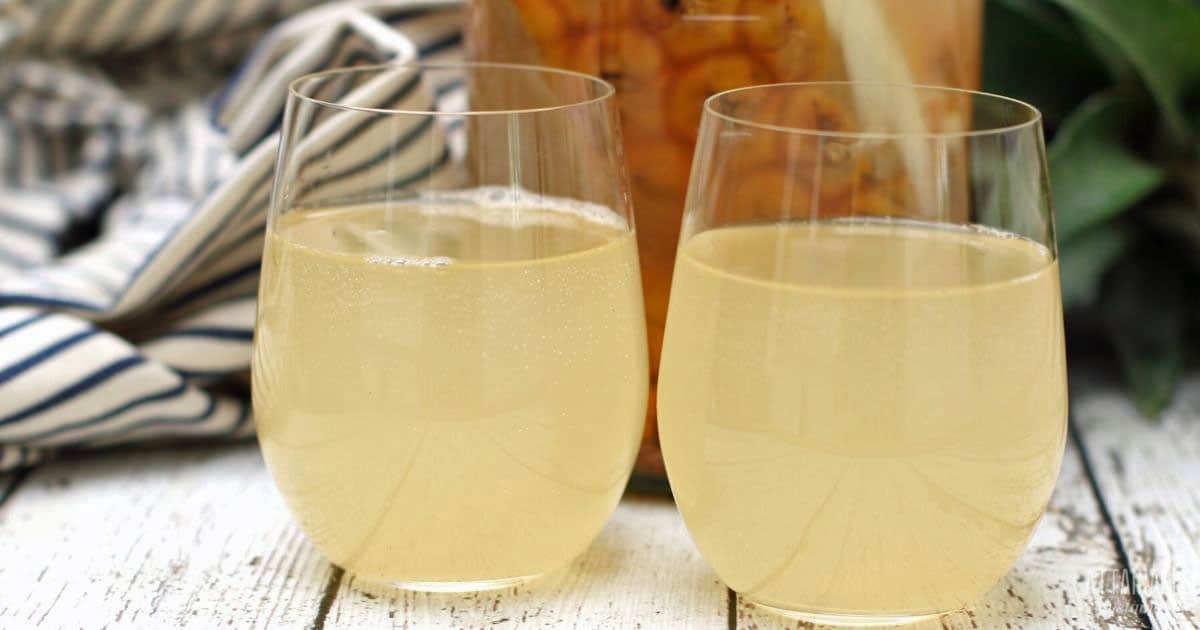 What is tepache?
Commonly made in Mexico, tepache is a light, slightly carbonated drink that's served cold. It's the perfect refreshment after a hot day!
Through the magic of fermentation, you can transform pineapple skin into a delicious drink. No waste!
Tepache reminds me of a cross between hard apple cider and kombucha. Is there alcohol in tepache? Probably, but if it ferments to the point of creatin alcohol, the level is very low, similar to a kombucha.
How to make pineapple tepache
The making of tepache couldn't be easier. Before you peel and core a fresh pineapple for another recipe, give the fruit a rinse to remove any residuals. You don't have to scrub it; just make sure it's not dirty.
5 Easy Steps to Transform Your Pantry!
Ready to switch from store bought to homemade? Let me help you make some changes! Grab my FREE five-part guide to getting started.
As you cut off the pineapple rinds, place them in a half-gallon jar. Add sugar and water, loosely screw on a lid, and set the jar on the counter to ferment.
Some tepache recipes call for piloncillo, a dark brown minimally processed brown sugar. But it's not something that most households have readily available. I just use regular organic cane sugar and it turns out just fine. The end result may be a bit lighter in color than recipes made with piloncillo.
Some recipes suggest adding a cinnamon stick to the jar; I don't, but I'm not opposed to trying that!
The first sign that fermentation is happening will be a bubbly white foam at the top of the liquid.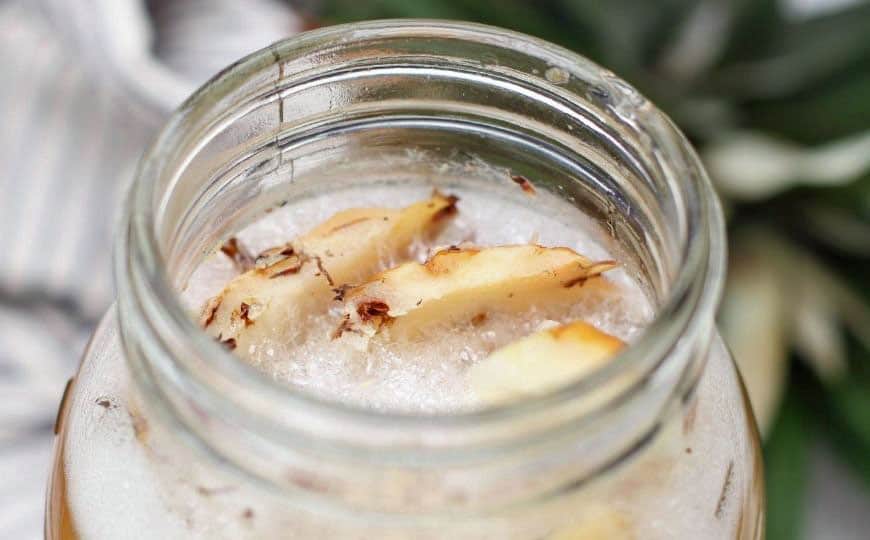 When is it ready to drink?
This is the million dollar question. This can vary depending upon the temperature, but generally speaking, between 2-5 days.
Be sure to taste it every couple of days. When it tastes good — slightly fizzy, sweet, and tangy — strain the tepache, discarding the fruit. (And by discarding I mean composting, but you know that, right??)
Refrigerate and drink soon, as it can continue to ferment in the fridge!
If you let it go too long, it will turn into a somewhat harsh vinegar. (I've used it for cleaning but it's not great for cooking with!)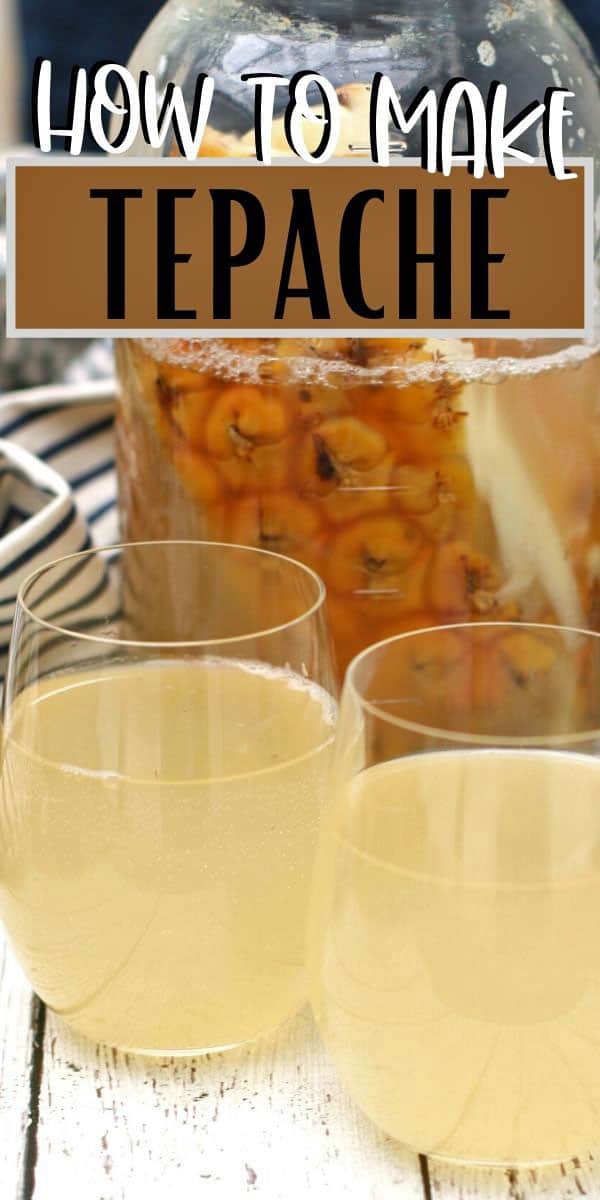 ★ Did you make this recipe? Don't forget to give it a star rating below! ★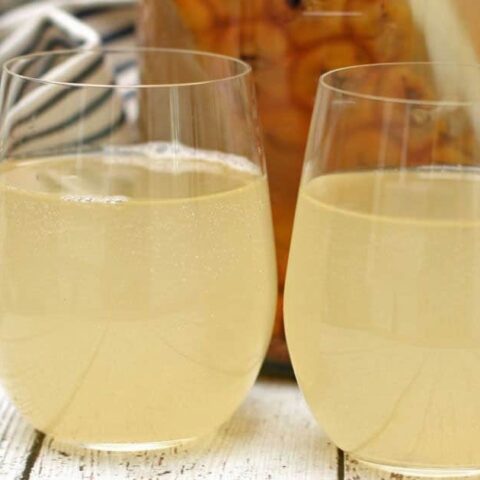 How to Make Tepache from Pineapple Skins
Fermentation Time:
5 days
Total Time:
5 days
10 minutes
This delicious fermented drink is made from pineapple skins that would otherwise go to waste!
Ingredients
Peels from one pineapple
1/2 gallon of water
1/2 cup of sugar or piloncillo
Instructions
Wash, peel, and core a fresh pineapple. Place the peels and cores in a 1/2 gallon jar. (Use the delicious fresh pineapple for another recipe or enjoy it fresh!)
Pour sugar into jar and fill to within an inch of the top.
Cover jar loosely. You can use a cloth napkin attached with a rubberband or a jar lid that's not tightened down. (This allows any built up gasses to escape.)
Leave the jar out at room temperature for several days. Watch for the formation of bubbles. Sample the tepache about 24 hours after the bubbles formed. It may be delicious at that point, or you may decide to let it sit at room temperature for another 24-48 hours.
Pour the liquid through a fine sieve to remove particles.
Store in the refrigerator in a sealed jar for up to 2 days.
Notes
There are some variables in this recipe (as with most fermentation recipes). Experiment and try it more than once! Each batch is slightly different.
Nutrition Information:
Yield:

8
Serving Size:

1
Amount Per Serving:
Calories:

59
Total Fat:

0g
Saturated Fat:

0g
Trans Fat:

0g
Unsaturated Fat:

0g
Cholesterol:

0mg
Sodium:

10mg
Carbohydrates:

15g
Fiber:

0g
Sugar:

15g
Protein:

0g