Love coffee cake? How about coffee cake with sour cream? This rhubarb cake recipe is brought to you by Jessica at Simply Healthy Home, and you're gonna love it!
After a long Michigan winter we get desperate for the warmer weather, grass, and fresh produce of spring.
One of the first crops that comes up in my garden is rhubarb.
I anxiously wait for those shoots to pop up. When they do, I know garden season has begun for me.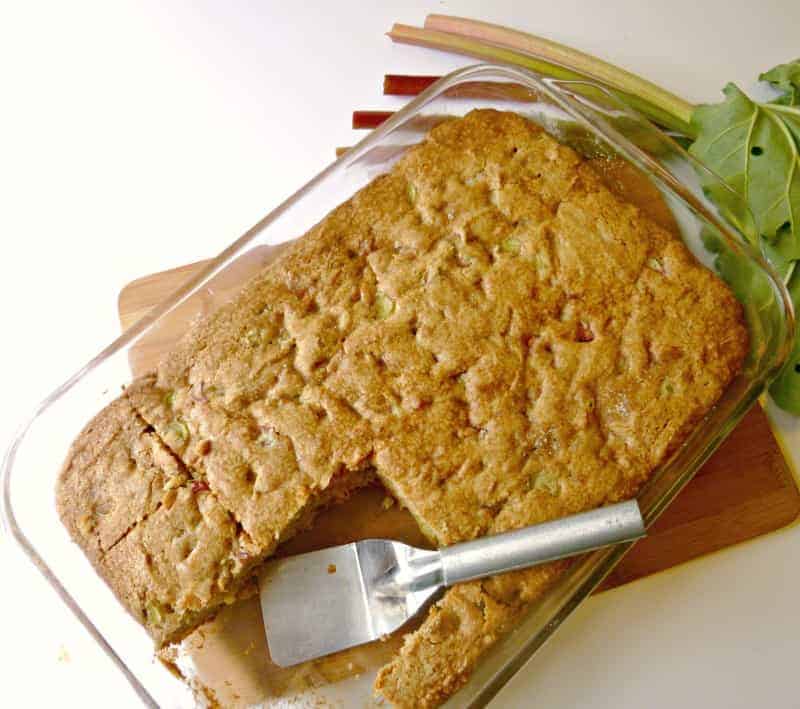 This post may contain affiliate links; I'll earn a small commission if you choose to make a purchase.
I was excited to get rhubarb plants in the ground when we first moved here.
It was the first edible crop we put in the ground.
However, I didn't really think beyond growing it.
With a bunch of rhubarb plants producing, I didn't know what to do with it outside of rhubarb pie and rhubarb jam. (You can only eat so much rhubarb pie!)
With an abundant crop of rhubarb, I started experimenting. So far, this rhubarb cake is my favorite!
This rhubarb coffee cake with sour cream is my go-to spring dessert for potlucks.
When I take it to family events, I always come home with an empty pan. That's the ultimate compliment for a baker!
Related:
Rhubarb cake: Perfect with a cup of coffee
What I love about this  coffee cake with sour cream is that it isn't fussy and is quite easy to throw together.
I'm a big fan of food being good and simple.
You don't need complicated recipes that involve hours in the kitchen to make a good dish, and this rhubarb cake is a good example of that.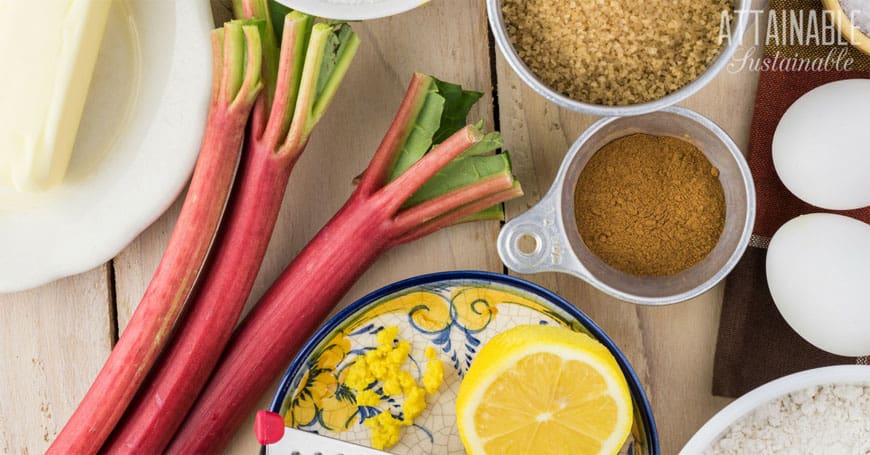 ★ Did you make this recipe? Don't forget to give it a star rating below!
Rhubarb Cake: Coffee Cake with Sour Cream
Rhubarb keeps this cake super moist. Perfect for a festive brunch.
Ingredients
2

cups

all-purpose flour

1

tsp.

baking soda

1

tsp.

cinnamon

1/2

tsp.

sea salt

1 1/2

cups

organic sugar

1

tsp,

lemon zest

1

large

egg, room temperature

1/2

cup

softened butter

1

tsp.

vanilla

1

cup

sour cream

2

cups

chopped rhubarb
Instructions
Grease and flour a

9" X 13" baking dish

. Preheat oven to 350 F. Mix together flour, baking soda, cinnamon and salt. In a separate bowl, cream together butter, sugar, vanilla, lemon zest, and the egg until creamy.

Alternate adding sour cream and dry ingredients until all are mixed into batter. Add in the rhubarb and fold into batter until well combined.

Pour into baking dish and spread evenly. The batter will be thick, but don't worry, the rhubarb makes this cake nice and moist. Lightly sprinkle with a touch of sugar. Bake for 40-50 minutes, until the top is golden brown and a toothpick comes out clean.
This recipe was originally published in June, 2015. Updated, May, 2018.
Jessica loves to learn and share about natural living, from whole foods to herbal remedies. Jessica started her blog Simply Healthy Home to share her family's journey to being healthy and happy. You can follow her on Facebook, Pinterest and Instagram.