Summer vegetable gardens don't always include many herbs, but basil is often the exception. With its beautiful bright green leaves and much-loved flavor, this herb is a mainstay in many garden beds. If you've got an abundance, check out the basil recipes below for some ideas on how to use up the different types of basil you have available.
Learn how to grow and harvest your own basil in the backyard!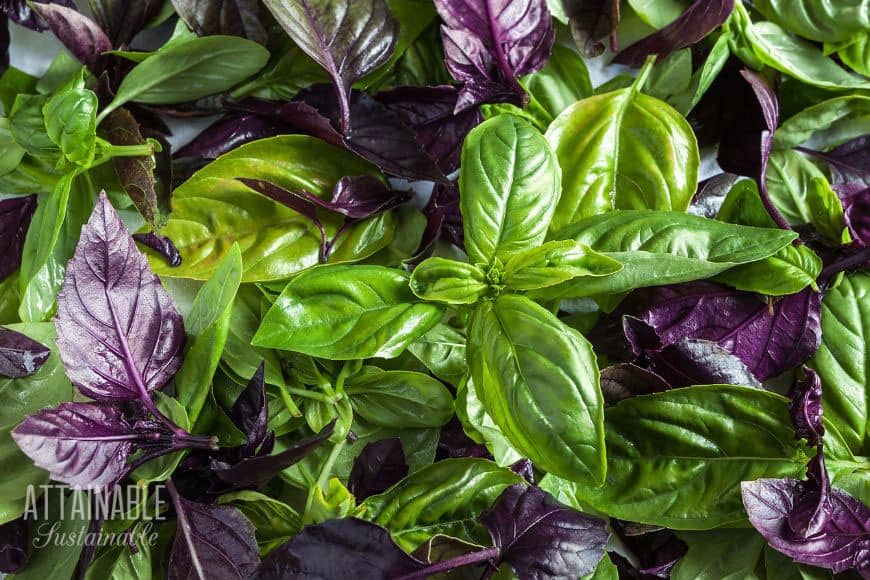 The Handcrafted Pantry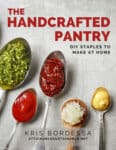 Ready to DIY your pantry with healthier ingredients? Check out my ebook, The Handcrafted Pantry! Filled with delicious recipes for some of your favorite condiments, snacks, and toppings, it's the guide you need to start skipping packaged products and embrace homemade.
Different types of basil and recipes to use them
Genovese basil is the popular heirloom that many of us plant in our gardens, but there are a dizzying number of other basil varieties to choose from. There's large leaf basil, curly leaf basil, frilly basil, and purple basil.
Then there are basil varieties that feature other flavors, such as lemon basil, cinnamon basil, clove basil, and lime basil. Before digging into some great basil recipes, let's talk about a couple of basics that work no matter what kind of basil you have on hand.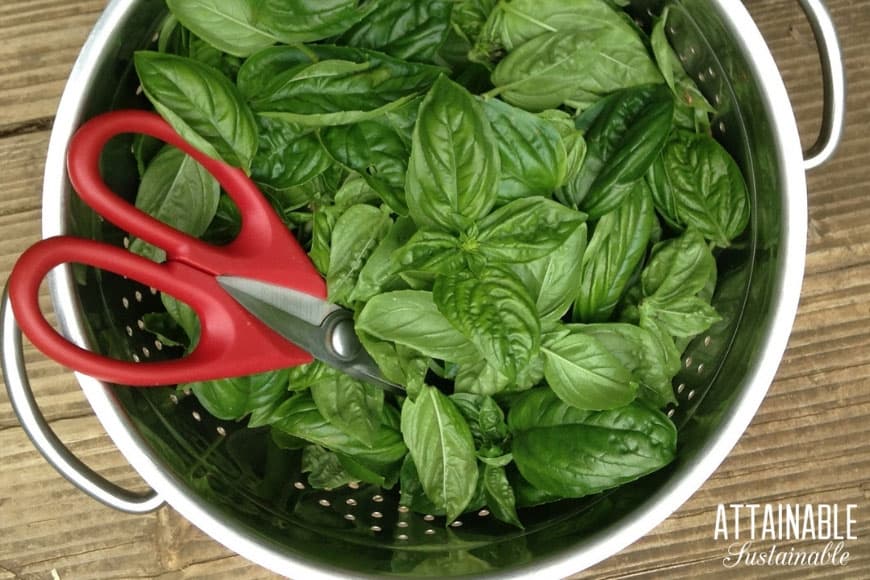 Preserving basil
While you're harvesting plenty of basil from the garden, you'll want to be sure to preserve some for use during the winter months. These methods will work no matter what type of basil you're growing.
5 Easy Steps to Transform Your Pantry!
Ready to switch from store bought to homemade? Let me help you make some changes! Grab my FREE five-part guide to getting started.
One of the easiest ways to preserve basil is by drying it. Here's how.
To freeze basil leaves, wash and dry them thoroughly then spread them out on a baking tray. Freeze for several hours, then transfer to a jar or sealed container for longer term storage in the freezer.
You can also fill ice cube trays with chopped basil and cover the herbs with olive oil or water. When you need to add a pop of flavor to a dish, simply add a cube to recipes using basil.
Italian basil recipes
Basil — sweet and Genovese — just may be the most popular herb in kitchens across the country. It's used widely in a variety of dishes. It is a common addition to backyard vegetable gardens. I know I certainly wouldn't want a garden without fresh basil!
Pesto is the arguably one of the most well-recognized basil recipes. While traditional Italian basil pesto calls for pine nuts, the recipe is flexible and there are numerous variations. Once made, pesto can be frozen for later use as a sauce over pasta (or spaghetti squash), spread on pizza, or used to flavor salad dressings and soups.
Is it possible to improve upon homemade French fries? Yes, yes it is. Serve them with this basil garlic aioli sauce for an A+.
Basil pairs beautifully with tomatoes; this recipe for roasted tomato basil soup is a natural. Top it with homemade croutons for a bit of crunch!
While pesto is one way to use up an abundance of basil, sometimes you want a little something different. This basil chimichurri sauce might be just what you're looking for.
For an appetizer that brings out the best in summertime flavor, mix up a batch of this peach basil salsa. Or whip up a batch of this tomato bruschetta; it can't be beat for fresh flavor!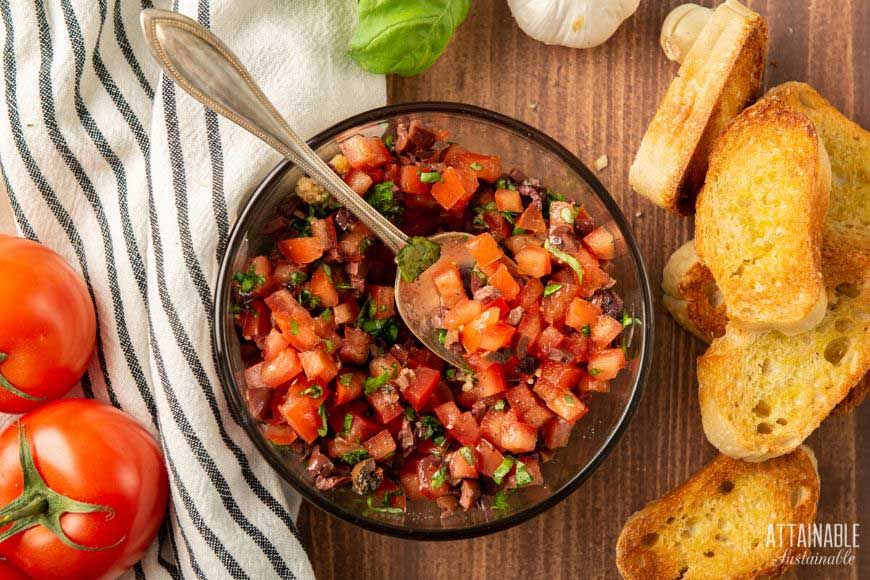 Serve these white bean artichoke basil toasts as an easy meal when you don't want to heat up the house. (They're vegan, too.)
Top your next green salad with this citrusy orange basil dressing. Or use it as a marinade for your next chicken barbecue.
Caprese salad is the traditional tomato, mozzarella, and basil salad that you see just about everywhere these days. These caprese skewers have all the flavor but no need for a plate!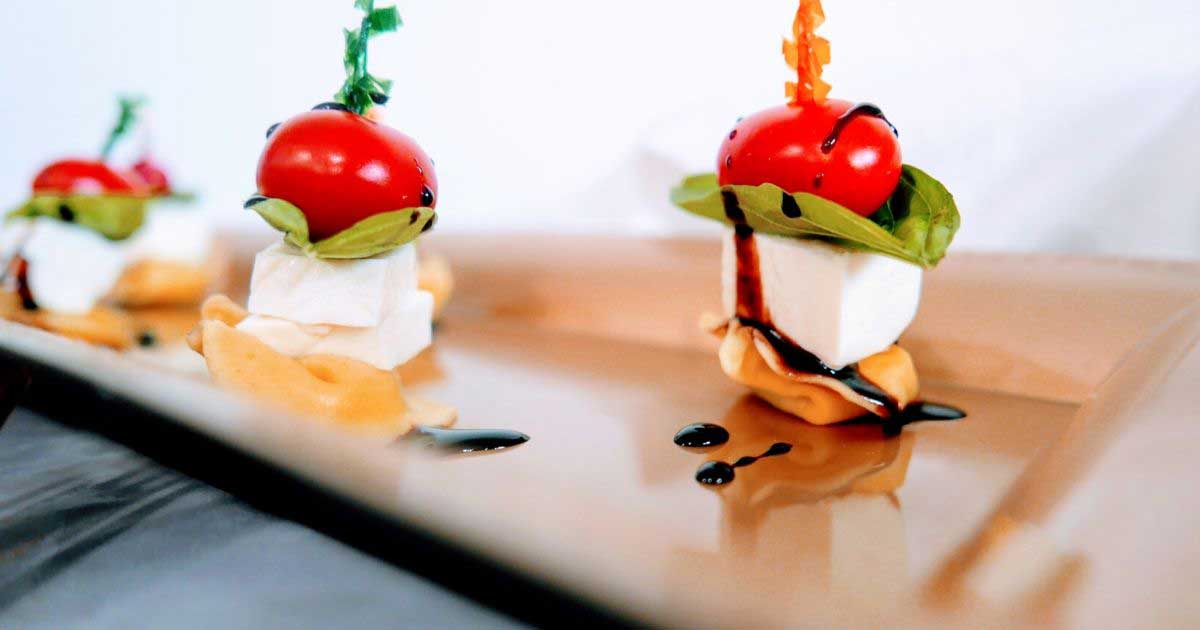 This basil oil recipe is a delicious, versatile condiment that can be used to flavor bread, fish, meat, or vegetables. It makes a great homemade gift, too.
Basil salt is another fun way to preserve the flavor of basil. And this gourmet salt is a great hostess gift, too.
Oh, hello, fancy grilled cheese! This fontina & blackberry basil grilled cheese is going to take your next sandwich to the next level.
Try this basil pineapple spritzer to cool off on a hot summer day! This recipe starts off with a simple syrup that you can make ahead and have ready for surprise guests.
For cocktail hour, mix up this strawberry basil Moscow mule for a refreshing and delicious drink. Or how about a lemon basil mojto?
Basil ice cream might be a surprising way to utilize this garden herb, but it's perfect for a hot summertime dessert!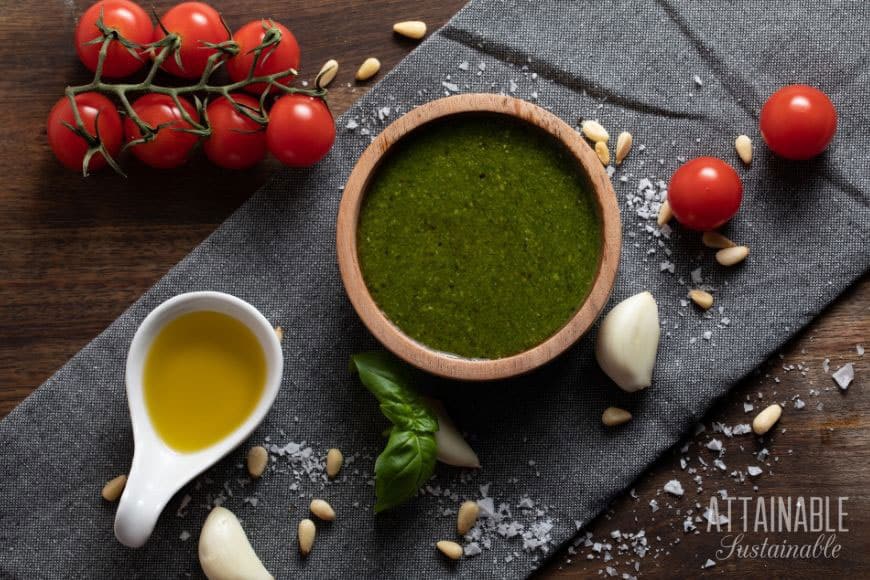 Thai basil recipes
As you'd probably expect, Thai basil is most often used in Asian recipes using basil. The type of basil has a bit of a sweet flavor, with undertones of anise and licorice. The Thai basil plant has smaller leaves than most sweet basil; they're purplish and slightly elongated.
A quick and easy stir-fry recipe, Thai basil shrimp is full of flavor and ready in just 15 minutes. Perfect for busy weeknights!
For another flavorful and fast meal, give this Thai basil chicken stir fry with ginger peanut sauce a try. It's fast, too!
Using holy basil
Also known as Tulsi, holy basil is spicy and is sometimes called hot basil because of this. Tulsi is used medicinally in Ayurvedic medicine and is considered an adaptogen.
This tulsi syrup can be store in the fridge for several months. Use it to flavor sparkling water.
Fresh tulsi tea is a snap to make and may just help ease your stress levels. (And who couldn't use some of that??)
This coconut tulsi ice cream is dairy free and paleo, for those of you on a restricted diet. But that doesn't mean the rest of us can't enjoy it, too!
For a refreshing and filling drink try this fig and tulsi lassi. (It's said to have aphrodisiac properties!)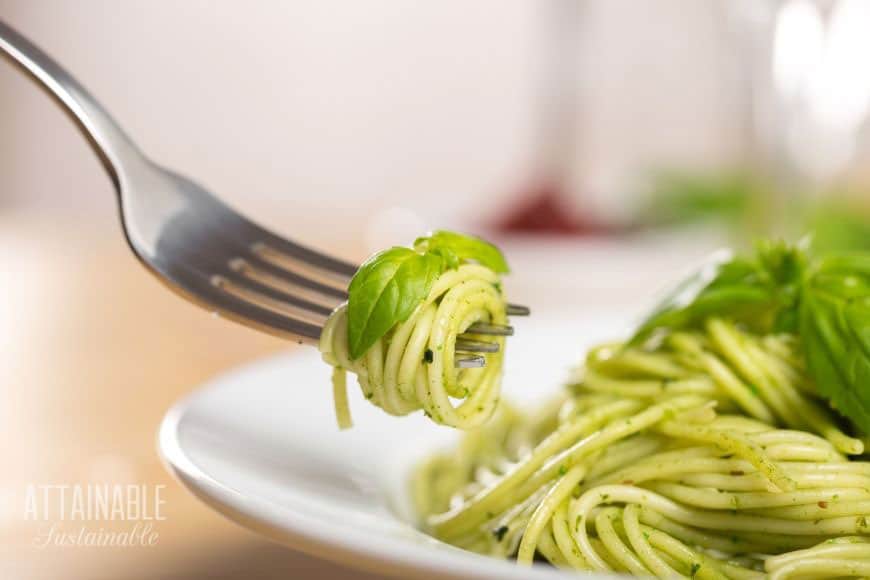 Lemon basil recipes
Lemon basil has bright green leaves and remains a compact plant. Brush up against it and you'll inhale its heady, citrusy scent.
These lemony cookies are made with the added flavor of lemon basil for a refreshing little sweet.
Chopped lemon basil worked into this homemade pasta makes it flavorful all on its own. I think it would be great tossed with olive oil and fresh garlic!
Need a refreshing meal to serve during the summertime heat? Try this chilled beet soup with lemon basil.
As I discovered recently, creme fraiche is incredibly easy to make. Try chopping some lemon basil and a bit of honey into a batch for a spreadable treat.
Cinnamon basil recipes
Versatile cinnamon basil is great paired with sweet ingredients, but this type of basil also adds a richness to a variety of savory dishes.
This cinnamon basil goat cheese pesto is an interesting twist on the usual pesto. Instead of tahini, it uses fresh goat cheese to add creaminess.
Try making a simple syrup with the flavor of cinnamon basil. Splash it in sparkling water for a refreshing drink or drizzle over fresh fruit.
Cinnamon basil cookies? You're going to need a spot of tea to serve with these!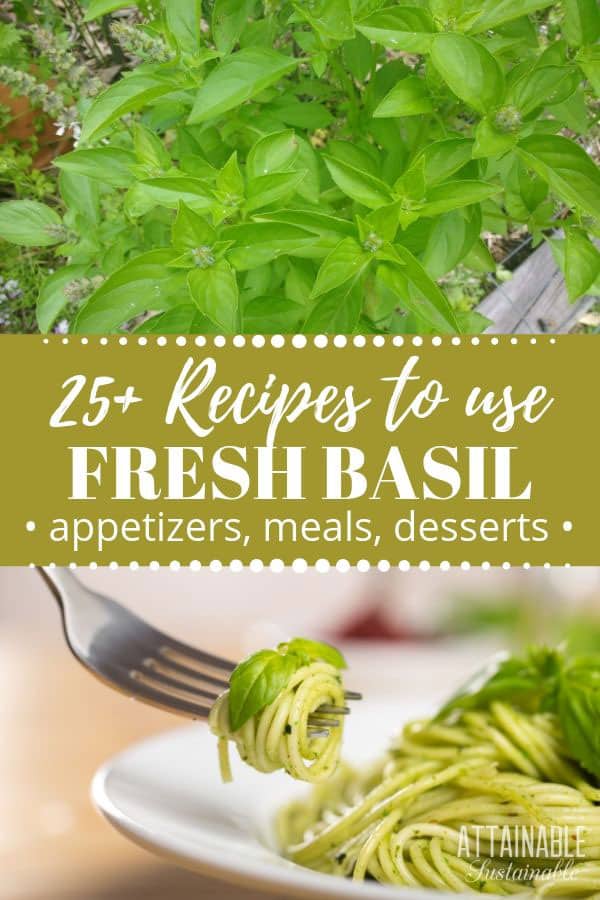 Originally published May 2019; this post has been updated.