This recipe makes a great appetizer, but I will tell you that there have been plenty of summer nights when this tomato bruschetta was an entire meal for us. Tomatoes fresh out of the garden plus too-hot-to-cook weather? It' s a perfect match!
This tomato tart is another great way to use garden fresh tomatoes!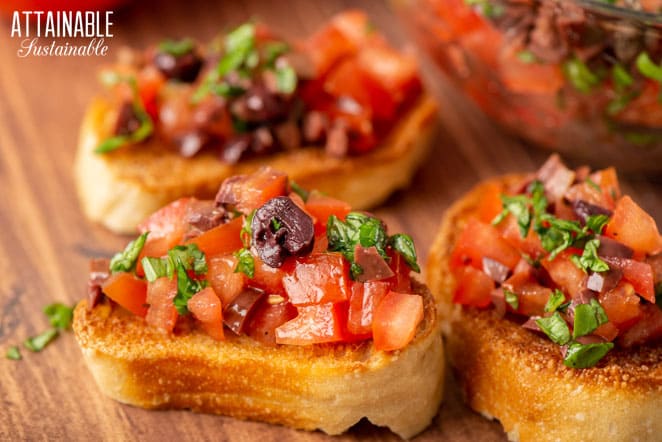 With just a handful of ingredients and a bit of chopping, this bruschetta is ready in no time.
Some people like to sprinkle on a bit of Parmesan cheese and run them under the broiler. I prefer to make it a DIY bruschetta, setting the bread out in a basket or on a board for people to top with the tomato mixture themselves.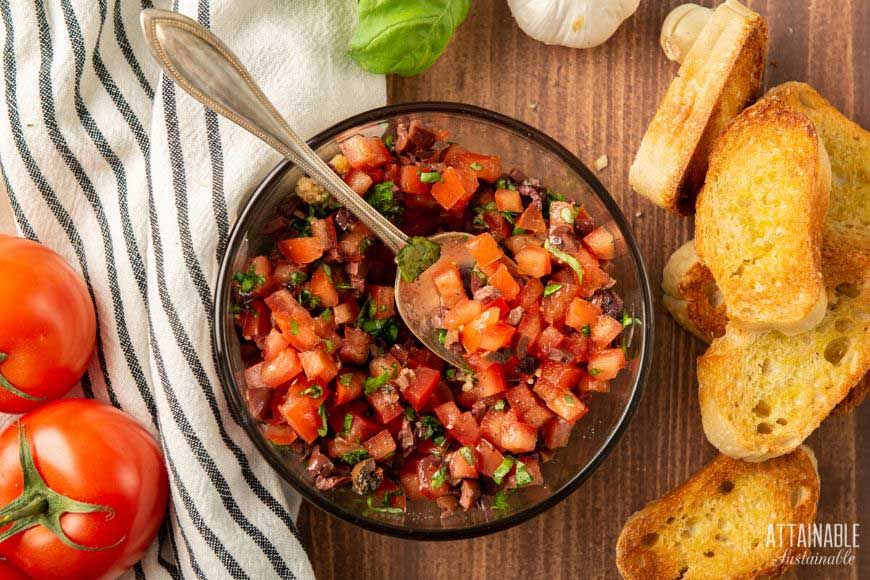 What is bruschetta?
You might be surprised to know that the word bruschetta refers more to the bread than the topping. Meant to be simple sustenance, bruschetta hails from Italy, where it might be topped with tomato (bruschetta con pomodoro), vegetables, beans, meat, or cheese.
5 Easy Steps to Transform Your Pantry!
Ready to switch from store bought to homemade? Let me help you make some changes! Grab my FREE five-part guide to getting started.
Perfect as an appetizer, bruschetta also makes a lovely light lunch.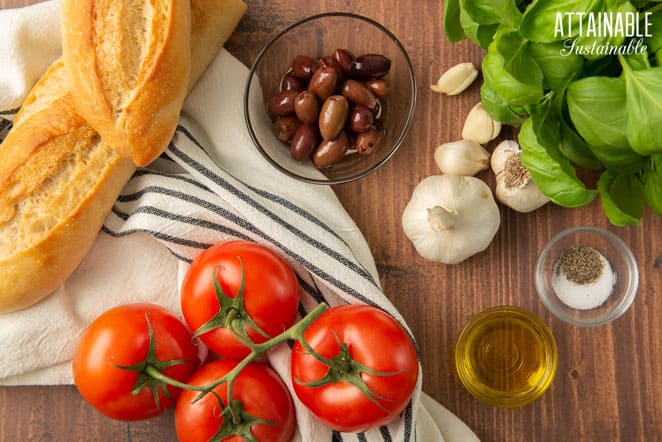 Ingredients
Bread — A nice crusty French bread baguette is perfect for this. No baguette? Use a full sized loaf and cut each slice in quarters.
Tomatoes — You can use any variety of tomato, but if you choose a very juicy variety, you'll probably need to drain off some of the juice before you add the remaining ingredients. Too much liquid can make the bruschetta soggy. Roma tomatoes are a great option since they're so meaty.
The Handcrafted Pantry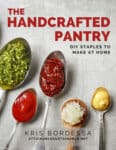 Ready to DIY your pantry with healthier ingredients? Check out my ebook, The Handcrafted Pantry! Filled with delicious recipes for some of your favorite condiments, snacks, and toppings, it's the guide you need to start skipping packaged products and embrace homemade.
Basil — Here's where you're going to want to use your garden fresh basil. Chop it into small pieces.
Olive oil — Use a good quality extra virgin olive oil. The recipe doesn't call for much, but the flavor of the oil will shine through.
Garlic — Finely chopped garlic adds that spicy zing we all love so much. Can you use powdered? You could, but…
Kalamata olives — These olives always have a place in my fridge and they are a flavorful addition to this delicious bruschetta.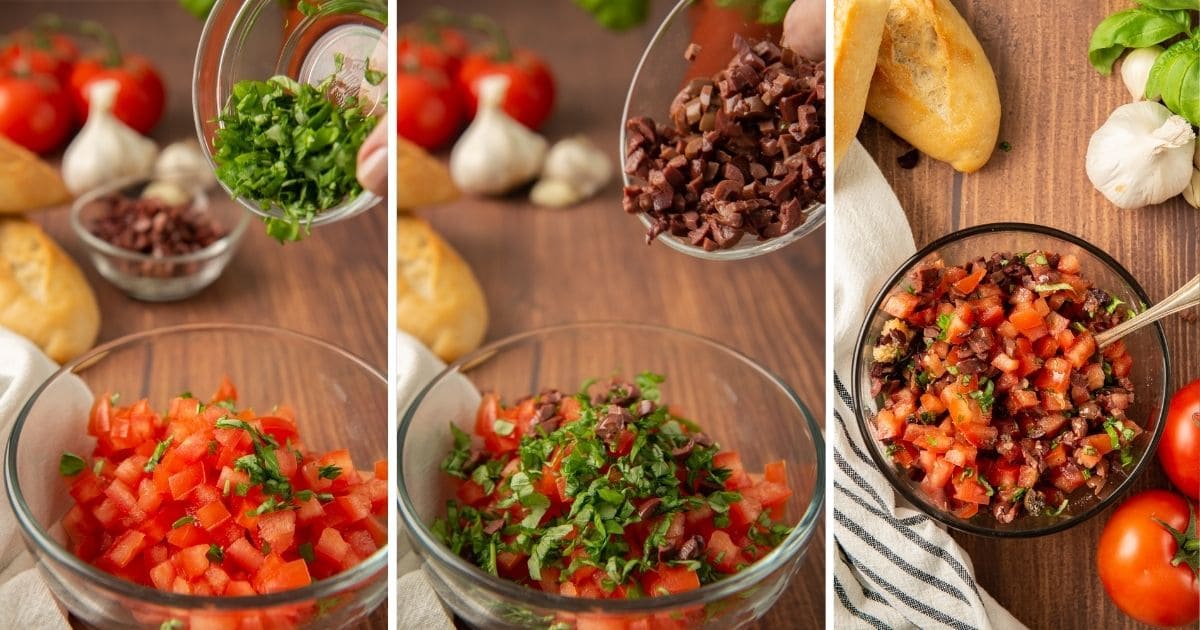 Making tomato bruschetta
We love, love, love crispy bruschetta toasts topped with this garden fresh tomato blend. And it's so amazingly easy! It's a simple matter of chopping the ingredients and combining them in a bowl.
To make the crispy toasts, cut a baguette loaf into 1/2″ slices. Place the slices on a baking sheet and brush on a very thin coat of olive oil. Place baking sheet under a pre-heated broiler for a minute or two.
Whatever you do, don't walk away!
Flip slices of bread and return the baking sheet to the oven for another minute or so, just until the bread begins to brown.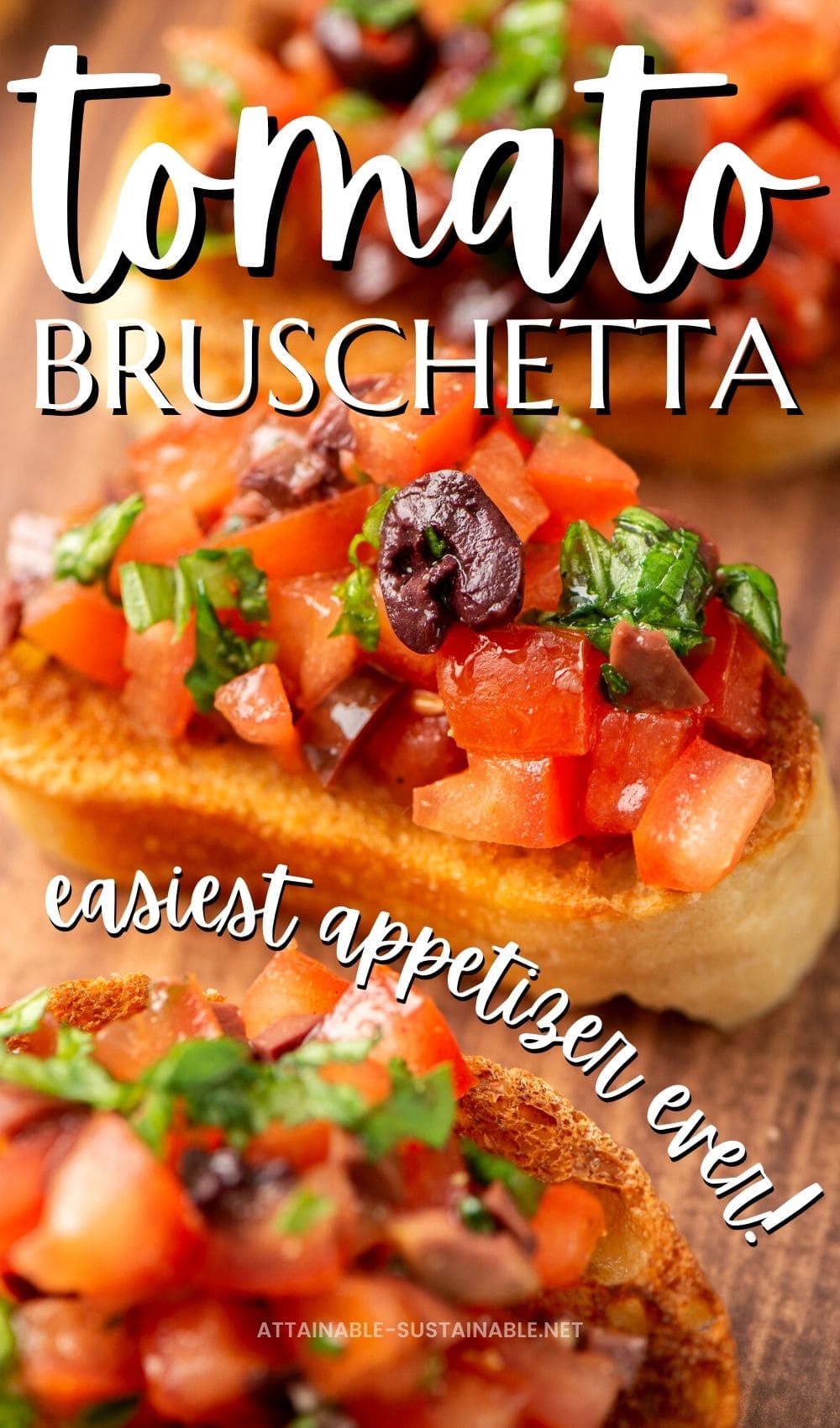 ★ Did you make this tomato bruschetta? Don't forget to give it a star rating below! ★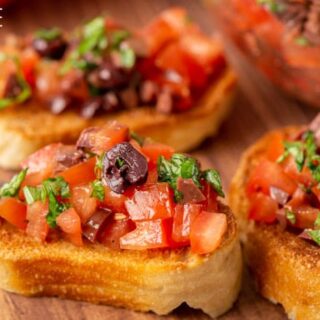 Tomato Bruschetta Recipe
This easy diced tomato combination is the perfect summertime topping for toasted bruschetta!
Ingredients
1 baguette loaf
2 tablespoons olive oil, divided
5-6 medium tomatoes, chopped
1 tablespoon garlic, finely chopped
2 tablespoons fresh basil, finely chopped
20 kalamata olives, chopped
1/2 teaspoon salt
Instructions
Preheat oven to the "broil" setting.
Cut baguette into 1/2" slices. Place in a single layer on a baking sheet. Brush lightly with 1 tablespoon of the olive oil. Broil bread slices for 1-2 minutes until lightly browned. Turn slices and repeat.
Place toasts in a basket or on your preferred serving dish.
Mix chopped tomatoes, with one tablespoon olive oil and add remaining ingredients. Stir until combined.
Serve with toasted bread slices.
OPTIONAL: For a parmesan topped bruschetta, leave toasts on the baking sheet and spoon tomato mixture onto the bread. Sprinkle each with fresh Parmesan cheese and return to broiler for just a minute or two.
Notes
You can use any variety of tomato, but if you choose a very juicy variety, you'll probably need to drain off some of the juice before you add the remaining ingredients. Too much liquid can make the bruschetta soggy.
Nutrition Information:
Yield:

10
Serving Size:

2 slices
Amount Per Serving:
Calories:

179
Total Fat:

5g
Saturated Fat:

1g
Trans Fat:

0g
Unsaturated Fat:

4g
Cholesterol:

0mg
Sodium:

429mg
Carbohydrates:

28g
Fiber:

2g
Sugar:

4g
Protein:

6g
Originally published July 2019, this post has been updated.