This roasted okra recipe will blow. your. mind. Okra, baked in the oven until it's crispy, resembles nothing so much as delicious fries. There, I said it. Okra that tastes like French fries. You're going to need to try this!
Try growing okra at home to have plenty on hand for this delicious recipe!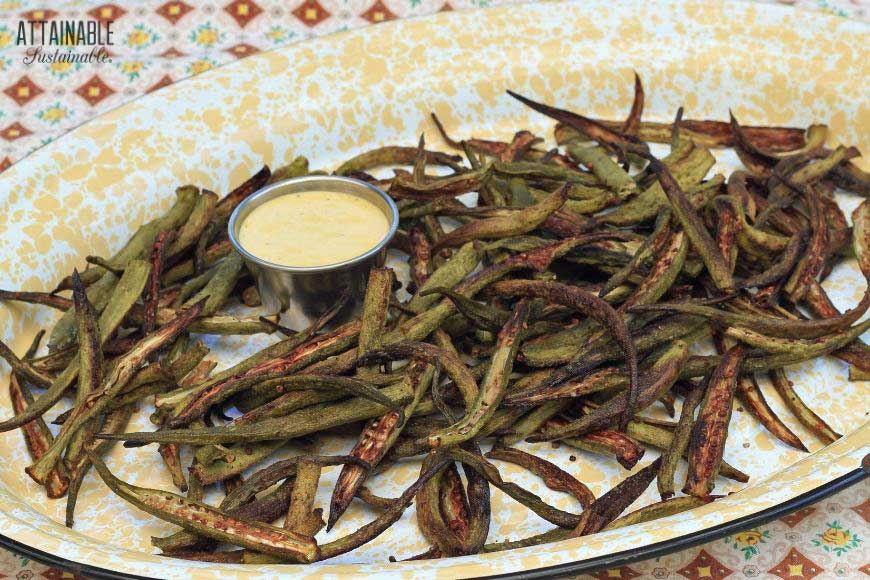 I could never have anticipated a day where I would be waxing poetic about a vegetable. I mean, yes, I eat them. They're good for us and when things are going well, I can grow lots of them in the garden. But they're vegetables, you know?
And then if I were to double down and wax poetic about okra? OKRA. All it took for me to dislike okra was hearing that it was slimy back when I was in grammar school.
I never even tried okra and I'd decided that I didn't like it. Shame. On. Me. Because let me tell you. This roasted okra is freaking delicious.
Hello, Roasted Okra!
As long as we can get fresh okra, we've been making this easy baked okra a couple of times a week. My family loves okra cooked this way, and there are never leftovers. (Really, I can hardly believe I'm saying that, but this is so good!)
5 Easy Steps to Transform Your Pantry!
Ready to switch from store bought to homemade? Let me help you make some changes! Grab my FREE five-part guide to getting started.
This roasted okra recipe will fill two baking sheets. The okra shrinks substantially as it cooks, so you'll end up with only about four cups of roasted okra. That will serve four people as a side dish, but we've been known to eat twice that and call it dinner. In fact? We've been known to just eat it directly off the baking sheets.
What you're going to do is wash the okra (I do this in a large bowl), slice the okra, spread it on a baking sheet, and toss it with oil. Sprinkle on the salt and pepper, then bake in a hot oven until the okra is browned and crispy. Easy peasy!
Roasted may be your new favorite way to eat okra!
You can serve this roasted okra with your favorite dip (we like the Caesar ranch dressing that's in my ebook) or just as they are.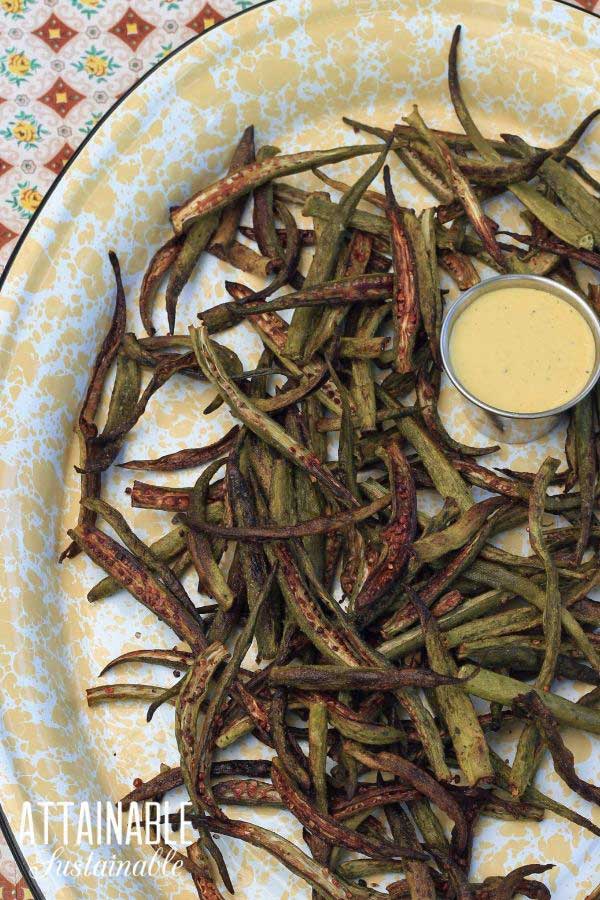 ★ Did you make this roasted okra recipe? Don't forget to give it a star rating below! ★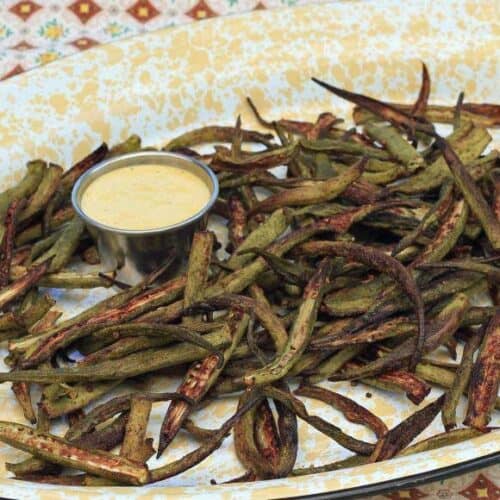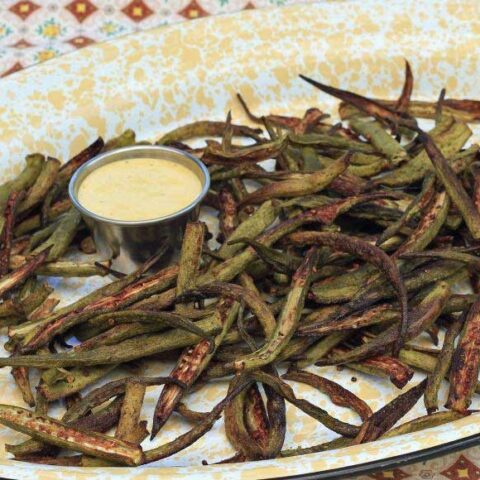 Easy Roasted Okra
This okra is baked in a hot oven to create a crispy, salty snack that's not unlike French fries!
Ingredients
3 pounds fresh okra
6-8 tablespoons avocado oil, divided
2 teaspoons salt, divided
Instructions
Preheat oven to 400 degrees.
Slice the stem end off and cut the okra in half lengthwise. Divide the sliced okra between two rimmed baking sheets.
Pour half the oil, salt, and pepper onto the okra on each baking sheet; use your hands to toss until it's evenly coated.
Spread the okra in a single layer.
Use a spatula to loosen the okra from the pan and stir it around every 10 minutes or so, shaking the pan to even it out again. When you do this, switch the pans on the racks, moving the top one down and the bottom one up.
It will take about 45 minutes or so to reach crispy perfection.
Notes
After about 20 minutes of cook time, the okra will be lightly browned and tender. You can serve it now, but if you want crispy, fry-like morsels, keep cooking!
When the okra is close to done, keep a close eye on it. It can go from perfect to burnt quickly at this stage.
People who are cutting carbs will really appreciate this roasted okra recipe. While a potato has 37 carbs, a cup of okra only has seven.
Nutrition Information:
Yield:

4
Serving Size:

1 grams
Amount Per Serving:
Calories:

299.16
Total Fat:

21.66g
Saturated Fat:

2.52g
Unsaturated Fat:

0g
Sodium:

1186.65mg
Carbohydrates:

25.66g
Fiber:

11.01g
Sugar:

5.04g
Protein:

6.62g