This post may include affiliate links. If you make a purchase, I'll earn a small fee at no extra expense to you.
I pulled the first beets out of the garden the other day. I cut off the beet greens and headed to the compost pile when it occurred to me that hey, these are edible too! I'm not big on cooked greens. So I did a little playing around.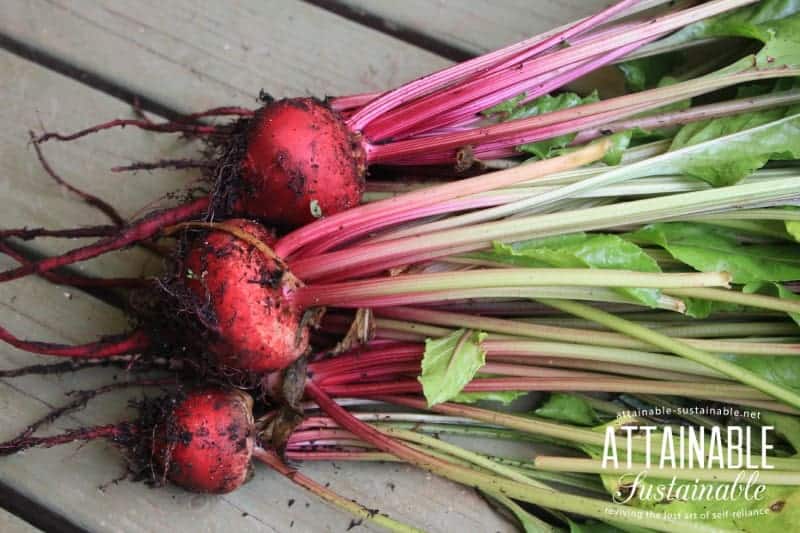 How to use beet greens
Add them to a smoothie. Make your favorite smoothie, but sneak in four or five beet leaves. Beet greens disappear beautifully; this a perfect way to incorporate more veggies into the diet. I made a banana-blueberry-pineapple smoothie with beet greens and my then 15-year-old said, "Ooh, that's a good one." Success! If your people are super sensitive, start with just one or two leaves.
Make chips. I figured, if it can be done with kale, why not beet greens? Clean the leaves and tear them into large pieces, removing the ribs. Dry thoroughly and toss with a tiny bit of olive oil. I used about a teaspoon of olive oil on greens from four beets. Place in a single layer on a baking sheet and sprinkle with coarsely ground salt. Bake at 350 degrees for 20-30 minutes or until the greens are crispy. The beet greens turn brownish fairly quickly; they are not a pretty snack (they look more like crispy fall leaves than something edible), but they're tasty.
Pickle the stalks. While I didn't pickle an entire batch, I cooked some stalks until they were crisp tender and tucked them into a jar of my dilly green beans. Cheating, yes, but I think you could use the dilly green bean recipe replacing the beans with beet stalks and it would work out just fine.
Toss them into a salad. The leaves of the beet are surprisingly mild and tender, making them a great addition to a salad – with homemade salad dressing, of course! Give this strawberry & beet green salad a try!
Stir fry the stalks. I have to admit, I didn't like them this way, but neither do I like Swiss chard. My husband, who is a fan of Swiss chard, thought the stir fried stalks were great and very similar to Swiss chard.
Do you have any clever ways to use beet greens?