Did you know that beet leaves are edible? A lot of people don't! Instead of tossing them in the compost, try making these delicious fermented beet greens, similar to cabbage sauerkraut!
Go here for more ways to use (not waste!) beet greens.
Most everyone is familiar with sauerkraut made from cabbage, and I've combined cabbage and beets to make a red sauerkraut.
Here's another fun and delicious ferment to try: beet green sauerkraut!
It's a great way to use the leaves that many people simply toss to the compost.
5 Easy Steps to Transform Your Pantry!
Ready to switch from store bought to homemade? Let me help you make some changes! Grab my FREE five-part guide to getting started.
---
The Handcrafted Pantry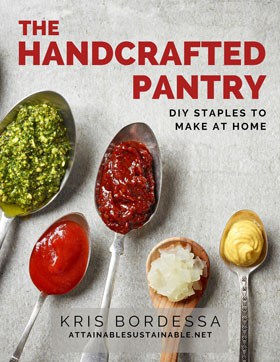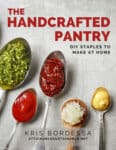 Ready to DIY your pantry with healthier ingredients? Check out my ebook, The Handcrafted Pantry! Filled with delicious recipes for some of your favorite condiments, snacks, and toppings, it's the guide you need to start skipping packaged products and embrace homemade.
---
How to make beet green sauerkraut
You'll need a pound and a half of beet greens. You have invested in a kitchen scale, right? It's really the most accurate way to determine how much produce to use when fermenting.
Start by chopping the beet leaves. I separated the leaves from the stalks and chopped the stalks much like you'd slice celery for a soup.
To prepare the beet leaves, I rolled several together and sliced them into ribbons, then made a couple of perpendicular cuts across the ribbons.
There's really not a right way to chop the beet leaves; just make sure they're a size that makes sense for forking into your mouth!
Combine the beet greens in a large bowl with the salt. I used sea salt; don't use iodized salt or one that's been treated with an anti-clumping agent.
Coriander seed is totally optional, but adding it gives this beet green sauerkraut a nice flavor.
Use your hands to thoroughly mix the salt and greens, then begin squeezing and pressing the leaves and stalks to release moisture. Do this until the greens seem quite limp.
Transfer the mixture to a quart-sized jar, pressing it down to remove any air pockets.
As you press, liquid will be visible and eventually there will be enough liquid to cover the solids. This is what you want — none of the solids should be exposed to air.
Place a weight on top of the mixture to prevent the solids from floating and allow to sit at room temperature for 1-2 weeks. This will depend a bit on the temperature in your kitchen.
As the mixture ferments, it may bubble and overflow, so it's a good idea to set it in a dish to catch liquid.
As you can see, the color of the fermented product becomes a darker green. It also becomes tangy and flavorful and full of probiotics.
If you're new to fermenting foods at home, this guide to fermentation will answer all of your questions!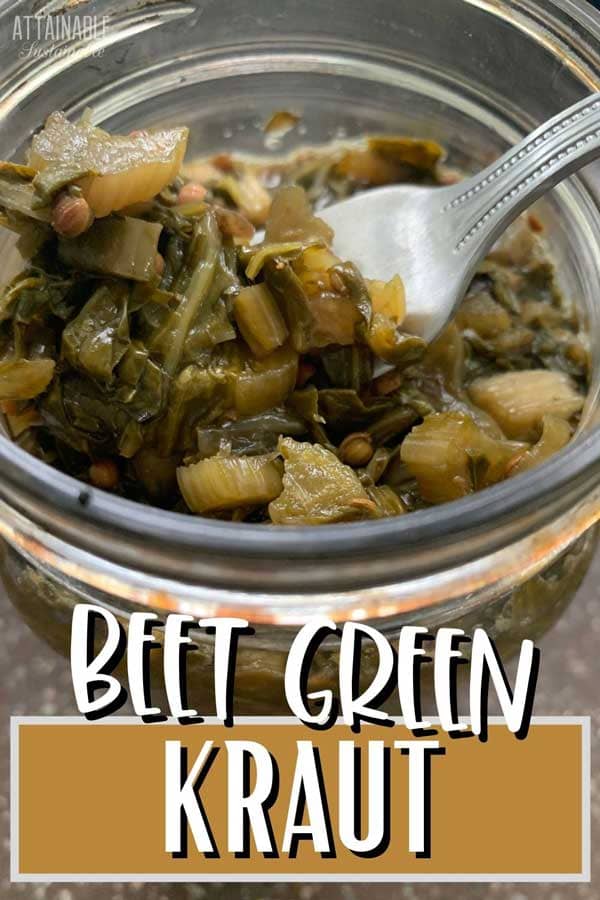 ★ Did you love this recipe? Be sure to give it a star rating below! ★
Beet Green Sauerkraut
Fermentation Time:
7 days
Total Time:
7 days
25 minutes
This delicious fermented recipe transforms beet greens into a tangy and delicious sauerkraut. It's perfect for adding flavor to any meal!
Ingredients
1-1/2 pounds beet greens, stalk and leaves
2 teaspoons sea salt
1 tablespoon coriander seeds, crushed (optional)
Instructions
Prepare beet greens by washing and drying. Chop both leaves and stems into small pieces and transfer to a large bowl.
Sprinkle beet greens with salt. Massage thoroughly to release juices.
Add coriander seed.
Pack beet greens into a quart-size jar, pressing firmly to remove any pockets of air. Use your hands or a kraut tamper. There should be enough juice to submerge the solids once the jar is full to within an inch of the jar rim.
Place a weight on the solids to hold them below the level of liquid. Screw on a lid (or use a special fermentation lid).
Set jar out at room temperature. Loosen the jar lid daily to release any built up gasses.
The kraut will be ready within 1-2 weeks. Test it after 7 days to see if it has a tangy enough flavor for you. If not, let it sit longer.
Store in the refrigerator for several months.
Notes
It's crucial that the beet leaves remain covered by liquid as it ferments, to avoid mold. Check your ferment daily to make sure all solids are submerged. If any pieces rise above the brine, push them back down and weight them under the brine.
Nutrition Information:
Yield:

16
Serving Size:

1
Amount Per Serving:
Calories:

16
Total Fat:

0g
Saturated Fat:

0g
Trans Fat:

0g
Unsaturated Fat:

0g
Cholesterol:

0mg
Sodium:

401mg
Carbohydrates:

3g
Fiber:

2g
Sugar:

0g
Protein:

2g