Small vegetable gardens are a challenge, but this PVC tower garden can help you get the most out of your space! Make it from recycled PVC pipe and grow more than a dozen plants in a single square foot.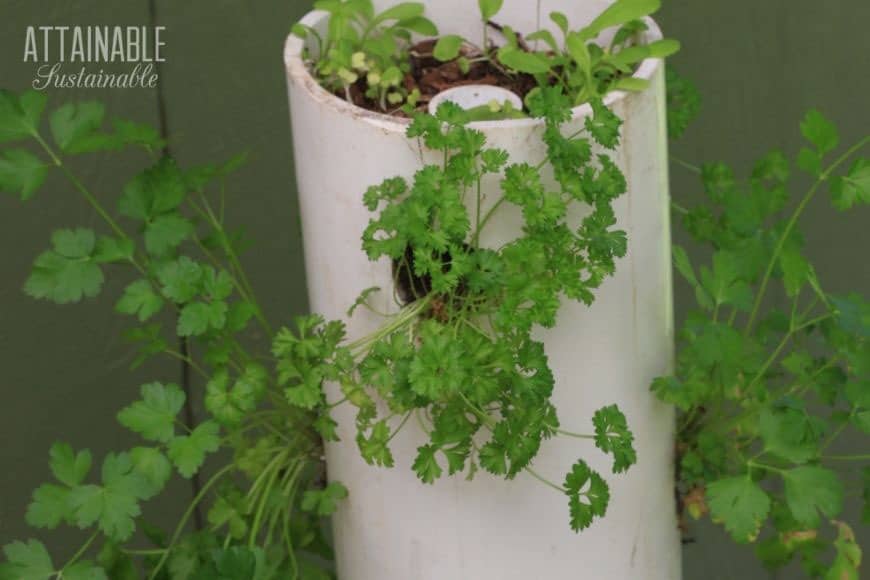 Need to stretch your gardening space? We've all heard about going vertical, but here's another way to take your garden to new heights: A PVC tower garden.
---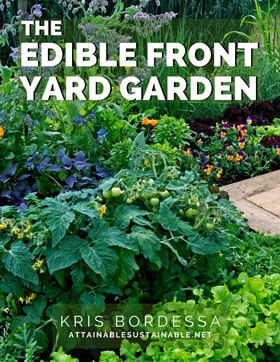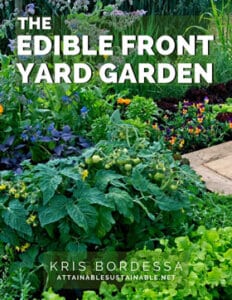 The Edible Front Yard Garden
Does your homeowners association prevent you from growing food in the front yard? What if they never even KNEW? My ebook, The Edible Front Yard Garden will show you how!
---
How to make a PVC tower garden
This simple vertical garden allows you to grow more than a dozen plants in one square foot of space by growing vertically.
I did this experimentally several years ago, planting basil and bok choy in my DIY garden tower. The basil got a bit leggy after several months, but I think that's my fault for being a little lax in caring for the tower. The bok choy worked beautifully.
I used a salvaged piece of pvc to make the vertical garden tower and filled it with a good quality soil. *Yes, it's plastic, but it was diverted from the landfill. I encourage you to seek out a source for used PVC — think county maintenance yards, construction sites, and road repair companies.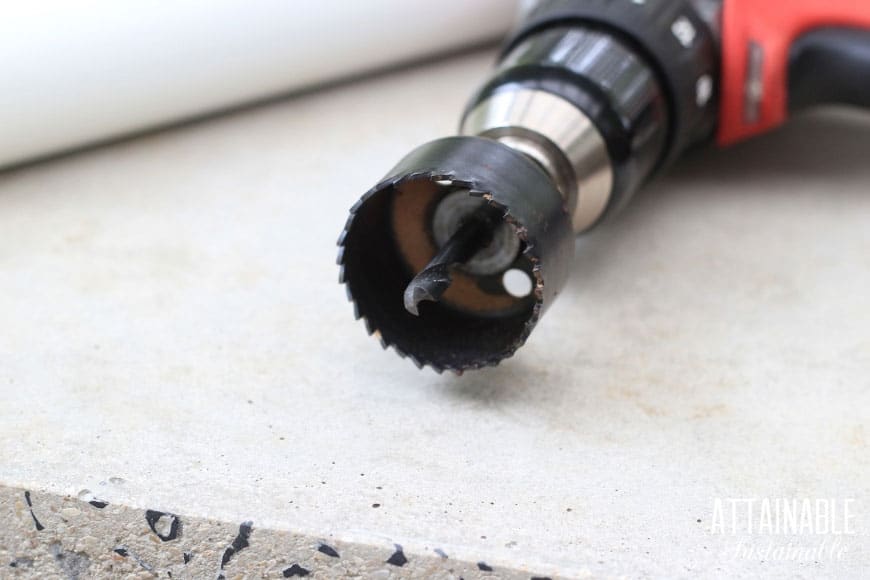 Grow Some Greens!
Ready to grow fresh greens, no matter WHERE you live? Sign up for my
FREE quick-start guide and start growing some of your own food!
Drilling the PVC for this tower garden requires a hole saw. This is a special bit that attaches to standard electric or cordless drills. After cutting each hole, you'll find that the PVC remains stuck inside the hole saw. Sometimes you can wiggle it out with your fingers; sometimes you'll need to take the bit off of the drill and tap the bit to knock the circle of plastic out.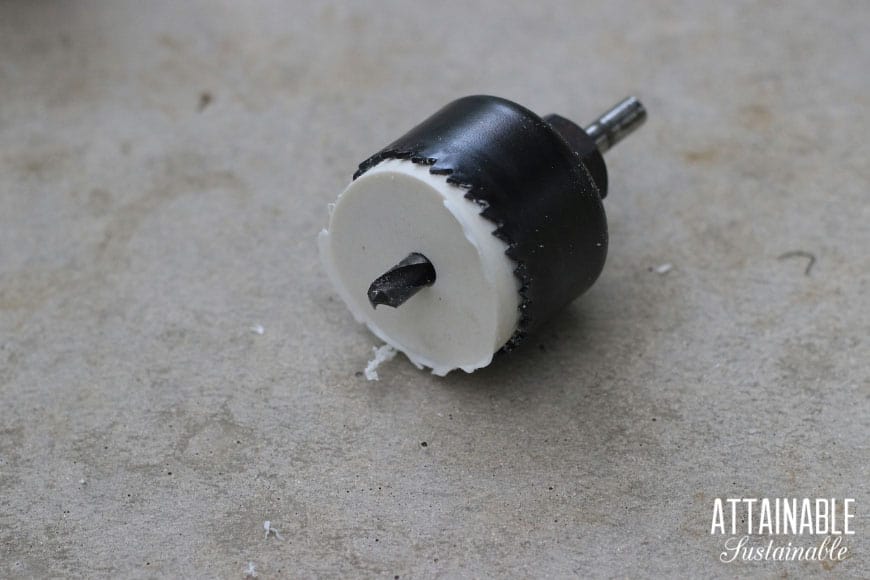 Cutting these holes will generate little bits of plastic. I highly recommend working on a sheet of cardboard or a drop cloth so that you can collect all of the little bits and dispose of them.
The instructions below are very specific for people who like detailed directions. I have to be honest though. You don't have to be really perfect about the placement of the holes as you're making this PVC tower garden.
Planting out the grow tower
It can be a bit fiddly to plant each seedling into this PVC tower garden. The idea here is to use cardboard as a temporary method of holding the soil in place while each of the seedlings develop a root system. Without it, the soil will wash away every time you water. That said, it doesn't have to be perfect.
I found that slightly folding each cardboard square and using it as a sort of funnel made it easy to set the seedling in place. Once the seedling has been pushed back into the hole, you'll kind of pull and bend the piece of cardboard into place between the seedling and the hole. Just be careful not to smash the seedling as you maneuver it into place.
Related: Fail-Proof Food Crops for Beginners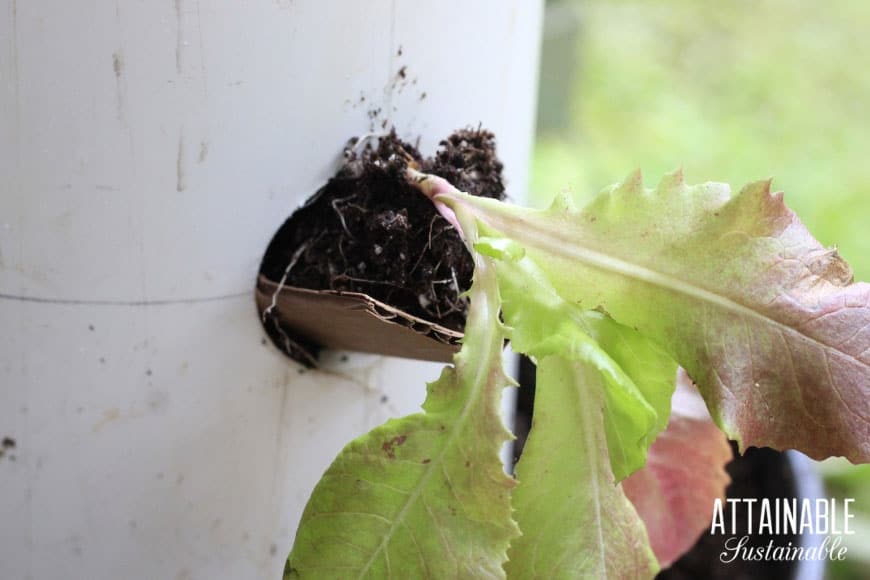 What can you grow in this tower garden?
This setup is best used for small plants. I've had good luck growing various greens, like lettuce, bok choy, and kale, as well as herbs. This is also a good option for growing strawberries to keep them up off the ground out out of the path of marauding snails.
Is the PVC safe?
Is pvc safe to plant in for health reasons? I dunno. I don't know if pvc will leach chemicals into the soil, or if the plants will uptake them if they do. Certainly, given the choice between a pvc garden tower to grow in or a large, flat piece of sunny slug-free space, I'd choose the sunny space. But until I have that, I'll continue experimenting!
Related: Upside-Down Tomatoes: Using Your Vertical Space
Does this vertical garden tower work?
Yes! It worked when I first tried this, and I've just planted a new tower and filled it with lettuce. Since we battle slugs here with the year-round rain, planting in a vertical tower like this is another one of my attempts to grow slug-proof lettuce.
Don't have time to build your PVC tower garden?
If you love the idea of a vertical garden, but just don't have the time or inclination to build a grow tower of your own, there's a ready-made option for you right here. It will take up a little bit more space, but it's still a great way to get growing if you're limited on garden space!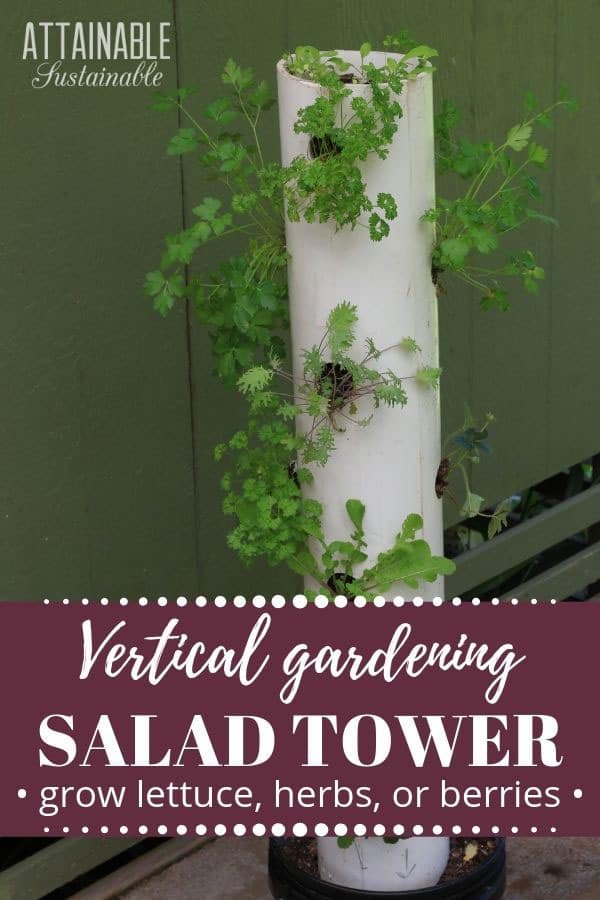 ★ Did you make this PVC tower garden? Don't forget to give it a star rating below! ★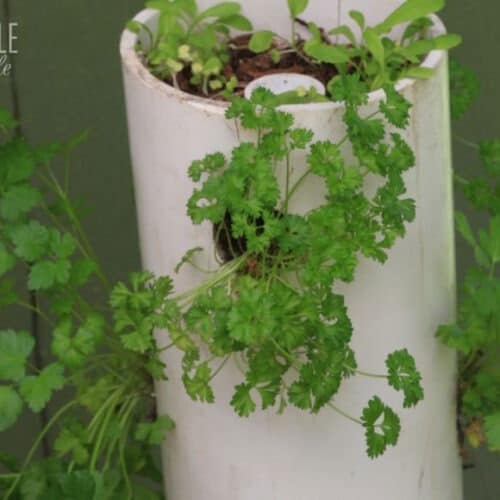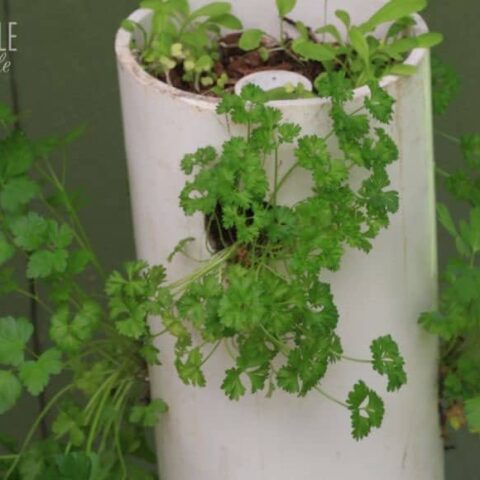 DIY Vertical Garden
This simple vertical planter allows you to grow more than a dozen plants in one square foot of space. It's easy to make using materials from a building supply store, but if you know someone in the construction industry, you might be able to salvage what you need, as I did. The diameter of pipe for this project is a bit flexible, which allows you to choose what works best for you.
Materials
For making the tower
PVC pipe – 6-to-8-inch diameter by 4 ft. long
PVC pipe – 1½-to-2-inch diameter by 4 ft. long
For assembling the tower
Potting soil
16 Pieces Recycled cardboard, roughly 2-inch square
17 Seedlings of lettuce and mixed greens
Tools
Cordless or electric drill
1-1/2 inch Hole saw for drill
¼ inch Drill bit
Pencil
Tape measure
Instructions
Mark four evenly spaced lines vertically down the large pipe. These will serve as guides for the holes you'll drill.
Measure 12 inches from one end and mark a line around the circumference of the pipe. For reference, mark this end of the pipe "DOWN" so you'll remember that this end should go down into the soil when assembling your salad tower.
Using the hole saw, drill one hole where a vertical line intersects with a horizontal line. Now drill a second hole directly opposite, again at the intersection of a vertical and horizontal line. (Mind you, these holes do not have to be perfectly aligned; just get them in the ballpark.)
Drill three more holes along the same vertical lines, leaving about 10 inches between holes. You now have two lines of four drilled holes.
Drill three holes on each of the remaining vertical lines, offsetting each new hole so that it's placed diagonally from those adjacent to it, making an alternating pattern.
To use in the garden: Use shovel to dig a 10-inch deep hole in the ground and bury the bottom end of the pipe almost to the first hole.
To use on a patio or balcony, drill several holes in the bottom of a 5-gallon bucket or large planter and fill halfway with gravel. Place the pipe on top of the gravel and add soil around the pipe, to the top of the container.
Drill about 30 randomly-placed quarter-inch holes in the 2-inch PVC.
Place small PVC pipe inside the larger PVC so that the top of the inner pipe is slightly higher than the outer pipe. (Add a bit of soil inside the 8-inch PVC to elevate the 2-inch pipe if necessary.) Once established, filling this inner pipe with water aids in getting moisture to the roots.
Fill the large pipe with potting soil up to the bottom of the lowest holes, keeping the inner pipe centered.
Fold a piece of cardboard into a V and set it inside the hole. Slide a seedling into each of the lowest holes, using the cardboard as a funnel of sorts. Gently push the piece of cardboard into the hole. This helps to prevent potting soil from escaping. Add more soil to reach the next set of holes. Lightly water seedlings in, to settle the soil. Continue in this manner until each hole is planted.
Add a few more plants in the top of the tower.
Water the tower slowly from the top as well as into the 2-inch pipe.
Harvest leafy greens as they mature.
Notes
* This post layout has been updated, and the original star ratings lost. This project has 4.8 stars prior to the update! 
Originally published in May, 2012.