Let's face it: Some crops are just easier to grow than others. Check out this list of a dozen easy vegetables to grow for a good harvest. They're the perfect crops for beginning gardeners!
Not much space, but still want to garden? Use these container growing techniques.
If you're new to growing food, keep it simple and stick with options that are sure to leave you feeling successful at the end of your first official growing season. These easy to grow vegetables offer great odds and are some of the easiest to add to your vegetable garden, assuring a successful garden harvest. Unless otherwise noted, these crops can easily be direct seeded in the garden.
---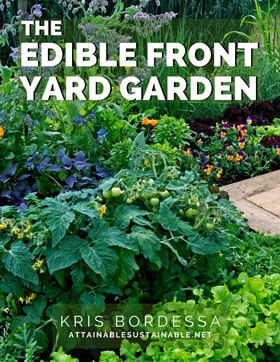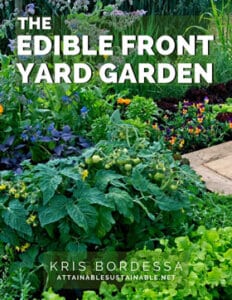 The Edible Front Yard Garden
Does your homeowners association prevent you from growing food in the front yard? What if they never even KNEW? My ebook, The Edible Front Yard Garden will show you how!
---
Cool Season Vegetable Crops
Cool season veggies can generally be planted in spring as soon as the soil can be worked and again in the fall. They don't do so well during the hot months of summer. As long as you remember that, you'll find these easy to grow vegetables to be worth a spot in your garden.
Radish
Radishes are one of the easiest vegetables to grow — they're especially good when planting a garden with children. They sprout easily and quickly, and can be harvested in just three to four weeks. Almost instant success!
Make successive plantings every 10-14 days through mid-Spring for continuous harvest. Radish leaves are edible, too. [Buy seeds]
Grow Some Greens!
Ready to grow fresh greens, no matter WHERE you live? Sign up for my
FREE quick-start guide and start growing some of your own food!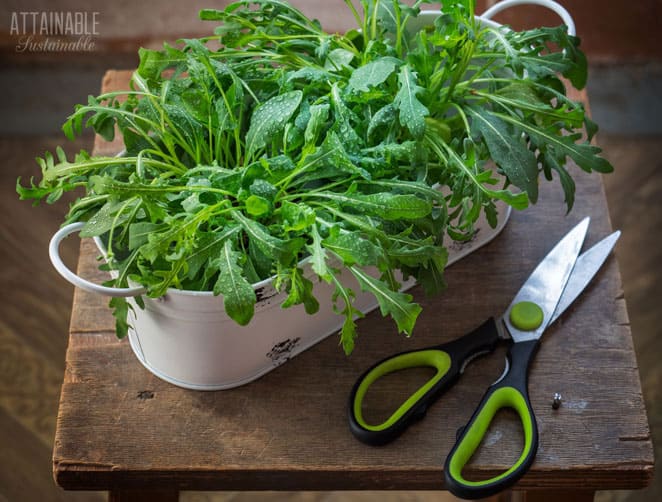 Arugula
This spicy green grows easily in pots. Let some of the plants go to seed and you'll find it popping up all over the place. An easy to grow vegetable that also sows itself? Double win! It can be served raw in simple salads or cooked, but perhaps our favorite way to use it is scattered atop a fresh homemade pizza. [Buy seeds]
Snow pea and/or sugar snap pea
Snow peas have edible pods and should be harvested just as you can see the seeds forming inside for the most tender crop. Sugar snap peas get a bit fatter, but you eat the pod with this variety, too.
Sugar snap peas are vining and require the support of a trellis. Snow peas come in both "bush" varieties that don't require support, or vining varieties. [Buy seeds]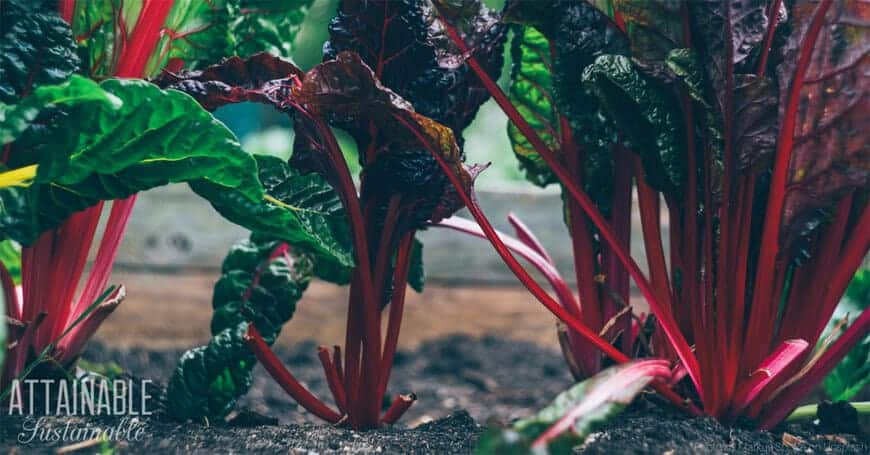 Swiss chard
Grown for both its greens and the stalks, Swiss chard is easy to grow and it can be continuously harvested for months. It's a great option for growing in pots, too. [Buy seeds]
>>More on growing Swiss chard<<
Green onions
Plant seeds or — easier — pop the roots from purchased green onions underground. They'll sprout again, and you can trim off green stems as you need them. [Buy seeds]
Easy vegetables to grow for a summer garden harvest
These are crops that love the sun. No matter how excited you are for fresh summer veggies, planting them out too soon will just frustrate you. A tomato plant set out to get a "head start" in early April when it's still too cold for it to thrive will not produce any earlier than a plant set out in late May when the weather is at its peak.
Plus, you'll risk losing those early plants to a late frost. (Trust me. I've tried.)
Tomato
You can grow Roma tomatoes for cooking, big tomatoes for slicing, or tiny cherry tomatoes for snacking your way through the garden. Tomato plants come in two forms: determinate and indeterminate.
Determinate plants stay compact—about three to four feet in height—and the fruit ripens at roughly the same time. These are a good choice for space-challenged urban gardeners.
Indeterminate varieties are more vining, and continue to grow and produce fruit until frost kills them. They can get quite large and need support.
Start seeds indoors and transplant seedlings. [Buy seeds]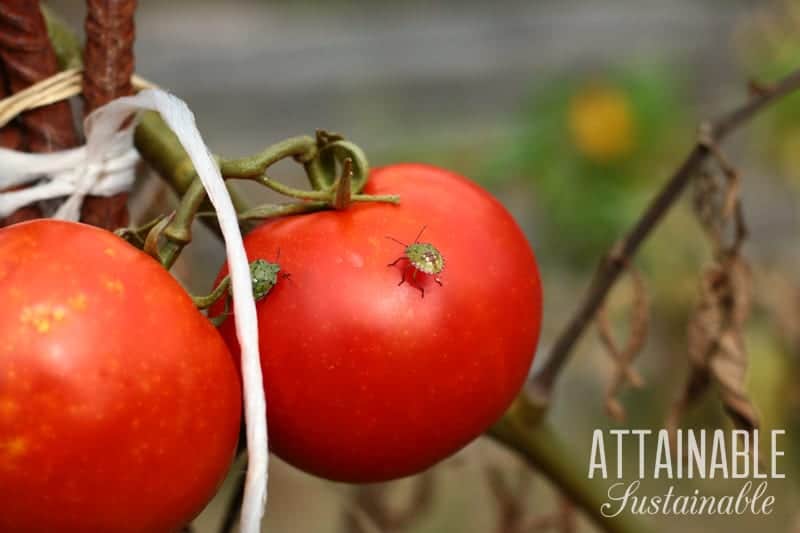 Summer squash (one of the very easiest vegetables to grow)
Zucchini is probably the most recognizable summer squash, but there are also crookneck and patty pan varieties that produce prolifically, arguably winning the top 'easy to grow vegetables' award. Most can take up a fair bit of real estate in your garden—give them about four square feet—but patty pan plants stay a bit more compact.
Once squash plants start producing, you will need to harvest daily. Zucchini and other summer squash are most tender when they're about 6″ long, or in the case of patty pan varieties, 2-3″ across. Squash blossoms are also edible.
To plant, create a flat-topped mound, roughly two feet in diameter and plant three seeds, equally spaced, in each mound. [Buy seeds]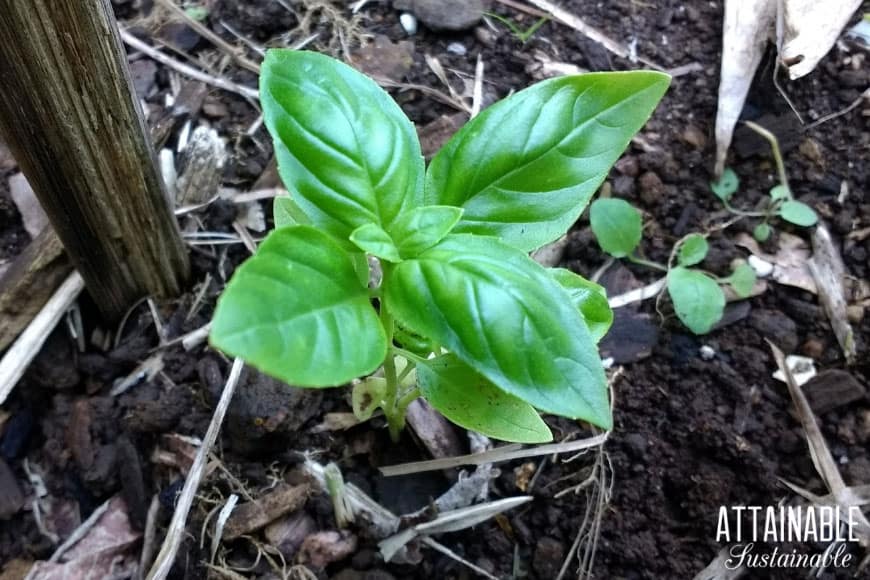 Basil
Okay, so basil is an herb. But what's a summertime garden without it? I've had the most success direct seeding basil in the garden once the soil has really warmed up. Say, June. Once it gets growing, you can snip leaves for months and months. Let a few go ahead and flower – the bees love it.
Transplant seedlings in the garden once the ground warms. Basil tends to reseed itself, so watch for tiny seedlings if your plants begin producing flower heads and seeds. [Buy seeds]
Beans
Green beans come in both bush and pole varieties. Bush varieties stay compact and close to the ground, reaching only 1 to 2 feet in height. Pole varieties need support and can grow 6 to 8 foot high. No matter; they're one of the easiest vegetables to grow!
Once they start producing, you'll be able to harvest green beans every few days for weeks. For fun, try a purple variety. (They turn green when you cook them.)
If you'd like to try your hand at growing beans for drying (such as pinto or kidney beans), those grow similarly. You'll let them mature and begin to dry on the vine before harvesting.
Direct sow bean seeds in the garden after your last frost. [Buy seeds]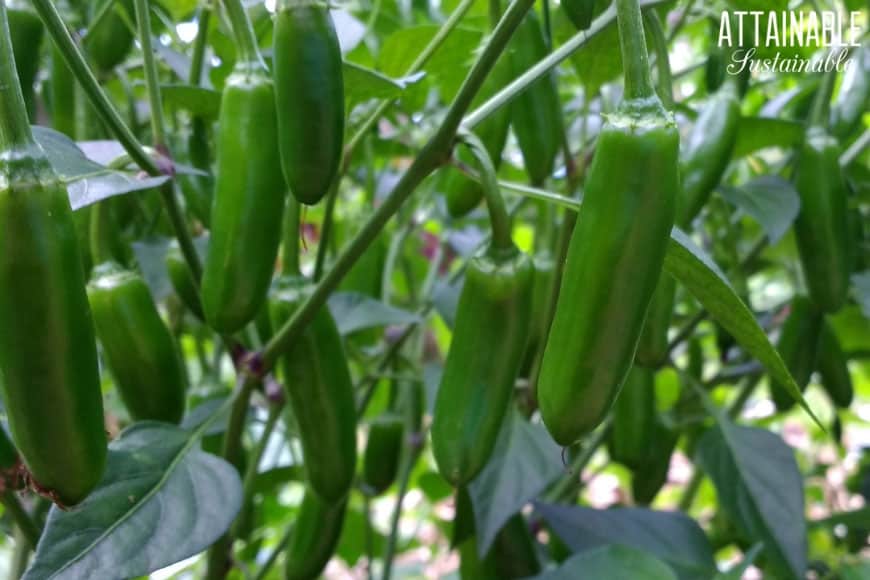 Peppers
While the standard bell pepper plants you can find at most nurseries (think: Bell Boy) can be a bit persnickety, requiring a long season to mature, I've had really good luck with a hybrid called Gypsy. These peppers mature earlier and the plants are prolific. In my experience, hot peppers are generally very easy to grow, so get ready for salsa.
Start seeds indoors and transplant seedlings. [Buy seeds]
>>More on growing hot peppers<<
Tomatillo
Also called husk tomatoes, these are easy vegetables to grow and the fruit is insect resistant, since it's encased in a protective husk. They grow similarly to a tomato plant and can benefit from a little support. Once established in your garden, don't be surprised if you find volunteer plants popping up next season. Use them to make this tomatillo salsa.
Start seeds indoors and transplant seedlings. [Buy seeds]
>>More on growing tomatillos<<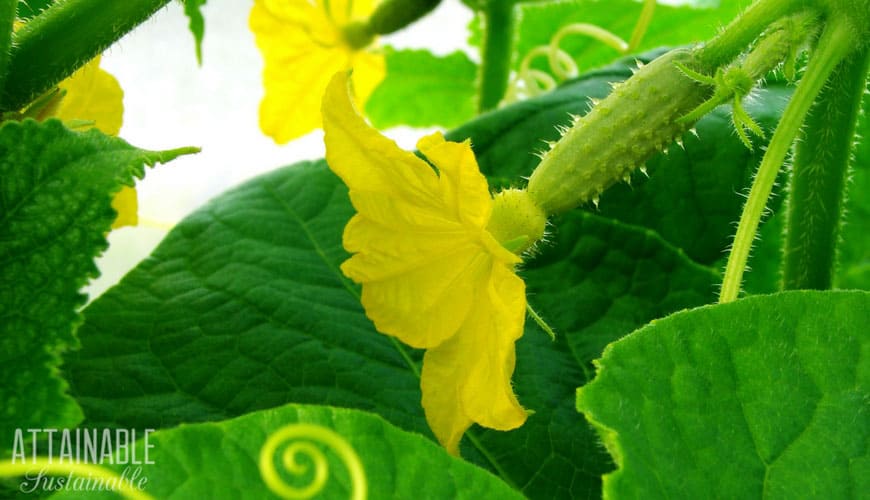 Cucumber
There are cucumber varieties for pickling and others that are well-suited for fresh eating, but both are easy vegetables to grow. You can let cucumbers vine across the ground or climb a structure. They'll produce pretty prolifically for several weeks; consider succession planting every couple of weeks to ensure a continuous harvest.
Build up a long mound in the garden, flatten it on top, and direct sow seeds every six inches. [Buy seeds]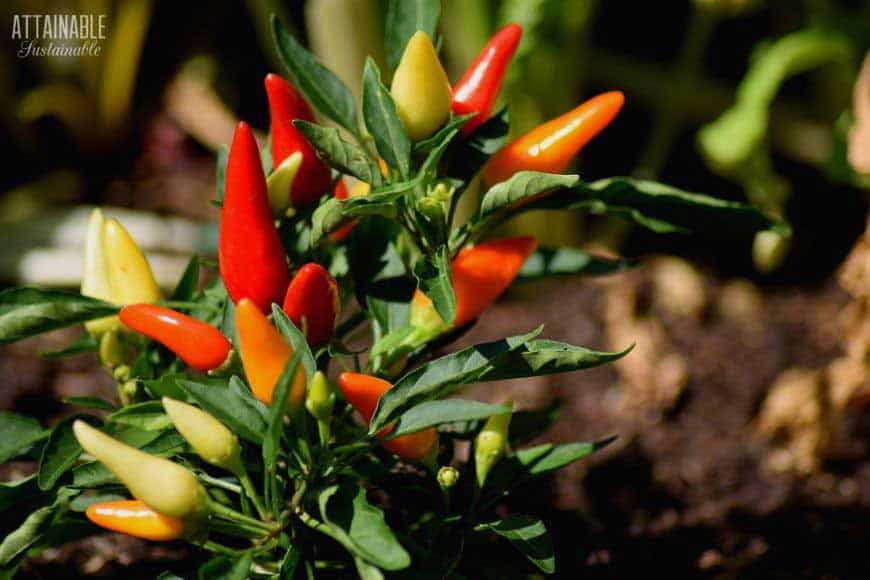 Choose easy vegetables to grow — in YOUR region
*Now mind you, your region will impact the ease with which you can grow these vegetables. For instance, most gardeners know all too well the blessing/curse of Too Much Zucchini, but I struggle with it here in the tropics.
What are the easiest vegetables to grow in your garden?
Originally published in February 2014; this post has been updated.