Growing vertically is a great way to make the most of a small garden space. Learn to build an inexpensive garden trellis from materials you might already have on hand with these DIY trellis ideas.
Guest post by Cris from The Homestead Garden
Sometimes, gardening can become unexpectedly expensive. By the time you purchase your garden tools, good-quality seeds, good compost and garden soil, raised bed materials, garden tiller, etc., you may be cringing a bit at the costs.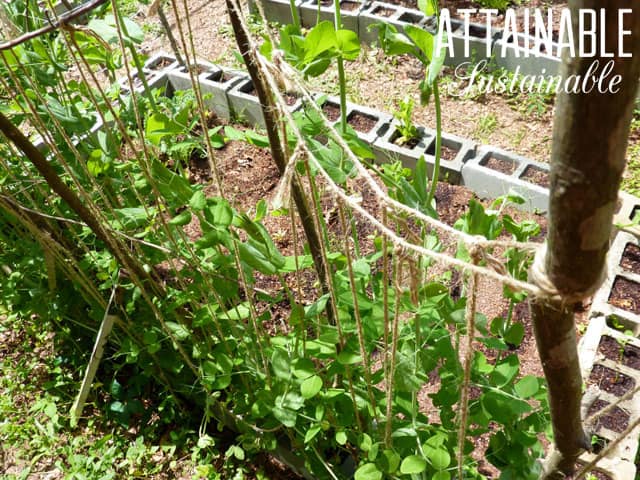 This is my first garden at my new homestead. I've been struggling a bit with staying in the garden budget for the year, and I'm always looking for ways to re-use materials or get things done as inexpensively as possible.
One way to keep within the garden budget, stay frugal, and/or become more self-reliant is to use materials that you have available around your home in order to make your garden trellises. These DIY trellis ideas are a great way to make the most of a small garden space by growing vertically.
Grow Some Greens!
Ready to grow fresh greens, no matter WHERE you live? Sign up for my
FREE quick-start guide and start growing some of your own food!
The first thing you should do before starting to build a trellis is to look around your home and yard for potential trellis materials.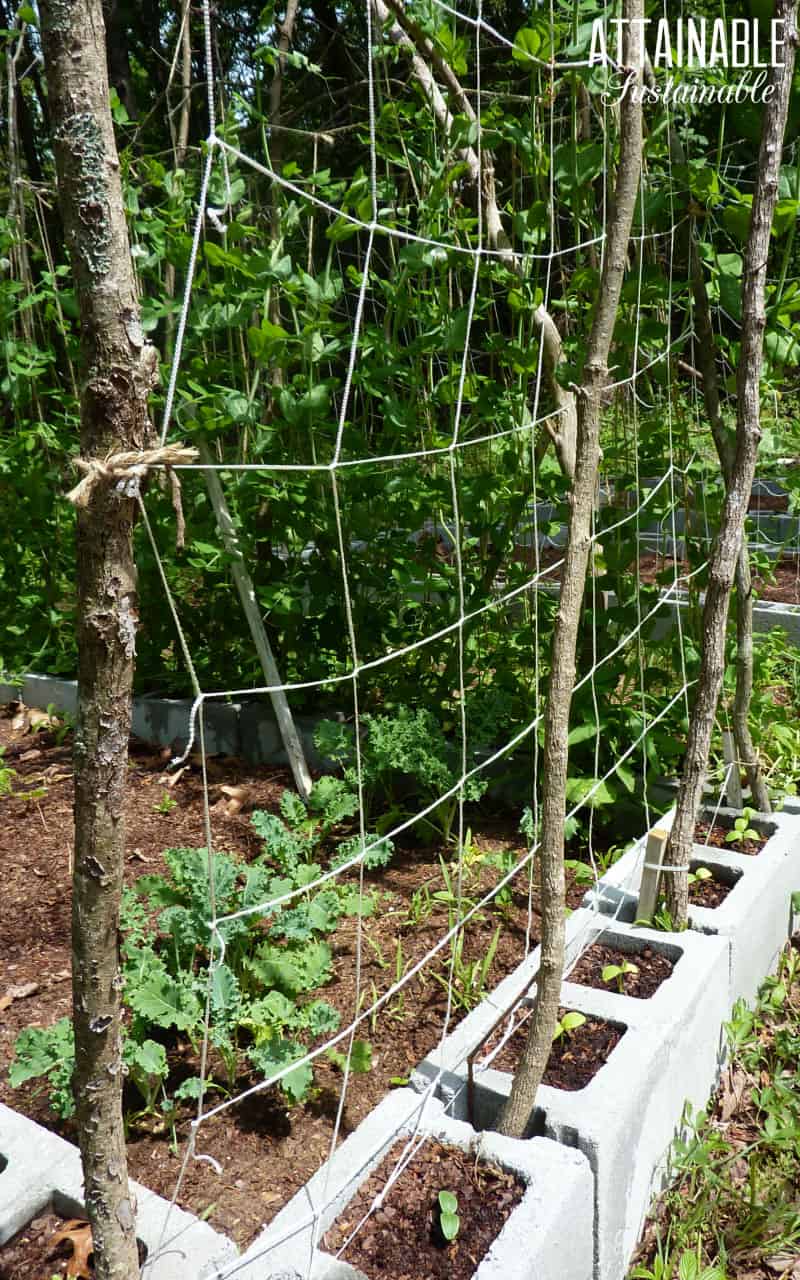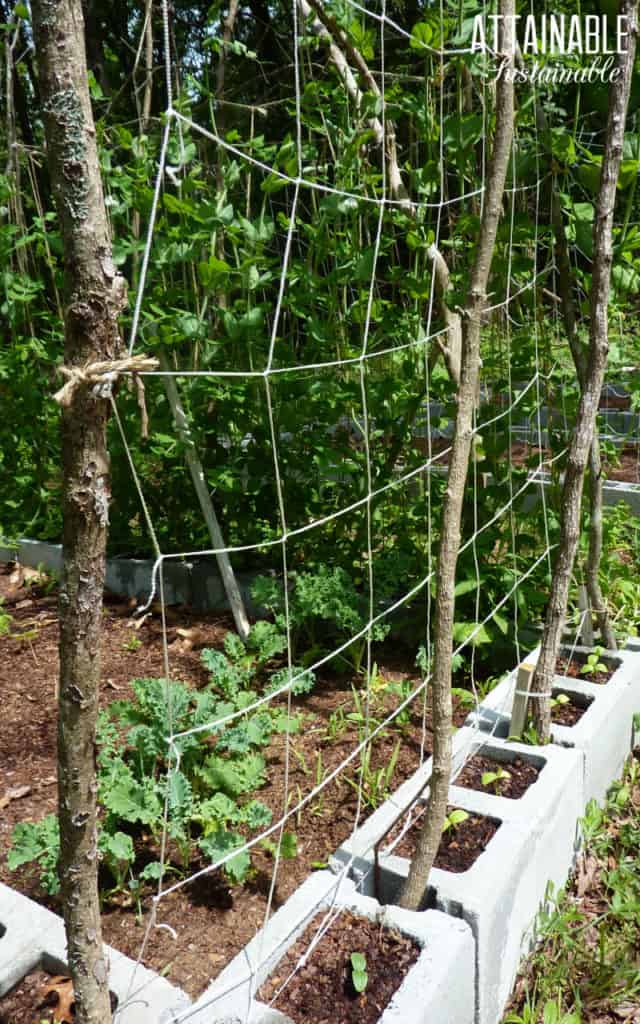 ---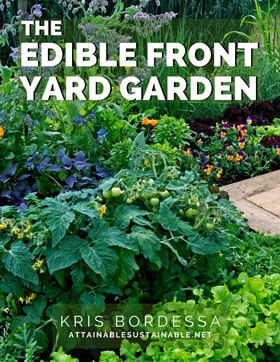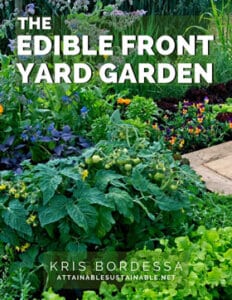 The Edible Front Yard Garden
Does your homeowners association prevent you from growing food in the front yard? What if they never even KNEW? My ebook, The Edible Front Yard Garden will show you how!
---
DIY trellis ideas:
Tree Branches
Leftover lumber, fences, wooden ladders, pallets, etc.
Bits and bobs of twine, string, netting, zip ties, etc.
Leftover rebar, stakes, etc.
Use the excess materials that you have lying around to make your garden trellises for free. Since I live on two mostly wooded acres, I had plenty of tree branches to use. (I used branches that had already fallen on the ground.) Some random wooden stakes were great for additional support. Small branches with a natural 'v' in them became garden stakes at the bottom of the trellis.
I used some leftover twine to help tie the trellis net to the branches. Two garden trellis nets (each one 5×15, and I cut in half) were my big expenditure, costing a grand total of $15.00 for four garden trellises (each one measuring 7′-8′ long).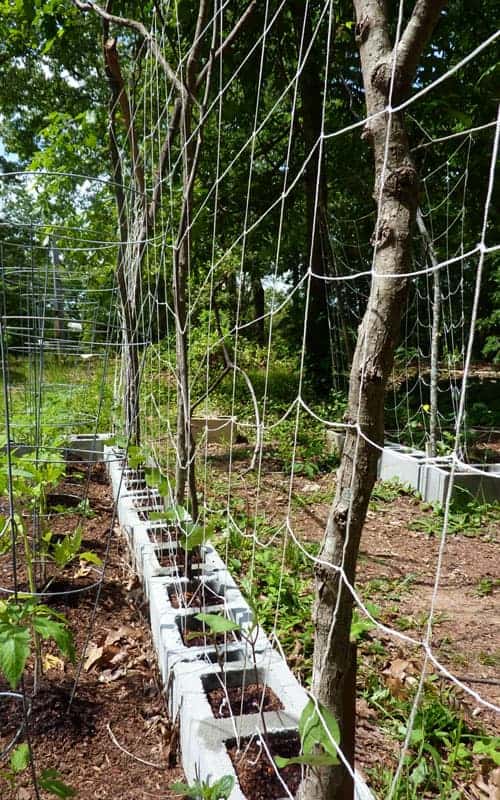 Related: How to Build a Bamboo Trellis
I also made one garden trellis out of only twine, which I used to create vertical lines for the trellis. I'll use this trellis to grow my peas. I had leftover twine from other projects, so this garden trellis was essentially free. However, I had to go out to the garden twice a day to train the peas to go up the vertical twine, making it one of my less successful DIY trellis ideas. My peas seemed to want to go up AND out, and they constantly got confused.
I got tired of training the peas to only go up, so I ended up buying some garden trellis netting. Feel free to experiment with both vertical lines and netting with your plants to see what you like best!
Most of the people who visited my garden really liked the twine-only trellis design. Remember, the plants don't care WHAT the trellis looks like, so long as it helps them grow tall and healthy. However, I do care a bit about the aesthetic appeal of gardens, and I am sure you do too.
I have walked through my garden with many friends and family members lately, and they have all commented on how "beautifully natural" my garden trellises look. I love them too, and I'm always thinking about new DIY trellis ideas.
Related: Make This DIY Vertical Grow Tower for Lots of Greens in a Small Space

Build a DIY garden trellis for your small plot
Materials:
Tree branches (1″-2″ thick, over 5′ tall, preferably with some branches coming off for horizontal support)
Twine and/or garden trellis net and/or zip ties
rebar OR leftover wooden stakes
garden stakes OR small branches with a 'v' in them
Directions:
Search your local forest or wild areas for suitable tree branches. Trim off the excess little branches.
Stake the tree branches into the ground in the appropriate place in your garden. Since I have raised beds, they fit snugly in between the cinder blocks with just some leftover wooden stakes as additional support. However, you might need to use rebar, depending on what your garden looks like. Secure the tree branches to the rebar/stakes with leftover string or twine. Connect the branches together with the horizontal offshoots. Tie the horizontal offshoots to the branches with twine or leftover zip ties.
Cover the tree branches with the garden trellis net. Use the horizontal branches to secure the trellis netting. Make it as tight as you can. Stake it into the ground with either garden stakes or small 'v'-shaped branches.
Plant your seeds and enjoy!
What type of DIY frugal trellis ideas have you used in your garden? Share your DIY trellis ideas with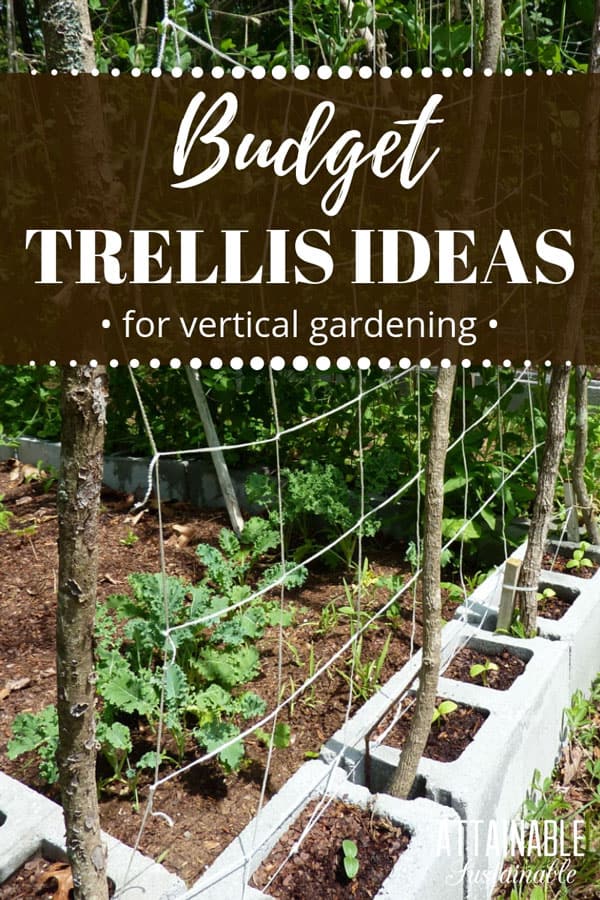 Cris is one of the most obsessed gardeners you will ever meet. She writes at The Homestead Garden about gardening, her goals toward self-sufficiency, her new homesteading adventures, herbal remedies, DIY projects, real food recipes, and much more. She's always coming up with new fruits, veggies, herbs, etc. to both research and raise and would love for you to join her in her latest adventures in natural living.