Growing vertically is a great way to make the most of a small garden space. Learn to build an inexpensive garden trellis from materials you might already have on hand with these easy DIY trellis ideas.
Be sure to check out these vegetable gardening tips to make your efforts in the garden less expensive!
Guest post by Cris Daining.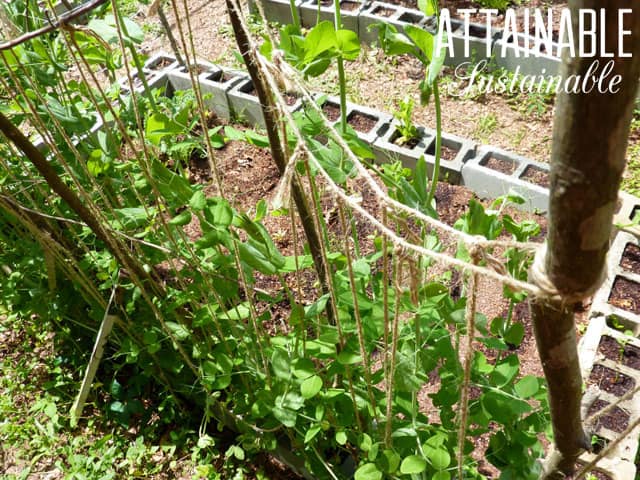 Sometimes, gardening can become unexpectedly expensive. By the time you purchase your garden tools, good-quality seeds, good compost and garden soil, raised bed materials, garden tiller, etc., you may be cringing a bit at the costs.
I've been struggling a bit with staying in the garden budget for the year, and I'm always looking for ways to re-use materials or get things done as inexpensively as possible.
One way to keep within the garden budget, stay frugal, and become more self-reliant is to use materials that you have available around your home in order to make your garden trellises. These DIY trellis ideas are a great way to make the most of a small garden space by growing vertically.
Grow Some Greens!
Ready to grow fresh greens, no matter WHERE you live? Sign up for my
FREE quick-start guide and start growing some of your own food!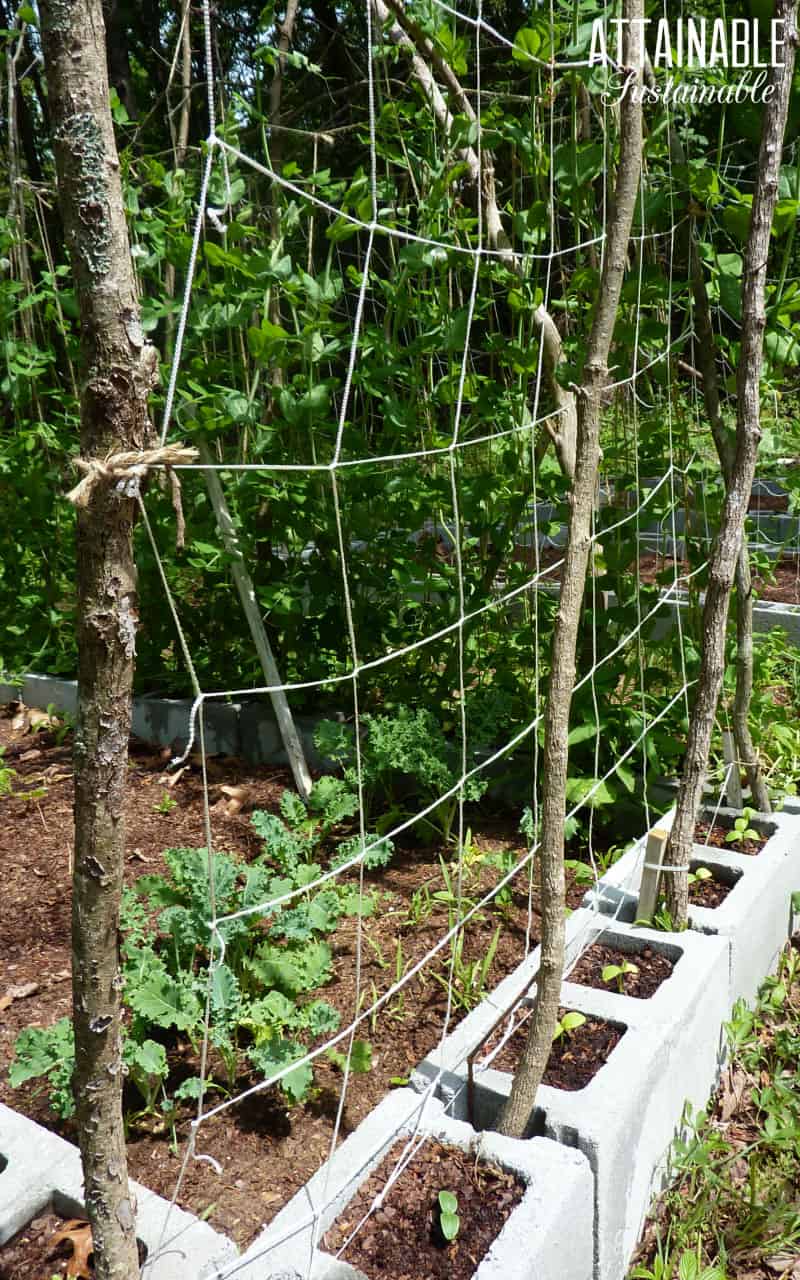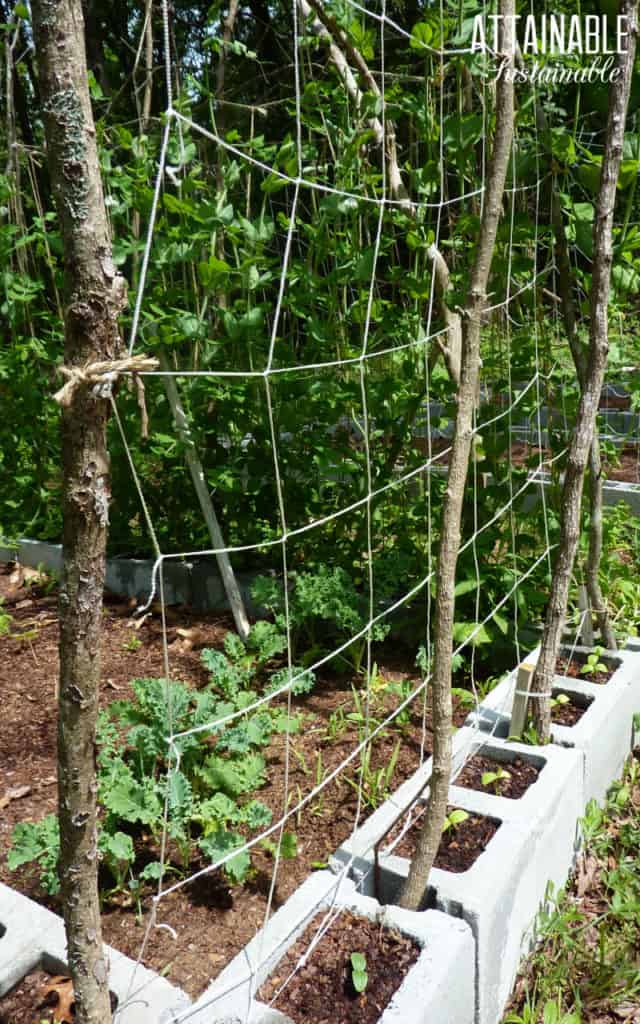 ---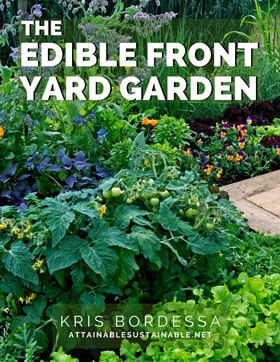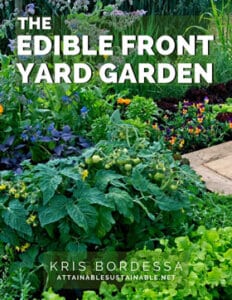 The Edible Front Yard Garden
Does your homeowners association prevent you from growing food in the front yard? What if they never even KNEW? My ebook, The Edible Front Yard Garden will show you how!
---
What is a Garden Trellis?
Used to support climbing plants in the garden, trellises can be made from a variety of materials. Some are lightweight, others are made from sturdier materials. Wood and metal trellises are often used for flowering plants like roses and clematis vines, but they can also play a part in a vegetable garden as a more permanent addition.
The type of vegetable garden trellis you'll need depends on what you're growing and how rampant it is.
DIY Trellis Materials to Consider
The first thing you should do before starting to build a trellis is to look around your home and yard for potential trellis materials. There are many options:
Tree branches or bamboo
Leftover lumber, fences, wooden ladders, pallets, etc.
Bits and bobs of twine, string, netting, zip ties, etc.
Leftover rebar, stakes, etc.
Use excess materials that you have lying around to make your garden trellises for free. Since I live on two mostly wooded acres, there are plenty of tree branches to use. (I use branches that are alreadon the ground.)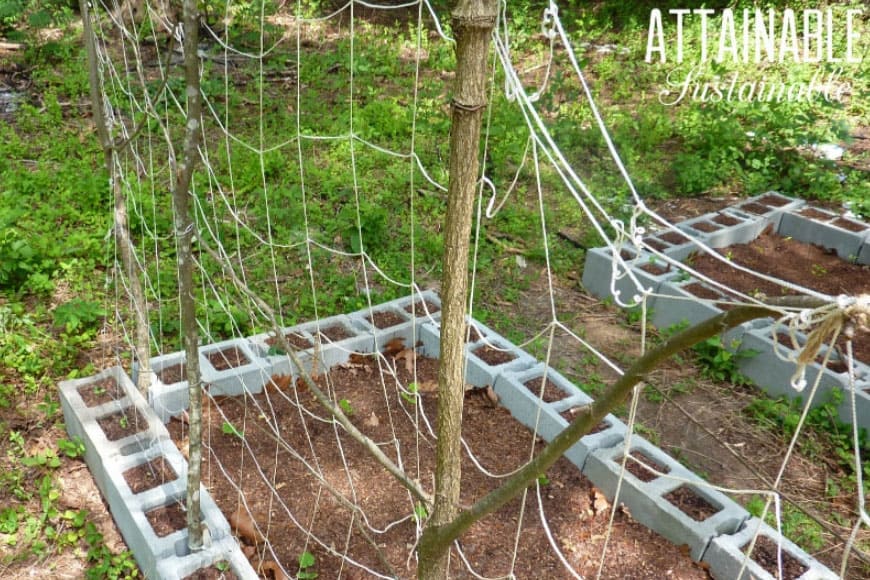 For this trellis, I used some wooden stakes for additional support. Small branches with a natural 'v' in them became garden stakes.
Two garden trellis nets (each one 5×15, and cut in half) were my big expenditure, costing a grand total of $15.00 for four garden trellises (each one measuring 7′-8′ long). I used some leftover twine to help tie the trellis net to the branches.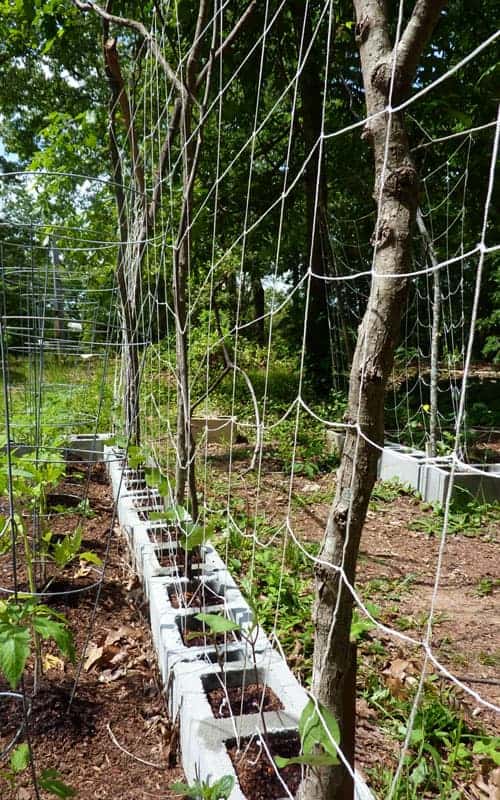 Making a String Trellis for Peas
I also made one garden trellis entirely out of twine, for growing peas. I had leftover twine from other projects, so this garden trellis was essentially free.
Most of the people who visited my garden really liked the twine-only trellis design. I have walked through my garden with many friends and family members lately, and they have all commented on how "beautifully natural" my garden trellises look. I love them too, and I'm always thinking about new DIY trellis ideas.
This trellis could also work for growing vining green beans.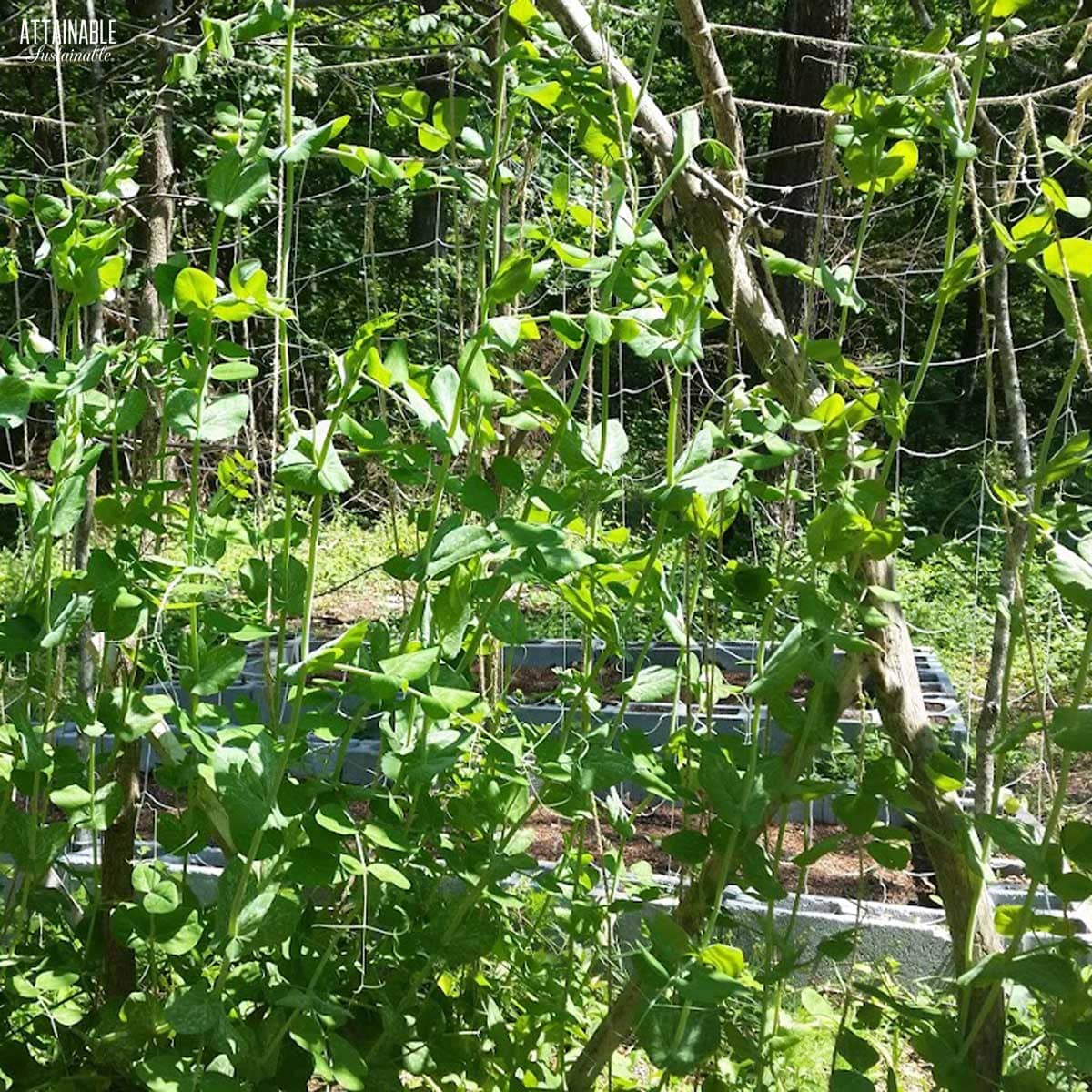 Remember, the plants don't care WHAT the trellis looks like, so long as it helps them grow tall and healthy. However, I do care a bit about the aesthetic appeal of gardens, and I am sure you do too.
Fencing as Trellis
Another frugal garden trellis option for you can be to scavenge your yard (and maybe, with permission, your neighborhood) for scrap materials.
We found a roll of old chain link fence in the woods of our property (the old owners scattered random junk everywhere). After cleaning it up and linking random pieces together, we were able to make two very large trellises that work really well for growing tomatoes.
We bought some 8 foot tall T-posts from the store and tied the chain link fence pieces to it tightly. The tomatoes are planted at the base. During the growing season, I use twine to tie them up to the trellis. We've been using this trellis system for our tomatoes for many years now and it's the easiest way to prevent tomatoes from becoming a messy jungle!
Cattle Panel Trellis
Another option for a budget-friendly garden trellis? Cattle panels. You can stake them in your garden so that they are long and straight or you can make a teepee-type structure and grow vines up the sides. Plant shade-loving crops under the trellis (this can save you lots of room in a small garden).
Eight foot long cattle panels usually cost around $15 – $20, which isn't too bad for a frugal gardener, and they can be used from year to year.
This option is great if you own a large vehicle or a trailer, but it can be difficult to do if you only own a small car. We were able to gently fold a few 8 foot cattle panels in half and smoosh them into the back of our SUV (folding them in half might take a lot of strength and you may need help from some of the employees or random kind strangers…ask me how I know).
I found the squares of the cattle panel to be too wide for growing some of my garden plants, so I added a line of twine halfway between each square (seriously, y'all, twine is a gardener's best friend). You can learn more and see more photos of my setup
here
.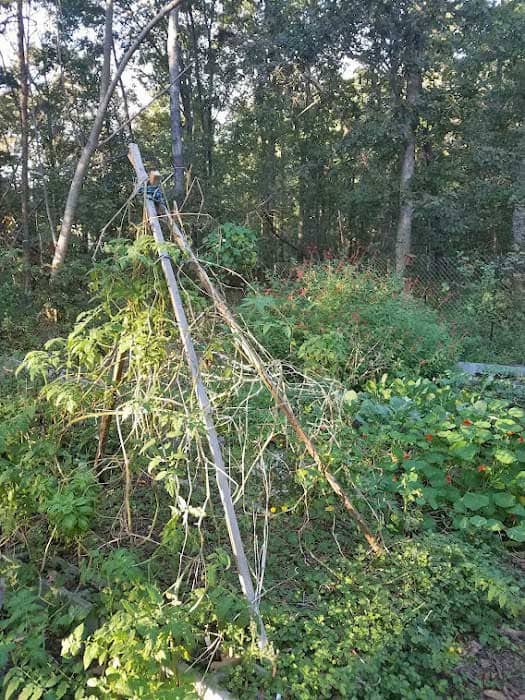 Not Straight and Narrow
Of course, you don't HAVE to make a straight line trellis system with your sticks and netting/twine. I also made a trellis teepee for some of my vine plants and it added some rustic and pretty structure to my garden.
You just have to make sure to stake the four corners very well and tightly tie up the netting or twine so that it helps the sticks keep their shape. This
bamboo trellis
is a similarly shaped option.
Make it Sturdy Enough!
A word of warning: make sure you use the freshest sticks from your yard as possible and also exchange them for new ones every year. The sun, weather, and natural decomposition will break down the sticks eventually. I learned this lesson the hard way when my trellis sticks, in year two, snapped under the weight of the plants. (I would hate for that to happen to you!)
More DIY Trellis Ideas for Inspiration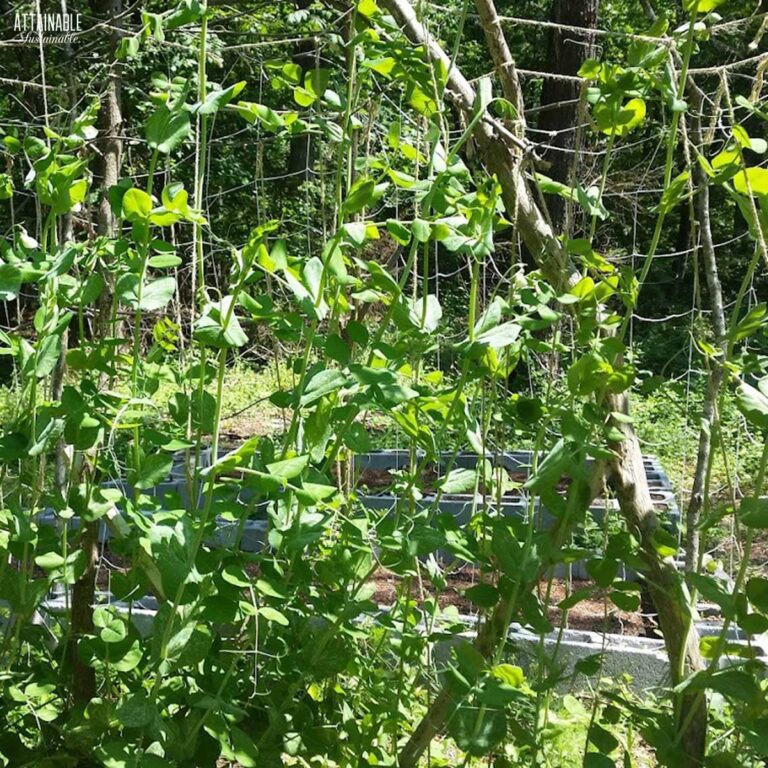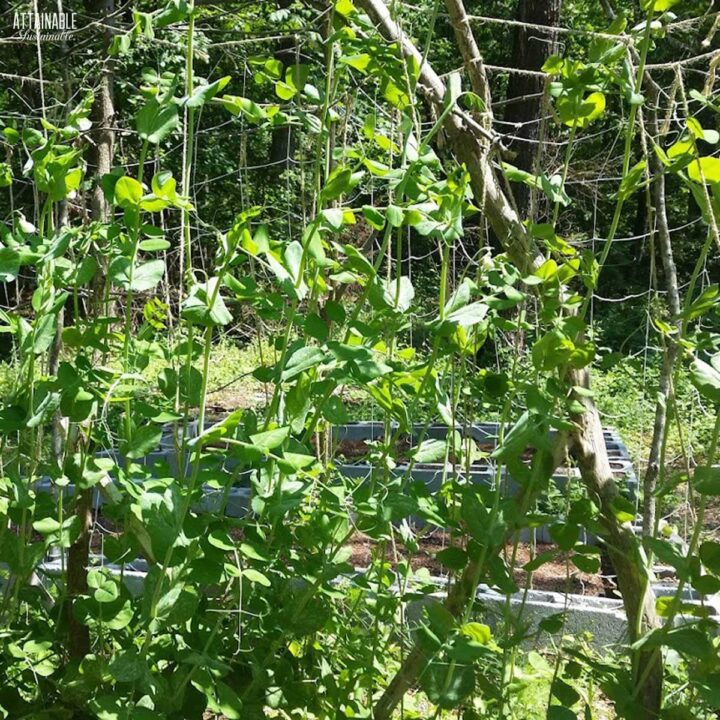 Build a String Trellis
Estimated Cost:
varies by product
This easy string trellis works well for vining peas. Growing them upright saves space in the garden.
Materials
Tree branches (1″-2″ thick, over 5′ tall, preferably with some branches coming off for horizontal support)
Twine and/or garden trellis net and/or zip ties
Rebar OR leftover wooden stakes
Garden stakes OR small branches with a 'v' in them
Tools
Mallet for pounding stakes
Instructions
Search your local forest or wild areas for suitable tree branches. Trim off the excess little branches.
Stake the tree branches into the ground in the appropriate place in your garden. Since I have raised beds, they fit snugly in between the cinder blocks with just some leftover wooden stakes as additional support. However, you might need to use rebar, depending on what your garden looks like. Secure the tree branches to the rebar/stakes with leftover string or twine. Connect the branches together with the horizontal offshoots. Tie the horizontal offshoots to the branches with twine or leftover zip ties.
Cover the tree branches with the garden trellis net. Use the horizontal branches to secure the trellis netting. Make it as tight as you can. Stake it into the ground with either garden stakes or small 'v'-shaped branches.
Plant your seeds and enjoy!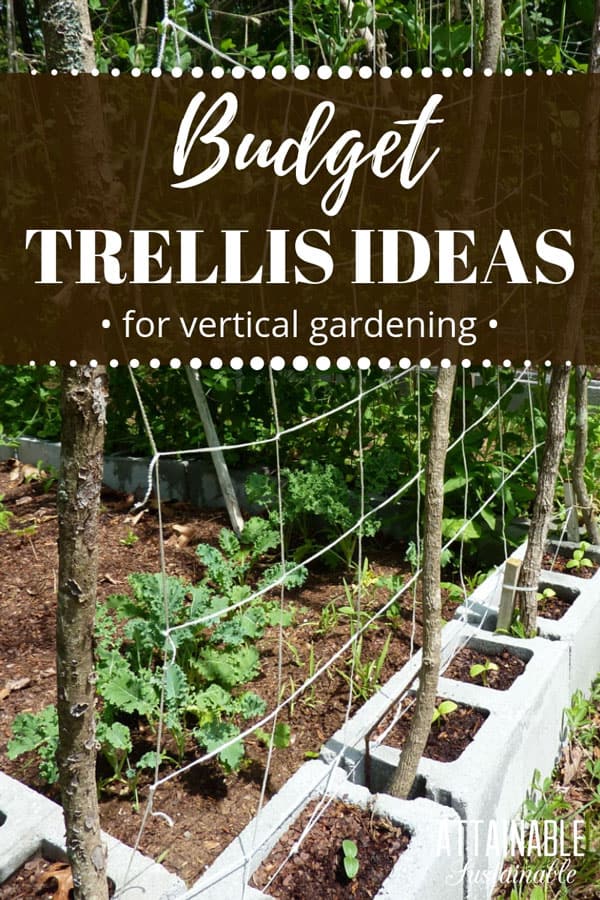 Originally published June 2015; this post has been updated.