Companion planting is a method of growing specific herbs, flowers, fruits, and vegetables in close proximity to each other, enhancing the growth of both plants and often controlling pests naturally.
For more natural pest control ideas, read this.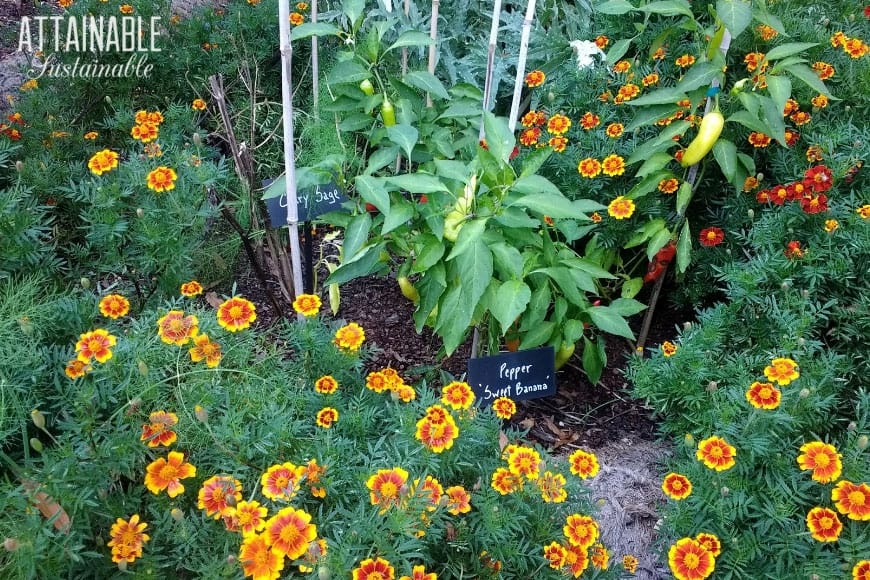 Companion planting is a natural method that's easy to adopt in a home garden. Adding specific combinations of vegetation can help your garden's health.
By incorporating certain herbs, you can build an eco-system in your vegetable garden that will help your crops thrive naturally.
---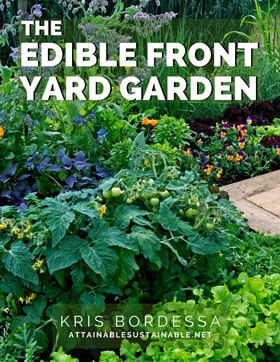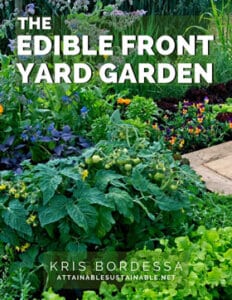 The Edible Front Yard Garden
Does your homeowners association prevent you from growing food in the front yard? What if they never even KNEW? My ebook, The Edible Front Yard Garden will show you how!
---
Companion planting with herbs can:
increase yields
repel pests
encourage pollination
provide shelter for beneficial insects
or otherwise provide support
Companion plants grow in a symbiotic relationship to each other, enhancing the growth and success of both plants.
Grow Some Greens!
Ready to grow fresh greens, no matter WHERE you live? Sign up for my
FREE quick-start guide and start growing some of your own food!
You've probably heard of the "Three Sisters." The indigenous people of North America planted corn, beans, and pumpkins or squash together. The corn gives the beans a trellis. The beans add nitrogen to the soil to feed the squash and the pumpkins, both considered heavy feeders. The squash blocks out weeds that would compete for soil nutrients and moisture. The three sisters are companion plants that are often grown together, even today.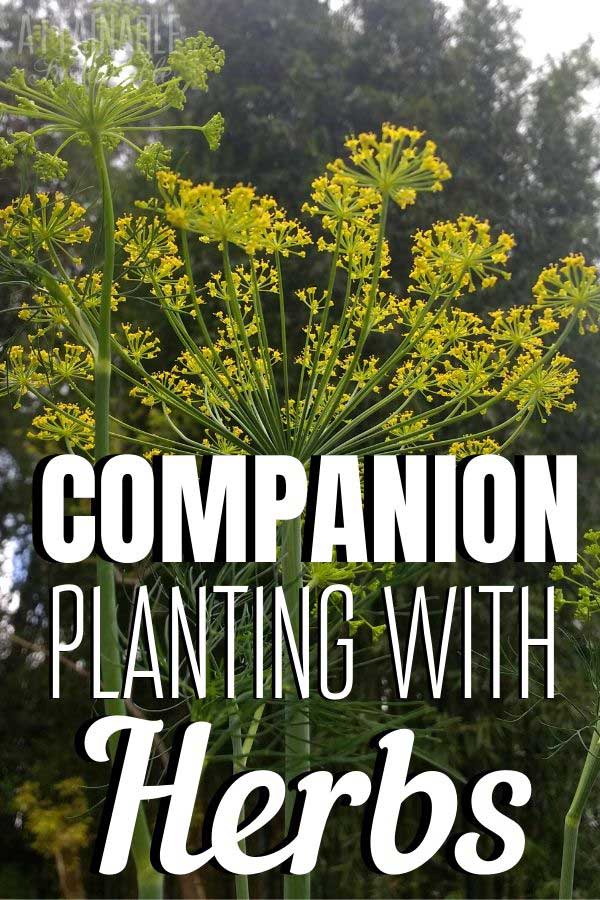 4 benefits of companion planting with herbs
While there are a lot of companion planting unions, like the three sisters, herbs are the easiest plants to intersperse between food plants, in order to increase yields.
Companion planting with herbs can be done within the rows or between the rows of vegetables without harming the vegetables.
Herbs are strongly scented to attract beneficial insects or repel and confuse the bad insects.
Herbs are generally light feeders, so they won't deplete the soil, robbing nutrients that your vegetables need.
[adthrive-in-post-video-player video-id="SpMa4dy1″ upload-date="2017-08-10T18:34:19.000Z" name="companion plant" description="Grow these companion plants in your garden and they'll thrive" player-type="default" override-embed="default"]
7 great options for companion planting with herbs
Here are seven easy to grow herbs that you can interplant in your vegetable garden. These aren't the only herbs that you can use in a companion planting, but these are the ones that are the easiest to succeed with.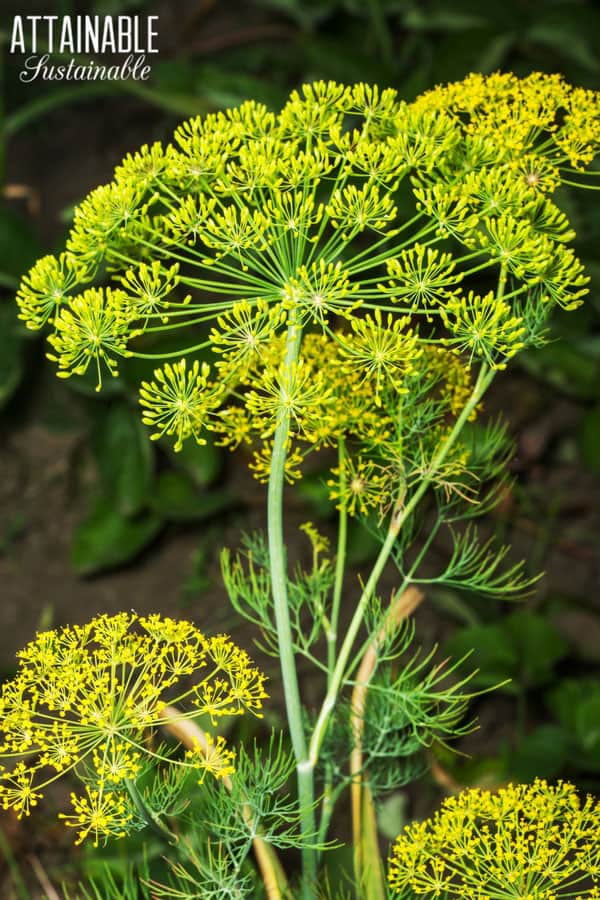 Dill companion plants
This season I planted dill in the rows when I planted my cabbages, kale, and broccoli. [More on growing dill here.]
The dill grew up with the brassica plants and attracted predatory wasps. The predatory wasps lay their eggs in the cabbage butterfly caterpillars, killing them. So even though I saw a lot of white cabbage butterflies in my garden in June, I hardly had cabbage worm damage in my garden, and very few broccoli worms to clean out of my broccoli. I didn't need to hand pick green worms. I didn't have to spray BT – a common insecticide used to kill caterpillars.
Dill attracted the predatory wasps and they took care of most of the green worms – companion planting with herbs works! Don't plant dill near cilantro or fennel, though. They will cross pollinate and the flavors will be marred. The growth of carrots is inhibited when planted near dill.
Dill is an annual, but it will give you plenty of seeds in its first year. You can gather the seeds when they dry on the plant and replant it every year. It will self-sow, giving you a perpetual harvest of dill year after year, if you let the plants go to seed.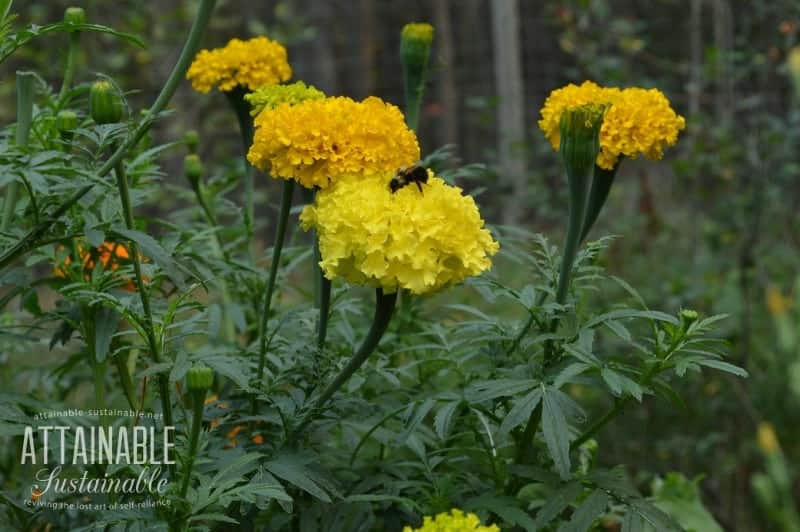 Marigold companion plants
I also planted marigolds (Tagetes erecta) near the carrots and beets. Marigolds are toxic to root nematodes. Nematodes feed on plant roots, killing the plant and reducing yields.
Growing marigolds next to vegetable crops removes root nematodes from the soil. Marigolds also feed pollinating insects, which help beans, melons, and squash. So if you plant marigolds you'll encourage the native pollinators to stick close to your garden.
These marigolds are a different species than Calendula, which is also sometimes called, "marigold." Marigolds are annual flowers. They are frost tender and will die after the first hard frost. The spent flower heads can be dried and the seed harvested from the base of the petals. Replant marigolds throughout your garden from your saved seed.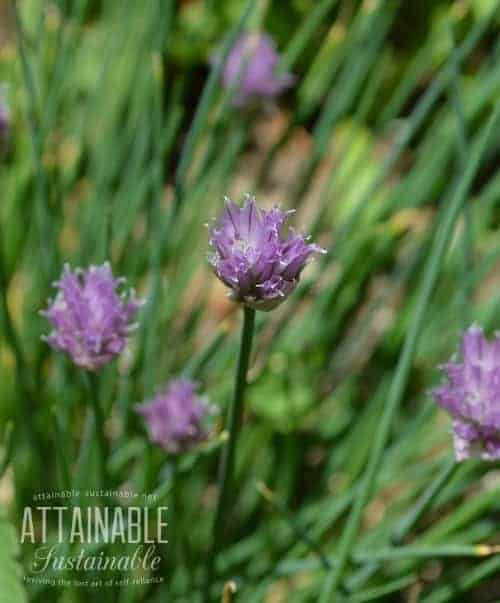 Companion planting with chives
While garlic, leeks, onions, and shallots are all from the same allium family as chives and do the same job, I like to use chives as a companion plant. Chives are perennial, so you can keep dividing them every year to make more plants. They take up less space than other alliums. [More on growing chives here.]
Chives don't require heavy fertilization. They are "cut and come again," so they give you a prolific source of spicy greens for salads, baked potatoes, and even stir fries. The more you harvest chives, the more they will grow. And their strong spicy scent confuses butterflies and moths, looking for the plants they prefer to lay their eggs on.
Chives grown near carrots repel the carrot rust fly. Grown near strawberries, chives help to keep the strawberries disease free. Beans and peas are to be avoided when companion planting with herbs from the allium family.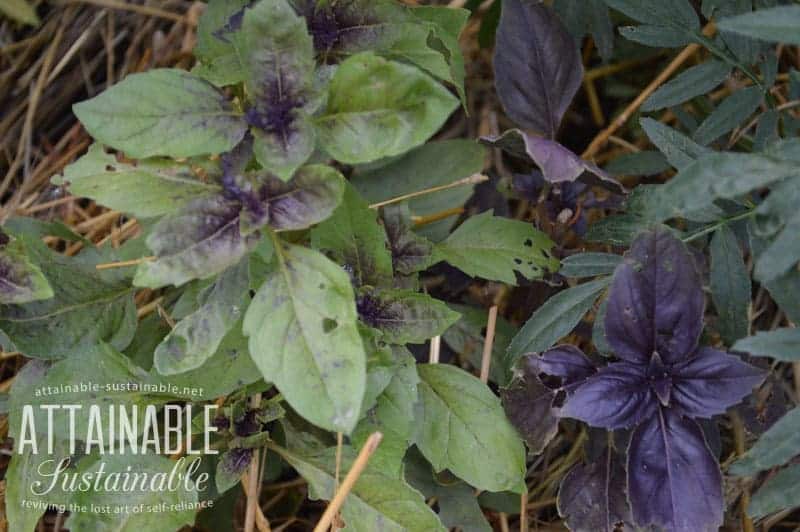 Basil companion plants
Basil is often grown near tomatoes, peppers, and eggplant. It increases the yield of these plants and encourages vigorous growth. It also improves the flavor of tomatoes. The scent of basil deters mosquitoes, flies, and horned worm caterpillars by masking the scent of the plants.
Avoid planting basil near common rue, rosemary, or sage. Basil is a tender annual. It flowers near the end of the season. If you have a long growing season you will be able to save seed from your own plants.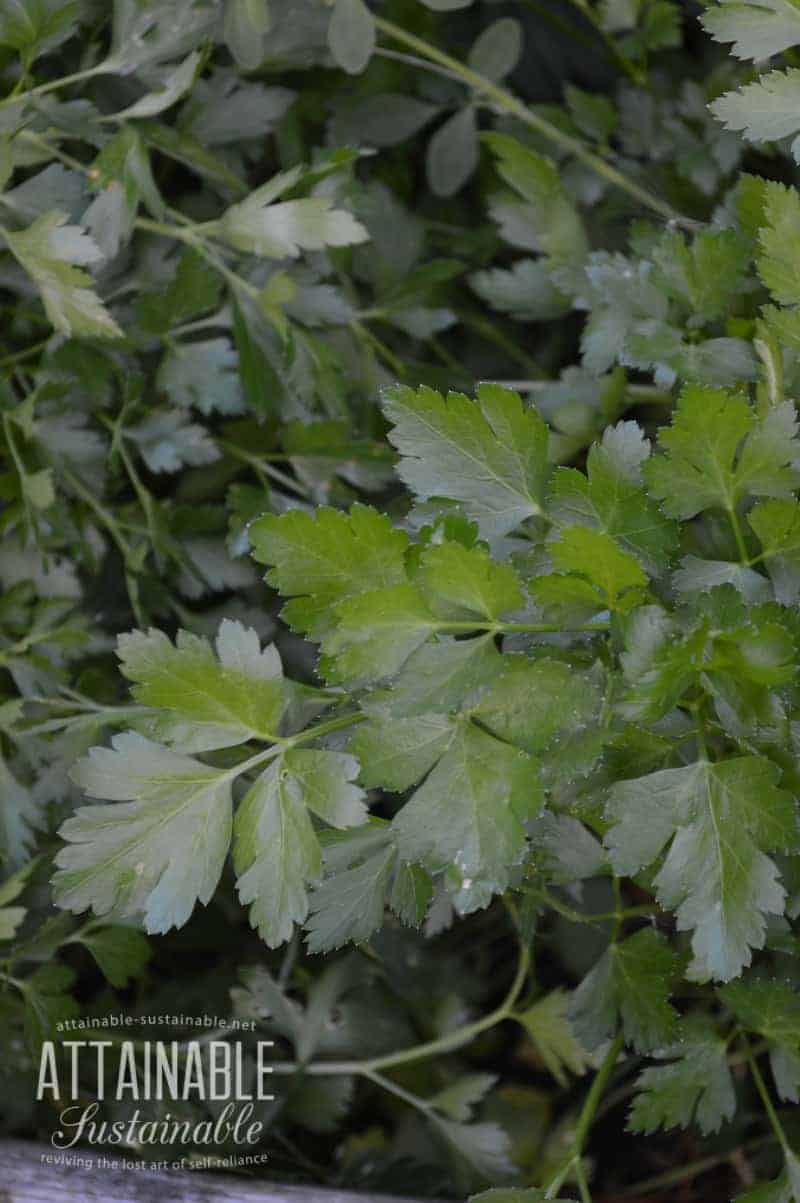 Good companions for parsley
Plant parsley near tomatoes, corn, and asparagus. Avoid planting parsley near lettuce. It can cause the lettuce to bolt prematurely. Parsley is a biennial and will flower and set seed in its second year. Allow it to overwinter, for a continual source of parsley seed.
Note that it will cross pollinate with carrots and Queen Anne's lace; for pure seed, create a barrier if you are letting parsley seed near carrots or if you have Queen Anne's lace flowering nearby.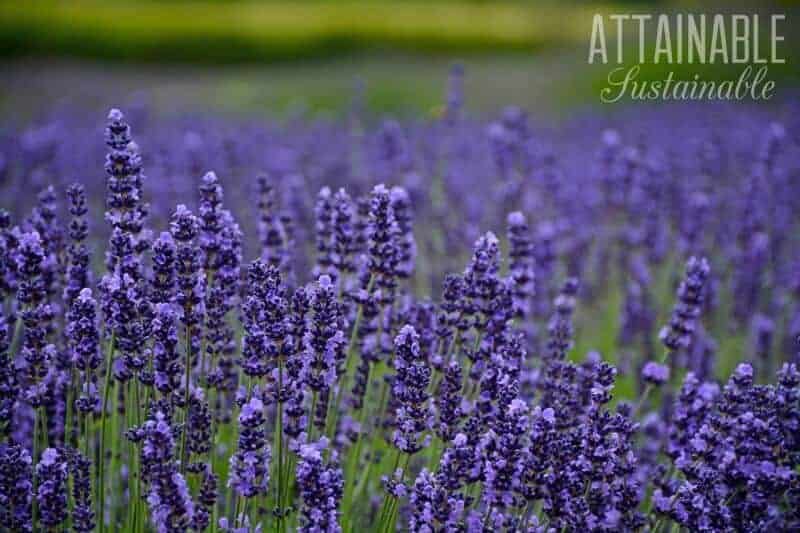 Lavender companion plants
Sweetly scented lavender plants repel a wide variety of flies and beetles, while attracting pollinating insects. Good companion plants in the veggie garden include cauliflower, cabbage, kale, and broccoli.
Companion planting with lavender also deters codling moths under apple trees. I've seen three-foot high and wide lavender plants growing at the ends of rows of apple trees in orchards in B.C.'s Okanagan Valley.
Lavender is a hardy perennial. Plant it in the middle of your garden where it can thrive and do its job.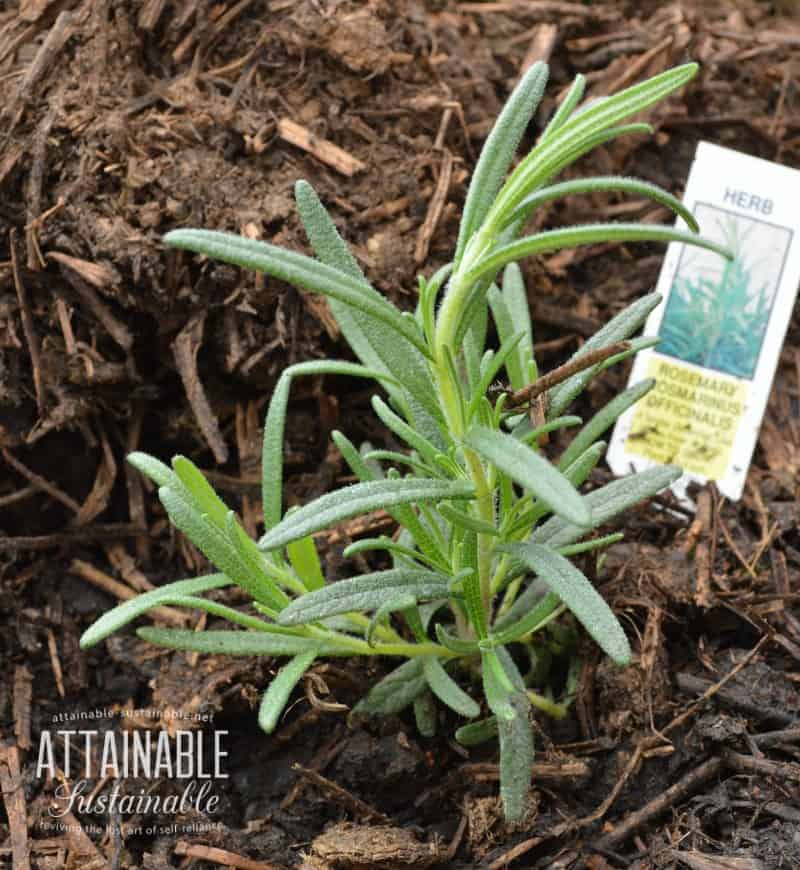 Rosemary companion plants
Like lavender, rosemary is a good companion for broccoli, cauliflower, and cabbage because it confuses the cabbage butterfly. It also repels a wide variety of beetles and flies. The flavor of sage improves when planted near rosemary.
Avoid planting rosemary with pumpkins and squash. Rosemary is a tender perennial.
If you live in zone 8 or lower, plant rosemary in a pot and move it into a sheltered spot each winter, into an unheated garage or indoors, near a sunny window. Then you can move it around the garden as you rotate your brassica plants, the following spring.
Originally published November 2015; this post has been updated.