The cabbage white butterfly is drawn to brassicas (cabbage, cauliflower, broccoli, bok choy, kale…). A single caterpillar can decimate a young plant. Here's how to get rid of cabbage worms in your garden.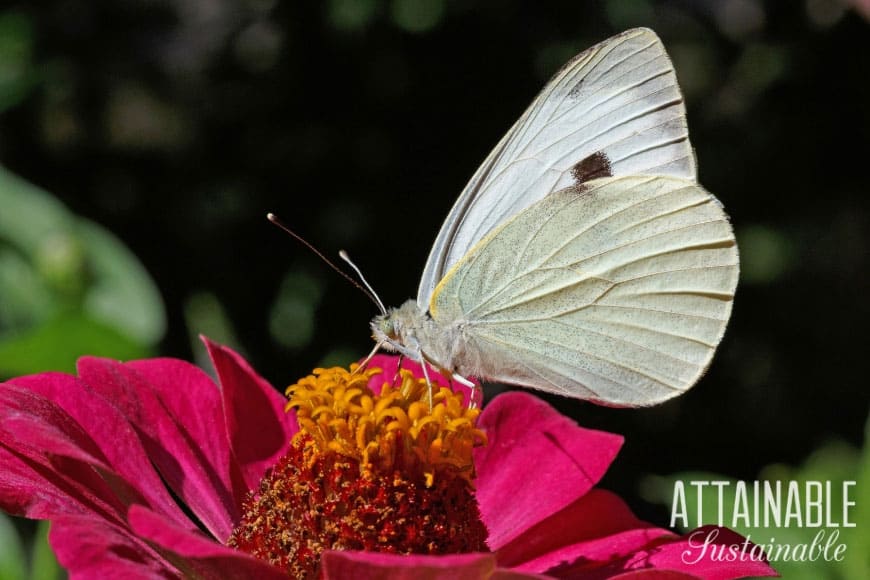 Once upon a time, when I was a little girl, I proudly showed my grandma a wee sweet caterpillar. Instead of oohing and aahing over my find, Grandma snatched the wooly thing out of my hand and smashed it under foot. To her, it was simply a garden pest, but I was crushed.
I like to think that I'd never do such a thing in front of a child, but I can and do handpick pests in the privacy of my own garden. Cabbage whites – those pretty "white butterflies" – can wreak havoc in a garden.
The other day a cabbage moth flew by. I did the logical thing and snatched it out of the air. There were no witnesses to my cruelty or to the fact that I'd snatched a moth right out of the air. I have turned into my Grandma, albeit a ninja version of my grandma.
Cabbage whites love cabbage
The cabbage white butterfly flocks to brassicas (cabbage, cauliflower, broccoli, bok choy, kale…). Getting these plants established in a garden can be difficult when a single caterpillar can decimate an entire young plant.
While seedlings are small, consider covering the plants with some sort of mesh to keep the moths off the leaves. I'm keeping my eyes open for wire mesh trash cans at the local thrift shops for just this use.
Related: Natural Aphid Control in the Garden
Related: Organic Slug Control for your Home Garden
How to get rid of the cabbage white butterfly
When garden plants are bigger, one of the best tactics for preventing cabbage worms is to check plants every few days for eggs and caterpillars.
Look on the under side of the leaf for tiny (TINY) yellow dots. These are eggs. Wipe them off and you'll get rid of cabbage worms before they can do any damage.
Also look on the under side of the leaves and in leaf veins for tiny (TINY) green caterpillars. Wipe them off. (The one in the photo above is almost full sized.)
Instead of removing the chewed, ugly old leaves from the plants, try leaving them intact as bait for the cabbage moths. I'd rather have the caterpillars chewing on those than the young leaves.
Give plants a good dusting of diatomaceous earth. The soft-bodied caterpillars won't stand a chance.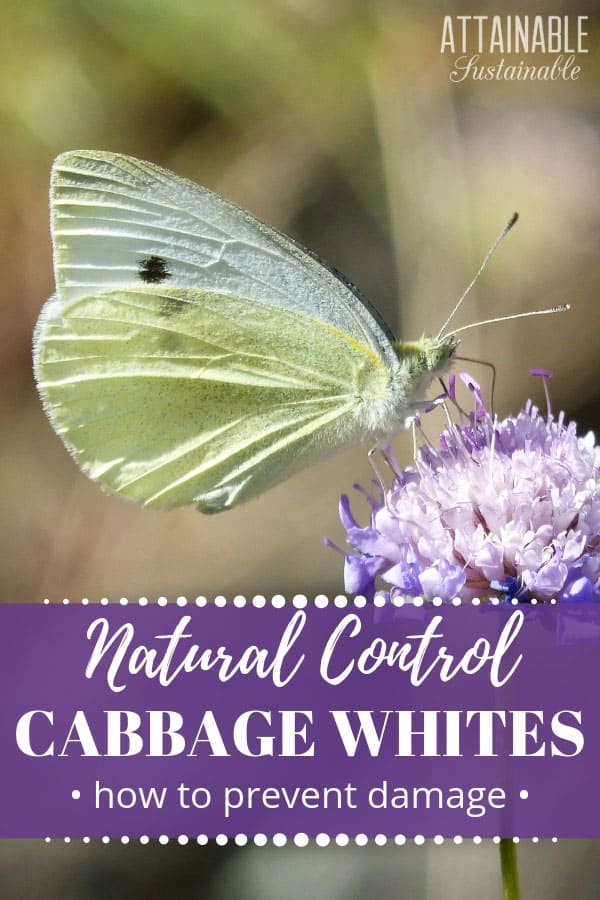 Related: 7 Organic Pest Control Methods
Cabbage white butterfly prevention
A floating row cover can prevent cabbage moths from accessing leaves on which to lay eggs, thus breaking the cycle.
Consider planting some cabbage moth trap plants to draw the cabbage worms away from your vegetable garden. A good choice in this case is a perennial tree collard. Planted some distance from your garden, you can let the moths go to town on these "sacrificial" plants.
Have you had success with organic control of cabbage whites? Do share!
Originally published in May, 2012.