Here's how to plant tomatoes for the sturdiest plants, bar none. Give this method a try in your veggie garden this year, and you'll have strong, abundant tomato plants.
Short on space? Try making this upside-down tomato planter!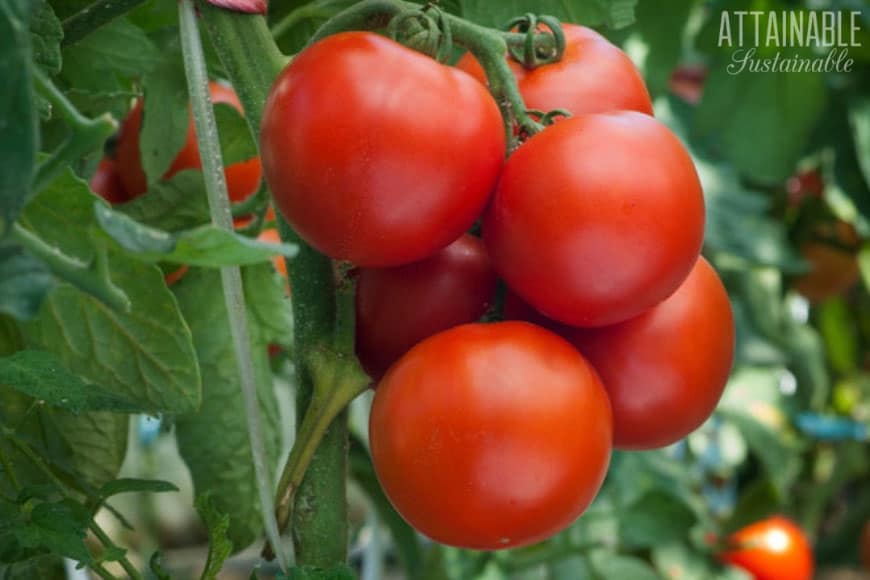 Tomatoes are a staple for most gardeners and for the most part, they're pretty easy to grow. They just don't take a lot of extra work in most regions of the United States.
But you can really boost the sturdiness and root system of your tomato plants with this trick.

---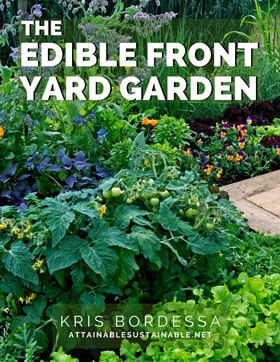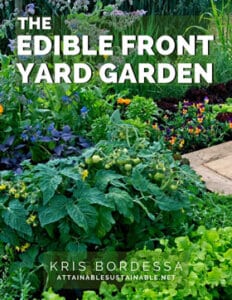 The Edible Front Yard Garden
Does your homeowners association prevent you from growing food in the front yard? What if they never even KNEW? My ebook, The Edible Front Yard Garden will show you how!
---
How to plant tomatoes: Dig deep
This method of planting tomatoes gives them a solid start, making for a sturdier and stronger plant.
With most other plants, you want to set the plant in the earth so that the soil level of the potted plant is at the same level as your garden soil. Tomato plants, however, like to be planted deeper than that.
Grow Some Greens!
Ready to grow fresh greens, no matter WHERE you live? Sign up for my
FREE quick-start guide and start growing some of your own food!
If you've ever grown tomatoes, you know that their stems are very fleshy. Those stems will send out roots if they touch moist soil. Well guess what? If you were to bury those stems, the plant would send roots down into the soil.
You can see it happening on the seedling below. But even if there are no root buds visible, the tomato plant will send out little roots from that buried stem.
This makes the plant much more stable in the ground and gives it more opportunities to pull up nutrients. Another benefit to planting tomatoes in this manner?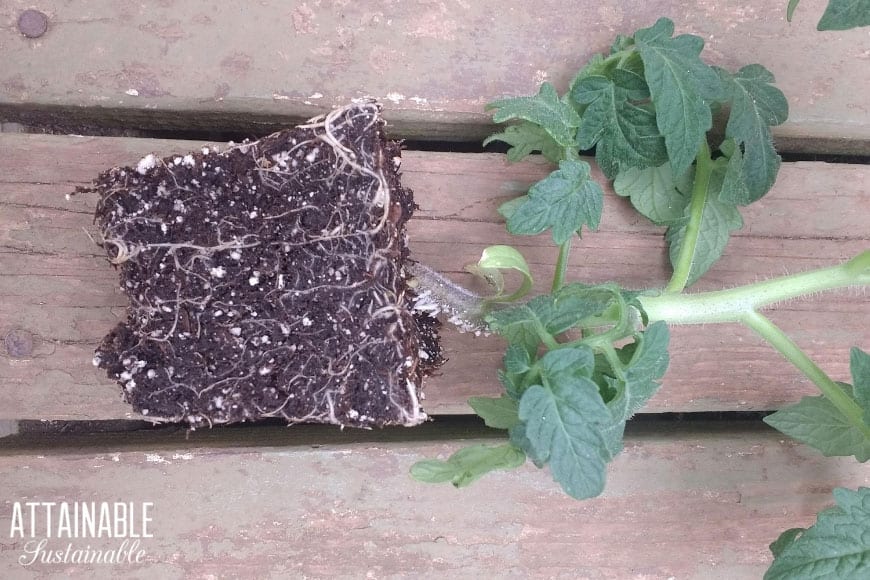 Go ahead and dig a hole deep enough to allow the main stem to be buried at least up to the first set of leaves. If the tomato seedling has a lot of leaves protruding from the stem, all the way to the soil, pinch some off.
That could mean a deep hole. Or it could mean letting the tomato lay on its side in the hole. If you opt for laying it sideways, the top of the tomato plant that is above ground will start growing straight up in just a few days' time.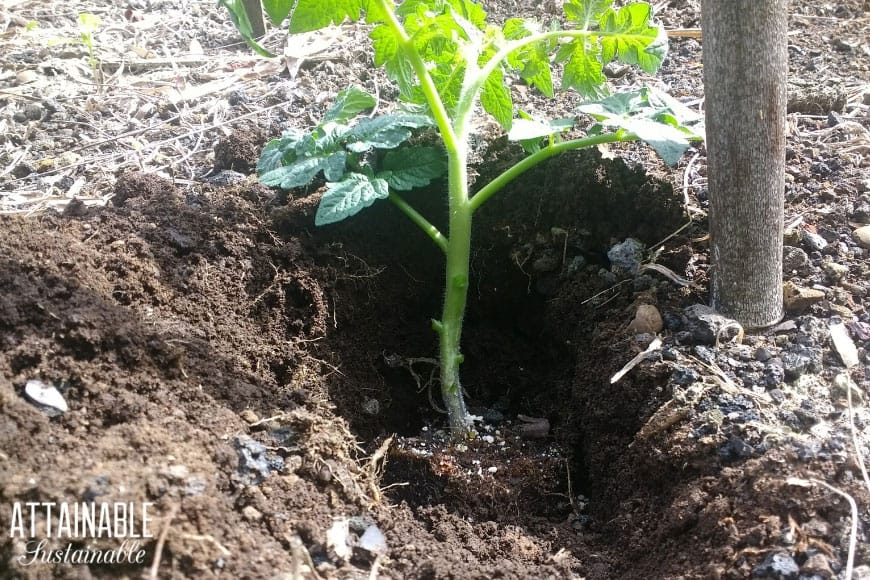 A plant with a strong root system is much more able to withstand dry periods and prolonged drought.
This deep planting method is a great way to salvage tall, gangly seedlings. Simply trim off some of the lower leaves, and plant the tomato seedling in the ground all the way up to the lowest set of leaves.
This scientific study may be of interest, but note that it is an automatic download:
https://journals.ashs.org/downloadpdf/journals/hortsci/31/2/article-p190.pdf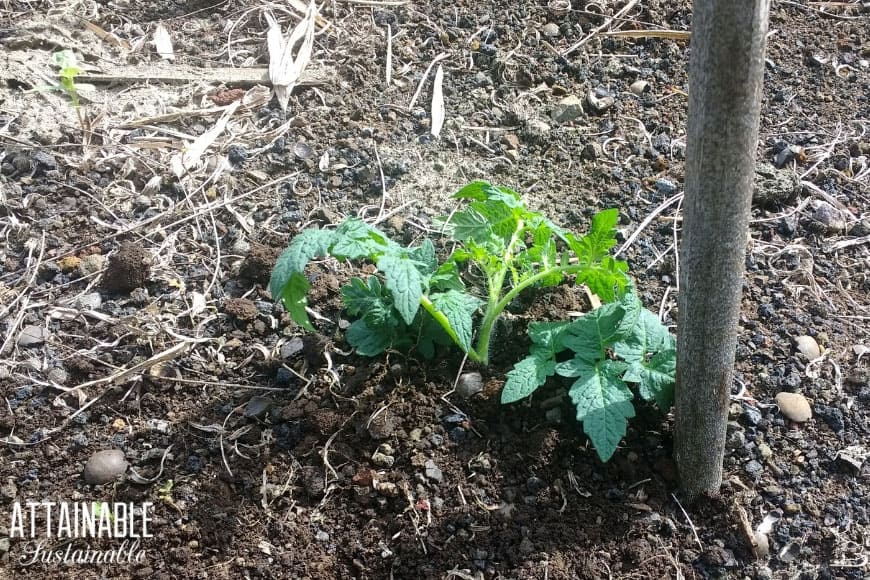 Consider deep watering
Tomatoes do well with a good deep watering followed by days of no water at all. This encourages the roots to work even more deeply into the soil, seeking out moisture.
You can implement a deep watering technique like a traditional olla or a more modern copycat with a drainage pipe or even a nursery pot buried upright next to plants. Instead of watering at the surface, water into the pipe or pot so the water goes straight to the roots of the tomato plant.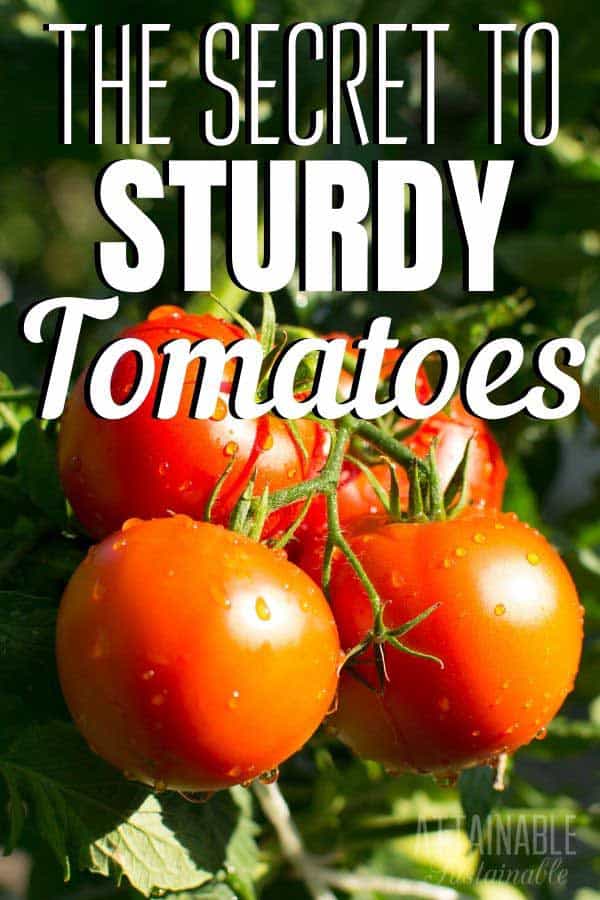 Do you need to prune tomatoes?
First, let's be clear. We're all busy. If you don't have time to add "prune tomatoes" to your to-do list, carry on. It's not a mandatory chore for growing tomato plants. That said, I do prune my tomatoes. Here's why:
Pruning out excess foliage allows for better air circulation, helping to prevent disease. (I live in an area prone to powdery mildew.)
Less foliage makes it easier to spot insect invaders. In particular, I battle tree leafhoppers. If I can see them, I can remove them by hand.
Spotting ripe tomatoes is easier when the plants are opened up by pruning.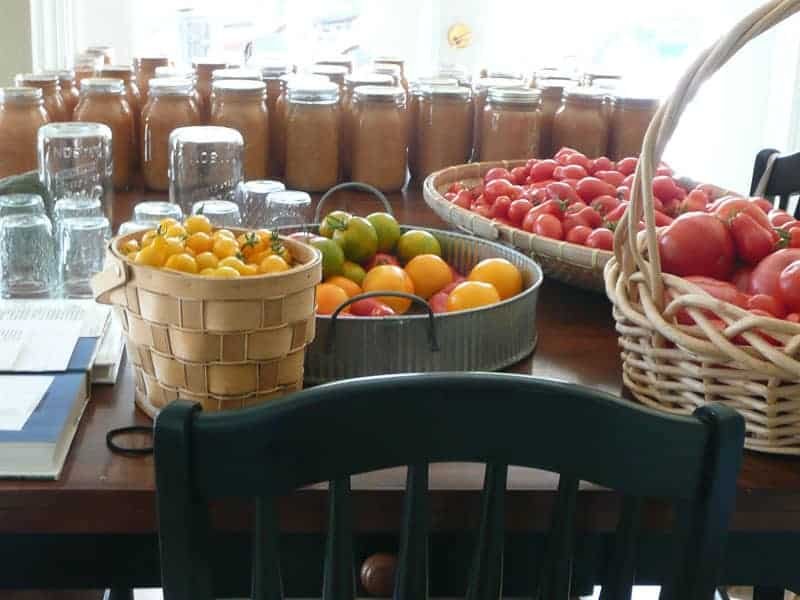 Now, am I going to tell you how to prune tomatoes? No I am not. Because it turns out, I've been doing it wrong all these years.
I've always pruned out some of those big, floppy leaves that don't make fruit but pack the tomato cage with lots of greenery. Turns out, folks in the know say I should be pruning off the suckers instead. Doing this, they say, makes for an earlier crop of larger and healthier tomatoes.
I've been pruning my tomatoes incorrectly for roughly twenty years.
My overflowing abundance of tomatoes during my California years (shown above) makes me think my pruning method hasn't impacted production from my tomato plants.
Do you grow tomatoes and have an abundant harvest? You'll want to these fried green tomatoes or give canning tomatoes a try! I recommend this salsa recipe.
This post was originally published in May, 2011 and has been updated.