Let's talk about how deep to plant tomatoes for sturdy, productive plants. Planting them deeply — or even sideways — encourages superb root growth.
Learn more about growing Roma tomatoes, a variety that's ideal for cooking and canning.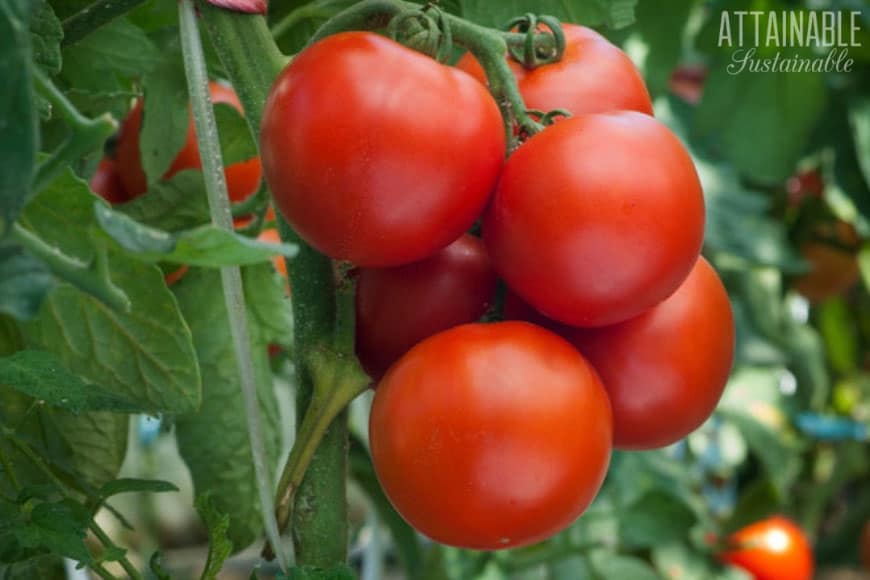 Tomatoes are a staple for most gardeners and for the most part, they're pretty easy to grow. They just don't take a lot of extra work in most regions of the United States.
But you can really boost the sturdiness and root system of your tomato plants with this gardening trick.
---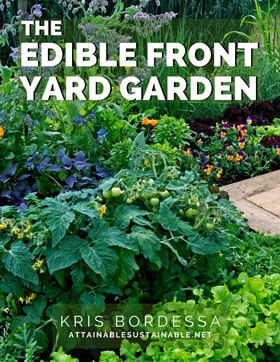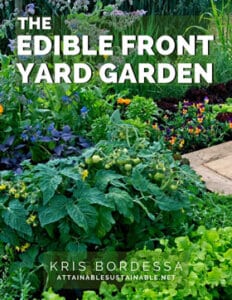 The Edible Front Yard Garden
Does your homeowners association prevent you from growing food in the front yard? What if they never even KNEW? My ebook, The Edible Front Yard Garden will show you how!
---
How to plant tomato seedlings
Whether you plant tomato seeds yourself or purchase seedlings from a garden center, those baby tomato plants will need to be transplanted into soil or into a large growing container. Read more on growing tomatoes in containers here.
That little tomato plant can grow quite large. Establishing a sturdy root system will help the plant pull necessary nutrients from the soil and gives it a solid base. (Even so, most tomato varieties will need to be staked or caged to prevent them from falling over.)
Grow Some Greens!
Ready to grow fresh greens, no matter WHERE you live? Sign up for my
FREE quick-start guide and start growing some of your own food!
The deep hole method
If you've ever grown tomatoes, you know that their stems are very fleshy. Those stems will send out roots if they touch moist soil, or even above ground if the weather is rainy and wet.
You can see it happening on the seedling below. But even if there are no root buds visible, the fleshy stem of a tomato plant will send out roots if given the chance.
Your job is to give it that chance! If you were to bury those stems, the plant will send roots into the soil.
This deep hole method of planting tomatoes gives them a solid start, making for a sturdier and stronger plant. A plant with a strong root system is much more able to withstand dry periods and prolonged drought, too
With most other plants, you want to set the plant in the earth so that the soil level of the potted plant is at the same level as your garden soil. Tomato plants, however, like to be planted deeper than that.
How deep to plant tomatoes
How deep to dig the hole will depend on the height of the tomato plant, but you should plant tomatoes deep in the soil. Dig a planting hole deep enough to allow the main stem to be buried at least up to the first set of leaves.
Planting tomatoes sideways
A really tall and lanky tomato seedling can require a really deep hole to accommodate the entire stem. Or it could mean letting the tomato lay on its side in the hole.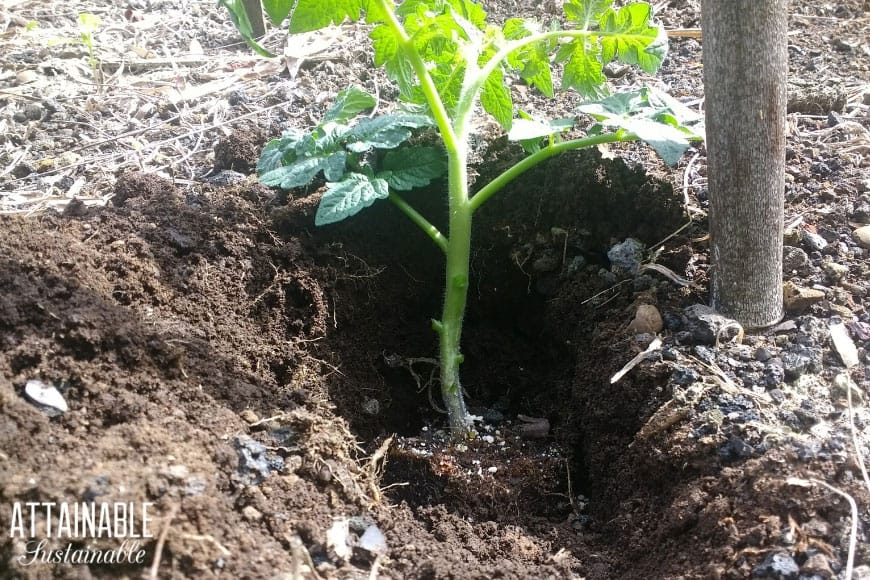 This is sometimes called the trench method, and calls for placing the tomato plant horizontally in the ground with just the top set of leaves above soil level.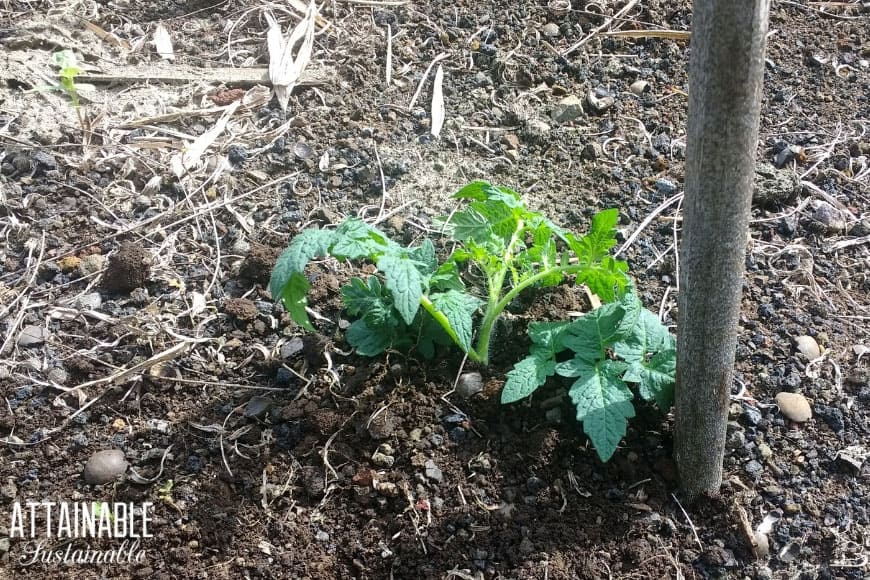 If you opt for laying it sideways, the portion of the tomato plant that is above ground will start growing straight up in just a few days' time.
Preparing tomato seedlings for planting deeply
This deep planting method is a great way to salvage tall, gangly seedlings, but all tomato seedlings will benefit.
Start by snipping off the lower leaves, leaving just the top set (or two) of leaves.
Gently break up the root ball and bury the tomato seedling in the soil all the way up to the leaves.
Here I've planted the tomato plant you see above in a large growing container. Looking at it, you'd think it was only a few inches tall, but that long stem is buried deep below soil level.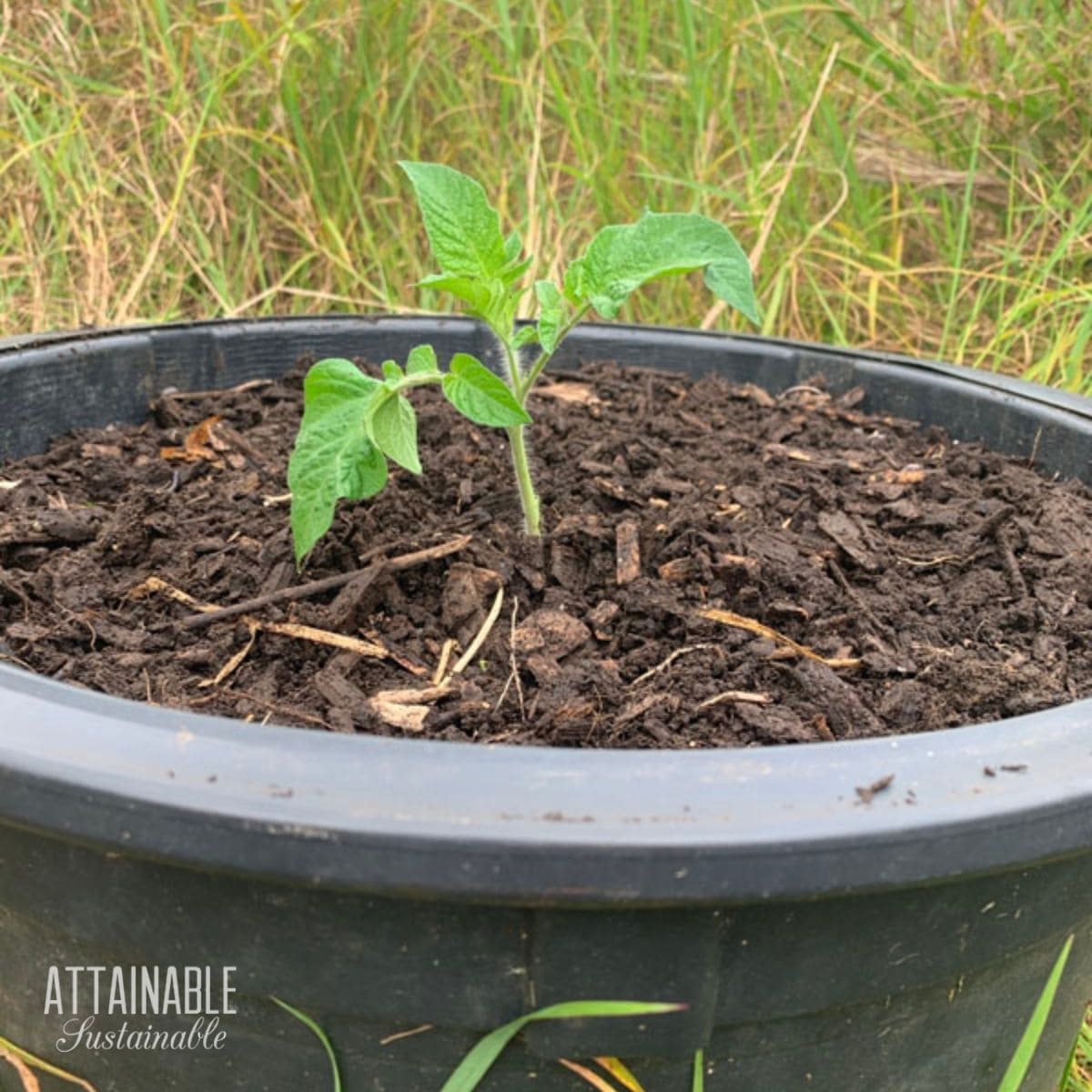 Once planted, water thoroughly. Tomatoes do well with a good deep watering followed by days of no water at all. This encourages the roots to work even more deeply into the soil, seeking out moisture.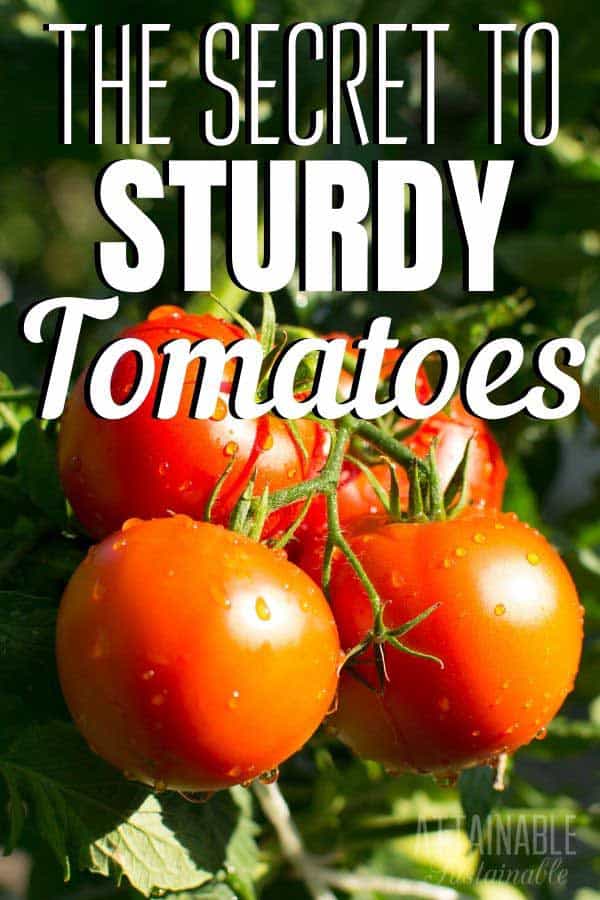 This scientific study may be of interest, but note that it is an automatic download:
https://journals.ashs.org/downloadpdf/journals/hortsci/31/2/article-p190.pdf
This post was originally published in May, 2011 and has been updated.