Growing green onions is a great way to have this tasty and versatile veggie at your fingertips whenever you need them. Perfect for eating fresh or cooked, topping salads, adding to soups, or whipping into a dip. Learn everything you need to know about growing green onions, and how to get the most out of your multi-season harvest.
If you love green onions, try growing chives in your garden too!
Contributed by Jodi Torpey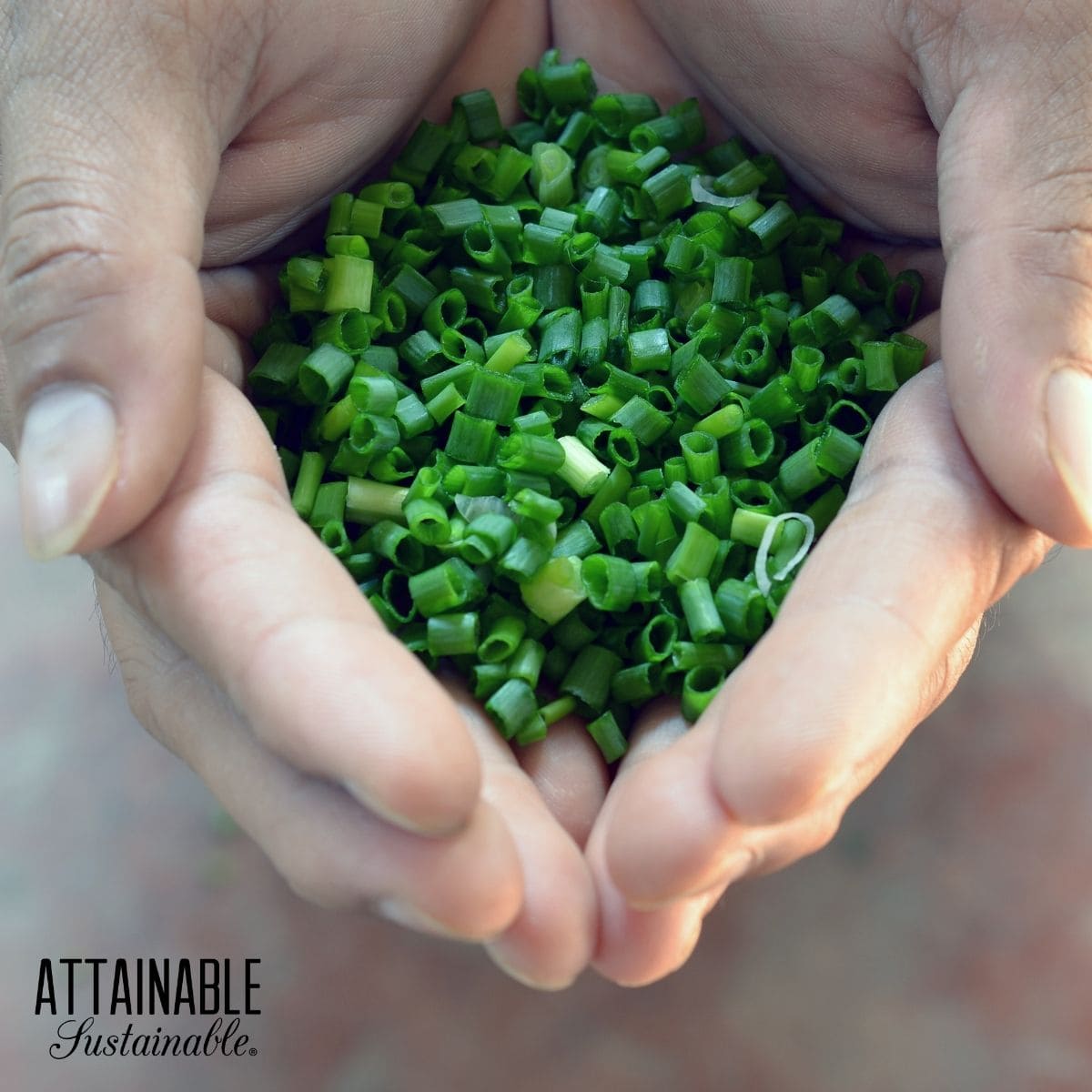 Grow Gorgeous Green Onions
For more than 5,000 years, people have been growing and eating green onions. Green onions can be considered cool-season crops for planting in the spring and fall.
Green onions (Allium fistulosum), also called bunching onions or scallions, have slender and hollow green leaves and small white stalks.
These delicious alliums are easy to grow, with the right amount of planning. Some varieties of green onions can be ready to harvest in about 60 days.
Grow Some Greens!
Ready to grow fresh greens, no matter WHERE you live? Sign up for my
FREE quick-start guide and start growing some of your own food!
Onions can be planted from seeds, sets, or transplants. For seeds, you can start them indoors, start them in cold frames or sow seeds directly in the garden. Check the amount of time needed for plants to mature and start long-season varieties indoors well in advance of the last frost, which could be 8 to 10 weeks before the last average frost date for your area.
---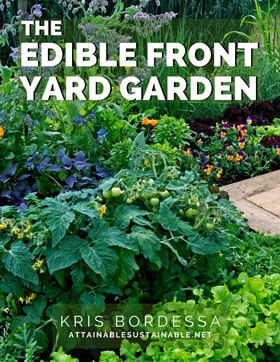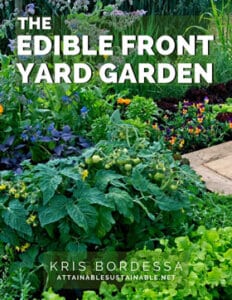 The Edible Front Yard Garden
Does your homeowners association prevent you from growing food in the front yard? What if they never even KNEW? My ebook, The Edible Front Yard Garden will show you how!
---
Growing green onions
You might be surprised to learn any onion can be used as a green onion if it's harvested before the bulb matures. However, if you want to grow the same bunching green onions you buy at the market, plant Allium fistulosum.
For a quicker harvest, look for short-season cultivars (50-70 days) that have some disease resistance to prevent problems while plants are growing.
Green onion varieties
Ramrod onion is a good choice for spring and fall planting because these salad onions are winter
hardy (55 days to maturity from the date of direct seeding).
Warrior is an All-America Selections winner chosen for its reliably uniform onion stalks that hold well in the ground (60 days).
Lisbon is one of the most popular green onions among gardeners. It's a versatile vegetable that can be grown from March through autumn (60-120 days).
Guardsman is a fast-growing green onion that has a strong root system. These onions are winter hardy and have some disease resistance (50 days).
Red Baron is a red onion that keeps its purple color while growing. These onions are best harvested early and used like scallions (60 days).
How to grow green onions
When planting in the spring garden, wait for the soil to warm to at least 50 degrees and up to 85 degrees. You can also plan for a fall planting. For a continuous crop of green onions, keep planting onion seeds or transplants every few weeks, keeping in mind the time to maturity with the timing of cold weather.
Plant onion seeds ¼ to ½ inch deep; and onion sets about 1 inch deep and 2 to 3 inches apart. Rows should be 12-18 inches apart. For a continuous green onion crop, plant every few weeks.
The long white stalks of these vegetables can be encouraged by slightly hilling soil around plants when their tops are about 4 inches tall.
Prepare the garden bed so the plants will grow in a sunny spot, in rich well-draining soil. Add compost or well-aged manure and dig it in deeply to give roots an easier time getting started.
Requirements for growing green onions
Soil requirements
Amend the soil with organic matter, such as good quality compost. The soil needs to be rich and well-draining but should be able to hold some moisture.
After plants start to grow, add an organic mulch around plants to help the soil retain moisture and to avoid weeding around the delicate and shallow roots.
Light requirements
Locate a full-sun spot in the vegetable garden, raised bed garden, or patio garden.
Fertilizer and water requirements
Add a well-balanced fertilizer while plants are growing to ensure healthy plants. Keep up with a steady supply of nitrogen-rich fertilizer as plants grow.
Prevent problems with green onions
When choosing green onion varieties, look for those that have been bred to be disease resistant. Also, good garden practices help prevent disease and pest problems. For example, don't plant onions in the same spot every year, thin plants to give them room to grow, mulch to reduce weeds, and keep the soil moist, not soggy.
Prevent onion thrips by watching for any rusty streaks on the green leaves. Use the hose to wash thrips off of plants.
Prevent onion maggots from attacking plants by using row cover cloth to cover young plants to keep onion maggot flies from laying eggs. Be sure to tie the cloth down tightly on the edges.
Growing green onions in containers
Green onions can grow well in containers, under the right conditions. Select a large container filled with potting soil. Ensure there are holes in the container's bottom for water to drain.
Dig in a slow-release fertilizer with the potting soil and plant onions as seeds or transplants just as you would in the garden bed or a raised bed.
Water plants and keep the soil moist; thin plants as needed for the correct spacing for the varieties you've planted.
How to harvest green onions
Carefully dig green onions when the tops are crisp, bright green, and about 6 to 8 inches tall. The base should be firm and white. Wash and trim roots for storage.
How to use green onions in the kitchen
Both parts of green onions are edible and are often used together in the same recipe or served raw on an appetizer tray.
Other scallion uses are grilled, sliced, or chopped to top fresh green salads, sprinkle into soups, add to stir fry dishes, a green onion dip, cream cheese dip, or many other recipes to add color and flavor.
How to propagate green onions
You can re-grow green onions by saving the root ends instead of throwing them away. Cut the bottom of the green onions to ¼ inch above the bulb. Fill a jar with water and stand the root ends in the water. Keep changing the water so it stays clear and in just a few days the greens will begin to grow again. Transfer these plants to the garden.
Wait for plants to grow a tall flower stalk and produce pods that are filled with little seeds. Cut the stem about 8 inches below the seed head and place it on a screen to finish drying. Store seeds in a cool, dry space.