In it's simplest form, mead is a fermented alcohol drink made with honey and water. Learn how to make mead at home with this mead recipe from Colleen at Grow Forage Cook Ferment.
How to make mead (and what the heck is it??)
You may have heard some whispers and rumblings about mead lately, as how to make mead has become a bit of a hot topic.
This post may contain affiliate links; I'll earn a small commission if you choose to make a purchase.
But, what is mead, anyway? In its simplest form, it's a fermented alcohol drink made with honey and water, also sometimes called "honey wine" or melomel.
Reader Favorites from Attainable Sustainable
Reader Favorites from Attainable Sustainable
Some historians claim that mead is the oldest form of alcohol created by humans, dating back thousands of years.
If people back then could figure out how to make mead, then we certainly can now, and it doesn't have to be difficult.
Small batch mead recipe
The best way to start is on a small scale, and a gallon batch of mead is the perfect size for beginners.
This mead recipe features fresh strawberries, but you can easily substitute your favorite fresh fruit. Say, blackberries. 
You can also use foraged items like linden flowers or blended wildflowers.
Related:
Equipment needed for a one gallon mead recipe
If you start looking up how to make mead, you will notice that a lot of the mead recipes seem complicated, requiring fancy equipment.
Maybe after a few tries you will want to expand your mead making skills to that level, but this one gallon mead recipe sticks to the basics.
A one-gallon jug with a narrow neck for brewing. I prefer to use glass for this, as I don't care for plastic, but a plastic jug will work in a pinch.
An airlock with a rubber stopper. You can alternatively use a balloon with a pinhole that is attached to the top of the jug. The gasses will be able to escape through the pinhole without letting any oxygen in. (You can also get the glass jug with airlock together for a better price).
A stainless steel pot
A big spoon
A funnel, bigger is better
A thermometer. Just a regular meat thermometer will do.
Sanitizer, I like One Step brand as it is easy to use and nontoxic. It is very important that you sanitize everything that will be used prior to brewing.

★ Did you make this recipe? Don't forget to give it a star rating below!
Strawberry Mead Recipe
As soon as you add any fruit to mead, it is then called a "melomel," so that is technically what this recipe is. Feel free to use any fruit you might have on hand, or leave the fruit out completely and just do a straight mead if you'd like. The process is the same either way.
Ingredients
2-3

pounds

honey

(3 pounds is about 1 quart, and will yield a sweeter mead)

Champagne yeast

(or other wine making yeast)

1

cup

more or less organic strawberries (fresh or frozen)

filtered water
Instructions
First and foremost, sanitize everything that will come in contact with the mead.

Put approximately 1/2 gallon of filtered water into a large stainless steel pot and heat until warm, but not boiling.

Turn off the heat, add the honey, and stir to dissolve. You can put some hot water back into the empty honey container and shake a bit to get all of the honey out.

Use a funnel to pour the honey water mixture into the glass jug (it will not fill it completely).

Add the strawberries and raisins.

Fill the jug with cold filtered water, leaving about 3 inches of space at the top.

Cap the jug with its lid and invert once or twice to mix everything together.

Check the temperature of the liquid; if it is 90°F or less it's ok to add the yeast. If it's higher, wait a bit until it cools.

Add the yeast. One yeast package will ferment up to five gallons of liquid, so you don't need to use it all. I usually use about half of one package when making a gallon.

Cap the jug again, and shake it vigorously for a minute or two. This helps to combine and aerate the yeast.

Attach the airlock to the rubber stopper, fill it with water to the line, and put it into the top of your jug.

The mead should start bubbling within a few hours and the top will get really foamy. Sometimes it foams too much and comes up out of the airlock, but that's ok. Just rinse the airlock and put it back on the jar. It will subside by the next morning. You will see millions of tiny bubbles coming up through the liquid - that's the yeast just doing it's thing.
Now You Have to Wait
Put the jug in a cool and dark corner and wait. It will take about 6-8 weeks to fully ferment, depending on the outside temperature. It will ferment faster when it's warmer, slower when it's cooler. Check it every few days to make sure it is still bubbling. Once it completely stops bubbling, it is ready to be bottled. The mead is ready to drink right away, but will benefit from some amount of aging, as it can be a bit harsh at first.
Nutrition
Calories:
352
kcal
|
Carbohydrates:
95
g
|
Sodium:
4
mg
|
Potassium:
91
mg
|
Sugar:
94
g
|
Vitamin C:
13.5
%
|
Calcium:
1
%
|
Iron:
3.1
%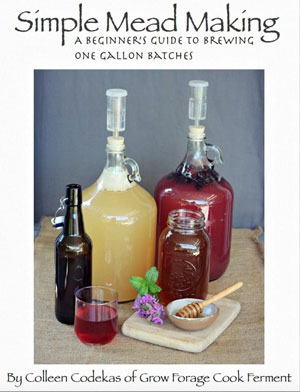 Mead making made simple!
Interested in learning to make mead from honey and your favorite locally-grown fruits? Be sure to check out Colleen's book, Simple Mead Making: A Beginner's Guide to Brewing One Gallon Batches.
With concise and easy to follow instructions, it's a great way for beginners to learn about the mead-making process.
Learn how to make mead at home with this simple guide.
Cheers!